Digital identities gained popularity after the advent of new technologies like blockchain. Safle, which is a new-generation, non-custodial, wallet, uses blockchain to give identities back to their users. Safle, unlike federated and centralized identity models, introduces decentralized identities that give crypto users complete control over their identities.
Despite the growth of crypto markets, there are very few options for non-custodial bitcoin wallets. The few that do exist are lacking in certain areas. You have to be aware that most non-custodial wallets only support certain blockchain networks. It is difficult for assets to cross over to other chains with these wallets. DApps, crypto users and others have been exposed to malware in the past due to major security problems.
Safle, a blockchain-based identity wallet that is decentralized and consists of Web3 infrastructures which support DApp development as well as integration with many blockchain networks, was designed by Safle. Safle seeks to alleviate the current problems within the digital identity space by creating an easy-to-use experience for developers as well as users to use decentralized infrastructures.
Safle was founded in 2019 with the sole purpose of restoring privacy and security to users. Abhimanyu Kashyap is the founder of Safle. He graduated from Nottingham's MSC Communications program and has long been interested in developing infratools for the modern decentralized web. Kashyap was also involved in the building and marketing of India's fastest loan engine, Moneyloji.
That said, let's delve deeper into the Safle ecosystem features to understand better the value proposition in creating a decentralized digital wallet identity.
The Safle Ecosystem
Safle leverages its native features, including SafleID, SafleVault, Saflekeyless, SafleNode, SafleDAO and the platform's token $SAFLE to introduce an ecosystem where users can create digital identities and access the crypto market seamlessly. The Safle digital wallet allows users to access their crypto assets and store NFTs. It also makes it easy for them to make smart payments.
1.   SafleID
The SafleID feature is a core part of Safle's ecosystem; it facilitates user onboarding and lifecycle management of the platform's software plugins. The decentralized ID wallet uses EVM-compatible smart contract technology. It supports many chains including Ethereum, Polygon, and Binance Smart Chains (BSC). The SafleID digital wallet permits users to easily transfer digital assets from one network to another. SafleID offers advanced wallet management tools, such as multi-sig, daily limits and seedless recovery, time-locks, time-locks, time-locks, multisig, daily limits and trusted contacts.
2.    SafleVault
SafleVault, which is an encrypted vault with six layers of encryption allows users to securely manage their keys. This vault is designed to store users' private keys and can be deployed through multiple avenues, including a user's device (desktop or mobile) or the cloud. You can access the vault's information using either a password, or your biometric identity. SafleVault is able to manage all BIP44-compatible digital assets and maintain the same level encryption.
3.   SafleKeyless
It is often difficult for crypto users to move funds between ecosystems, as it can be confusing. SafleKeyless removes the barrier. It allows users to execute transactions in any DeFi application that is compatible with the SelfkeylessSDK. Safle wallet customers can perform transactions on several DeFi platforms without the need to install additional software. They also have the ability to assert their identity by using this feature.
4.    SafleNode
Besides decentralized wallets, Safle's ecosystem features a dynamic tech stack, providing building tools for DApp developers. SafleNode includes several SDKs as well as infrastructure APIs. This includes the Saflekeyless feature, which DApp developers have access to integrate in order to provide seamless user experiences. The platform also makes open APIs accessible, giving developers access to blockchain and crypto data that can be used for price predictions as well as on-chain analysis.
5.   SafleDAO & the Native Governance Token
Safle, like most decentralized ecosystems is managed by a Decentralized Autonomous Organization. The DAO makes decisions on Safle's ecosystem development by creating proposals and voting through the platform's native token, $SAFLE. The token powers many other operations such as fee payments to the network, community rewards and reward programs for supporters and early adopters. Per the project's whitepaper, the initial supply of $SAFLE at the token's generation event (TGE) will be distributed to seed investors, public token sales and strategic allocation.
6.   Take a chance on winning
Safle's native token, $SAFLE, also allows users to stake their rewards. SafleID users can use to secure platforms such as Ethereum from their non-custodial wallets. Although staking rewards have yet to be launched, Safle plans to allow users access to the high APY offered various DeFi protocols in order to maximize their returns. The rewards programs will also be used to balance the $SAFLE token demand and supply – at any point, the number of distributed rewards will be proportional to the number of tokens in supply and those in staking pools.
7.    Swaps and SmartPay from Safle
Merchants can now use Safle SmartPay to help them grow their business. Integrating the Safle infrastructure allows merchants to accept cryptocurrency payments, exchange crypto for fiat, and set up master-child wallets which can manage several child wallets.
SafleSwaps, on the other hand will allow single transactions to be made without having to leave the SafleID wallet. The smart contract technology that powers this feature creates an aggregator model for digital assets swapping. It is low-cost and high-liquidity.
The Future Is Decentralized.
Although it is still relatively recent, decentralized identities are rapidly spreading. As more people realize that central organizations have access to their personal information, they are becoming increasingly aware. The future of ownership economics looks brighter thanks to the blockchain-based innovations.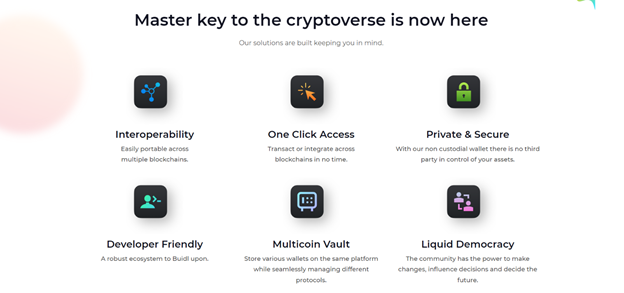 Safle is already taking on the role of developing self-governed digital identities. It raised $900k during its seed round and attracted notable investors, such as Sandeep Nailwal (Matic/Polygon founders), Woodstock fund, Draper Dragon Fund, Sandeep Nilwal, JD Kannani, Woodstock Fund, Sandeep Nagwal, JD Kanani, Woodstock Fund, Sandeep Nailwal, JD Karani, Woodstock Fund, Sandeep Nailwal, JD Kanani.
JD Kanani, who commented on Safle's recently concluded seed funding round, was keen to emphasize the value proposition of decentralized identities in fostering blockchain adoption,
"Safle is building vital next-generation wallet infrastructure that will eliminate existing points of friction to drive wider adoption of all blockchain applications. Matic is excited to be among the first chains supported by SafleID, and we look forward to supporting Safle on their mission to drive greater adoption of blockchain technology."
Decentralized identities, which are becoming more mainstream in blockchain ecosystems, will be a major factor shaping the future digital world. NFTs, which have been popularizing the concept of the metaverse, are just a few examples. To thrive in digital ecosystems, one must have a unique digital identity.
Safle is the image source