The term metaverse has been reintroduced online due to Facebook's announcement that they would build a VR (Virtual Reality) social network for its users.
Meta, unlike other decentralized cryptocurrency initiatives in metaverses, is controlled by one entity. They will be authorized to administer the blockchain sector because digital coins have been paired with it. About 13% of all investments were made by GameFi and Pay-to-earn in 2021.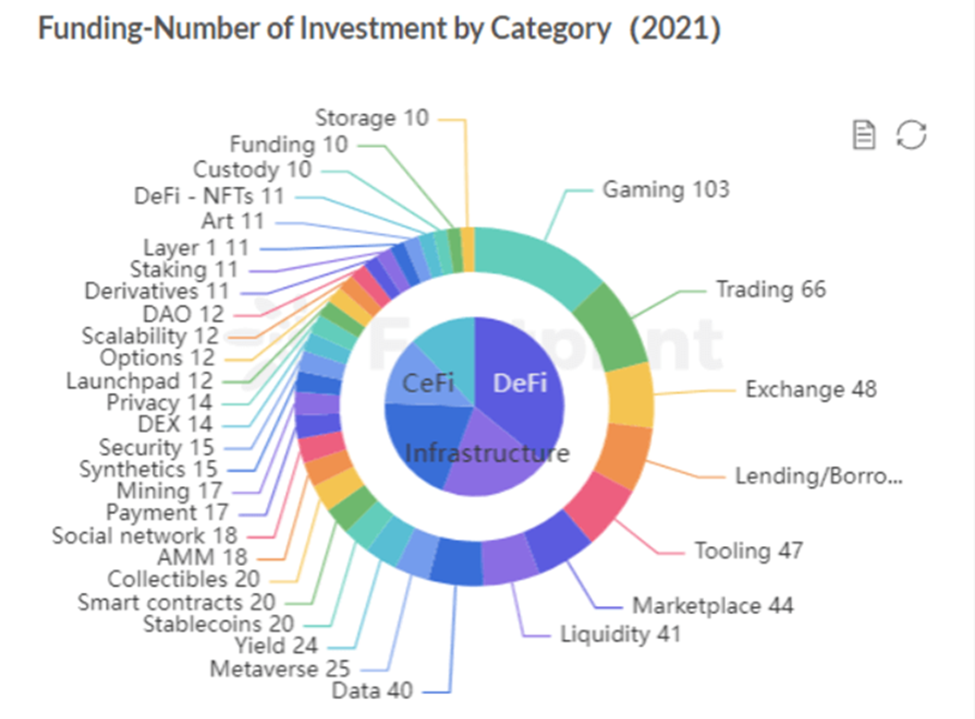 Footprint Analytics: Investments by category
As the gaming trend changed from DeFi, NFT, and GameFi, the second quarter of 2015 was filled with big announcements and statistics. Axie Infinity earned $17 million on August 6, surpassing Honor of Kings which is a Top Tencent Mobile Game.
Meta vs. Decentralized Metaverse
The public saw Facebook's name renewal to Meta as they continue to be the entity that administers their social network. The criticism is further heightened by the fact that users have no control over the platform. Meta is a VR social networking that allows users to accept or choose their avatars.
Utilizing a decentralized governance structure, the decentralized metaverse cryptocurrency initiatives let users determine the platform's destiny. The platform allows users to submit proposals and then vote, the outcome being decided by consensus. With no final say from companies/developers, it's a strong instrument to disperse power. By combining this with blockchain technology, it will be possible to rebuild its authority source for the future.
The Top Three Future Metaverses Investors Can Add to Their Portfolio
#1 Decentraland
Decentraland is a popular metaverse initiative. VR social networks use blockchain technology for transparent and fair project governance.
MANA, the platform's currency, maintains it economy and generates real-world income for its users. You can build your avatar and go to different regions, casinos and other places. Also, you may play VR games together.
It allows you to sell or buy land for auctions. Users may also purchase and trade NFTs on Decentraland's digital marketplace MANA.
Sandbox 2 (SAND).
The Sandbox, like Decentraland is a virtual world where users can buy and sell items and real estate in order to make money. Users can also interact and enjoy the virtual environment.
Musicians like Snoop Dogg and Deadmau5 are among Sandbox's partners/sponsors who urge more user participation. The Walking Dead and other well-known series are also encouraging users to play their games.
The Sandbox's market valuation ($2.3 billion) is less than half of Decentraland's ($5 billion), indicating that the project has a lot of room to expand when it grows to Decentraland's stage.
#3 JEDSTAR ECO and GameFi
This initiative, unlike Decentraland or The Sandbox is still very young. JEDSTAR is both DeFi (Decentralized Finance), as well as a GameFi, in order to bring together the fiat and cryptocurrency financial markets. The team believes gaming is essential to mainstream cryptocurrency adoption.
Although their token $JED (an early token) is ideal for a 30M USD market entry, they have their $KRED new token which will be accepted in 200+ games starting in 2022.
It will be a combination of in-house created games like their planned flagship CCG, Metaverse MMORPG, and in-game NFT marketplace, but also on many platforms via the world's first CAAS (Currency as a Service) model.
With their CAAS idea, cryptocurrencies will be more widely adopted without any conversion hurdles. JEDSTAR will include KRED in its hyper-casual gaming platform, STARDOME. This will allow ordinary gamers to easily purchase and trade KRED with standard payment methods.
Chainlink and FRAG Games, Remote Control Productions and Skill Gaming all signed up as new partners. JEDSTAR acknowledges that cryptocurrencies are only used by 4% of people worldwide, but it is possible to make a difference in reaching those 96%. Gaming employs around 40% of the world's population, many of whom are already familiar with in-game money.
JEDSTAR believed that adopting a real cryptocurrency as the basic token for Skill Gaming's platform might readily bridge this gap. This enables broad crypto acceptance and simplicity of usage for gamers who don't have to worry about learning and utilizing cryptocurrency.
KRED has yet to launch. They are however launching a pre-sale public for November/December where investors can reserve tokens at a discounted price from the launch price.
Image: Pixabay