Much has been said recently about Facebook's decision to rebrand to Meta, with both arguments for and against but what is without question is the overwhelming effect it has had on the metaverse cryptocurrency market.
Over the past couple of weeks, we have seen metaverse cryptocurrencies rally and this looks set to only be the start of this sector's growth during the rest of 2021 and into 2022.
A large part of this increase has occurred because millions around the globe realized that virtual reality is becoming increasingly attractive due to its endless number of options.
Axie Infinity – AXS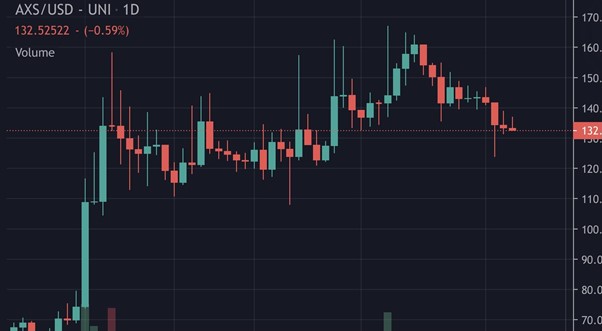 Chart of the AXS/USD daily prices TradingView
Axie Infinity was a cryptocurrency-based trading company that also offers digital battle play-to earn and online trading. The market cap of the company soared to over $8.4B before it sank to just $8 B.
Axie Infinity's native cryptocurrency token (AXS) rallied off the back of the increased metaverse "fomo" with gains of over 20% to reach a price of $150 dollars before correcting to just over $130 dollars.
Axie is the market leader for metaverse gaming, and seeing such gains speaks volumes about the lower-cap blockchain-based gaming project's ability to succeed in the fast-growing adoption of pay-to-earn gaming.
JEDSTAR JED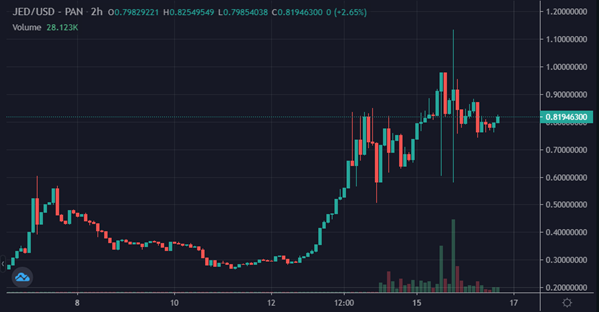 JED/USD Daily Price Chart TradingView
JEDSTAR ($JED), the DeFi token in the gaming project's DECO (Decentralised Ecosystem) has seen over 200% growth in the last week from $0.3 to over $0.9 and is now at a great entry point for new investors with a market cap of $42 million, looking set to increase further as the development team rolls out new updates. JED holders can now participate in their StarStaking initiative, which allows them to place their tokens to earn up to 120x return on their investment. This will be used in their upcoming NFT marketplace AGORA, Collectible Card Game, Metaverse MMORPG game and in a highly exciting partnership with Skill Gaming for STARDOME which will see KRED used as a world's first CAAS (Currency as a Service) on Skill Gaming's platform for over 30,000 gamers.
With JEDSTAR being a relatively new project compared to that of Axie Infinity, investors have been capitalizing on the opportunity to be an early investor in the project's upcoming roadmap. The potential for growth in future weeks and months that JEDSTAR DECO holds is evident when it's compared to Axie Infinity's market cap.
Image: Pixabay