Following Constitution DAO's lead, a group called Dune DAO went for a copy of the mythological Frank Herbert and Alejandro Jodorowsky's Dune manuscript, wanted by many and seen by few. A plot almost as interesting as the saga took over Christie's auction, where the DAO won the final bid, but with a twist.
A few days after ConstitutionDAO crowd-funded over $46M for a rare copy of the U.S. Constitutions, others are now following the same steps and trying to obtain valuable objects to open their doors to the public.
This time, DuneDAO aimed to bid for a copy of Alejandro Jodorowsky's Dune manuscript at a Christie's auction. The goal was to raise $500,000, but they actually raised $700,000. They were able to get it even though the final cost was much higher.
Christie's had valued the manuscript's copy between €25,000 ($28,100) and €35,000 ($39,345), but it sold for over $3 million. The Guardian reported that Christie's admitted they didn't recognize the level of interest the latest Dune-based film attracted.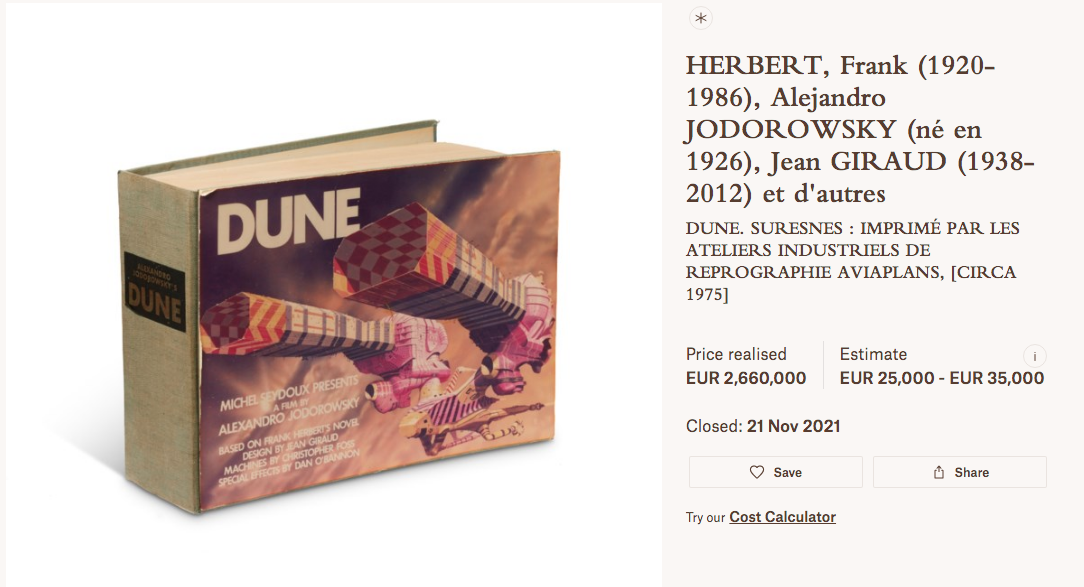 Similar Reading| Bleeple's "Human One," A Sculpture + NFT Hybrid, Sold For $28.9M At Christie's
Before the auction, the group stated:
Dune DAO will crowdfund the purchase. Then, they'll explore digital preservation options and make the manuscript available to the public. This includes public viewings, digital lending, and other legal methods.
DuneDAO should investigate legal options to access this copy, as distribution rights cannot be granted along with purchase.
The group used the same platform as ConstitutionDAO, contributions were "handled via JuiceBox". Governance tokens ($SPICE). Each donor received a donation sum. Each $SPICE token grants them a vote for the future of money and the manuscript. However, it does not imply a fractionalized ownership.
Dune Dao wants the $SPICE

In a few words, Jodorowsky did compare the original Herbert's novel to Proust.
As explained in Frank Pavich's documentary Jodorowsky's DuneThis project was one of cinematic history's most ambitious, yet it didn't get the green light due to a lack $5M in order to reach the $15M cost.
The manuscript actually records the thoughts behind a 15-hour film-to-be, which created a landmark that allegedly inspired many movies like Star Wars and Alien.
It features art from a few of the most renowned artists at the time, including Jean "Moebius" Giraud's storyboard with over 3,000 illustrations, H.R. Giger's concept art, Chris Foss starships' designs. Pink Floyd was invited to provide the soundtrack.
Orson Welles was to impersonate "Baron Harkonnen" and Salvador Dalí  "The Emperor". The list of ambitious ideas keeps going, explaining the reason for not meeting the budget, but also what makes fans call "the Dune Bible" a mythical sci-fi object.
Auction: What Did You Get?
Based on an earlier value by Christie's, DuneDAO thought they would secure the auction raising over $750k. But, the prices went up and a core member of DuneDAO gave $2.3M to cover the remainder.
A third-year ago, another copy of the book was reported to have sold for approximately $42,500. Other than Christie's claims on the unexpected 50x raise, a Twitter user alleged another bidder had "publicly let their top price slip". The manuscript's winning bid was $2,4M plus 20% christies auction fee, plus 5.5% VAT, for a total of $3,160,062, the group stated.
"I just want people to experience it," saidThis was the contribution of the core group. It is now that the DAO will reimburse them for the winning amount. They are "figuring out how to navigate the maze of legal issues" before paying him back.
DuneDAO will have 30 days to pay the payment. This should allow them to discuss and vote on any future plans. The target has been raised to $4,000,000, including additional costs such as storage and maintenance, digitization fees, and other expenses.
Similar Reading| Miramax Sues Quentin Tarantino Over "Pulp Fiction" NFTs. Tarantino Moves Forward