4JNET was a popular blockchain project that gained attention before its live broadcast. 4JNET which is referred to as the "Pinnacle of Fairness" in today's DeFi industry has opened door to the crypto community by introducing its first offering, the 4JNET DEX. It accompanies the fair launch of the project's native 4JNET tokens enabling the enthusiastic community to start trading against BNB, with support for other cryptocurrencies in the pipeline.
Respond to the Community
Although many Defi projects should be qualified on the principle of transparency, fairness and openness, not all projects do. The project was well received by the community, with many people actively participating in the 4JNET/BNB trades. It is clear that the tokens' price has increased 388% in a few hours.
The DEX. The DEX introduces the 4JNET Team to the formation of a robust ecosystem.
Project Metaverse is currently in the process of creating their system. It will launch around February 2022. The key to Metaverse is NFT. It allows you to start with NFT minting and currency, NFT swaps and deposit and withdraw digital assets.
4JNET NFTs
The 4JNET ecosystem is dominated by Non-fungible Tokens. This was the case starting with the token distribution model that involved the sale of limited edition NFTs. 4Jpass is more than a digital representation for some art. This is a fully-fledged financial tool that plays a critical role in expanding the 4JNET network.
4Jpass holders represent the most important stakeholder of the project. Not only do they receive 30% of 4JNET tokens; but, they are also able to exercise authority over the future Metaverse system. Registering your identity gives you permission to set competence in the metaverse, and allows you to participate in transactions with no upper limit. NFT holders are also eligible for discounted fees across the ecosystem.
4JNET Fair Launch
Tokenomics makes 4JNET stand out from other projects and makes its tokens more valuable that those of its competitors. The community receives a total 200 billion tokens over the course of time, with the team that developed the project having no ownership in it. 4JNET will give 50% to LP holders, 30% to NFT holders, and 10% via airdrops. The remaining 10% will go to regulation.
In addition to the token distribution, a 90% initial handling charge on all transactions was charged. This fee gradually decreased to 10% in a very short period. It ensures that everyone has a price advantage, regardless of whether they enter early or later.
The project is also fair because it holds an MSB license. It has been subject to a CertiK security audit, which is a well-respected blockchain security company.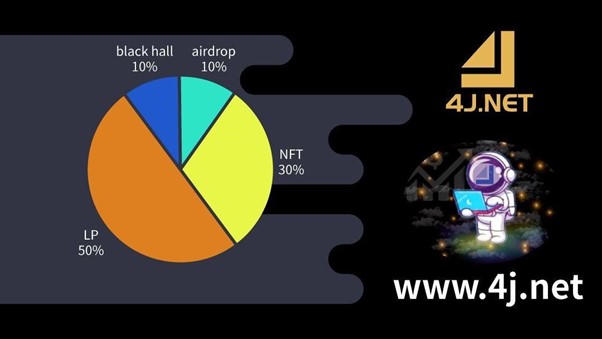 For 4JNET, the Community Always comes First
4JNET is the product of an effort of several developers, domain experts and others from the most prominent tech MNCs around the world. A strong community supports them as they work towards making their vision of an equal and equitable DeFi platform come to fruition.
4JNET's solid roadmap and strong tokenomics, combined with a talented team have undoubtedly created a project that has tremendous growth potential. Because of these factors, 4JNET tokens have become the most highly sought-after digital assets. This has led to a large demand from crypto investors who want to get a piece of tokens. While it is a great thing for the project as it further increases its chance of becoming a gamechanger in today's DeFi and Metaverse industry, it has also led to a few unscrupulous actors trying to take advantage of the situation.
Recenty, an actor group impersonating 4JNet developers fraudulently defrauded the community over $100,000. They created a fake 4JNET token and sold it on PancakeSwap. The LP was later destroyed, making a few trusted investors less wealthy. While the 4JNET team didn't have anything to do with it, they decided that it is ethical for them to compensate these victims by initiating appropriate actions.
4JNET has been notified and will request that the account be frozen. It is also working on the possibility of getting refunds for the victims through BSCscan – the leading BSC validator to minimize their losses.
Attention 4JNET Investors
A representative of 4JNET stated that fraudsters have recently sent their wallet addresses via Telegram and SNS in order to scam investors into paying for project tokens. "The 4JNET team will do everything possible to avoid the recurrence of this incident and reiterate that the 4JNET team will not ask investors to pay in their own name. All information on this site and Telegram is official. The group shall prevail."
All information provided by crypto investors is verified through government sources. You can help protect yourself from becoming a victim to frauds like those that are unfortunately quite widespread.
The contact address for 4JNET and 4Jpass NFTs is listed prominently on the project's website
4JNET Contract: 0xbfb1a68962Fb4ED040FD3a0a71dC2C2015BCc667
The 4Jpass NFT Agreement: 0xc942CEee2D86E3e066Ac1f97044E911ced2fe314
To verify that messages regarding 4JNET are authentic, members of the community should reach out via Telegram or Email.
Buy 4JNET token at – https://www.4j.net/en/exchange