According to information on September 5, 20,22, fan tokens for top European football clubs are rising and outperforming other cryptocurrency markets.
Statistics show that fan tokens such as $LAZIO (the fan token of Lazio's football team in Italy) and $PSG (the Ligue 1 giant Paris Saint Germain) are defying gravity, posting double-digit gains over the past few trading sessions. The leaderboard is dominated by $LAZIO, which grew approximately 50% in the last trading week.
Fundamental factors, rising market confidence and the possibility that the crypto winter is over after nine exhausting months could indicate that the fan token rally might just be starting.
The pump in fan tokens' valuation coincides with the resumption of the 2022/23 session in most top European leagues. This coin is intended to improve the relationship between team and fans. These coins can be made by partner clubs on the Proof-of-Authority Chiliz network.
This way, fans can, at any time, purchase these tokens allowing them to participate in voting where they can decide on the color of their team's jersey, friendly matches, or even win prizes. This is an innovative idea, which Socios (the team behind Chiliz Network) first introduced. It continues to transform fan engagement and even offer traders opportunities on MEXC Global, and other leading exchanges, by providing trading opportunities.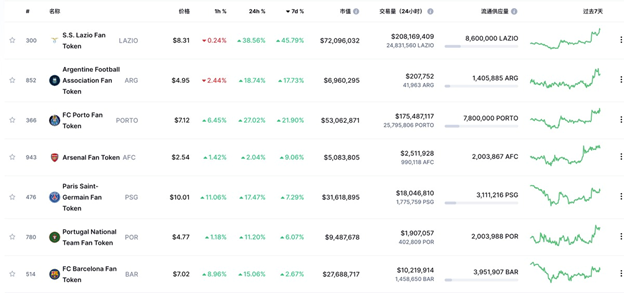 MEXC Global is a global cryptocurrency exchange and has more than seven million clients. MEXC Global began listing fan tokens in 2020. The exchange offers trading of $LAZIO, one among the more than 15 fan tokens. As of September 5, 2022, $LAZIO was paired with the world's most liquid stablecoin, USDT, allowing a quick way for traders to acquire the token in the secondary markets. ACM and ALPINE are also listed on the exchange. ASR and POR are two other fan tokens.
Besides boosting the liquidity of fan tokens and creating a convenient way for fans or investors to get exposure to their clubs' tokens, MEXC Global is at the forefront of driving their respective liquidity. The tokens can then be traded easily, even by young fans. MEXC Global is constantly evolving in order to satisfy the needs of clients, considering how highly-respected these tokens are.
Fan Zone is a trading platform for token fans. MEXC Global also allows trading leveraged ETFs of fan tokens. Users can trade leverage quickly and securely with the derivatives product. Their pricing is different from other leveraged ETF tokens on the liquid platform. The tokens can be issued off-chain so that high gas fees for Ethereum are avoided.