Kyber Network is multi-chain, crypto trading and liquidity center that links liquidity from multiple sources to allow trades at the highest rates. Kyber Network is a decentralized protocol that facilitates cryptocurrency trading without KYC and middlemen. It also enables on-chain transactions. Completely transparent and verifyable
KyberSwap, the network's flagship product, is a next-gen DEX aggregator that enables users to swap, earn, and seamlessly participate in DeFi on each of the 13 supported chains. KyberSwap, a DEX-aggregator, sources liquidity both from its own pools and more than 70 DEXs in its network. The platform is also equipped with yield optimization protocols that ensure maximum profitability. Get the best returns and rates 
This Kyber Network review will look into the Kyber Network, its services, products, trading fees, etc., and assess the KNC tokens' long-term adoption potential and use cases.
Let's get right to it!
What Is Kyber Network?
Kyber Network's goal is to make Decentralized Finance accessible, cheap, fast, and secure for all users.
A pioneer in the DeFi space, Kyber Network launched in 2017 under Vitalik Buterin's mentorship with a successful ICO raising $52 million. Kyber Network has evolved to a project committed to making DeFi easy and accessible for all – including KyberSwap, the most advanced DEX & Aggregator in DeFi, KyberDAO, the governance community at the forefront of DeFi, and Kyber Ventures, Kyber's investment arm supporting Web3 founders to build the future of decentralized technologies.
Kyber Network was founded in 2005 and has grown to be a leading provider of mobile communications services. The top DEXs of the DeFi area.KyberSwap is their core product and provides the highest rates to traders as well as maximum returns for liquidity providers.
KyberSwap is a decentralized trading platform that connects traders with liquidity pools, not an order book. The protocol's smart contracts provide liquidity and enable users to complete transactions without intermediaries.
Currently available on 13 chains: Ethereum, Polygon. BNB. Avalanche. Fantom. Cronos. Arbitrum. BitTorrent. Velas. Aurora. Oasis. and Optimism. KyberSwap aggregates liquidity of over 70 DEXs. Swaps at the best possible rates
KyberSwap offers a range of capital-efficient protocols for liquidity providers that maximize rewards. KyberSwap Classic's Dynamic Market Maker protocol (DMM) is DeFi's first market maker protocol that dynamically adjusts LP fees based on market conditions, while KyberSwap Elastic is a tick-based AMM with industry-leading liquidity protocols and concentrated liquidity, customizable fee tiers, reinvestment curve and other advanced features specially designed to give LPs the flexibility and tools to take earning strategies to the next level without compromising on security. KyberSwap's liquidity providers have the ability to add liquidity and receive incentive and fee rewards.
To date, KyberSwap powers Plus 100+ projects integratedOver 450 transactions have been facilitated by the company. Transactions worth US$11 BillionSince its conception, it has been used by thousands.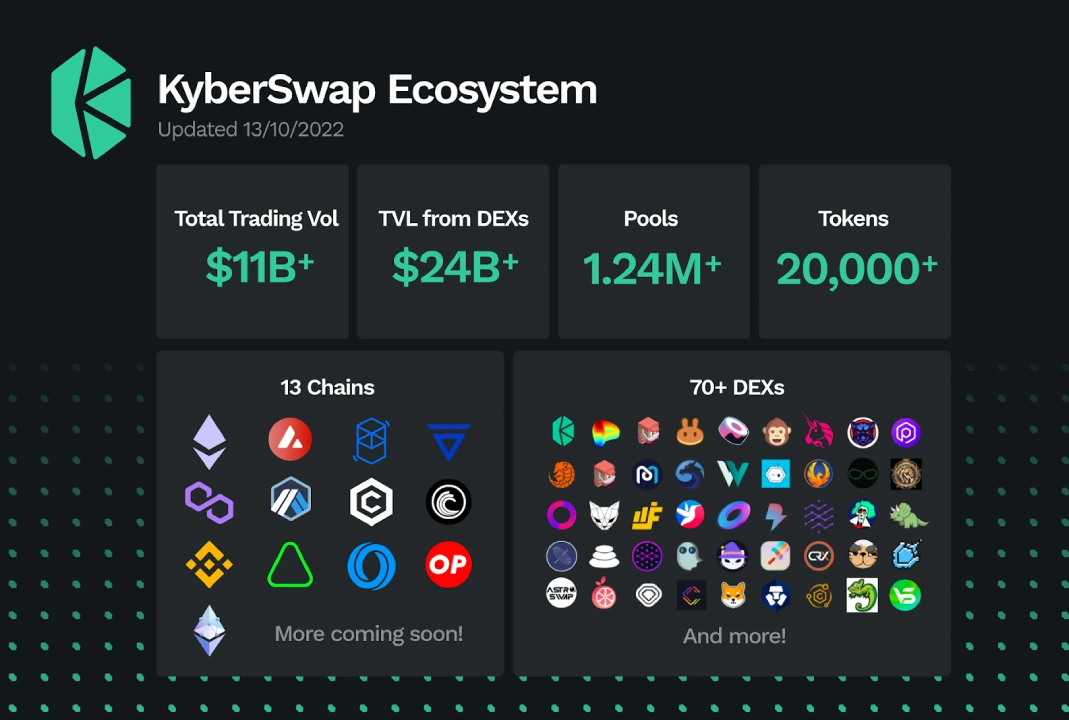 Kyber is a different exchange than other ones. Users can trade tokens for tokens through a liquidity pool that combines several cryptos.
Why is KyberSwap so unique?
The introduction of decentralized exchanges bridged shortcomings in centralized systems' operations, such as increased expenses and taxes, sluggish transaction rates, indiscriminate wallet locking, increased exposure to insecurity, etc.
Decentralized exchanges have their vulnerabilities. They can be costly for order book trade modification and they lack liquidity. Kyber Network Crystal introduced the KNC, and created liquidity pools through collecting liquidity from different digital tokens.
Investors have access to the liquidity pools through The Network. As a result, investors who don't have booking orders can trade directly from their wallets. Traders will still have custody of the tokens during this process. 
KyberSwap allows you to swap cryptocurrencies for the lowest price possible.
Kyber Network can also be used with other protocols. This is why it is a crypto-friendly project. KNC requires that the protocol connecting to it use a smart contract-powered blockchain.
Several companies, DApps, and wallets have already integrated the Kyber platform into their projects or businesses, such as InstaDApp,  MetaMask, SetProtocol, bZx, AAVE, Coinbase, etc. According to Kyber Network, there have been over 100 integrations.
Kyber Network Features
Kyber Network, a distributed cryptocurrency exchange that also serves as an asset transfer platform for digital assets, is more than just a crypto-exchange. By allowing tokens to be transmitted, it facilitates exchange. They can choose any token that they like. Let's have a closer look at its features.
KyberSwap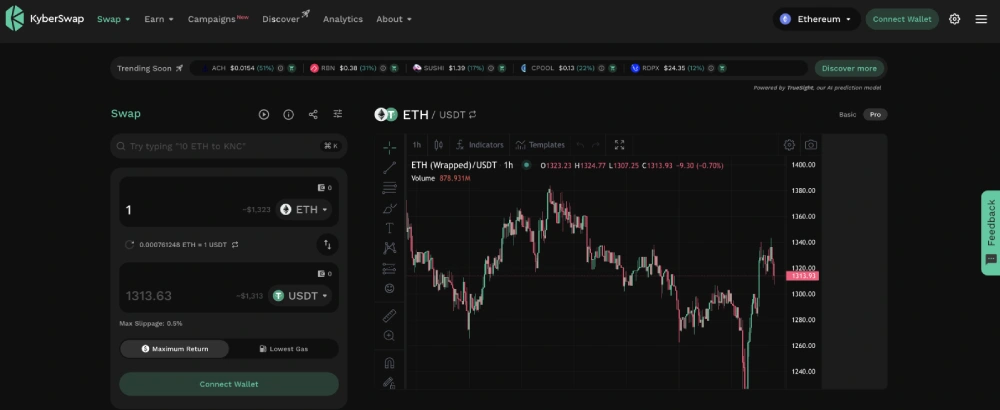 KyberSwap enables instant crypto swapping, without having to use order books or deposits. To get the most competitive price, the exchange routes all queries through multiple centralized exchanges. Swaps clients can be optimized to get the best gas prices and highest return. There are variables that can be adjusted to allow for slippage and important pre-trade information, such as predicted USD values and minimum returns.
Kyber Developer
These are the best A developer-friendly systemProvides developers the necessary documentation and tools for integrating new apps and wallets, exchanges, or platform enhancements within the DeFi ecosystem.
Kyber Network Fees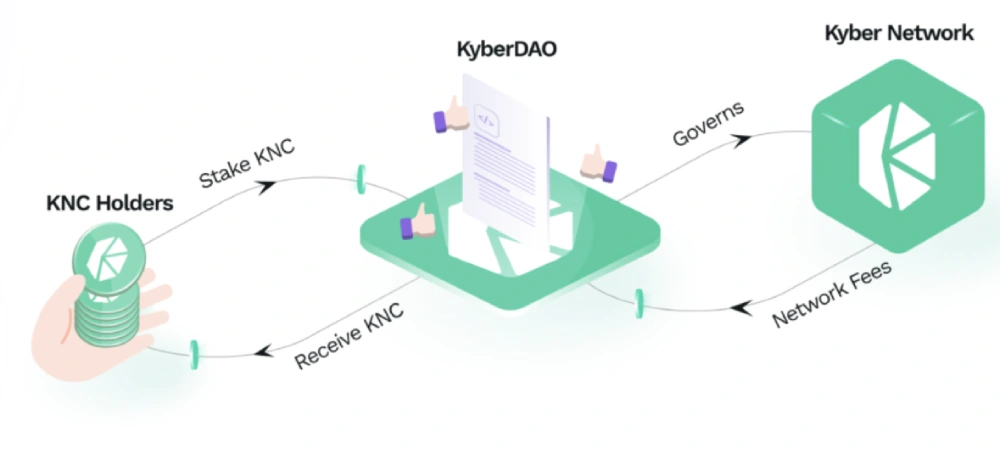 KyberSwap charges
KyberSwap is not like other DEXs. It does not charge any management fees or platform fees. The 90% that liquidity providers receive is paid to them, and the 10% remaining goes to KyberDAO as governance rewards. KNC holders are eligible to vote for governance proposals and receive these rewards in KNC.
Kyber Network doesn't charge any withdrawal fees, which makes it a highly competitive offering. However, it should be noted that there are also exchanges that pay the network fees for the traders' advantage, i.e., their withdrawal fees are 0. However, network fees can be quite insubstantial. Therefore, it is possible to charge the network fee only as a trader-friendly arrangement.
Buying & Storing KNC
KNC tokens can be purchased through numerous cryptocurrency exchanges like Binance and Coinbase. Both the first is located in the United States while the second is an overseas exchange. There's a spread in the trading volume of the digital asset at these exchanges, which indicates that KNC's liquidity has no dependence and concentration on a single exchange. You will also find high liquidity in every book of exchanges. Binance BTC/KNC books for instance are large and diverse, which results in quicker order execution.

KNC, an ERC20 token, can be stored anywhere Ethereum-compatible wallets like MyEtherWallet or MetaMask.
KyberSwap Team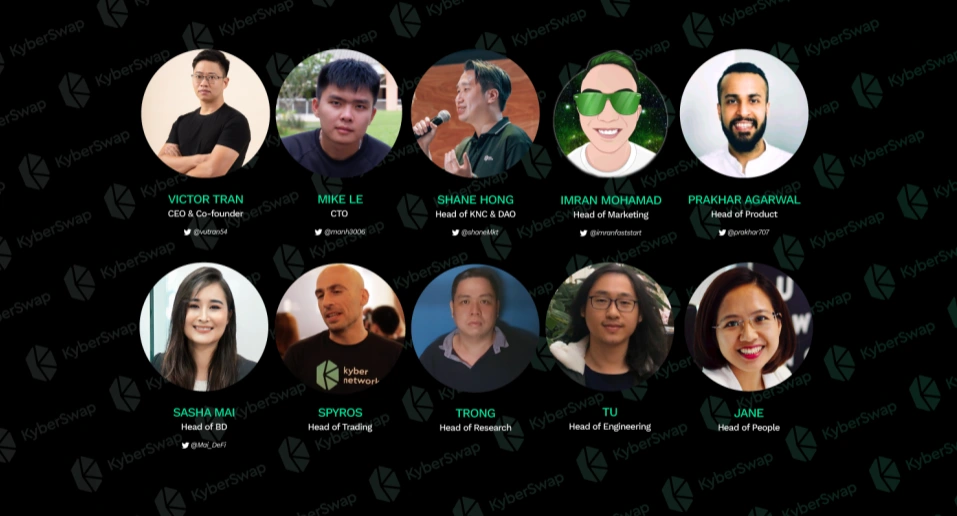 Vitalik Buterin is the founder of Ethereum, and he makes up an expert advisory board.
The protocol's testnet became operational in August 2017. The Network's initial coin offering (ICO) Fundraising: $60 MillionSeptember 2017:. This is the equivalent of 200,000 ETH.
In February 2018, the mainnet went live. It was accessible only to users on a whitelist. KyberSwap launched the public beta of its mainnet in March 2018. Network volume Increased more than 500%The second quarter will be completed by 2019.
Kyber Network (KNC) Token
KNC is the Kyber Network's native token, released in 2017. KNC cost $1 for each token in the Initial Coin Offering. The ICO raised only 61%. After that, the remainder was divided 50/50 among the advisors/founders. For this control, the lockup period is for one year while vesting is for two years.

As per data from CoinStats, KNC's total supply was 223,000,000, and there were over 102,000,000 tokens in circulation.
This token supports the Network, connecting liquidity providers and liquidity seekers.
KNC is also the Kyber Networkecosystem's governance token. KyberDAO allows token holders to purchase KNC tokens. This will allow them to vote for platform improvements, enhance their value and increase adoption rates. This will also increase the project's functionality and value. The tokens are staked in cycles called "epochs," which are measured in Ethereum block timings and have a time span of two weeks. Holders are entitled to a portion of the fees generated by the protocol's liquidity pools.
KNC is also a deflationary token, i.e., a percentage of the token generated by fees is burned to decrease the cryptocurrency's total supply. Deflation has a beneficial effect on the asset's economic flow.
Note:The KNC supply will remain fixed at the moment, until KyberDAO votes for more to mint or burn.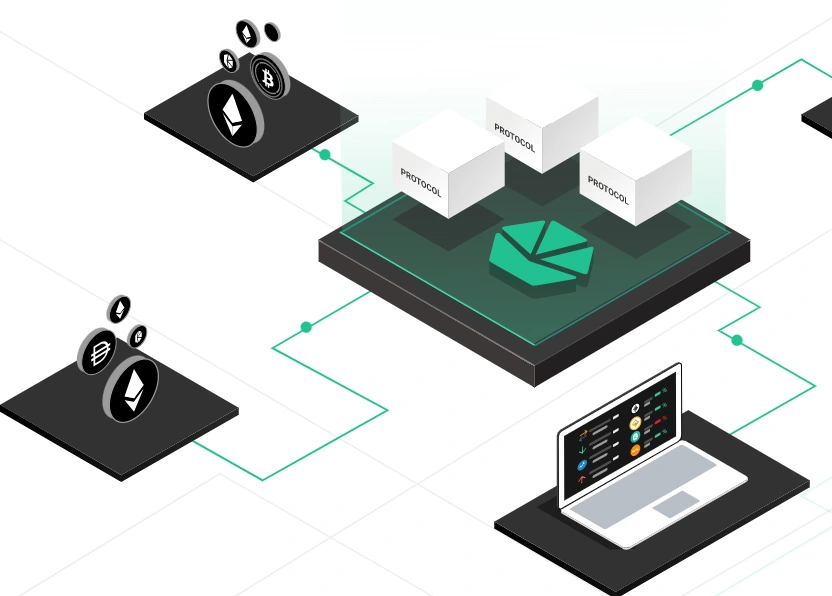 Protocol burned 1 million KNCs its first time in May 2019. The second was 1 million KNCs it burnt in August 2019. While the first burning occurred 15 months after the launch, the second one was only after three months following the first, demonstrating the protocol's rapid growth and acceptance.
Commonly Asked Questions
What's the Kyber Network Crystal Token
KNC has several applications as the blockchain's native token, such as staking for passive income rewards, platform governance, etc.
Are the Kyber Networks Safe?
Kyber Network, a decentralized, non-custodial exchange, requires users to connect their wallets in order to trade. Users can also keep complete anonymity while keeping control over their crypto assets.
Kyber Network's codebase has been audited by top audit firms Chainanalysis and Hacken and is available for public record.
Conclusion
Kyber Network's goal is to lead the DeFi community in facilitating reserve liquidity by its operation and functionality. The network provides liquidity by consolidating liquidity from multiple sources. It is powered entirely by code and the Ethereum blockchain. 
Kyber Network is a decentralized exchange protocol, an API for token swaps and a programming interface for the KNC cryptocurrency. The Network's growth trajectory is Strong, especially through token trades.
The protocol will increase trading volume, and KNC token demand as the Network's utility in DeFi grows.
Thank you for using our Kyber Network Review to help with your cryptocurrency trading.
You're also welcome to visit our CoinStats blog to discover a broader perspective on decentralized finance and how it seeks to empower people. 
Read our articles like What Is DeFi and browse our guides to various topics such as PanCakeSwap and SushiSwap. Also, you can read about our top 10 Metaverse NFT project, Top NFT Games and How To Buy Cryptocurrency. Learn more about portfolio trackers and wallets.
Investment advice Disclaimer  The information contained on this website is provided to you solely for informational purposes and does not constitute a recommendation by CoinStats to buy, sell, or hold any securities, financial product, or instrument mentioned in the content, nor does it constitute investment advice, financial advice, trading advice, or any other type of advice.
PROS
An anonymous and non-custodian structure

Compatibility with all apps, protocols, and decentralized applications

Over 20,000 tokens of the ERC20 are supported

Numerous crypto services available

High-quality fees

Solution for faster cryptocurrency trading
CONS
No Mobile App

Incomprehensible user interface