NFT continues to grow its usage cases, and it seems well placed to add millions more users over the next few years. In 2021, these digital assets were very popular and may see a surge in adoption. As more platforms make them easier to use, this could be a great opportunity for the crypto industry.
DigiCol, an NFT marketplace covering all aspects of the sector, was established in 2020.
DigiCol was the first NFT platform to offer a Collateral function. This new DigiCol feature will allow users to use NFT to secure loans or other cryptocurrencies.
To celebrate the launch, the platform is offering a "negative fee" for buying, selling, lending, or borrowing the selected popular NFT series such as Cryptopunks, Sandbox, Decentraland, etc. You will not only get a 100% discount on your platform fee but you can also earn native tokens through their liquidity farming program.
The Collateral mechanism is unique to this platform. A borrower has a time limit to repay their debt, plus an agreed interest rate with his counterpart. Lenders will take title to collateral if the user defaults on payments.
Unlike traditional finances where the process is controlled by a central authority, DigiCol's Collateral feature will be fully enforced by a smart contract. Lenders and borrowers both will benefit from the new NFT use cases, as well as a trustless, frictionless and decentralized system.
As seen below, DigiCol's NFT Collateral platform is easy to access and use. You will need to complete a few steps in order to lend or borrow your NFT. These digital assets can now be used to increase an owner's liquidity without the need to detach themselves from a unique NFT.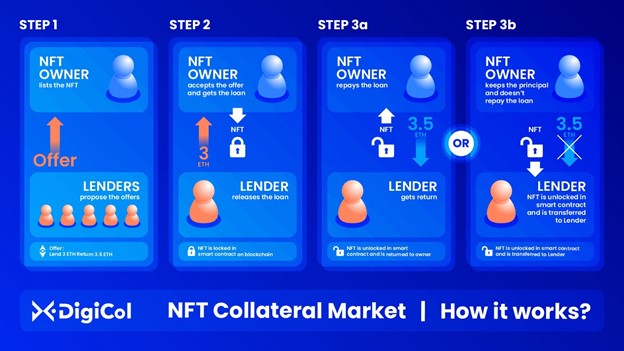 DigiCol to Enter Phase 2 into The Future of NFT Finance
DigiCol currently supports these contracts. However, the platform continues to integrate with popular NFT collections like Desperate ApeWives and Bored Ape Yacht Club. It is expected to be released in Q4 2021. This will add on to a number of notable accomplishments made by DigiCol and its staff in the last months.
Apart from a general improvement to the platform and major partnerships with large projects in crypto ecosystem, the platform has a new stage for 2022. This will be supported by the Colletaral feature, as well the expansion NFTs-related use cases.
DigiCol already has projects in place to address NFT-related games. Because it gives users rewards as well as a unique opportunity to invest time in favorite games, the trend has experienced a huge explosion of popularity.
NFTs may have made 2021 the year of NFTs. However, these digital assets still remain young and could potentially capture billions of US dollars from the traditional financial system. DigiCol and its customers seemed primed to lead the NFT Finance ecosystem, with an innovative model that could make the industry mainstream.