With rising global wealth and increased interest in blockchain technology, as well as a shifting cultural emphasis towards digital experiences, NFTs are proving to be a strong medium for art.
Next Earth is an NFT-based NFT replica of Earth that has grown tremendously over the past one year. A major update was released recently with new features, including Land Art which lets users create artwork on Earth by using colored tiles.
Next Earth's community has been built by offering users many ways to claim unique land in the metaverse. These digital worlds allow people to freely express themselves and represent a shift in culture toward experiences rather than products.
Let's look at 5 cool new Land Art pieces created by Next Earth users.
1. Sonic Landart Ibiza
 Sonic the Hedgehog has been a worldwide cultural icon and is a well-known videogame character. Next Earth user Onyx created a Sonic piece. As a result, this character is a symbol of nostalgia for a whole generation of Sonic fans.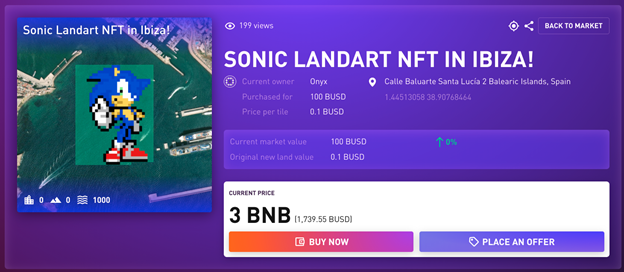 It's also a piece that offers a fun, whimsical take on the world. This piece evokes nostalgia and joy that is difficult to convey in art pieces without becoming too sentimental. Sonic Landart serves as both a personal tribute to one of most important video games, but also represents optimism for the future.
It doesn't matter if a piece is popular in the community. Everyone has their own interpretation of what art is and how it should be used, and that's one of the exciting things about NFTs.
2) Halloween Cat Landart
 Nollis, a Next Earth user, created this whimsical piece. It combines Halloween with an icon from pop culture. As creative use NFTs, this piece may end up in the metaverse's history books.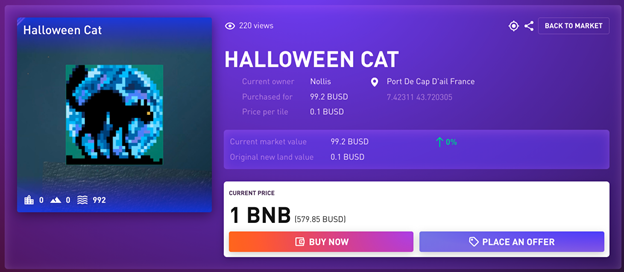 Halloween Cat Landart features a black cat facing a threatening-looking blue globe. This background looks almost like it's from another part of the globe, and is covered in dark shades.
The context of this piece is that it represents many things to various people depending on their cultural heritage and age. It's part of Next Earth's goal to build up an ecosystem where users can express themselves freely without censorship or barriers, so what someone thinks or feels is just as important as what they create.
3) Real Estate Cryptopunks
 Cryptopunks is an iconic NFT project. However, the pieces are too costly for most people. JH87, a Next Earth user created Cryptopunk 3443 + 9280 for 1.5 BNB.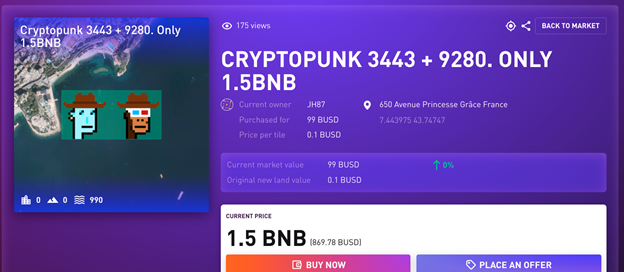 The piece includes two of the most iconic images combined into one.
4) Godzilla
 Godzilla is much more than a mythological creature. He's a global cultural icon and a pop culture phenomenon that has been referenced and parodied in hundreds of movies, shows, and books.
Nollis, a Next Earth user, created a NFT piece entitled Godzilla Attack. It is detailed enough to resemble the iconic monster in the film. This is another piece that brings together two of Next Earth's core values: Art and technology.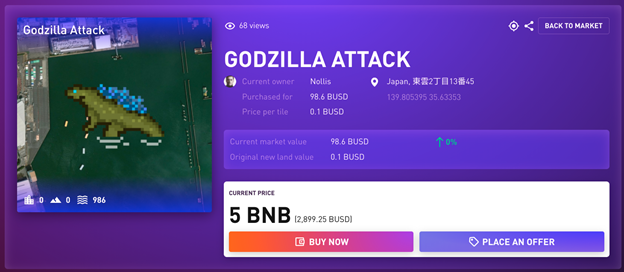 It's special because it represents something so big while also being detailed yet nostalgic — two qualities associated with pixel art today. Looking carefully at Godzilla's legs and tail, you can even see it make ripples in the water.
5) Doge
Doge, a meme viral on the Internet that is now a huge cultural phenomenon has gained popularity. This meme has become a popular online form of expression, and it's been used many times.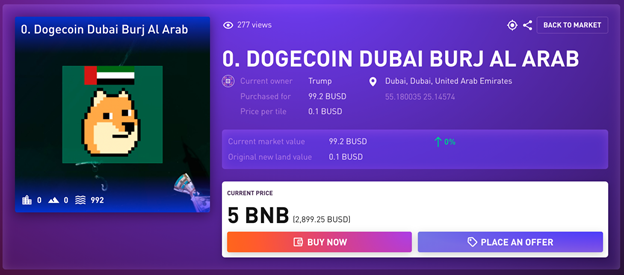 Next Earth user with the pseudonym "Trump" created a piece called Dogecoin Dubai Burj Al Arab. It's rendered as a pixel Doge character, below a flag.
Doge is both an art piece and a message to send people — it can mean anything you want it to mean, which makes it an important part of art history and modern culture.
Takeaways
NFTs have made land art a worldwide phenomenon. They are responsible for connecting people across cultures and borders. We're all citizens of the metaverse now and we'll see the virtual world expand into every aspect of our daily lives.
Next Earth's team has been working hard to create a decentralized, open-source metaverse. We are confident that their efforts will be successful and allow for true freedom. While their approach is forward-thinking and innovative, they are still deeply rooted in blockchain communities that have welcomed them with open arms.