Interested in investing in Ethereum (ETH), but not sure what it's all about or How to purchase EthereumAre you interested in the following? Continue reading to find out everything about this project.
Ethereum Network is an open-source, decentralized blockchain platform that uses its native coin – Ether (ETH), to pay transaction fees (called "gas").
Users can execute complex processes using Smart Contracts and earn interest by staking. They also have the ability to store, trade, or use cryptocurrency tokens. The Ethereum network can be used by developers to create decentralized apps (dApps), and even issue new crypto assets known as ERC-20 tokens.
Ethereum's market value reached $16.3 Billion in 2019, Ethereum was second in crypto currency market value, after Bitcoin, as Ethereum reached $16.3 billion.  Ethereum is considered a better investment option than Bitcoin by many.
Numerous Fortune 500 firms have backed Ethereum. Many financial institutions also use Ethereum.
What are the best ways to buy Ethereum and what is its difference from other investments? Let's find out!
How to buy Ethereum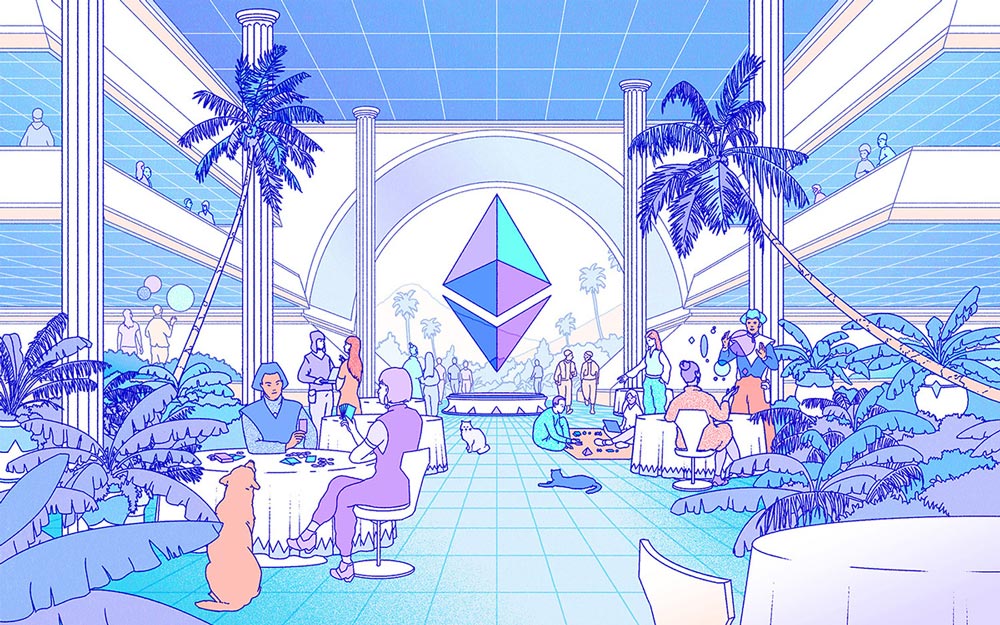 Do you plan to invest in Ethereum? Follow our  step-by-step guide on how to buy Ethereum: 
Step 1: Evaluate Your Risk Level
There are some risks associated with buying Ethereum. All investments involve some risk but cryptocurrencies are especially volatile. For example, consider what Elon Musk said on Twitter about Tesla not accepting Bitcoin for payment. Almost immediately, Bitcoin's value tumbled 15%. There's a chance for the same thing to also happen with Ethereum.
In the past, Ethereum has had some impressive returns. It has also experienced some major crashes. It dropped from almost $4,000 per coin in May 2021 to $1,800 by June 2021.
With the examples mentioned above, it's essential to consider your risk tolerance before buying Ether. If you feel you have enough to lose you may be able to invest.
Step 2: Find a Crypto exchange
It is more difficult to buy Ether than buying stocks or mutual funds. This is mainly because cryptocurrencies aren't traded on major exchanges such as the New York Stock Exchange, and only a few brokerages offer crypto investing. To buy Ethereum, you will need to open an account with a cryptocurrency exchange.
A crypto exchange can be described as a broker platform. It allows sellers and buyers to exchange fiat currency for crypto,  like Bitcoin, Dogecoin, and Ethereum. 
Start with a platform that allows you to buy directly from your computer.
Below are some popular cryptocurrency exchanges: 
These are but a small selection of available exchanges. Do your homework to find the right crypto exchange for you.
A key factor in choosing a cryptocurrency exchange is whether it offers a crypto wallet for storing your Ethereum. Most crypto exchanges provide this feature, but a few don't so make sure to check it out.
Cash App or Robinhood are great options for beginners who don't have any experience with buying crypto. However, they come at a hidden cost – you can't withdraw your Ethereum investment to transfer it to a third-party wallet or use it to pay for online purchases. Only the platform where your cryptocurrency was purchased can you trade it.
Step #3: Fund Your Account
For you to purchase ETH, your account must be funded with an appropriate payment method. You have several options. It is possible to deposit funds from your bank account and PayPal, make wire transfers or get a debit card.
Before deciding on what funding method to use, it is best to review the crypto exchange's fees, since some have higher fees than others. Gemini charges a fee of 3.49% for debit card transfers. However, wire transfers are available at no cost on Gemini.
A credit card can be used to fund your cryptocurrency exchange account. Keep in mind that cryptocurrency purchases are considered cash advances by most credit card companies. This means that you might have to pay a higher interest rate and cash advance fee on top of the crypto exchange's fees.
Step 4: Purchase Ethereum
When you're buying stocks, mutual funds, or exchange-traded funds (ETFs), you're limited by market hours. Exchanges mostly work during weekdays; however, that's not the case with cryptocurrencies. Ethereum is a distributed currency that you can trade or buy at any time.
To purchase Ethereum, you have to enter its ticker symbol ETH in your exchange's "Buy" field and input the amount of Ethereum you want to buy. If you don't have enough money to buy a whole Ethereum token or simply don't want to, you can buy only a fraction of Ethereum. 
For example, if the price of Ethereum is $4,000 and you invest  $500, you will purchase 12.5% of an ETH coin. It's similar to buying a fractional share of stock.
Step #5: Keep Your Ethereum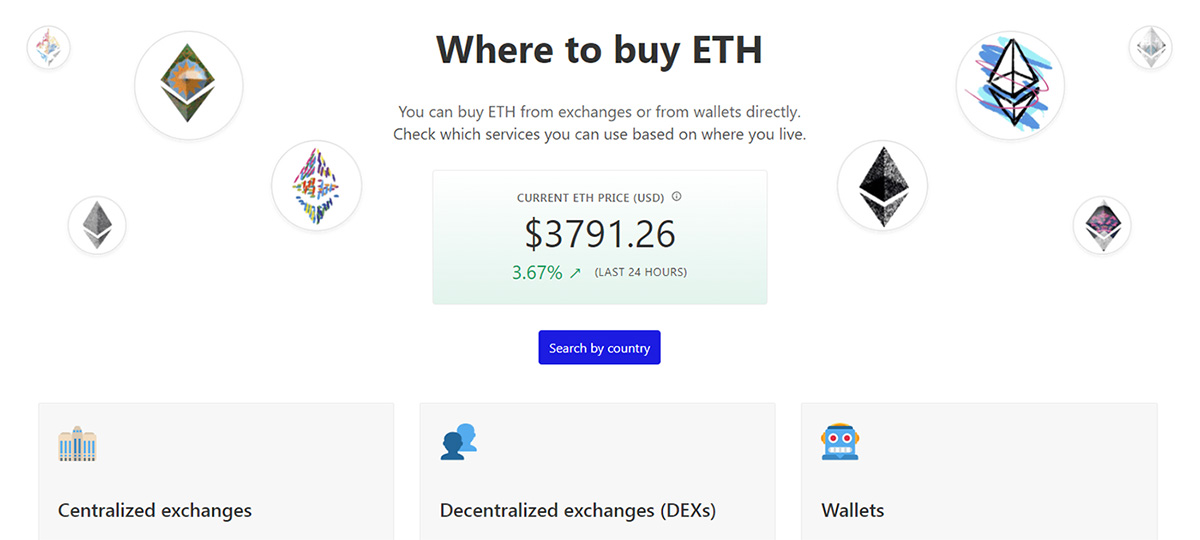 The next step after you have successfully purchased Ethereum is to store it. Many exchanges offer crypto storage to help protect against hacker attacks.  Also, the vast majority of exchanges insure their clients' holdings and often store most of their assets offline to protect them from theft. Users are also compensated in case of hacking.
If you are looking for security and peace of mind with your Ethereum, it might be worth considering moving to third-party wallets. There are two types of  wallets:
Cold wallets: This is an external device that's completely disconnected from the Internet. Every time you wish to use Ethereum or another cryptocurrency, you will need to connect it manually. They're safer and usually cost between $50 to $200, depending on the type you choose. They also come in more expensive options.
Hot wallets: They are linked to the internet so that they can be accessed from any smartphone or computer. They are therefore more user-friendly than cold wallets. They're usually provided by cryptocurrency exchanges at no additional cost. But, since hot wallets are connected to the internet, they're at a higher risk of being hacked. 
There are other ways to buy Ethereum
The method mentioned above isn't the only one for purchasing ETH. These are some options that you may want to think about:
Online stock brokers
For those who are new to cryptocurrency, this is the best choice. It's a convenient way because a stock broker makes it easy and cheap to turn your traditional currencies into crypto and vice versa for you. There are some drawbacks to this approach that you must consider. Higher fees are the biggest drawback to using an online stock broker to purchase crypto. Second, security risks. Make sure to check the fine print to see whether the brokerage gives you access to your wallet and lets you move coins in and out of the account since some brokers don't.  If they don't allow it,  this essentially nullifies the entire point of owning a digital currency. 
The Best Crypto Brokerage Services With Hosted Wallets
With hosted wallets, crypto brokers can allow you to purchase cryptocurrency in U.S. dollars. The brokerage will provide a wallet for the transaction. The buying of ETH using this method is easy and simple for novices. You can send and get ETH. Moreover, you don't have to worry about forgetting the password or losing the private key to it with a hosted wallet. These issues are much more frequent and can cost you millions. This information is stored by the host instead.
Exchanges decentralized 
If you are already a wallet owner, you may be able to buy or sell Ethereum using a decentralized exchange (DEX). Because there are no intermediaries, DEX trading is more authentic than any other way of trading cryptocurrencies. DEX gives you complete control of your funds. You can also trade directly with both buyers and sellers. Contrary to other centralized exchanges that require you to deposit funds into trading accounts in order to trade on the markets, DEX allows you complete control over your money. DEX can seem daunting for novice traders. The interface is also complex and requires steep learning. It is also used to trade one cryptocurrency for another, rather than buy Ethereum with money. 
Do You Want to Invest In Ethereum?
COVID-19 helped accelerate the transition to a more connected digital society. Experts believe Ethereum will continue to be a driving force in the crypto space as we advance due to its choice for smart contracts and  ETH2.0 upgrade switching Ethereum to Proof of Stake from Proof of Work consensus mechanism.
Many experts believe Ethereum may have the potential to move as fast as Bitcoin in terms of price.
The future price of ETH will be a wild ride. Experts believe that ETH will increase faster than the stock exchange rate. In the current smart contract format, ETH is being used in an increasing number of DApps. This shows that Ethereum's future looks bright. 
Final Words
Ethereum has a huge market capitalization, at over $232 billion.
If you are looking to create decentralized apps, diversify long-term investments strategies, use Ethereum-based software or games, execute smart contracts, and play Ethereum-based games, you should look into buying Ethereum. 
The key factors in choosing the best method to buy and keep ETH are your investment goals, and how much of it you want to own or sell. It's possible to use a combination of the above methods, perhaps using one platform for convenient trading and another for long-term holding.
Transactions are irreversible, which is one of the key features of Ethereum. Therefore,  double-check all the details before confirming a transaction.
A hardware wallet is a good investment if you are looking to hold, buy and sell large quantities of Ethereum. Although self-hosted wallets allow for greater control of the stored funds but also require additional knowledge and responsibility. 
Use itAdditional safety measuresWhen possible, two-factor authentication is used.
Before buying a volatile investment like Ether, you'll want to make sure you've done your independent research, and you have a large emergency fund. It's also important to diversify your portfolio, so only a portion of your investments should be in Ethereum's cryptocurrency and other digital currencies.
This information should be used for educational purposes and is not intended to serve as any investment advice or recommendation.