Curve Finance is an Automated Market Maker (AMM)-based decentralized exchange (DEX) that connects users interested in swapping stablecoins. The platform's AMM enables users to trade stablecoins from a liquidity pool without needing to find buyers and sellers. This protocol guarantees Minimal slippage and low feesBy identifying the best routes to exchange.
CRV is the Curve DeFi protocol's native utility token and governance token.
We will be reviewing Curve DAO and providing a tutorial for potential investors. How to Buy a CRV.
Let's get started with an easy step-by-step guide on buying CRV!
Step #1: Select a Crypto Exchange
You can purchase Curve DAO tokens on several cryptocurrency exchanges. To view all the cryptocurrency exchanges that support CRV, visit the CoinStats market page. Compare the exchanges' security, user experience, fee structure, supported crypto assets, etc., to choose the one with the characteristics you need, such as affordable transaction fees, an intuitive platform, round-the-clock customer service, etc. You should also consider whether the crypto exchange is regulated and allowed to be used by you. Use your favorite payment method to buy crypto.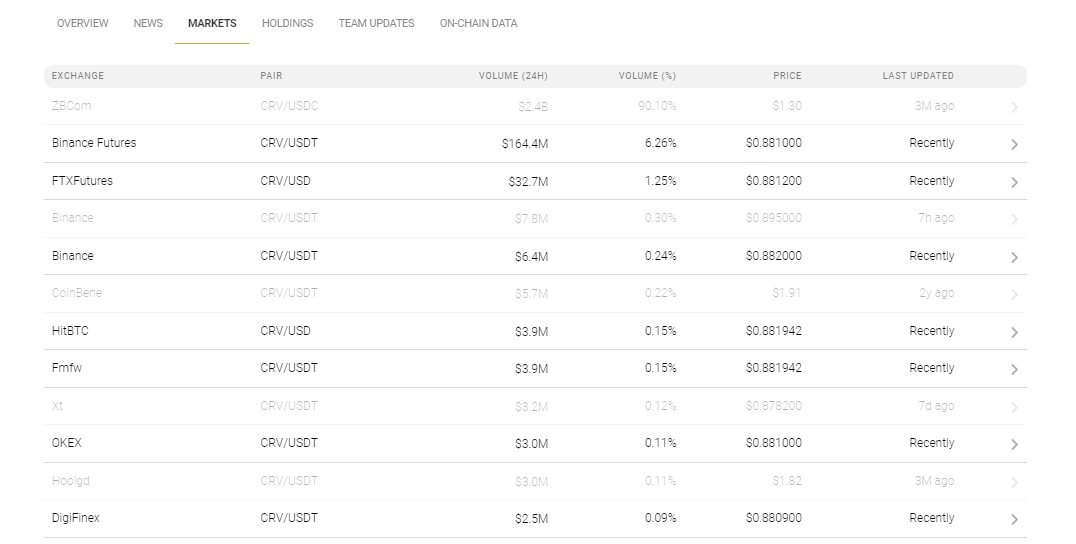 In the crypto world, any trader is confronted with the initial choice between centralized and decentralized crypto exchanges, so let's look into the details of each type below.
Centralized Exchange
A centralized cryptocurrency exchange (CEX), such as Coinbase or eToro is governed and charged specific fees to use their services. The majority of crypto trading happens on central exchanges. This allows users to trade with other traders. Convert their fiat currency directly to crypto easily. Centralized exchanges demand that users follow KYC and anti-money laundering rules. This includes providing personal information as well as identification documents. However, a CEX holds your digital assets on its platform while trades go through – raising the risk of hackers stealing the assets.
Decentralized Exchange
A decentralized exchange (DEX) on the other hand is independent of any central authority. Instead, it runs over blockchain and does not charge any fees, except the gas fee that applies to a specific blockchain. Decentralized exchanges use smart contractsTo allow people to trade cryptocurrency assets without the need for regulatory approval. The automated market maker removes all intermediaries to give users complete control of the funds. The interface and currency conversion are not as easy with decentralized exchanges. For instance, they don't always allow users to deposit fiat money in exchange for crypto; users have to either already own crypto or use a centralized exchange to get crypto. As DEX is peer-to-peer, it takes longer for someone to look at you and offer you a quick sale or purchase of low volume crypto.
For example, we'll demonstrate the process of buying CRV on the Binance exchange below.
Step 2: Open an account
Curve DAO tokens can be purchased on Binance using your Google account. You will need a valid phone number, an Apple account or email address to register. To verify your account, a link will be sent directly to your email address. Once the account is activated, you must create an elaborate password, and you're good to go. 
Binance doesn't require new users to undergo KYC (know your customer) verification straight away by providing additional documents. However, KYC verification enables you to take full advantage of the platform's services for lowers fees.
For verification, personal information must be provided such as:
Full name
Residence address
Date of birth
Identification Document 
You might need to take a photo or submit video to complete the verification process. Once your identity verification is complete, it's recommended to activate two-factor authentication (2FA) for an extra layer of security.
Step 3: Deposit funds
You will need to next deposit funds to your Binance account. buy CRV tokens.Binance accepts several deposit options, including a bank transfer, wire transfer, credit/debit cards, and bank deposits. Third-party payments such as Simplex are also supported. You should carefully review the fees involved in buying cryptocurrency using any of these methods.
To buy the curve DAO token, CRV you can link your crypto wallet with your digital assets.
Select the deposit method you prefer, such as wire transfer, bank transfer or credit card. Tap on "Deposit Funds," enter the amount you want to deposit and click "Deposit."
Some deposit methods can be done very quickly, others may require authorities confirmation depending on how large the transaction is. Be sure to compare the fees for different deposit options as some may have higher fees.
NOTICE: For fiat transactions, Binance users must complete KYC.
Step #4: Buy Curve DAO Token CRV
Binance provides the following Curve DAO CRV trading pairs to traders: Bitcoin, Ethereum (ETH), Tether Stablecoin USDT and Binance USD(BUSD).
Look for the CRV on Markets. 
Choose a trading pair against which you would like to purchase CRV. 
Simply enter the amount of CRV tokens that you want to purchase and then click on Buy CRMV. 
Your order will be fulfilled instantly at the current market price. You will also receive your new tokens in your spot wallet. You should consider Curve DAO and other crypto assets as highly volatile before you buy CRV.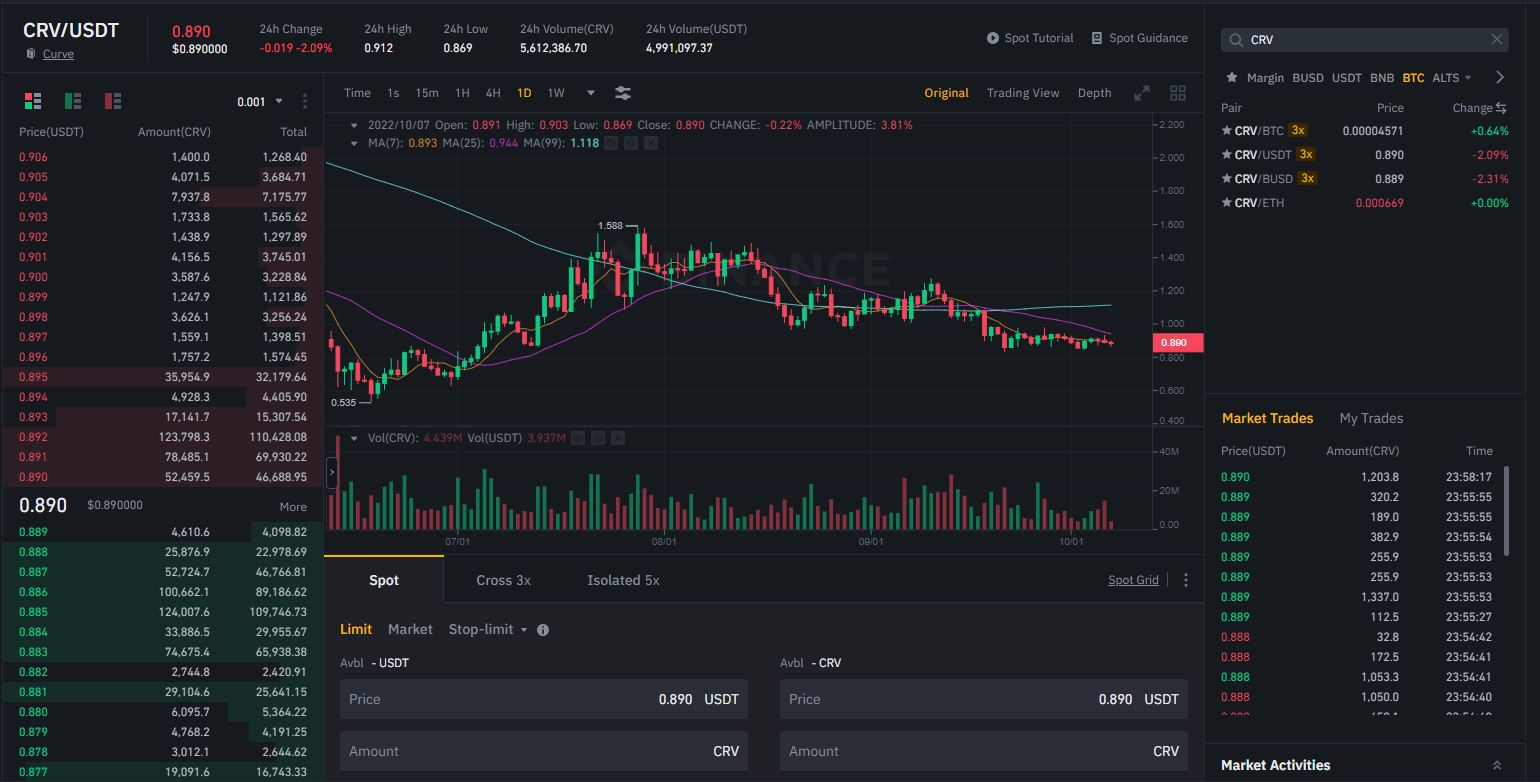 Curve DAO Token Use Cases
Congratulations! Now you're the Curve DAO is proudly owned by the owner. Here's what to do with your crypto assets:
Store CRV
Although your CRv tokens may be kept in your brokerage wallet, experts recommend keeping your coins safe from any exchange wallets as they could be vulnerable to hackers or interference. 
A private wallet should be created with your unique keys. You can choose from software or hardware wallets depending on how you invest. 
Software wallets
If you're looking to trade CRV regularlyYou can choose to use software, hot wallets or both from the selected cryptocurrency exchange. Software wallets' strength lies in their versatility and ease-of-use. Software wallets are the easiest to set up and allow you to interact with many decentralized finance (DeFi), applications.
However, these wallets are vulnerable to security leaks because they're hosted online. To avoid security problems, ensure you do your research before you choose a software wallet. As an additional layer of security, we recommend that you use a platform with 2-factor authentication.
Among other software wallets, CoinStats Wallet is MetaMask and Coinbase Wallet. Trust Wallet is another example. Edge Wallet is also a type of software wallet.
Hardware wallets
Cold wallets, or hardware wallets, are generally considered to be the most secure way of keeping your cryptos safe. They offer offline storage which significantly lowers the chance of hackers stealing them. The pin secures them and erases all personal information after several failed attempts. This prevents physical theft. The hardware wallets allow you to sign and confirm transactions via the blockchain. This gives you additional protection against cyber attacks. They are best for those who have a lot of tokens and are experienced.
The most secure and reliable hardware wallets, Ledger Hardware wallets allow you to securely manage all your digital assets.
Trezor Model T and Ledger Nano X are examples of cold wallets. 
Stake Curve DAO CV
Curve DAO token holders can earn rewards by staking them instead of storing the coins in a cryptocurrency wallet. You can stake many popular cryptos.
Note: Staking crypto assets is risky because the market can be volatile. But it also promises big rewards.
You can stake like you would a savings account at a bank. Crypto staking allows you to lock in a set amount of crypto coins, such as Binance. You will receive annual yields (APY), by locking them on platforms that support CRV-staking.
Track CRV
If you have multiple assets, managing your portfolio can become difficult because the market is unpredictable. A portfolio tracker is a tool that will allow you to keep track of all your crypto investments and Curve DAO tokens from one place. CoinStats has one of the most popular crypto portfolio trackers on the market. Find out more Click here. 
It is also possible Curve DAO's profit and loss as well as liquidity can be monitoredThrough many different exchanges via CoinStats.
CoinStats is compatible with over 250 cryptocurrency exchanges as well as over 7,000 different cryptocurrencies. The site offers advanced search capabilities, charting and analytical tools as well as up-to-date information. This allows you to link unlimited numbers of portfolios, including exchanges and wallets.
Binance
MetaMask
Trust your wallet
Coinbase
Kraken
Kucoin
Bitstamp, 500 other. 
Go to the CoinStats portfolio tracker page.
Click on Add Portfolio to Connect Your Wallet.
To connect to an Ethereum Wallet wallet, click the button.
Click on Submit to enter the wallet address.
Now that you have a better idea of how to buy Curve DAO and what to do with it, it's high time to present the digital asset and the platform it represents.
What's Curve DAO and How Does It Work?
Curve Finance is a blockchain-based decentralized exchange (DEX) built on Ethereum and based on an automated market maker (AMM) principle. It's a non-custodial financial platform that enables cryptocurrencies to be swapped using liquidity pools instead of having buyers and sellers by connecting users with exchange protocols.
The system enables minimal slippage and low fees by finding the best routes for users' swap requests. Curve makes use of liquidity pools to do this. These are shared funds that have been backed digitally by smart contracts and locked into digital tokens. Incentives to be liquidity providers are provided by liquidity pools. Users deposit tokens to the pools and receive rewards. Curve offers liquidity providers efficient savings accounts and low trading fees. Curve helps investors to avoid volatile crypto assets, while also allowing them to earn high-interest rates via lending protocols.
Curve has also created a decentralized autonomous organisation (DAO), using CRV for its native token.
Curve DAO founders
Michael Egorov is Curve DAO's CEO. He is a Russian scientist who has been a cryptocurrency expert for many years. In 2020, the CRV token launched and quickly became one of most popular assets for trading Bitcoin and other stablecoins.
Egorov has prior experience with cryptocurrency-related companies and is also the founder of the decentralized bank and loans network LoanCoin. He co-founded NuCypher in 2015 and was named its CTO. This cryptocurrency company builds privacy-preserving protocols and infrastructure.
Curve's team participates in the CRV allocation structure and receives tokens according to a two-year vesting schedule, which is a part of the initial launch plan.
In August 2020, Egorov awarded himself 71% of governance by locking a large amount of CRV; however, he later called the act an "overreaction."
Why is Curve so special?
Curve.fi stands out due to Curve.dao's technical capability and technology. AMM's operating model allows users to find the most efficient routes to their exchanges. It also allows them swap stablecoins and tokens at optimal rates. Curve is low in trading fees and has minimal slippage because it focuses on stablecoins. Users can also access their tokens on the platform anytime.
CRV is Curve Finance's native utility and governance token used for governance, LP rewards, boosting yields, and token burns. Users can vote on Curve DEX protocol changes, including fee structure modifications, burning schedules and creating new liquidity pools. Voting power token holders who have CRV tokens locked up for longer periods of time will enjoy more votes.
Liquidity Providers are paid CRV as incentive and rewards, based upon the amount of their pool shares. You can buy the CRV token, or you may earn it by depositing assets to a liquidity pool.
Curve DAO Token Today
Curve DAO Daily Trading Volumes were around $220,000,000 in October 2022.
Curve DAO also offers a variety of services such as liquidity mining and yield farming. Stablecoins, which are more resilient to market fluctuations, take crypto volatility out.
NOTICE: While it is true that stablecoins have liquidity problems, this was demonstrated earlier this year by Terra's implosion. It is important that traders take into account the risk when investing in Curve DAO tokens and other crypto assets.
Curve DAO Token CRV
There are 3.03 billion tokens in total for CRV. 62% of these tokens go to liquidity providers. The remaining tokens are distributed as follows: 30% goes to shareholders, 3% – to company employees, and 5% – to a community reserve. Two-year vesting period applies to the employee and shareholder allocations.
The team chose not to use CRV premine. Approximately 750,000,000 were available a year following its launch.
Most Frequently Asked Questions
Curve DAO Token is it a trustworthy investment?
The investment in Curve tokens is safe enough. This platform is well-known and has existed for more than two years. The team behind it can be reached on social media. People can trade and hold stablecoins through the project.
What if I have a bank transfer and want to buy Curve Tokens?
Many cryptocurrency exchanges permit users to purchase Curve-DAO tokens with fiat currency. Some exchanges might not have all the fiat currencies.  Curve may also require an additional swap.
For trading Curve DAO Token, which cryptocurrency exchange should I use?
Curve DAO tokens are available across multiple platforms as previously mentioned. You can choose between Centralized or Decentralized exchanges by choosing from a variety of CRV trading pairs. Our review focused on Binance, but other cryptocurrency exchanges such as Kraken, Coinbase and Uniswap offer CRV pairs.
Is CRV considered to be a risky investment
Due to the volatility of cryptocurrencies, investments in them can prove risky. You should not risk more than what you can afford. As with Bitcoin and Ethereum, these coins also have utility. This is where their value comes from.
Conclusion
Curve DAO is a prominent player in the cryptocurrency ecosystem. Investors have access to stablecoin trades through the platform. The Curve DAO token is the platform's utility and governance token.
We hope you found this review helpful. What Curve meansAnd Curve DAO token purchase instructions
If you want to learn about decentralized finance and how to make the most of it, read our guide "What exactly is deFi?." To learn how to manage your portfolios, visit our "Crypto Portfolio Trackers."
Disclaimer:This website contains information that is intended to be informative. It does not recommend you to purchase, sell or hold any financial products or instruments. It is not an endorsement of a specific investment strategy.
Cryptocurrencies are speculative, complex, and involve significant risks – they are highly volatile and sensitive to secondary activity. The future is uncertain and performance can fluctuate. Before you rely on the information, it is important to consider your personal circumstances. Cryptocurrency is a highly volatile market, do your independent research and verify the nature of any product or service (including its legal status and relevant regulatory requirements) and consult the relevant Regulators' websites before making any decision.
CFD trading, stock and cryptocurrency trading can present significant risk. It is important to consider all options and your circumstances before you make any investments.