Chainlink, a distributed oracle network allows smart contract platforms and public blockchains to connect external data sources with on-chain operations. It seeks to address the oracle problem — the ongoing challenge of linking off-chain data with on-chain data with minimal trust in third parties. Chainlink offers a unique service, making data from the real world, including market statistics, event outcomes and weather, accessible on the blockchain. This is without having to rely entirely on central data providers.
LINK, Chainlink's native token, is used to pay the network's node operators, or oracles, for providing secure data feeds. 
Continue reading to learn more about Chainlink, Chainlink tokens and how you can buy Chainlink. Also, find out why real-world data on blockchain is so valuable.
Let's dive in!
What is Chainlink?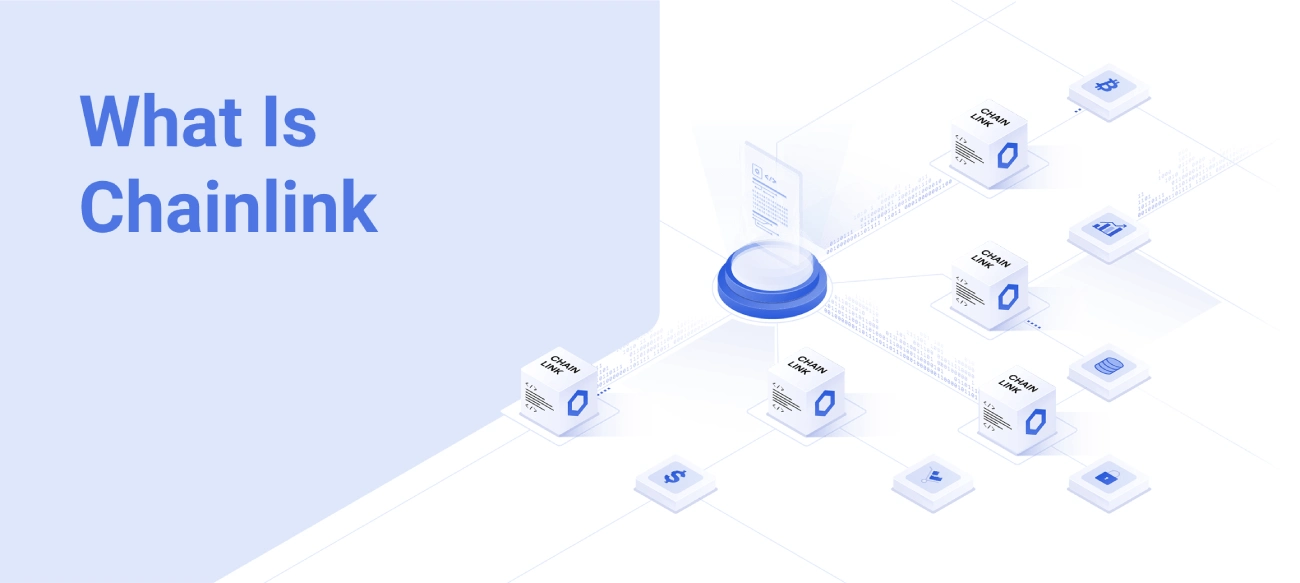 Before discussing how to buy LINK, let's first look into Chainlink, a decentralized oracle network designed to supply smart contracts with credible, real-world data. Chainlink smart contract can use these oracles to access real-world off-blockchain data, including APIs and other external feeds. Chainlink, in other words, allows smart contracts access to real-world data such as weather and currency rates. This is without the need to compromise the reliability and security inherent in blockchain technology. Chainlink allows data to be stored, calculated, and used in other ways from around the globe through a trusted, decentralized information source.
Chainlink, a distributed oracle system, allows blockchain to be accessible worldwide in multiple ways.
For insurance rates to be determined, weather data will be utilized
Location data will be a benefit to supply chain tracking
Decentralized betting will be settled by sporting events
To settle the prediction markets, political events will be utilized.
Token
LINK is the Chainlink network's native token used to pay for services. Chainlink node operators receive LINK in return for the service they provide. Smart contracts that ask for data are paid by Chainlink node owners. To encourage trustworthiness and not being malicious, node operators stake LINK.
LINK uses Ethereum as its base and conforms to the ERC20 standard. Chainlink was developed on Ethereum but is compatible with any other blockchain that has smart contract functionality.
You can purchase LINK tokens on cryptocurrency exchanges. They can also be traded for fiat and other digital currencies. You can save them in cryptocurrency wallets and custodians, like the CoinStats wallet or Gemini.
Chainlink offers many useful features:
Crypto-Economic Safety:Chainlink allows you to leverage contractual service agreements which outline the terms of Oracle services and provide monetary penalties for poor performance.
End-to-End Decentralization: Chainlink uses decentralized Oracle networks made up of Sybil-resistant, independent nodes in order to prevent data manipulation. It also contributes to the cryptocurrency's high availability.
Blockchain Agnostic: Chainlink links all the major blockchain ecosystems public and private. It also serves as an abstraction layer that allows cross-network connections.
The Highest Security Nodes:Chainlink records every bit of data. Each piece is signed digitally by the nodes, and then saved to-chain. The cryptographic evidence also proves the general security of Oracle networks.
In-depth defense: You can use cryptographic signatures and trusted execution environments as well as zero-knowledge proofs and other security measures.
High quality data: Chainlink gives you access to any API data source, whether password-protected and/or secured. This can stop multiple nodes from validating the same point of failure for duplicate validation.
Open-Source Community:A vibrant community exists for chainlink. It includes node operators, developers, security auditors, researchers and others. The community members contribute frequently, which improves network security and speeds up development.
What is Chainlink?
Chainlink employs a unique three-step process that allows communication between its users, and other data sources.
Oracle SelectionChainlink users first create a service level agreement (SLA), outlining the data requirements. This SLA is used by the program to find oracles that have the required data. Users set the parameters and submit their SLA. They then deposit their LINK cryptocurrency to an Order Matching contract, which accepts bids by oracles.
Data Reporting: The oracles will connect to external sources to get the data required by the SLA. The oracles then process the data and return it to Chainlink Blockchain contracts.
Result AggregationThe final stage involves combining the information from the Oracles into a single summation and returning it to the Aggregation Contract. After collecting the responses, the Aggregation contract evaluates them and assigns users a weighted score that is based on all data.
How do I buy or sell Chainlink
Step 1. Create an account with an online platform that lets you buy link
To buy or sell LINK Chainlink, the easiest way is to use a broker that deals in cryptocurrency. With just a few clicks, you can exchange fiat currency or other digital currencies into Chainlink.
It is important to find a broker that will allow you to trade Chainlink safely and conveniently.
How to Select an Exchange for Trade Chainlink
LINK is available on nearly all of the crypto exchanges. The following features are important to consider when choosing the right crypto exchange.
A broker's platform that's dependable and simple to use. Coinbase, a broker with a simpler interface, might be a good choice for you if you're just starting out. If you're a more experienced trader/investor you might need additional charts in order to plan your next move. Coinbase Pro can be a good option in such cases.
There are many cryptocurrencies that can be purchased on this platform.
They provide assets. Some brokers sell only cryptocurrencies while others have stock accounts and both.
This is the fee structure. You will be charged both commissions and maintenance costs.
Encryption, two-factor authentication and other security measures are all options.
After comparing costs and service offered by different crypto brokers allowing LINK to be purchased, choose one that suits your financial needs.
Top 3 Cryptocurrency exchanges that allow you to buy Link Coins
Coinbase
Coinbase was launched in 2012 and is now the most popular cryptocurrency exchange in America. It allows trading Chainlinks, and nearly all major cryptocurrency pairs quickly and simply.
Coinbase's unique function allows you to get cryptocurrency incentives. If you're a more experienced trader, the Coinbase Pro platform is perfect for you. You get more options, such as complex charting and order types.
While Coinbase doesn't offer the most cost-effective price structure, it does provide an easy-to-use platform on which even a novice can trade and invest.
Kraken
Kraken was launched in 2011 and is one of the most popular crypto exchanges. It allows you to access both large projects as well as small or new businesses.
It stores the majority of its digital currencies offline in cold storage. Kraken's servers are constantly monitored by military-grade monitoring. This dedication to security greatly reduces the chance of malware or hacking.
Kraken offers a maker-taker price structure depending on the user's degree of participation. Kraken is a great option for investors and traders who are active, as the costs of Kraken are lower for investors or traders.
Kraken allows you to purchase Chainlink for as low as 0.5LINK (equal to $18-19). Additional benefits include the ability to purchase tokens in a variety of currencies and 24-hour customer service.
Gemini
Gemini is a well-known brand in the cryptocurrency market. Gemini products are known for their high standards in security, investor protection and overall broker experience.
Gemini can be accessed on the internet, via mobile apps, the ActiveTrader platform and through the Gemini Wallet. Gemini Custody,  Gemini Clearing, Gemini Dollar, and Gemini Pay are also available.
Step 2: Crypto Wallets For Storage (Optional)
After you've registered a brokerage account with the crypto exchange of your choice, you'll need to make plans for safely keeping your LINK digital coins. It's not advisable to store LINK on the exchange because a hack might lose all your funds. Your currency is securely stored in wallets using unique keys. There are two options: a cold (hardware) wallet or a hot (mobile/desktop wallet).
If you plan to keep Chainlink for a long time, a hardware wallet is the best option. They offer maximum protection. They are an offline secure storage option, where your keys can be stored on a tangible device. You can buy hardware wallets almost anywhere, even online. This wallet functions in the same way as a flash drive. It allows you to attach to a computer or laptop to send money to a safe wallet.
The Top 3 Chainlink wallets for storage
Coinbase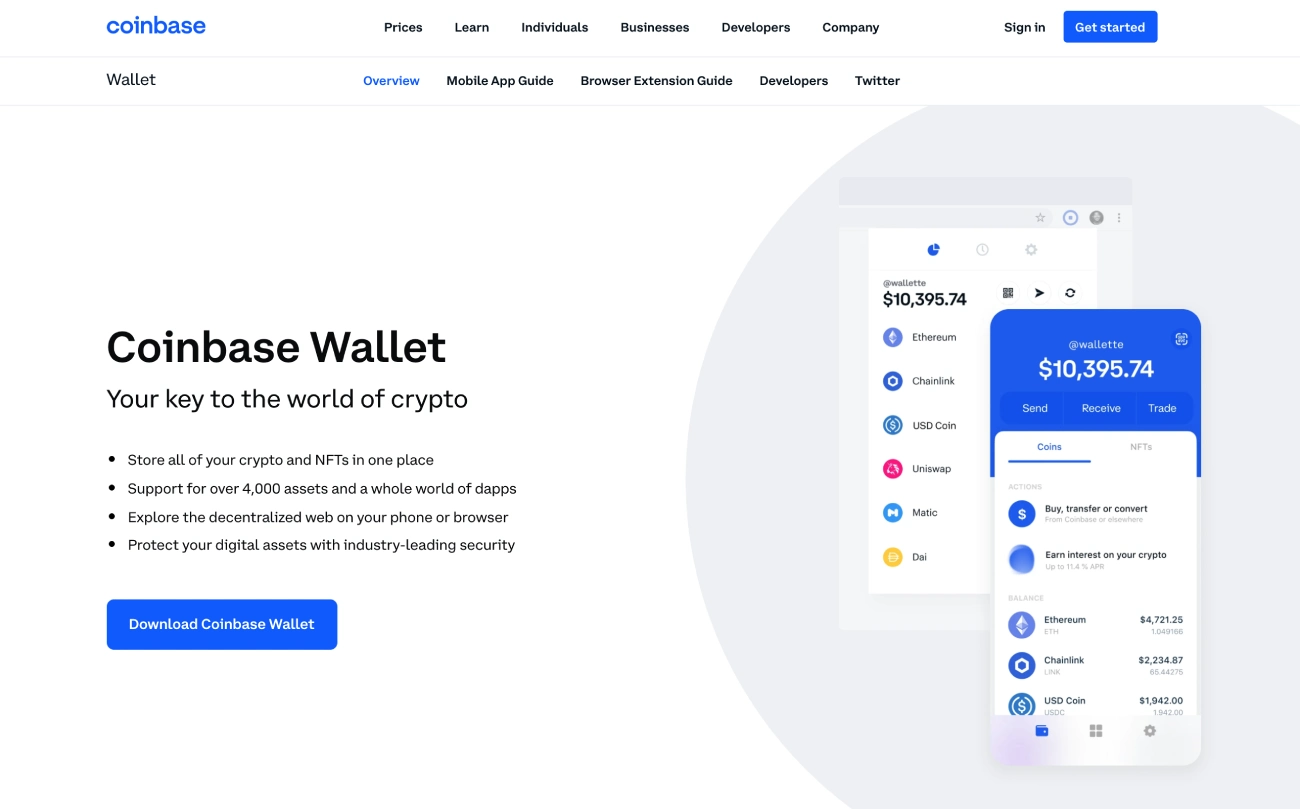 It is a web-based digital wallet that can accept all currencies, such as LINK, ETH and BTC. This web-based wallet supports all digital currencies including LINK and ETH as well as BTC. Secure Enclave protects the Coinbase wallet and uses biometric authentication technology. This wallet includes an extensive collection of digital artwork.
KeepKey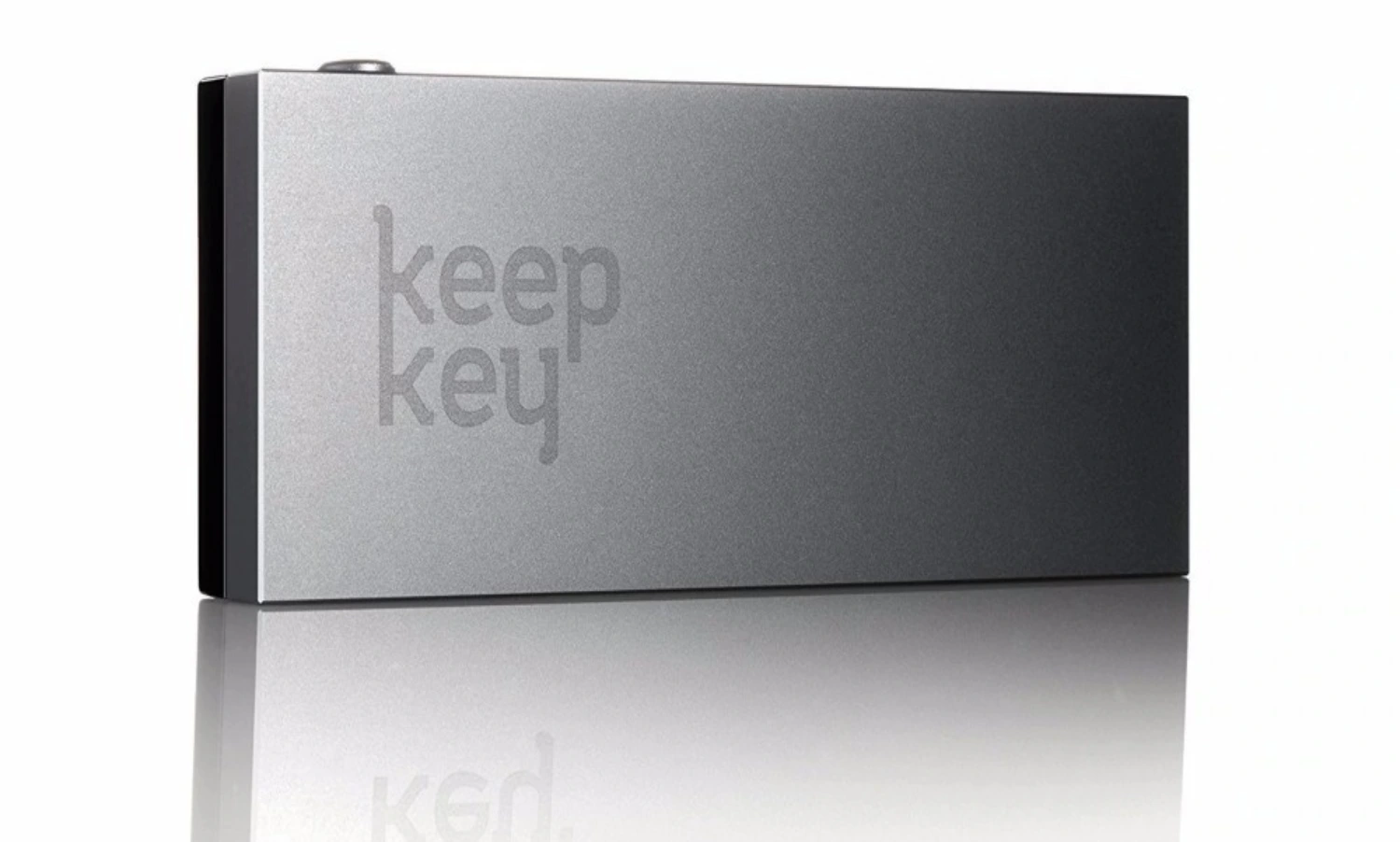 KeepKey, which costs less than $30 and provides excellent security, is the most affordable cold wallet available. You can store all ERC-20 tokens, including Chainlink, and other major cryptos such as BTC, ETH or LTC. It's simple to use, and you only need to use a USB cable to connect it to your computer.
Trezor Model T 
It's the most used cold storage solution and offers top-of-the-line security and a simple setup procedure. Anyone can use Trezor T, regardless of whether they're a veteran or novice. You can connect Trezor T via Bluetooth or USB to any mobile device. The gadget will be ready for use within minutes.
Trezor's Model T comes with a full-color LCD touchscreen making it easier to manage cryptos. It's an excellent choice since it offers the greatest level of protection, a wide selection of compatible digital currencies and tokens, enormous storage capacity, and a straightforward setup process.
Step 3: Make a deposit into your account in order to purchase LINK
After you've created an account, you'll need to attach a funding or payment method so that you may move money from your source of payment to the concerned brokerage account.
Many brokers can accept bank transfer, wire transfer and credit/debit card payments to buy, sell and trade chainlink. The process of linking the payment source and the account can take from one to three hours depending on whether the broker is using wire transfers or credit cards.
Step 4: Buying a LINK
Your exchange account may be used to place orders for chainlink purchases. For buying link, you can place a 0.5 LINK order. You can place an order according to the current Chainlink prices. You can place a number of orders to purchase Chainlink: Limit Orders (Market Orders), Recurring Orders (Recurring Orders), Stop-Limit Orders and more.
Step 5: Add LINK To Your Wallet
When an order has been placed, the Chainlink coins will be sent to your account. You can keep the money by using your private keys. LINK should be saved in a hard drive for safe and long-term storage.
Chainlink: Where can you use it?
Chainlink is able to handle a variety of different applications. Security companies require market data. Insurance and the supply chain industry need verification of events and timestamps. Chainlink's utility is illustrated by these examples:
To activate a smart agreement, payment information can be obtained from either a retailer (or a bank)
A decentralized Oracle system can retrieve weather data to calculate premiums 
Information about the location for supply chain tracking
How to Purchase Chainlink at CoinStats
You can invest cryptocurrency by opening a CoinStats trading account and buying LINK immediately with your credit/debit card. The CoinStats app makes it easy to buy Chainlink.
1. Create an account with CoinStats by choosing "Sign-Up with Email" or logging in with Coinbase; you can also opt for SSO features.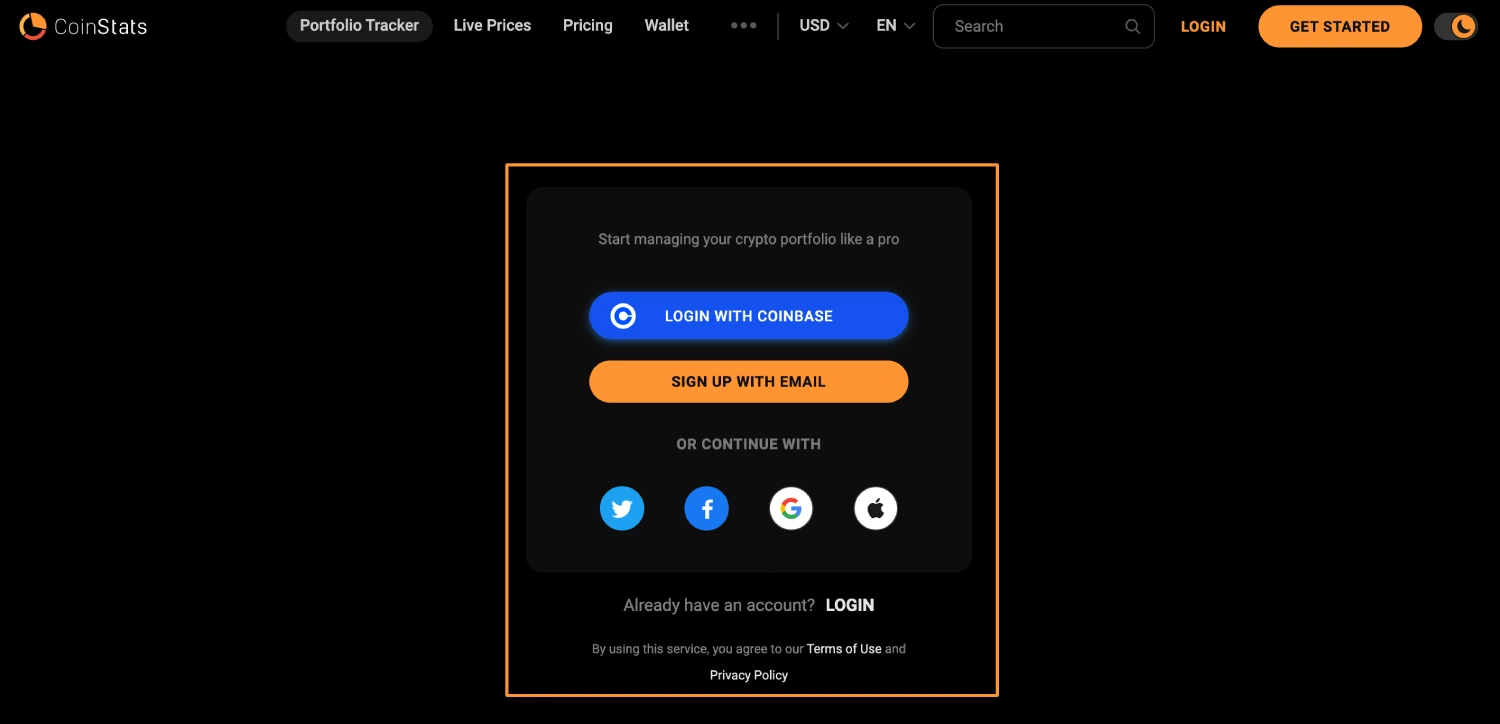 2. Verify your account before purchasing Chainlink. You must present an identification to verify your identity and comply with all regulations.
3. Sign in with your credentials and search for Chainlink token using the search bar. Tap on Chainlink to activate it.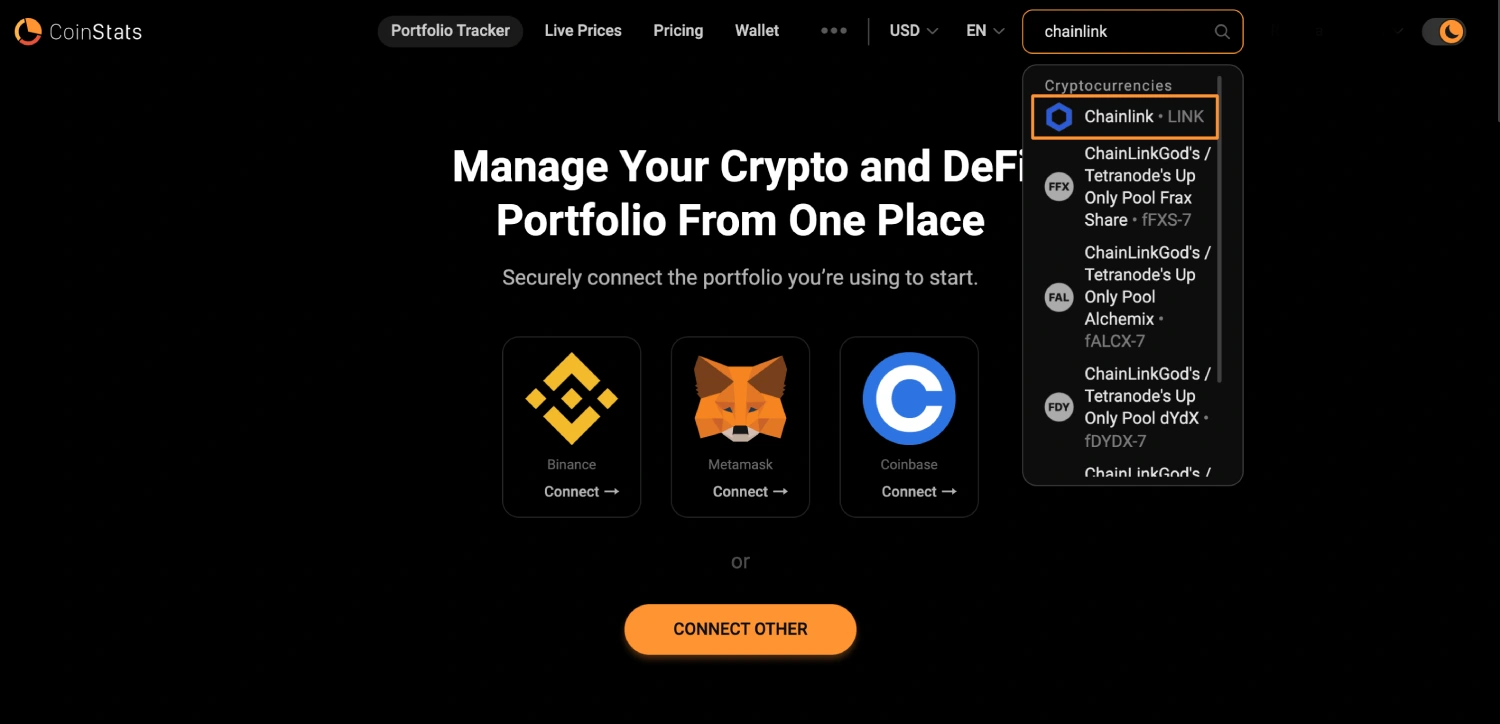 4. The Chainlink price can be viewed and you can place an order. CoinStats gives you two options to answer your question: Buy Chainlink, or Sell Chainlink. You can select Buy Chainlink in the menu. Enter how many LINKS you would like to buy.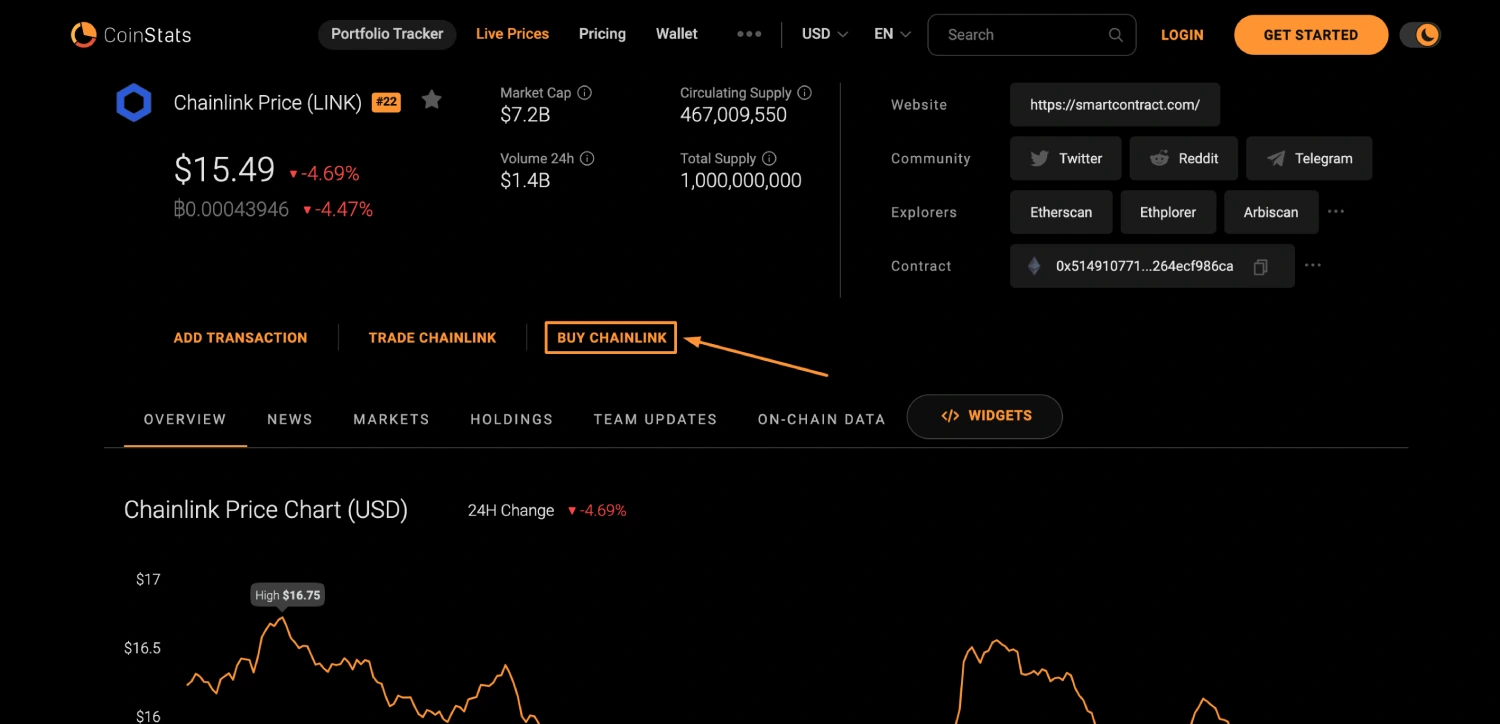 5. If you wish to purchase directly from any of these listed exchanges, select your preferred exchange. Otherwise, you can make a Chainlink purchase with fiat currency by clicking on the 'Buy with Fiat' feature available on the top of the page.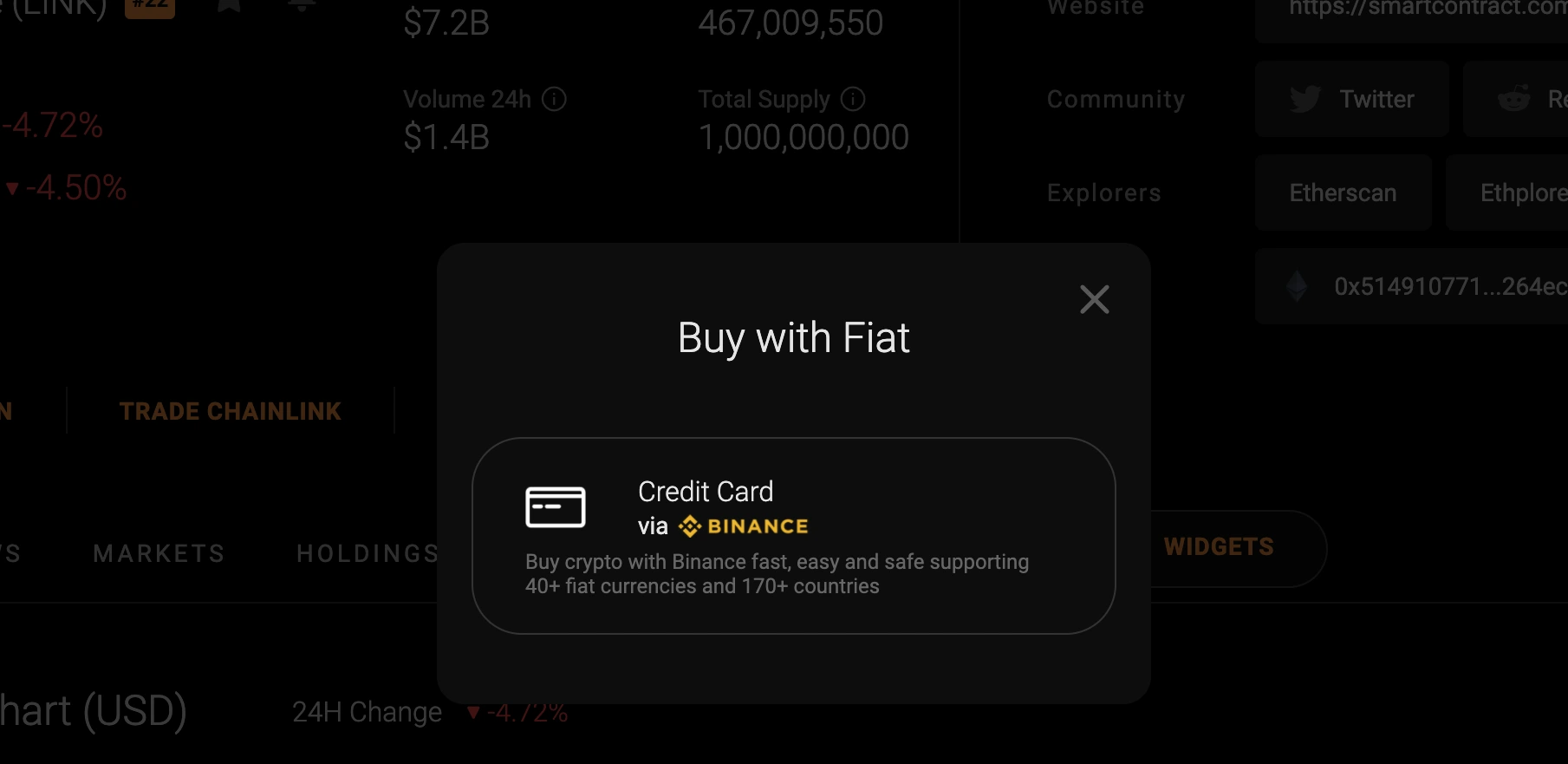 6. Lastly, choose your preferred payment method from the three available choices, in case of Chainlink it's only Binance, however, there are other options available for other coins.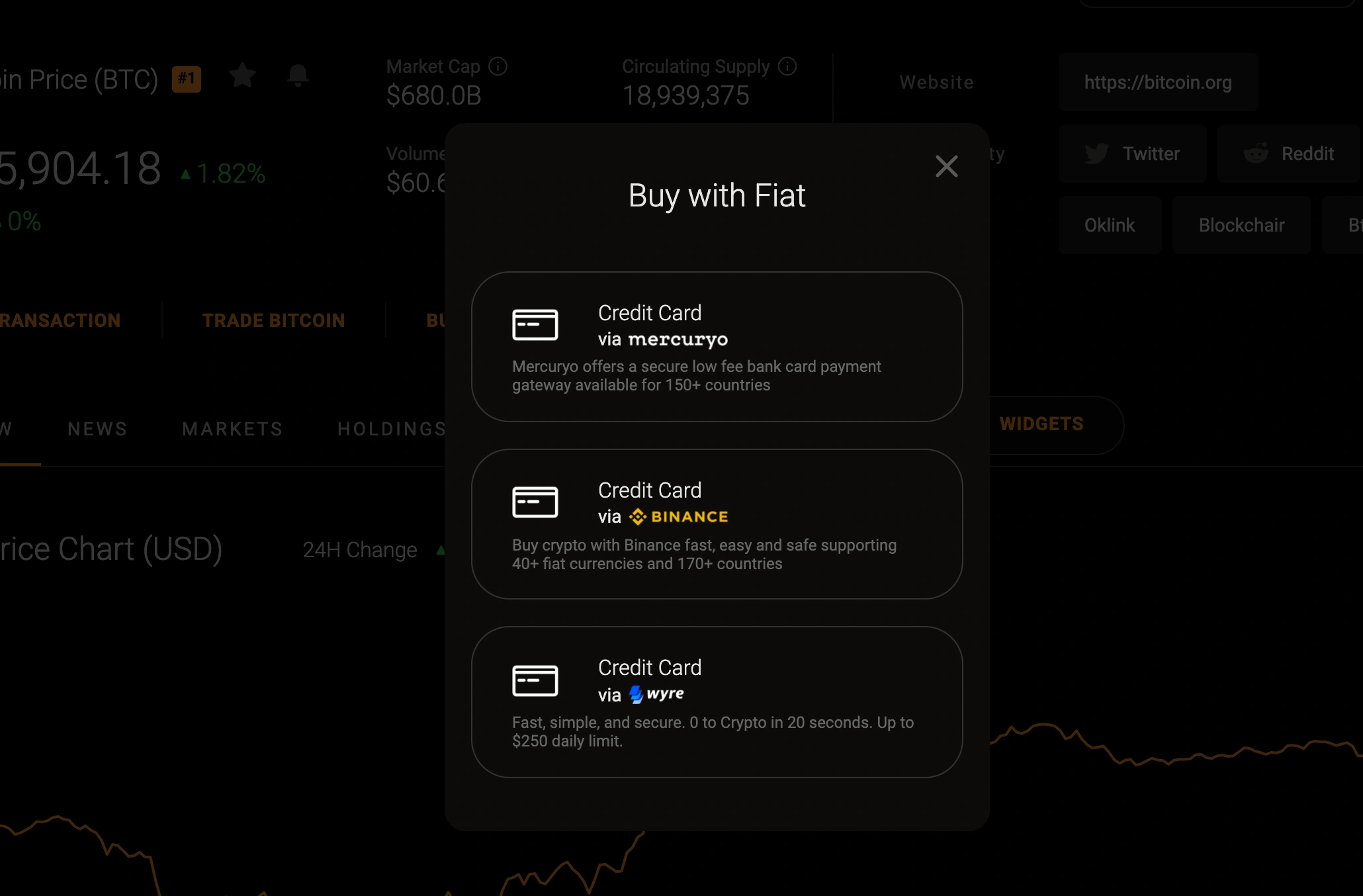 Chainlink is a great choice
Chainlink (LINK), one of the most well-known cryptocurrencies, has a huge growth potential. It's not only backed by the correct technology but also has sufficient resources for future development. Chainlink is home to a wonderful community. The initiative has received a number of awards, including being named a World Economic Forum Technology Pioneer for 2020.
Chainlink significantly expands smart contract's capabilities and uses cases by allowing blockchain access to real-world data, payment information, events, and other relevant data efficiently. Approximately 20,000 individuals now serve as Chainlink node operators, contributing to the project's goal of establishing an utterly decentralized oracle network.
Chainlink Staking 
Users are looking for other ways to invest crypto assets beyond just capital gains, such as yield farming and staking. To stake LINK, you need to run a Chainlink Node or join a Chainlink stake pool. This will allow you to link blockchains with offline data and get payments in LINK.
Blockchain oracles will gain traction and LINK leads that charge. Earning LINK for off-chain data would be a great benefit for all stakeholders.
Conclusion
Chainlink was able to solve the problem of how to access and share data from Oracles, without jeopardizing the security of blockchain. Chainlink created a network that is decentralized. Instead of trusting a source, smart contract run on the Chainlink network. They have access to data feeds and traditional bank accounts payments.
Market risk is a concern when investing in cryptocurrency. CoinStats makes it easy to buy Link immediately. We make every effort to provide accurate information, but we cannot be held responsible for your LINK purchase.
All information in this content is for informational purposes only. CoinStats does not recommend that you buy, sell or hold any security or financial product or instrument.