Developers who want to see great success and adoption in the crypto industry will have to accept this new trend. Polkadot, with its unique approach of governance and interoperability, is fast becoming one of the most important blockchains.
Polkadot uses an innovative mechanism, which is unlike Ethereum, Cardano and other blockchains. This allows the community to choose projects for a small number of available slots. The funds required to take part in the auctions are sufficient.
The winning projects, once the process has been completed, will be distributed via parachains. These independent networks power the protocols. The process is already causing fear with many projects such as Moonbeam and Bifrost trying to win the competition.
Many of these projects give a steady payout to build community support and help win the auction. Astar introduced a 3-bonus level to its supporters, with 5% of ASTR its native token locked in their Crowdloan.
Moonbeam on the other side offers 30% of the Crowdloan pool but the investors need to wait until it deploys its compatibility for Ethereum Virtual Machine. In addition, 70% will be distributed within the 96 week leasing period.
Crowdloan Launch by Decentralized Identity Aggregation Protocol Litentry is one of the projects mentioned. It offers dynamic rewards, bonuses and other opportunities to its supporters.
Participants will have the ability to stake their respective DOTs online without any additional restrictions or complications. Litentry Network's parachain will be connected to Polkadot's relay chain. This will give users greater security and interoperability.
The network is already running on Ethereum, Binance Smart Chain, and has its own native token, LIT. This gives it an edge over other projects trying for a spot on Polkadot. Recently launched Crowdloan strategies represent a significant step forward.
Binance, a leading cryptocurrency exchange has listed the project for many years and it has strong liquidity. Investors have additional security as they can trust the project's legitimacy.
The project has allocated 20% of LIT's total supply or 20,000,000 to incentivize users and reward its supporters to obtain a superior position and a higher chance to obtain a slot in the Polkadot auction. From the first auction slot through the fifth auction, the program will go live and remain in effect until Litentry has secured a spot on the network.
Litentry Provides the Best Reward Programs for The Polkadot ecosystem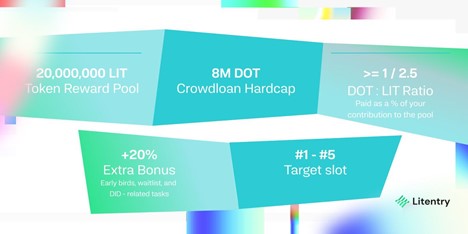 Litentry provides DOT holders with a low-risk, high reward strategy for diversifying their portfolio. It allocates 20% of total LIT token supply to the Crowdloan Program. This will give investors an extra opportunity to earn besides staking their DOT.
Crowdloan Program investors must secure 5 DOTs to take part in the auction. The initial investment is rewarded by a minimum 2.5 LIT.
The final rewards for Crowdloan users will be determined based upon their contribution to the pool. In other words, one user's DOT contribution will be divided by the total DOT contributions in the pool.
When the Polkadot relay network goes live, these rewards will be given to the investors. For the length of the Slot leasing period, each investor will be able to receive their LIT reward in every block. This is for a total duration of 96 weeks.
Even if the project fails to secure a slot, investors will still be compensated in the new Crowdloan campaign with additional LIT tokens until the program's target is met. Crowdloan compensations are estimated to reach 13% annual percentage yield for 5 week periods.
Supporters who support the campaign early will get a bonus up to 10%, or 5% for those who participate before November 18. Also, users can earn extra rewards if they complete an identity-based task and support Litentry Network's main use case. Users can also earn extra incentives through several of Litentry's partners, including the SubDAO airdrop, a Binance warmup promotion, and an all-new partnership with Polkadot Name System that earns users who contribute more than 10 DOT with a free .dot domain name.
Although beneficial, Polkadot's staking rewards have a much lower upside than betting on the growth of its ecosystem. Litentry is an example of a network that allows for interoperable data. It's also able to be used in a way that will increase demand as people seek alternatives to identity and data systems.
Therefore, the Crowdloan Reward Program is a great chance for early investors to fully capture Litentry's potential to become a top project on one of the most promising ecosystems in the space. These investors will also be able to transfer between different blockchains.