This Hibernian F.C (HIB$) Official Fan Token offering, provides significant benefits, and opportunities to increase fan engagement through a series of tokenized sports products, NFT digital collectibles, merchandise and AR experiences. Hibernian FC has new exciting ways to interact with cryptocurrency and blockchain investors. This token allows them to reach new audiences and provide interactive products and gaming for existing and future fans.
FC Porto Fan Token Results – is HIB$ Next?
Hibernian Football Club or the Scottish Professional Football League is better known. Their home matches are played at Easter Road Stadium in Edinburgh.
They won the Scottish Championship League four times and The Scottish Cup three times. Jack Ross is their current manager. Yesterday, they played Rangers F.C. in the Scottish Premiership. This live televised match on Premier Sports was also part of UEFA. In the SPFL Final, they will face Celtic on December 19.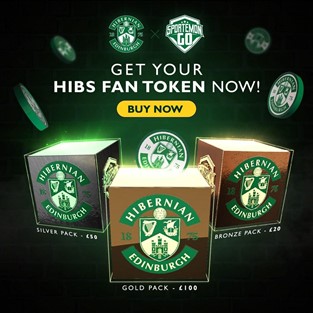 PRIVATE SALE ENDING TODAY
SGOHIBS – USE THE PASSCODE
DX SALE STARTS – GMT 30.11.2021
The Hibernian FC Fan Token is a BEP-20 utility token designed to revolutionise fan engagement, with fantastic AR, money can't buy and collectible experiences for all supporters. Buy, hunt, earn, trade and sell NFT digital collectibles, trading cards and memorabilia to enjoy the gamification features that can turn stadiums and cities into gamified playgrounds with fan rewards and experiences bringing fans closer to the club they love.
The Hibs token is powered by Sportemon Go, their Official Token Partners, the highly experienced team who are the back of jersey Sponsors and Partners of this historic club.
Sportemon Go's success is largely due to 30 years of expertise in developing unique Superfan collectible loyalty fan products and experiences plus the quality, creativity, utility and innovation of their SGO Token. This has led to the constant announcements of elite sports teams and international athletes with imminent token release (every day) for their rapidly expanding 30,000+ token holders.
In the last few months, Sportemon Go secured nearly 35 of the best superstars and athletes, having already signed deals for Australia, New Zealand, England, Scotland, Europe and the USA and the Hibernian Football Club partnership being the first Fan Token to launch with many to follow in the coming weeks and months.
Sportemon Go's CEO and former AFL professional player, Ricky Jackson "SGO's Fan Tokens and NFTs are unique, innovative and it is a Game Changer for increased fan activation, engagement and bringing the club and fan closer together in both real and virtual environments and experiences but also significant providing new and recurring revenue generation opportunities for sporting clubs, athletes and our partners alike".
In a matter of months, we have brought to market the Tokenised fan engagement technology that we have created over the past five years of extensive market research and development, backed by a further 30 years of industry sports success and know-how."
Combining this expertise with creative and unique diversity, the Team Fandom and Collectible spaces are being transformed into the gold standard in sports for organizations to capture Tokenised Fandom experiences, merchandise, and memorabilia.
Achieved through designing, developing and digitising the entire sports fan experience through "HIBS Fan Token" Engagement activations and Rewards A fan token utility can be collected. NFT's which are essentially a Non Fungible Token, that is a memory, moment or memorabilia piece that is blockchain certified, unique and verifiable digital asset. Representing a finite number of items – such as collector editions of stickers and trading cards, medals, stamps, photos, videos, jpegs, audio, and other types of digital files.
"Sportemon Go, "SporteNFTs" are next-generation, innovative and like nothing out there in the marketplace today and we look forward to giving investors, collectors and superfans the ability to get their hands on our first releases over the coming weeks and months.
It's a whole new way to own and experience Fandom and Memorabilia and everyone wants a part of it." And now as "Official Club Token Partner" we are able to bring these exciting Fandom products to Hibs supporter base and the broader Scottish market ,"Jackson.
Hibernian F.C. added; "by purchasing the Hibs Fan Token, you will be supporting the club commercially, as well as having the opportunity to take part in a series of interactive club polls, and activites to win money can't buy digital NFT memorabilia and experiences".
Hibs Fan Tokens allow you to buy a digital Hibs pass that will never expire. The Hibs Fan Token, which is digital in format, replaces the physical memorabilia we used to collect (Ticket Stubs and Programmes). You can also access club polls, exclusive experiences, as well as various competitions, challenges, and games. Fans tokens can be purchased by anyone 18 and older.
Hibs has partnered up with SGO.
Hibs has the chance to enter the growing digital fan engagement market through their partnership with Sportemon Go. This includes direct access via desktop and mobile platforms as well as the use of the Sportemon Go app. Utilising blockchain technology fans can interact digitally in a safe, secure, authentic and verifiable environment with world-class proven partners.
Hibernian was formed in 1875 and, within an 80-year period, had progressed from the overcrowded slums of Edinburgh's Cowgate into becoming the first British club to participate in the European Cup in 1955.
Last week, Hibernians defeated Rangers in the Scottish League Cup Semi-Final and are now scheduled to play Celtic in the final on Sunday 19 December 2021 at Hampden Park.
"It was an incredible experience, filled with wonderful moments at the national stadium for the semi-final against Rangers, and we now have a chance to write a new chapter in our history books… Memories, moments and record that for our fans as digital NFT memorabilia by SGO."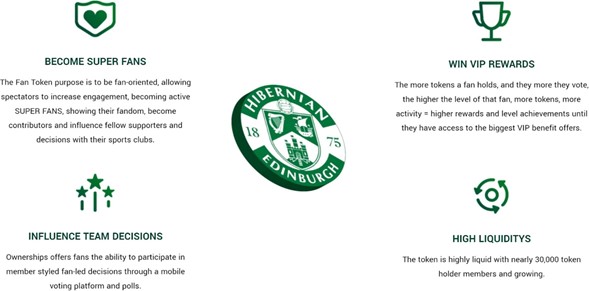 Purchase Your Fan Token Now!
Ricky Jackson, Corey Jackson, founded Sportemon Go 2021. With illustrious backgrounds in sports marketing and sporting software, the father-son pair envisaged the creation of a platform to stand as the world's premier in NFT augmented reality sports trading.
Sportemon Go is a platform that will revolutionize the NFT collecting and gaming industries. It allows users to trade, hunt and collect NFTs from their favorite sporting stars in the real world as well as in real time. Participants will have the opportunity to connect at sporting events and stadiums like never before, creating a perfect blend between the real world and the metaverse.
Sportemon Go, which is a native BEP20 token-based cryptocurrency and solely funded by its SGO cryptocurrency. Investors, fans and players have access to NFT collectibles. Players can also play fantasy sports and form their own teams. You can find all the necessary tools to play real-time, virtual, and esports sports. It also offers betting, gambling, fantasy, as well as other games.