Crypto sector is flooded with trading platforms, tokens and news portals. Each day members search for lucrative investments in the best projects. You can combine hundreds of media outlets and social media platforms. How would potential investors be able to access this information from one location?
Introduce Buzz with Flooz.Trade
Buzz members have access to a whole new world of trading and community interaction that is unmatched in the industry. It is an excellent resource for those new to the industry who want to learn more about trading and are uncertain about how to invest. Buzz is a platform for seasoned traders looking to share their knowledge and help others.
Buzz is a crypto-focused Twitter that users can use to trade and invest in cryptocurrency. Traders can utilize the new feature on the Flooz platform to find out about the community's opinion on general trading and specific tokens and projects. Traders have access to the opinions of their peers in order to determine how these assets perform and price. So, trading, buying and selling can all be done more securely and the community has valuable input.
You can get to know other traders better and learn more about trading strategies from Buzz traders. The platform allows users to: Peek and Pop into other traders' wallets for more than a glimpse of their portfolios and trading practices. This encourages transparency in trading, which helps novice traders trade like professionals. Eventually, traders may not initiate any activity without first looking up the project's buzz.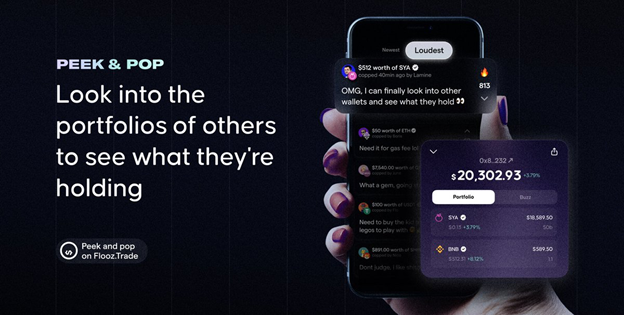 Buzz is democratizing trading information and aiming to be the industry standard in crypto trading. Watching whales invest will give traders insight and allow them to assess the buzz surrounding new projects and tokens. In the end, tokens with low buzz might see little or no trader activity.
Social Trading, Token Partnership and Verification
The Buzz's social trading framework directly births the need to verify tokens or projects. With the myriad of tokens available, Flooz.Trade is open to partnering with projects that pass the platform's due diligence requirements. All vetted project will be verified and given a page with all the essential statistics for investors. These verified projects will be able to embed Flooz.Trade in all of their web pages and social media channels after they have been verified.
Flooz.Trade goes beyond its app or website to make crypto more humane. It allows interoperability through other platforms such as Discord and Telegram. This improves user experience and opens Buzz to traders as well as other members of the community who use these social media sites. This allows users to identify which tokens generate the highest buzz on these platforms, and then make trading decisions accordingly.
What's Buzzing Today?
Buzz can help platform users create new business opportunities and even prevent losses. Market sentiment can affect both traditional and cryptocurrency markets. Investors have the option to use Buzz to sell their tokens. Traders are allowed only invest in tokens that generate the loudest buzz. This prevents traders losing money to tokens and projects that do not get enough buzz, or are negatively viewed by the market. Buzz byFlooz.Trade provides real-time market data and is the place to go if you are looking for the next great platform in Web3/crypto social trading. Visit Flooz.Trade's platforms for more information:
| Instagram Twitter | Instagram | Telegram | Discord | Youtube