According to data, the cryptocurrency market sentiment was almost in the territory of greed just before the last rally.
Crypto Fear and Greed Index Presents Fearful Investors
Arcane Research's latest weekly market report states that sentiment in the markets is just slightly above extremis fear.
The "fear and greed index" is an indicator that tells us about the general sentiment among investors in the crypto market.
This metric represents sentiment using a numerical scale that ranges from zero to 100. Investors are acting greedily if the index's score is higher than 50.
However, if the value of the indicator is below the threshold it suggests that the market may be fearful.
End values of more than 75 and less than 25 imply sentiments of "extreme greed" and "extreme fear," respectively. Tops tend to form in periods of the former sentiment. Bottoms, however, have formed during the latter.
Here's a chart showing the trends in crypto fear and greed over the last year.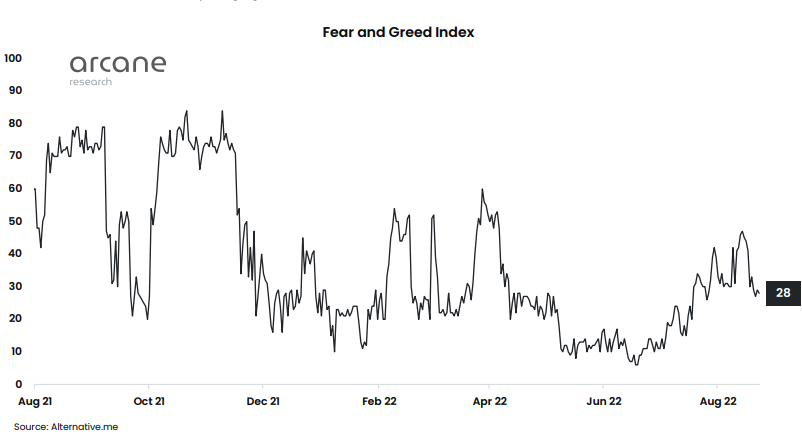 The recent drop in the value of this metric is evident. Source: Arcane Research's The Weekly update - Week 33 2022| Source: Arcane Research's The Weekly Update - Week 33, 2022
You can see that crypto fear has increased steadily since July after it had been in the extrem fear zone for quite some time.
The market sentiment has improved tremendously with the recent rally in Bitcoin's prices. It is now near the border of greed.
However, as the rally came down to a stop, the indicator's value peaked out at 47, just three units short of entering into the greed region.
Since then, the investor mentality has sharply deteriorated as the metric's value has declined to just 28 now. This places us in deep fear territory and close to the extremity of fear.
Investors were not ready to label it a bullish market yet because of the slow growth over those weeks. This is why the sentiment quickly fell off after the rally finished.
BTC Prices
At the time of writing, Bitcoin's price floats around $21.4k, down 8% in the last seven days. The crypto's value has fallen 5% over the last month.
Below is a chart showing the change in coin price over the past five days.
 Source: BTCUSD on TradingView| Source: BTCUSD on TradingView
Featured image taken from Quantitatives.com. Charts from TradingView.com. Arcane Research.