If there's one name that should be on everyone's radar right now, it's CropBytes. CropBytes, a viable project that provides innovative and consistent features for the cryptocurrency and blockchain sectors continues to rise in popularity and use. This has allowed them to maintain their high quality services and have helped to keep the sector's reputation as a reliable and effective market leader.
CropBytes is, perhaps most important, able to succeed where others seem to have failed. This has to do with their simple goal of building for a close community for four years.
The farming simulator game, which experienced a whopping 800% ROI during August to September, will soon be 'Free-to-Play'. Additionally, CropBytes' many markets, including FRF, CAF and Pro Mix have grown by more than three times, which has resulted the above ROI.

CropBytes, what is it?
CropBytes, a simulation of farming that uses real-world economics, is available. Starting a 'cryptocurrency farm' involves more than growing digital crops and rearing animals, the ultimate goal is for users to contribute to the economy while growing their own crypto farming business.
CropBytes' primary goal is to provide its customers with a high-quality and efficient platform to harness the crypto benefits to play and earn in virtual environments. CropBytes can also be used with iOS and Android compatible devices. It has over 4.3/5 ratings on app stores, and is the #1 simulation game in playtoearn.net
Over a million assets can be traded between players every day through the in-game marketplace. CropBytes boasts over 600k signups since 2018, which includes Investors, Traders, and Players.
Exploiting Game Assets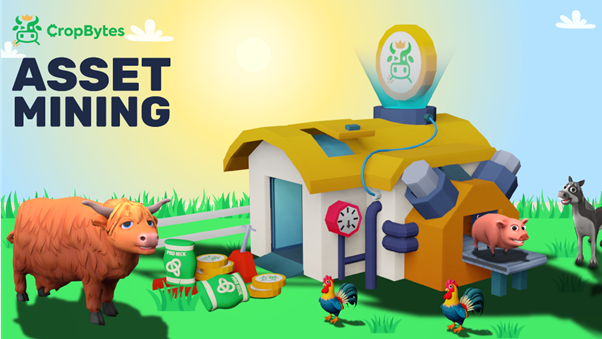 'Asset Mining', one of CropBytes' most anticipated features, is now available. The new feature allows users to create new game assets that can be used for mining by using Pro Mix and CBX. CropBytes' economy is sustainable because of high liquidity assets that are easy to trade and have in-game utility. The gameplay is rich in asset mining and provides both utility as well as value.
Users can simply go to the CBX Station, choose the asset that they wish to mine and burn the CBX with their Pro Mix. Pro Mix can also be made by combining Pro Extracts with Fruit Feed.
Asset Mining gives farmers the opportunity to access a fresh source of highly valuable game assets, and also helps to set up their business for success in the new service economy. Furthermore, it empowers the farmers to utilize their farm's output to increase their asset inventory which will provide additional use-cases for extracts.
CropBytes invites you to earn
CropBytes' new CropBytes referral system has performed very well. The 'Invite & Earn' program is designed to help users grow their farming business while being promotional ambassadors.
For every new player that they refer, users can receive assets up to 80 CBX as rewards. When a refer a friend signs up, they will receive a reward. Users can also easily keep track of their invites, rewards, and earnings using their 'Rewards Dashboard'. There are a number of 'Terms and Conditions' listed on the website that should be read before participating in the new program. There is also a useful 'FAQ' section available to answer some commonly asked questions.
CropBytes' future goals: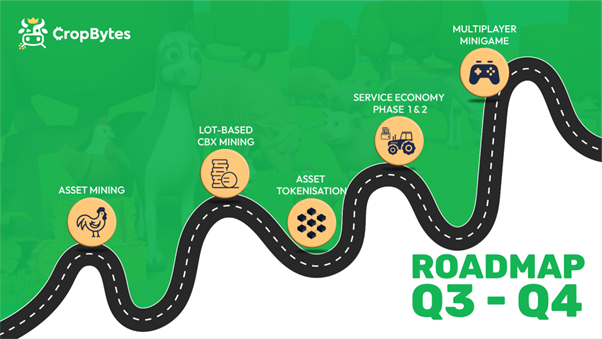 As per the official roadmap, CropBytes supporters can look forward to some new features being introduced soon such as 'CBX Mining V2', and 'Asset Tokenization' (for which asset mining is essential although the assets shall be minted on-chain in a later version. It allows for greater transparency and true ownership by the users. Also, long term goals include creating the metaverse, mini games, the service economic, and many other things.