In 2021, crypto took the headlines by storm. There was never a dull moment in the news, from NFTs to metaverse. Cryptocurrencies' rapid growth presents an investment opportunity, not only for average individuals, but also for large corporations.
As a result technical advances, digital assets are growing. As payment options, decentralized technology is being implemented in more countries. To make profitable investments in the cryptocurrency market, you need to know what trends are expected in 2022.
 Crypto Trends To Watch
1. NFT is not leaving:
Non-Fungible Tokens, or NFTs, were the hot topic of the blockchain industry in 2021. Artwork such as Beeple's The First 5000 Days fetched astronomical prices, bringing the concept of unique digital tokens stored on blockchains firmly into the public mind. It's also well established in the music industry, with bands like as Kings of Leon, Shawn Mendes, and Grimes all releasing NFTs
In Q4 2021, the metaverse was a fad that went mainstream with companies like Baidu and Huawei joining in on it. NFTs are the foundation of the metaverse. Ownership tokenization can be used to link physical and digital worlds.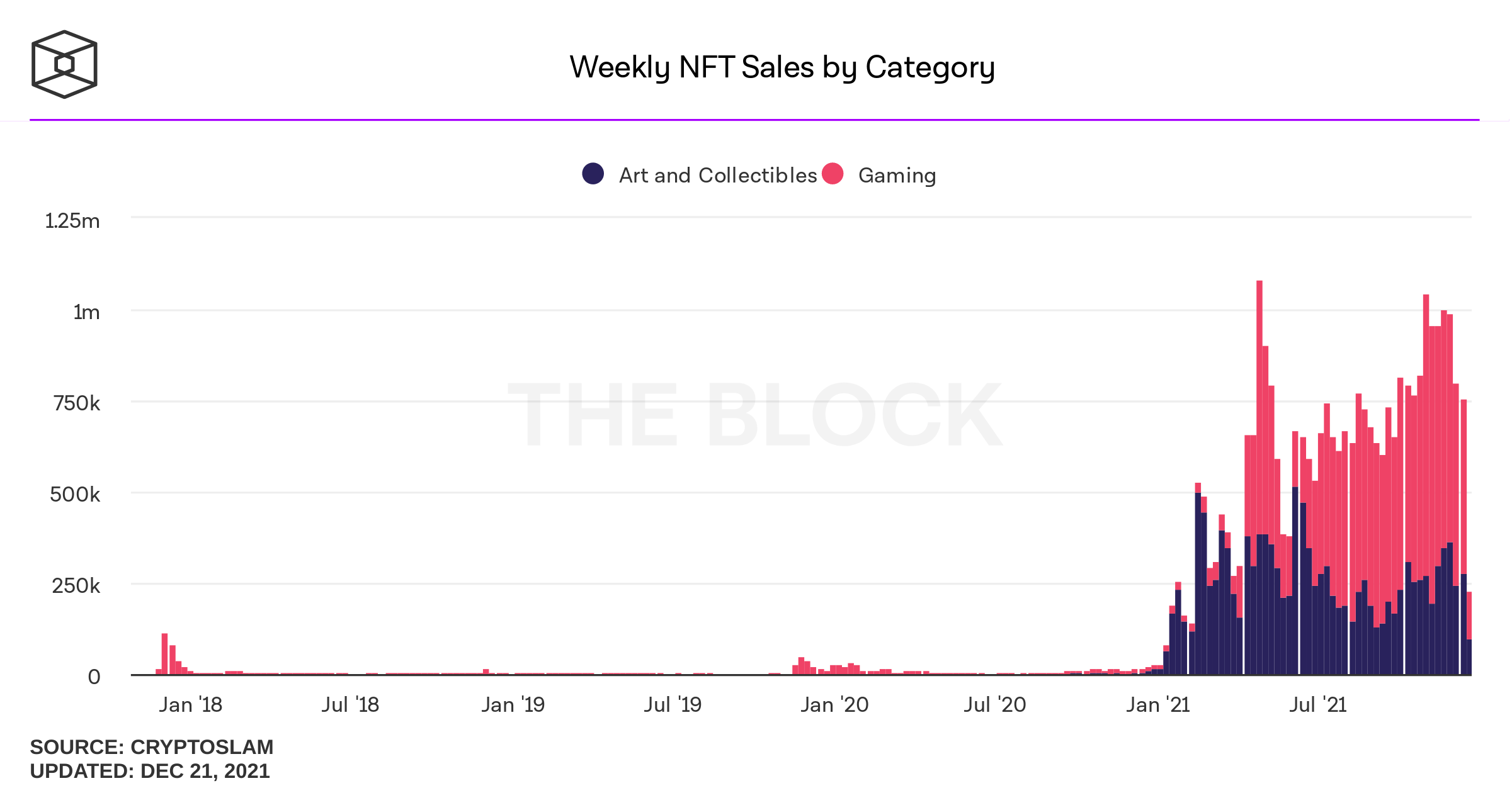 NFT sales by category. Source: CryptoSlam
OpenSea and other NFT platforms like AxieInfinity and CryptoPunks have now their own teams of creators and traders. The number of NFT wallets was more than 1000% higher in 2021. This trend is likely to persist into 2019.
2. There is a lot of demand for play-to-earn gaming:
Splinterlands (Axie Infinity), Splinterlands (Decentralands), and The Sandbox all offer play-to earn games. These are bringing crypto to the masses and increasing accessibility to NFT. According to the findings from a Coinlist's poll, the interface between DeFi and gaming will continue to gain momentum in 2022, and game-oriented platforms like as Flow and Immutable X will become more important. Blockchain will allow gamers to trade their in-game assets on secondary markets and own them. These ecosystems will see significant improvements in the next year, and they are expected to become widely accepted.

Transaction volume and play-to-earn user growth in the past few months Source: DappRadar
Next year, mergers and acquisitions could see crypto-related gaming companies enter the industry. Ubisoft, an AAA gaming company, announced that their in-game products were to be tokenized using NFTs on Tezos.
See also:|MetaFi versus GameFi – A new Blockchain War?
3. Expect smart contract adoption to boom:
The Ethereum network can be used to power a variety of applications, including NFT ownership and smart-contracts. In 2021, Ethereum network transactions saw a rapid rise in popularity and acceptance of Ethereum-based project. (like NFTs). As the number of users and players expands, we expect that smart contract networks such as Ethereum and Solana will continue to increase in size and value.
Source: Messari, VanEck.
4. Potentially huge prices for bitcoin and altcoins
It is not easy to forecast the price of Bitcoin or other digital assets.
Despite being a frequent topic of discussion, target amounts exceeding $100,000 have been common, however, they are often estimated to be far off. Although this target seems a little far off, recent price volatility and the trend towards greater integration support it.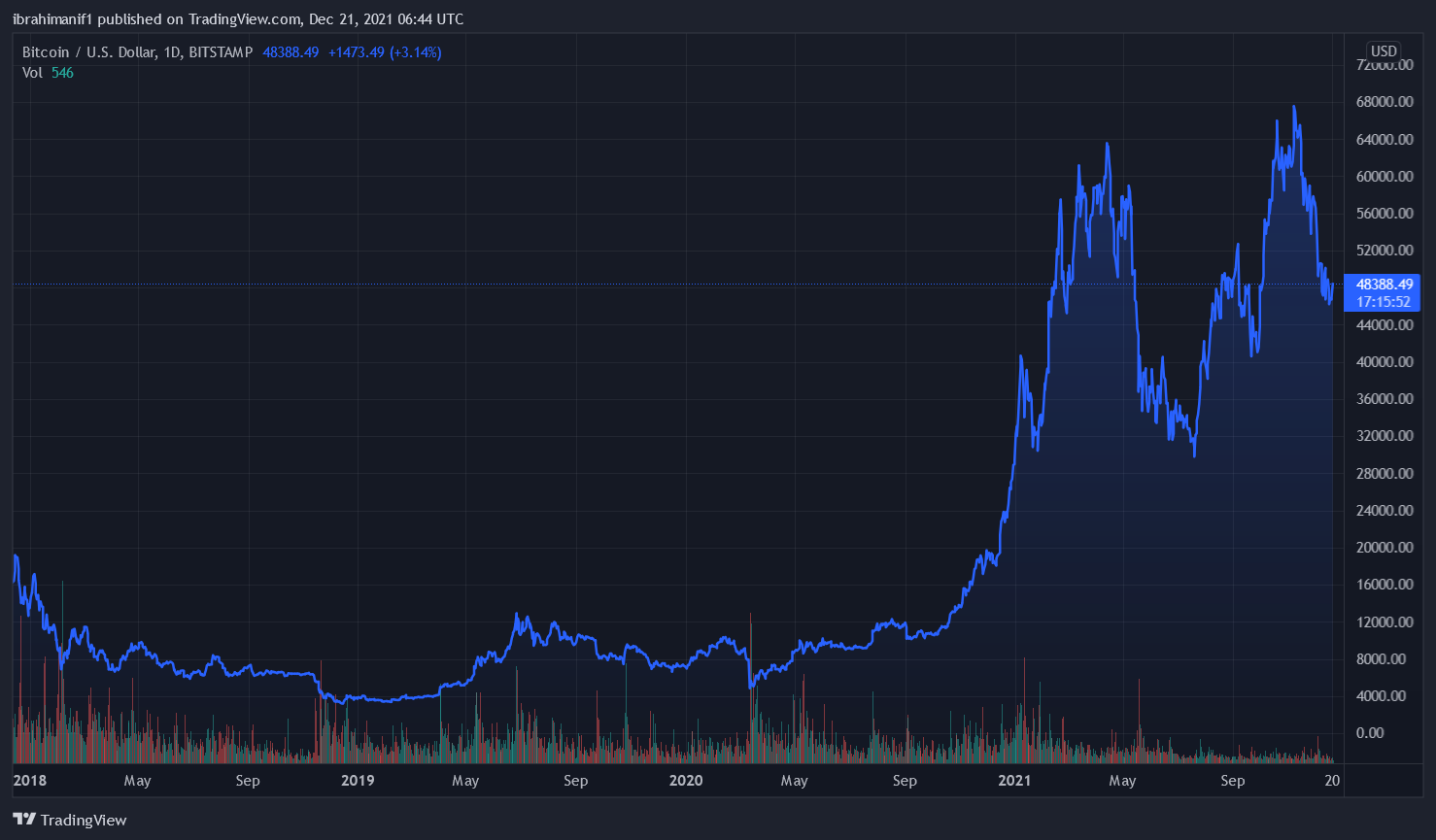 BTC/USD close to $50k rally Source: TradingView
Given the strong macro tailwinds and growing inflation, it's impossible to see a future where bitcoin falls out of favor while the rest of crypto rises. Despite the fact that bitcoin's market share has dropped from 70% to 41% this year, Ethereum remains the sole true competitor. However, given the rising competition Ethereum faces from other L1s, it's unlikely to see a flippening happening in 2022.
El Salvador was the first nation to accept Bitcoin as legal currency in September 2021. It's expected that has more countries adopt Bitcoin, the value will stabilize into a rally.
5. Crypto Regulation:
If 2021 was the decade of cryptocurrency regulation talk, 2022 will likely be the year to take action. Because, if nothing else, 2021 has demonstrated that cryptocurrency isn't going away anytime soon, which has made a number of regulators sit up and take note.
Although some countries may still have a strict stance against cryptocurrency, experts believe the general trend is toward more acceptance, even though it will require some precautions. More crypto bans will be less likely as regulators gain a greater understanding of this space.
The 2022 expansion of national cryptocurrency, where central banks make their currency and can manage it, is also expected.
The regulation of stablecoins in different parts of the globe will vary. In particular, there are the United States and European Union working together to regulate stablecoins. Similar to the UK, the Regulation on Markets in Crypto Assets in the EU (MiCA), will be followed.
See also:|Looking ahead: How should EU regulations for the cryptocurrency sector look like?
Pixabay featured image. Charts from DappRadar Messari and TradingView.