With over 280 centralized and decentralized exchanges in the crypto space, it's increasingly difficult and time-consuming for users to find the best option for their digital asset swaps.
Imagine a community that could help you choose the right option for your crypto swaps and the lowest transaction fees.
Enter 1inch network, a decentralized exchange provider and aggregator that provides liquidity and prices on multiple exchanges. You can find the best rates for your trades and the lowest fees by looking at the liquidity and prices.
We will be taking a deep dive into the 1inch DEX Aggregator, including a detailed breakdown of its history and advantages. Then, we'll provide a tutorial that can help you get going.
What Is 1inch Network?
1inch Network is a decentralized exchange  (DEX)  aggregator and automated market maker (AMM) that aims to find the most efficient swapping routes across leading decentralized exchanges. It saves users' money by finding the fastest and cheapest route stored on the Ethereum blockchain and facilitated without an intermediary.
It divides an exchange between multiple sources, and compares their market depths. This ensures that users get the most competitive swap fees across all platforms. It displays the price and liquidity available on multiple exchanges to verify whether you're getting the best rate. 
The 1inch Exchange currently sources liquidity from three blockchains: Ethereum and Binance Smart Chain Network networks. 
1inch Network is created by 1inch Labs. This decentralized group of software developers is overseen by the 1inch DAO. Another key contributor is the 1inch Foundation, a non-profit organization that has issued the 1INCH token and is responsible for the network's community initiatives.
The Key Takeaways
1inch Network, a DEX aggregator (DEX) and automated market maker(AMM), displays liquidity and prices on several exchanges. This helps you choose the most favorable rates for your trades and the lowest fees.
It divides exchanges among multiple sources, and examines market depths for each source to make sure you receive the highest swap fee on all platforms.
It is simple to do a digital asset exchange on the 1inch app, particularly if you use the basic mode.
1inch Earn allows 1INCH token owners to make passive income by providing liquidity and stakes.
What Does it Take to Make 1 Inch Work?

How does 1inch make it possible to swap assets? After submitting an order,  1inch will search across all compatible sources and DEXs to enable cost-efficient and secure swap transactions across multiple liquidity sources. 
 The protocol uses the Pathfinder algorithm to find the best trading path across different markets with over 50+ liquidity sources on Ethereum, 20+ liquidity sources on Binance Smart Chain, and 7+ on Polygon.
The protocol depends on several protocols that work in concert to create a DeFi space with smooth operation. The three  underlying protocols are:
Aggregation Protocol
The 1inch Aggregation Protocol's key role is to source liquidity from various decentralized exchanges and liquidity protocols and split a single trade across multiple exchanges to offer the best rates. This is achieved by 1inch's V3 smart contract algorithm, which cross-references over 100 liquidity protocols to find the most advantageous digital asset swap based on parameters like price, liquidity, and slippage. The aggregation protocol uses the  Pathfinder discovery and routing algorithm to find the best paths across multiple markets in less than a second. This allows the protocol to divide a digital asset swap in multiple transactions, allowing users to swap the most quickly and with the least fees. This feature is relatively new and was released in the 1inch V2 upgrade.
Liquidity Protocol
Liquidity ProtocolAutomated Market Maker (AMM), which allows users trade their assets automatically using liquidity pools. Users can participate in liquidity mining programs and receive rewards by using the liquidity protocol.
The protocol operates in the same manner as popular automated market-makers, Uniswap/Sushiswap. This allows for buy and sale orders to be automatically processed on decentralized exchanges, without the use of an intermediary or order book. Yet, 1inch's additional features help it stands out from other AMMs.
The protocol's smart contract algorithms are responsible for sourcing liquidity from different DEXs and pools. The AMM protocol has access to the deepest liquidity sources from the most popular networks, including Ethereum, BNB Chain, Avalanche, Polygon, Optimistic Ethereum (oΞ), Gnosis Chain, Fantom, Arbitrum, Aurora, and Klaytn.
Limit Order Protocol
1inch Network's limit order protocol enables users to place limit orders on their asset swaps via smart contracts. The protocol facilitates flexible limit order functionality  and features no fees. It offers dynamic pricing that is based on supply and demand, conditional execution, multichain support and fulfils requests for quotations. Additionally, it implements stop-loss and trailing stop orders as well auctions. 
Quick Fact
1inch Network's assets are completely uncustodial. No central organization or third-party has ever had access to them. It is an attractive selling point for investors because it negates the risk of asset freeze or censorship.
1INCH Token
1INCH is the protocol's governance and utility token. It's an ERC-20 token and is available as a BEP-20 token on the BNB chain.
1INCH currently has over 584 millions coins in circulation and a total supply worth 1.5 billion tokens. 1INCH, which has a market capitalization at $359.2million, is currently the 128th-largest cryptocurrency according to CoinStats.
1INCH token launched on December 25, 2020. Tokens were distributed to users and community members who executed trades prior to September 15, 2020. Airdropping the token to liquidity providers of 1inch was also possible.
As per the official token release announcement, the 1INCH token's initial distribution was as follows:
Core backers, contributors and early investors received 56% of total token supply
Community incentives were allocated 30%
14.5% – to the protocol growth and development fund (with a 4-year unlock period)
0.5% – to liquidity providers.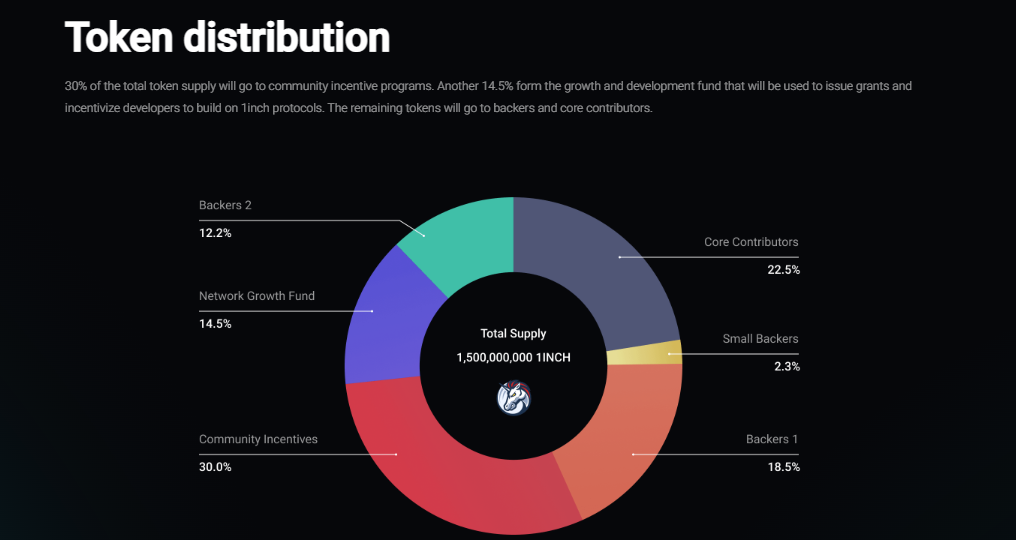 1inch Network History and Team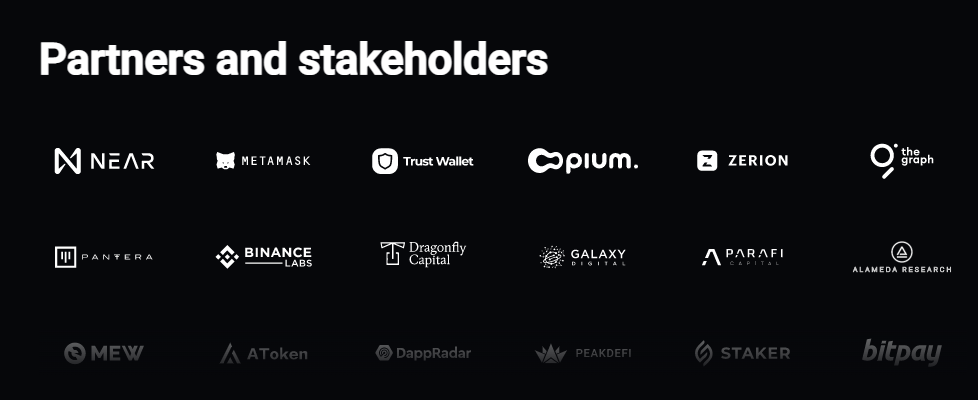 Sergej Kunz was a former Porsche software engineer and Anton Bukov was a former Near contract developer. 1inch launched May 2019, by Anton Bukov. It was unveiled during the ETHGlobal Hackathon in New York.
1inch network was initially launched without venture capital firms or investors' funding.
1inch closed its initial investment round in August 2020 led by Binance Labs. It raised $2.8 million from institutional investors such as Galaxy Digital, Greenfield One and Dragonfly Capital.
Pantera Capital led 1inch's second financing round in December 2020. This raised $12 Million from top institutional investors, including ParaFi Capital, LAUNCHub Ventures and Nima Capital.
1inch completed a $175 million Series A funding round in December 2021. The Amber Group led the round, which included participation from Jane Street, VanEck and Fenbushi Capital. This brought the protocol's total valuation to $2.25 billion.
Pro-Tip
There are two trading modes: a basic mode that is suitable for novices and an advanced mode that suits experienced DeFi pros. The network charges no trading fees for asset swaps, and the protocol's top stakers get up to 95% refund for gas fees charged using the network.
How to Use the 1 Inch Network
It is simple to do a digital asset exchange on the 1inch app, particularly if you use the basic mode. Here's how it works:
Start the 1inch App. Open the 1inch App. The simple mode is simpler and more intuitive.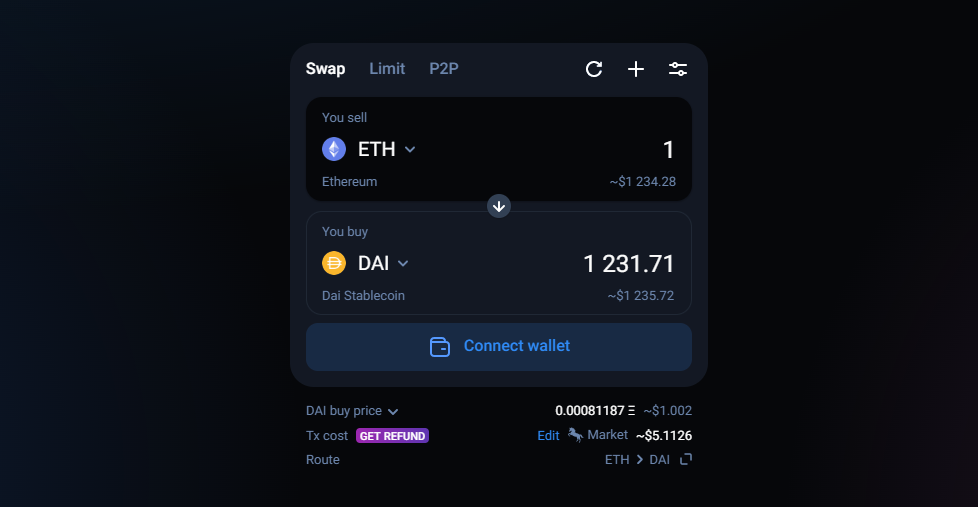 On the "Swap" window, click  "Connect wallet."
The window will display all available wallets. Select the one you'd like to use for the asset swap and accept the terms of service.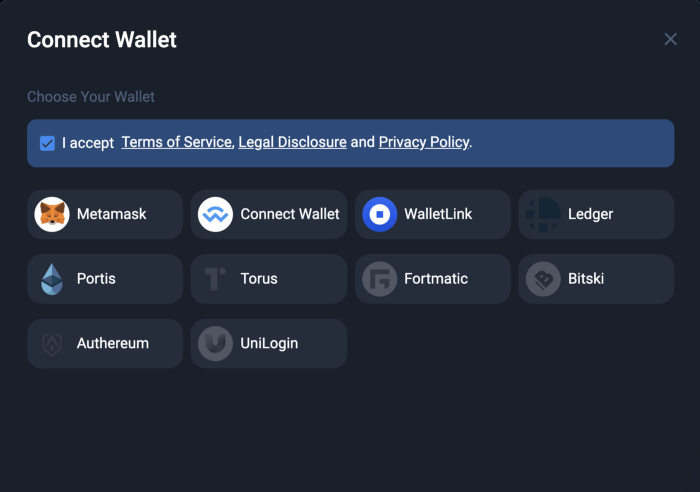 Once you've connected your crypto wallet, select the cryptocurrency you want to sell and enter the amount in the "You sell" tab. Then choose the cryptocurrency you want to buy in exchange by clicking on the "You buy" tab.
You can also choose between "Maximum return," i.e., the best swap rates, or "Lowest gas cost," for the lowest transaction fees.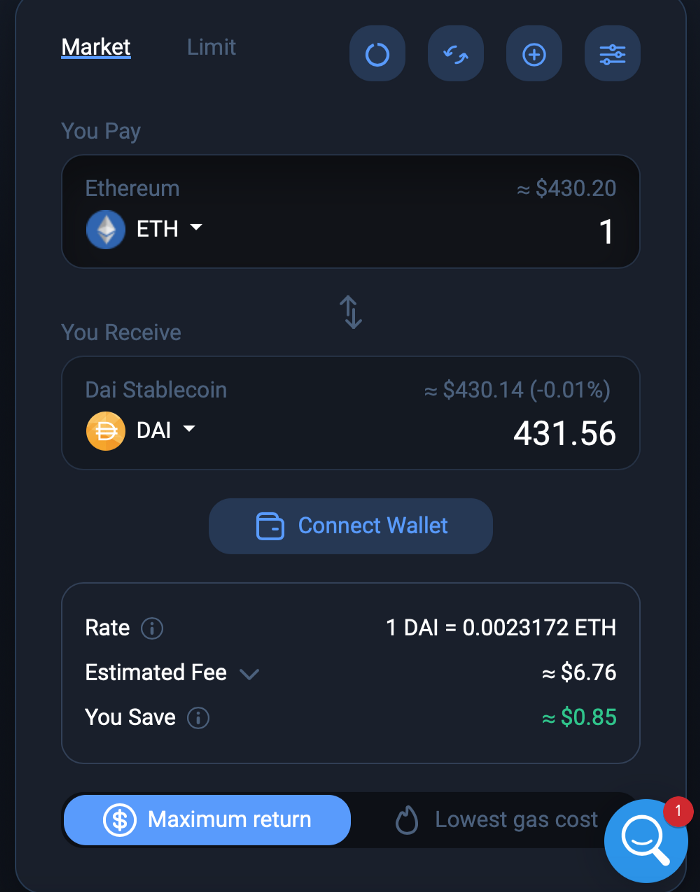 1-inch DAO
The 1inch Network is governed by the 1inch DAO — a decentralized autonomous organization that enables 1INCH stakers to participate in the protocol's governance by voting for key protocol parameters. 
1inch Network DAO Treasury is an investment pool that belongs to the community. It's controlled by twelve multi-signature (multisig) wallets of which seven must be signed transactions.
Protocol funds, such as the Pathfinder swap surplus, are all directed to the Treasury. Revenue funds do not go towards the 1inch Foundation. These funds can be used to fund grants or other initiatives that are network-oriented.
Governance
The 1inch Network's governance structure differs from most DeFi protocols with its instant governance  feature, enabling the community to vote for protocol settings under the 1inch DAO in a transparent, user-friendly, and efficient way.
Instant governance is free from entry barriers, which makes it more community-oriented and decentralized.
Anyone holding the governance token can vote for or create new proposals by 1 inch. A user's voting weight is directly proportional to the number of tokens held in the staking contract. Users can also choose to delegate their voting power to other addresses, known as "Delegatees." 
For the vote to take place, token holders must stake their tokens 1INCH to qualify for additional tokens and staking rewards. The amount of staking rewards is directly proportional to the fees generated on 1inch — more protocol fees equal greater staking returns for voters.
1inch shows the highest voted addresses to encourage transparency.
Earn 1inch
1inch Earn allows 1INCH token holders the opportunity to generate passive income through these methods:
Providing Liquidity 
The main method to earn passive income via the network is by providing liquidity. This involves locking a cryptocurrency trading pair in 1inch's liquidity pools in exchange for an annual percentage yield (APY) ranging from 1 to 205%, depending on the asset pair and trading pools.
Liquidity providers must stake both cryptocurrencies of the trading pair in a 1:1 ratio, like LDO – stETH tokens.
Placement
Staking is another popular yield farming product on 1inch, which requires 1inch token holders to lock up their tokens for a set period in the network's staking contract. 
The pool balance will affect the staker's APY. Stakers receive a fixed 6.35% annual percentage rate from Turbo 1INCH at the time of this writing.
The 1inch stake:
Visit the 1inch App homepage, click the "DAO" section to open the drop-down menu, and click "Staking."
On the Staking dashboard, click "Connect Wallet" in the upper right corner and add the crypto wallet with your 1INCH tokens.
Enter the number of tokens you wish to stake in the "amount" field, or conveniently select the percentage of the total holding you wish to commit.
Once you've reviewed your selection, click on "Submit."
 After carefully reviewing  the transaction displayed in your crypto wallet, click "give permission to stake 1INCH."
Approve the transaction and click "Stake Token" on the Staking Dashboard. Your tokens will become staked once the transaction has been completed.
1inch Network Benefits
1inch offers the benefit of the best Swap rates from all DeFi Protocols. The aggregation protocol selects the most efficient swap route among hundreds of liquidity providers. 
This network offers an easy-to-use front-end interface, appealing to crypto beginners and encouraging mass adoption. It offers a basic trading interface for newbies, and an advanced trading mode for DeFi veterans.
One of the biggest benefits to 1inch is its zero trading fees on asset swaps. Moreover, the protocol's top stakers get up to 95% refund for gas fees charged using the network.
The network's security is another distinguishing feature among DeFi protocols. According to CertiK, 1inch's Skynet Trust Score is 91/100. 1inch has been subject to many security audits conducted by other top industry firms, such as SlowMist, OpenZeppelin and Consensys Diligence. Each code vulnerability requires 1inch to perform an average 16 audits. Other DeFi protocols require 3-4 audits.
The last but not the least is that 1inch Network does not have any central entities or third parties controlling user assets. Investors will find this a huge selling point as it eliminates the possibility of asset freezing and censorship.
Network Criticism 1 inch
While 1inch Network doesn't raise many concerns, some people have questions concerning the 1INCH token. Concern is caused by the fact that 56% was distributed initially to core contributors and investors. This is an uncommonly high percentage.
This raises concerns about the token distribution's centralization and potential price manipulation, as the group of stakeholders could create a significant amount of sell pressure, leaving retail investors holding the bag. This could also be why 1INCH barely makes it into the top 130 tokens according to market capital, despite its immense benefits.
End result
1inch provides liquidity mining services and compares exchange rates across multiple platforms in order to offer its customers the best options. The exchange offers a user-friendly interface, as well as numerous opportunities such as trading, supply liquidity and earning governance rewards.
1inch Network's total value (TVL) is currently $2.3million, down from the record high of $1.64billion in March 2021. Yet, it's worth noting that this downtrend is correlated with the drastic TVL drop in DeFi, which saw the industry fall from its peak of $216 billion in TVL in December 2021, all the way down to $59 billion in TVL to its lowest in June 2022.
1inch Network's support for the most prominent blockchains, and the ability to offer the highest-profitable asset swaps in this industry will make it a bright spot. 1inch Network also has support from some of the largest venture capital firms. This allows them to invest in the network more funds to help it grow.