Russian Central Bank wants to prohibit investments in cryptocurrency in Russia. It cites the rising number of crypto transactions to be a danger to financial stability.
Russia considering a ban on crypto currencies
Russia's central bank is attempting to outlaw cryptocurrency investments, escalating the country's long-standing distrust of Bitcoin and other digital assets. While future transactions are prohibited, holders who already have holdings would not be forced into selling.
According to Russian authorities, cryptocurrencies can be used as money laundering or terrorism financing. According to Reuters, the bank's current stance on cryptocurrency is a "complete rejection."
While cryptocurrency transactions are still prohibited in Russia, an amendment made it legal to purchase and trade cryptocurrencies on exchanges.
Any such limitations might stifle Russia's current retail investment boom, which has seen 15 million Russians create brokerage accounts in the last few years, according to Central Bank estimates.
The regulator has already acted quickly to restrict access to other types of risky investment products, anticipating that Russia's low financial literacy and strong broker marketing might lead to consumers being lured into high-risk investments. To be able to purchase options and derivatives they must pass several examinations.
Elvira Nabiullina, the governor of the Central Bank of Russia, increased the fear, uncertainty, and doubt (FUD) around the country's current state of crypto regulation in a Friday press conference. According to finmarket.ru (a local news source), Nabiullina answered questions about digital assets.
"You know that our attitude towards cryptocurrencies is of, to put it mildly, skepticism. The significant risk for retail investors as well as the volatility associated with this type of asset are also related to these concerns. In that cryptocurrencies can often be used in illegal or criminal operations, they also remain opaque. We do not accept investments in cryptocurrencies. Our goal is to keep the Russian financial sector from using crypto transactions. This is quite doable."
|Russia To Take Back Unlawfully Acquired Cryptocurrencies
Illegal miners to be jailed
Andrey Lugovoy, a member of parliament's lower house, the State Duma, has threatened miners with jail if they connect their equipment to the power grid without permission.
Lugovoy, a member of the Liberal Democratic Party of Russia revealed that his party is currently working to draft a law to regulate crypto mining. The congressman stated that the legislation would help Russian nationals and state officials as well as entrepreneurs who want to legally engage in crypto mining.
In an interview with Lenta.ru Russian news site, he said that regulation of mining is a good idea. The deputy does not believe that mining companies should be charged for varying power prices. Instead, he believes they should tax their profit after subtracting energy costs and any other expenses. Lugovoy accused miners, who he claimed, avoided paying taxes by purchasing subsidized and low-cost electricity.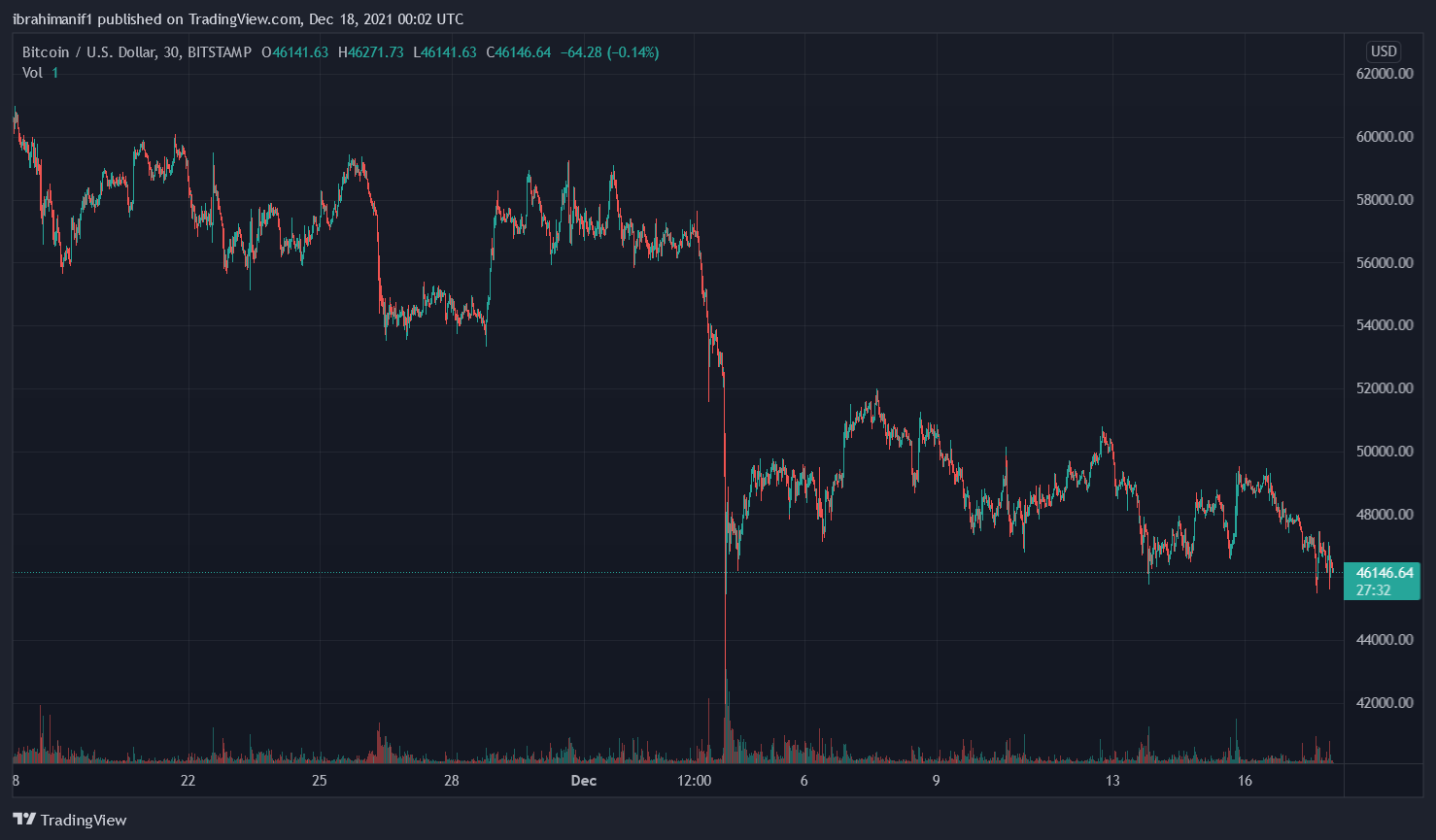 BTC plummets to $46k | Source: BTCUSD on TradingView.com
|Russia holds Bitcoin investors accountable for non-compliance
Pixabay featured image, Chart from TradingView