Decentraland is a fully decentralized virtual world where users own virtual items,  i.e., Land, goods, and services.
MANA (the governance token for Decentraland) is also used as the cryptocurrency in the virtual world, which allows its investors digitally purchase.
You can read our detailed guide to Decentraland (the MANA token) and find out more about the world and how you can buy Decentraland.
What is Decentraland? (MANA).
Decentraland is an Ethereum-powered virtual reality platform where users create,  experience, and monetize content and applications. Users create virtual avatars of themselves in order to participate in the virtual reality. Virtual real estate can be purchased by users to create micro-worlds that include virtual skyscrapers and movie theatres as well as hotels.
Esteban Ordano, its co-founder Ariel Meilich created Decentraland. The project was launched in 2017 in the current form.
Decentraland, the world's first decentralized global system that is entirely controlled by its users, was created in April 2017. Decentraland records ownership information through smart contracts that run on Ethereum.
There are three kinds of tokens in the system.
These include:
Land
This non-fungible token (NFT), is used to identify ownership of a part of Decentraland's virtual map. To track LAND ownership, the Decentraland app is built using the Ethereum network.  Decentraland users can buy LAND with MANA (a fungible ERC-20 token). 
Estate
They are virtual Land plots that connect to each other and allow for the owner of these parcels to grow higher.  You can also get a mortgage for an estate.
MANA
MANA is Decentraland's native token used to buy real estate and virtual assets developed and sold by Decentraland users. It's an Ethereum token used in system governance.
History of Decentraland
Decentraland was first created in 2015 by Argentinians Esteban Andano and Ari Meilich. Ari Meilich is an entrepreneur with experience working as an analyst for Charles River Ventures.
In its early years Decentraland offered only pixels per proof-of-work (PoW), but later it evolved to a 3D world.
The beta launch of the virtual shared world in August 2017 saw plots for Land being sold starting at $20.
Investors rushed to purchase Decentraland Land at more than $100,000 in the wake of NFT art's 2020-2021 boom.
Decentraland: How it Works
Since the launch of Mark Zuckerberg's Metaverse, Decentraland has skyrocketed in value and popularity. 
The current MANA price is $3.25 and ranks #41 among all cryptocurrency markets. It has a 24 hour trading volume of $642 719 924,924 with a market capital of $5,914,390 9,520. 
The initial launch of MANA was made with a supply supply of 2.85B. After land auctions, token burns and other factors reduced the total supply, it was relaunched. MANA currently has a supply total of 2.9B. Of which, $1.82B are in circulation. 
Decentraland allows its users to make MANA, and trade it using fiat currencies. You can trade with other Decentraland users and use your debit card to shop for games, software, sites and applications. The possibilities for traders are limitless. 
Decentraland can be used as a creative outlet. Users also have the option to create an income stream by renting or advertising their Land.
Decentraland does not have a centralized government like other virtual worlds. It is governed through the Decentralized Autonomous Organization (DAO), LAND, Estate and MANA holders.
Decentraland uses Ethereum-based software. To make it functional, users will need to have an Ethereum wallet in order to store their MANA tokens. The software is built using Ethereum smart contracts. It also has multiple layers.
The Consensus Layer
The ledger for land parcel ownership is managed by this file. Every file includes descriptions of virtual plots and their owner.
The Content Layer
This layer determines the contents of each land parcel, and contains all files necessary to make them.
Real-Time Layer
Social interactions are facilitated through this layer using the trader's avatar. You can also use it to send messages and communicate with others users in virtual reality. 
How to Buy Decentraland
Our step-by-step guide will help you buy MANA.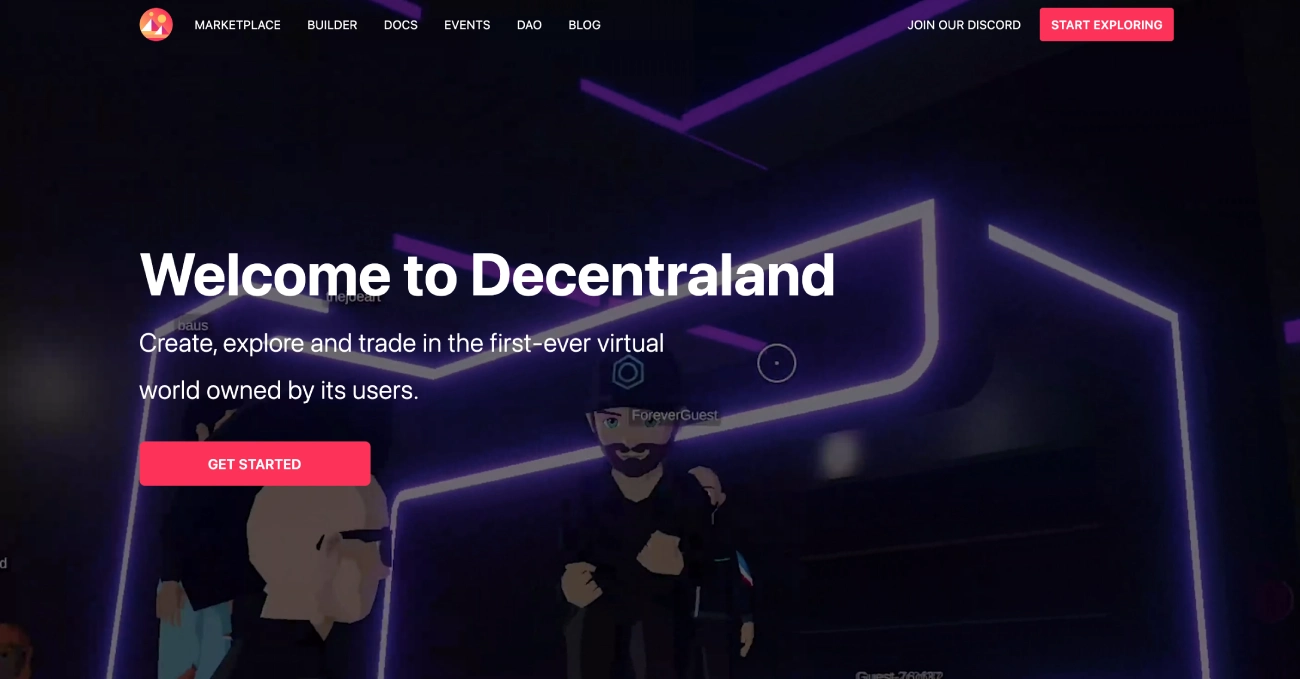 Register with a relevant exchange platform
You must choose an exchange Fiat-to Crypto that allows you to purchase MANA. Next, register with it.
We recommend that you choose the most well-known exchanges with low trading fees.
A crypto wallet is also required to trade MAANA.
Binance is one of the most popular platforms for trading altcoins. Also, verification isn't required for daily withdrawal below 2BTC.
You will need to provide personal information to open an account if you don't already have one. To protect your account, make sure you choose a strong password.
Currency Deposit
Bitcoin and Ethereum can be the easiest cryptocurrencies to deposit because they offer a wide range of trading pairs that allow for maximum flexibility. For their MANA counterpart, you can trade Bitcoin or Ethereum.
For trading to begin, funds must be deposited from either your credit or debit card.  
Check your Balance
It is easy to do this by simply accessing the navigation bar located at the top right of the exchange platform site. After your deposit is made, you will see the amount of coins.
Place an Order for Decentraland  (MANA)
Once you've deposited your coins, be it BTC or ETH, search for MANA.  You will see the trading pair MANA/BTC and MANA/ETH followed by a price graph. Click on the trading pair to buy MANA.
You have to enter the price and amount of MANA you wish to buy and click "buy." You can place a limit order if you want to buy MANA when it reaches an exact price.
Decentraland where to buy (MANA)
MANA can easily be purchased using the correct cryptocurrency exchange platform.
If you want to buy MANA tokens with fiat currencies using your debit card, you should consider the best exchange platform allowing you to trade them by considering your trading skill levels,  the deposit methods available, etc. 
Binance, which offers great liquidity and is an excellent exchange platform for MANA purchases, makes Binance a top choice.
CoinStats – How to Buy Decentraland
CoinStats, a platform that allows you to purchase MANA is an excellent place. CoinStats lets you track and check the daily prices of cryptocurrency, including the MANA token. It also allows you to see the Decentraland price.
Connect your CoinStats account and you can start trading. 
How to Storing Decentraland in Mana
 You should store MANA in a wallet for long term storage.
While some exchanges may offer crypto wallets to their customers, many hackers have occurred in recent years. Funds were also lost. Therefore, a software or physical wallet is a good option.
Many software wallets are available for download from Google Play or the App Store. Software wallets can save and secure your private and public address online, as well as protect it from hackers. Although these wallets offer robust protection, they're still vulnerable because they store information online. 
If you want a more secure alternative to the traditional wallets, you can purchase a cold wallet (also known as a physical wallet). The possibility of hackers being able to access your private keys is eliminated by hardware wallets. 
MANA is an Ethereum token that can be stored on Ethereum wallets. 
Decentraland: Why You Need to Buy (MANA).
Mana currently has a supply total of 2.9B MANAS, with 1.82B in circulation.
A massive return on investment would have been possible if MANA had been purchased at the beginning the year. The Decentraland market price dropped in May. Noting that the past performance of Decentraland is no guarantee for its future, it should be noted. 
Market prices for Decentraland are expected to rise to all-time highs due to increasing investor interest. In anticipation of rising performance in the future, investors are storing MANA in hardware wallets to maximize their potential profit. 
As with all other cryptos, MANA's price can be influenced by the market sentiment, economy and flow of cryptocurrencies via exchange platforms. 
Investments in cryptocurrency are subject to market risk – the market is volatile, unpredictable, and full of significant risks.
Be aware of your circumstances before you trust this information. You should also carry out your own research, including the legal status and relevant regulatory requirements, and consult the relevant regulators' websites before making any decision.
This information is intended for educational purposes and not to provide any financial or investment advice.
CFDs are preferred by some traders to reduce financial risk during trades. Let's look into them. 
An Introduction to CFDs
A contract for Difference or CFD is typically made between a buyer and seller, specifying that the buyer is required to pay the seller the difference, if any,  between the current value of an asset and its value at the time the contract took place. 
If the difference is not paid, then the seller must pay the buyer. 
CFD trading is popular because it offers investors and traders the chance to make a profit on price movements without having to own the underlying assets. The value of a CFD contract doesn't consider the asset's underlying value: only the price change between the trade entry and exit. You can make a profit if you as an investor are accurate in predicting the direction of price movements. Wrong guesswork could result in your losing money. 
CFDs allow investors to stake or leverage a small amount of assets in order to have greater control over the market. 
CFD prices can be found in pairs. Ask Bid prices. Prices. 
CFDs can result in losses for retail investors of anywhere from 74-89% to 99%. CFDs are a great way to start investing. Before making any investment, think about how CFDs work.
Conclusion
It is growing in popularity at a rapid pace and the virtual reality platform with its native token and free-market economy are exciting new ventures within the Ethereum blockchain.
Decentraland will be a metaverse that can serve multiple purposes, where digital content is monetized and advertised by businesses. MANA is seeing more value in Decentraland due to the popularity of NFTs, non-fungible tokens.
It does have its problems, however. The most significant being the outrageously high MANA gas prices, making it a little difficult to play. 
Clothing customization is also possible for avatars. However, you must purchase MANA which can be purchased at $60 per item. 
It is clear that investors have many incentives to make investments in virtual currencies like MANA, despite the fact that there are still high regulatory risks.