ChainSwap, a cross-chain asset bridge & application hub for smart chains, launched its cross-chain bridge aggregator today. ChainSwap Crosschain Bridge Aggregator is the first version. It integrates 3 leading bridge solutions: Poly Bridge Multichain, AnySwap, and Multichain. This aggregator is expected to support many more bridges. ChainSwap's final goal is to integrate all cross-chain bridges available on the market and become the go-to platform for cross-chain solution seekers.
Why use a bridge aggregater: The current challenges
Assume you are looking to send a token between ETH and BSC using a cross-chain decentralized bridge. There are currently a few obstacles. First, it is important to determine which bridge supports tokens on both chains. The second step is to find the bridge that offers the most favorable deal, with minimal transaction fees and slippage. It is necessary to thoroughly compare the various bridge options available. It is time-consuming and difficult as all the bridge options available do not share a common interface. This is why Chainswap is a bridge aggregator.
Market Analysis
Dune Analytics has reported that as of Dec. 1, 2021 the combined TVL of Ethereum Bridges was $26.65 billion. That's an increase of 100% from just 2 months back. The data shows a growing trend as it tracks 17 of the most important Ethereum bridges.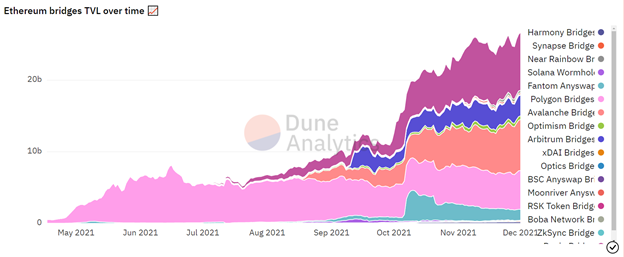 Ethereum Bridges TVL
There are a variety of cross-chain solutions available currently on the market. These include Cambridge, Hop Binance Bridges, Terra Bridges, Anyswaps, Renbridges, Xpollinates, Polynetwork and others. In the future, cross-chain projects will increase in number.
Different approaches are used in different projects
V.S. They have decentralized and cryptographic algorithms V.S. Trusted devices; Multiple Steps V.S. One-click. Every cross-chain solution is different. All cross-chain solutions have their pros and cons. However, they all share the same basic structure: source chain (source token), destination chain (destination token), sender, and destination token. EVM-based crosschain solutions are also possible with a Source Mapping Contract and Destination Mapping Contract.
ChainSwap's Cross-Chain Aggregator Solution
ChainSwap's ultimate goal is to create an aggregator platform that integrates all cross-chain solutions and allows users to enjoy the margin of these projects combined through the unified interface that we provide, thus making the cross-chain experience more convenient and effective.
This final goal will be achieved over time. The integration of Poly Bridge (and Multichain) is the first step towards achieving this ultimate goal. Other bridges, such as AnySwap or Wormhole are being developed and will be available shortly.
All the aggregator solutions are presented as one interface. First, users select the Source token to be transferred cross-chain. Next, they choose the destination chain and source chain. Finally, they enter the transfer amount. The platform will then show the user a list all cross-chain projects capable of providing this service. After selecting the desired cross-chain project, you can easily transfer it to your computer.