After the outbreak of the pandemic, online betting saw an explosion in popularity. Online entertainment was a popular choice for people who were looking for entertainment when sports and outdoor activities closed. Online betting was one of the beneficiaries of this new trend with the sector having grown from **$465.76 billion in 2020, to $516.03 billion in 2021, and the market is expected to climb to $674.7 billion in 2025.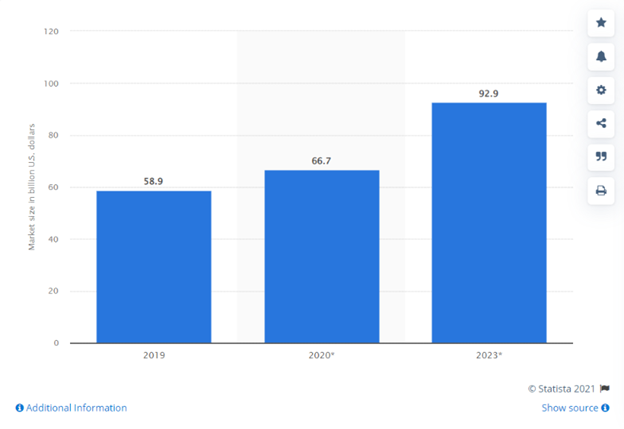 Ask any experienced online gambler and bettor, and you will find that online betting can be frustrating and full of problems. These include the lack of transparency and fluctuations of fixed betting odds,  bet settlement delays and even winning bettors having their accounts limited due to the success they have enjoyed. These are just a few reasons why it is logical to move betting onto blockchain.
The use of smart contracts and oracles in the blockchain automates betting and money flow. This makes the process transparent and un-manipulable.
Users are automatically paid, this means that they can't have their winnings cut to make them lose too much. It also protects their banking and personal data from hackers. Blockchain automatically verifies transactions and keeps these data on thousands worldwide. This gives hackers little opportunity to steal data from one company server.
The wallet address is used to deposit and this makes it anonymous. It also eliminates the need for the user to do any due diligence before registering. KYC is an expensive process for online casinos. Due to the complexity of the process, many registrants drop out of their accounts before it's completed. Take away the KYC, the storing of a user's credit card data and personal data, and give no chance for the casino to manipulate odds or delay withdrawals, and you have a winning combination.
Paruyr Shahbazyan is the CEO and co-founder of Azuro. Azuro uses blockchain to solve all the issues of centralized betting. Paruyr Shahbazyan best describes the advantages of blockchain in this capacity.
 "The usage of blockchain as a base infrastructure for betting will add more value and fairness for the betting industry. First, blockchain provides full transparency so that all transactions can be seen and verified by all parties. As said previously that's great for the players, but not only! It also solves other problems in the traditional betting industry like for example "affiliate shaving". The centralized betting operator often stops paying affiliate commissions to partners who refer new customers to bookmakers. The phenomenon is called "affiliate shaving" and it basically happens because affiliates have 0 visibility of what happens on the bookmaker side and if the players they have referred to bookmakers are active or not, and so forth."
"Blockchain is solving this issue. Crypto addresses are the representative of the betor. And you can easily see whether a given address is interacting with Azuro's smart contracts or not. The smart contract also sets the commission and can't be modified. This means that the affiliate will get a guaranteed lifetime commission for all of the bettors' activity that he provides. No more "affiliate shaving"!"
"In addition, blockchain allows for betting to happen without players having to give their money to a 3rd party which can do with the money as they please.  This is possible because, on the blockchain, betting happens with the bettors' funds placed in smart contracts (which pay out winnings automatically and immediately). On the contrary – currently (and without blockchain) players' money is deposited with the bookmakers and the bookmakers decide when and if to pay-out winnings… Which often results in delayed or declined pay-outs."
Q: Please share some information about Azuro's benefits for bettors, and other gaming sites.
A: Azuro can accept trust from users. No one can influence how Azuro's smart contracts will resolve. We are also democratizing betting in general. We all know that the gambling industry requires high levels of capital and knowledge, with very few entry points. Azuro is breaking down the roles of betting operators into smaller ones, making them more accessible to all who want to access liquidity, data provision, front-end design and operation and decentralized governance. The ecosystem gains more value by sharing it with more people. Our project is also unique in that we made a strong commitment to social responsibility right from the beginning.
Q: Blockchain projects like Azuro have the advantage of solving real problems. Which problems is Azuro trying to address?
A:Azuro is first and foremost a decentralized global betting protocol. Smart-contracts are used to provide full transparency for the betting process. However, it also offers a classic experience in betting with ample markets, liquidity, and a variety of betting options.
Our core objective is to provide bettors with a trusted alternative to gambling that is comparable to traditional bookmakers. This will eliminate the distrust and lack of transparency among operators and players that are common today.
Azuro utilizes blockchain technology to allow for the decentralization, and the democraticization of betting businesses.
Azuro breaks down the job of a bookmaker in to several roles that are openly accessible for everyone.
This allows for more value to be shared amongst the ecosystem's participants. We have an unmatched commitment to social responsibility, which we are proud to share from the start.
Q: Is it possible that your personal experiences and frustrations led you to this profession? Could you share those with us?
A: That's right. Fast ten years ago, I worked as a professional arbitrager in sports. As such,  – I  can assure you that the betting industry lacks fairness and transparency! This is due to the negative incentives that pit bookmakers against players. The system is not trusted by players or betting operators, and smart players are being banned. I got banned by many bookmakers and I couldn't get my winnings out from many of them, too. These problems have created a niche for my own business – Bookmaker Ratings, which I started about 10 years ago, almost as an act of revenge because of my experiences as a player…
Q: Bookmaker Ratings was a truly landmark website that connects players with betting sites. How does this work?
 A: Bookmaker Ratings is one of the most important online media on Eastern Europe's sports betting. One thing was the focus of Bookmaker Ratings: The lack of trust between bookmakers and players. Our ratings were fair and we did everything possible to assist players, primarily by serving as an intermediary in resolving any disputes. Through this, we managed to have more than $12 million returned to players over the years, which ensured we gained people's trust. This was all possible because we were driven by a deep understanding of the players' problems.
Q: Which direction do you see blockchain for gaming going in the future?
 A: It is easy to see the impact of blockchain decentralization on other industries such as finance and data storage. The blockchain's decentralization allowed for the promotion and improvement of other traditional industries like finance, data storage, content generation etc. The traditional gambling market, which includes billions of punters, might take some time for blockchain to evolve.
As this happens though – the full power of decentralization will completely disrupt the betting industry and provide transparent and efficient betting to everyone. Initially, the biggest portion of users will be a mix of traditional bettors who are more tech-savvy and have tried or are open to try blockchain applications and crypto native users who are enjoying new ways to benefit from blockchain betting like farming, liquidity provision and staking, as will be possible when Azuro Protocol's mainnet is live.
Q: Which other topics should we pay attention to as we move into 2022
A: NFTs, and their potential impact on betting are something that I want to address.  NFT technology, I believe, allows for real innovation, which will enhance the betting experience in a significant and positive manner. There are secondary markets that allow for bet cash-out, purchase with a discount or markets for memorable betting as collectibles. We also create the possibility for engaging gamification which makes the traditional betting experience even more enjoyable.
Each Azuro bet is an NFT, and each one has two functions. The bet is considered financial NFT up until settlement. You can trade it on our market. Let's say you have placed a bet and for whatever reason you decide that you do not want it to play out (you want to cash out before the event is played). The bet can be traded on our marketplace. The buyer receives your bet at a slight discount and has an advantage in price/probability.
It loses its financial value after the bet has been settled. However, it may still hold value. The most interesting format for betting is either crazy wins or very disappointing losses. These stories can be shared in the betting community. Our NFTs prove that these stories are true. I often refer to Maradona's "hand of god" moment to describe the historical value of an NFT bet. This crazy goal could have resulted in someone winning or losing a significant amount. Such an NFT is a great collectible.
You can earn NFTs by placing Azuro wagers. the longest winning line, awkward losses, highest odds won, and so on – the possibilities are virtually infinite).
The final word
The blockchain is unhackable and impeachable. There are no third parties involved. It also makes it tamper-proof. This seems to be a clear proposal for a total overhaul of online betting. And it appears that most people would concur. In Q3, on-blockchain betting saw a 121% increase in the number of active wallets, reaching over 754,000 users. That's almost 50% of total sector activity. And it is showing no signs of slowing down with such a rapid monthly growth.