International Monetary Fund published a study about the increase in positive correlations with Bitcoin (BTC), Ethereum and Asian equities. According to the financial institution, digital assets experienced an acceleration in integration with the region after the pandemic because more people were trading them for yield.
Between 2020 and 2021, crypto's total market capital grew more than 20 times. That led Bitcoin to price discovery. The chart below shows that the cryptocurrency total market cap rose to close to $900 Billion from less than $100 billion in its peak in 2021.
Americas and Europe are the regions with the greatest trading volumes. Other regions are less successful than the Middle East, Central Asia, EM Asia, AE Asia, or Central Asia. But, IMF says that adoption of cryptocurrencies in Asia can pose a systemic risk for financial markets.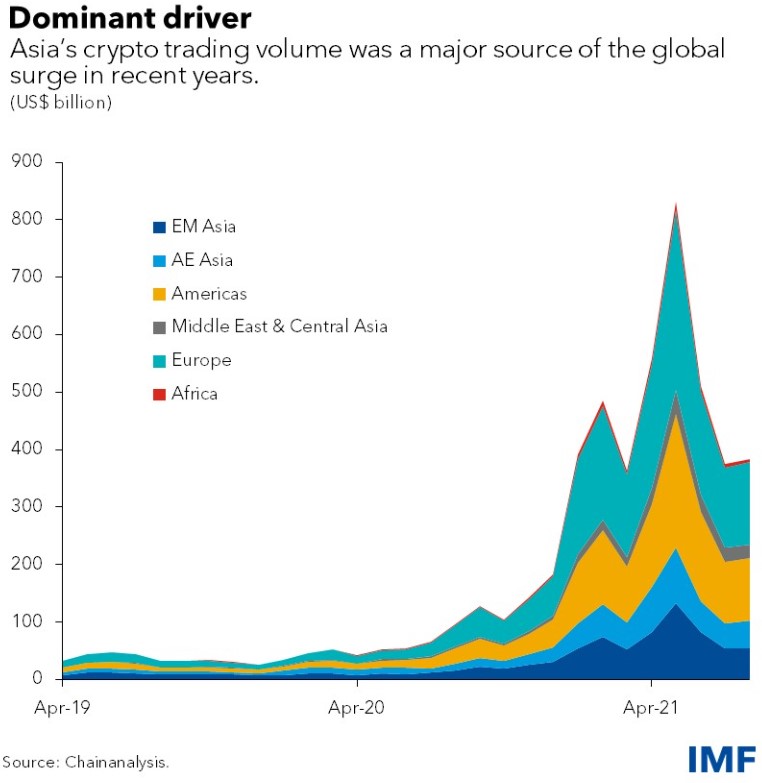 According to the financial institution, there may be adverse consequences if the cryptocurrency market and Bitcoin prices recover their levels. If digital assets were to rise and crash as they did over the past year, "contagion could spread through individual or institutional investors".
As cryptocurrencies trend lower these investors would allegedly "rebalance their portfolios, possibly causing financial market volatility or even default on traditional liabilities", the IMF said. To illustrate this, the IMF shared below the chart that shows the comparison between Bitcoin prices and Asian stock market indexes.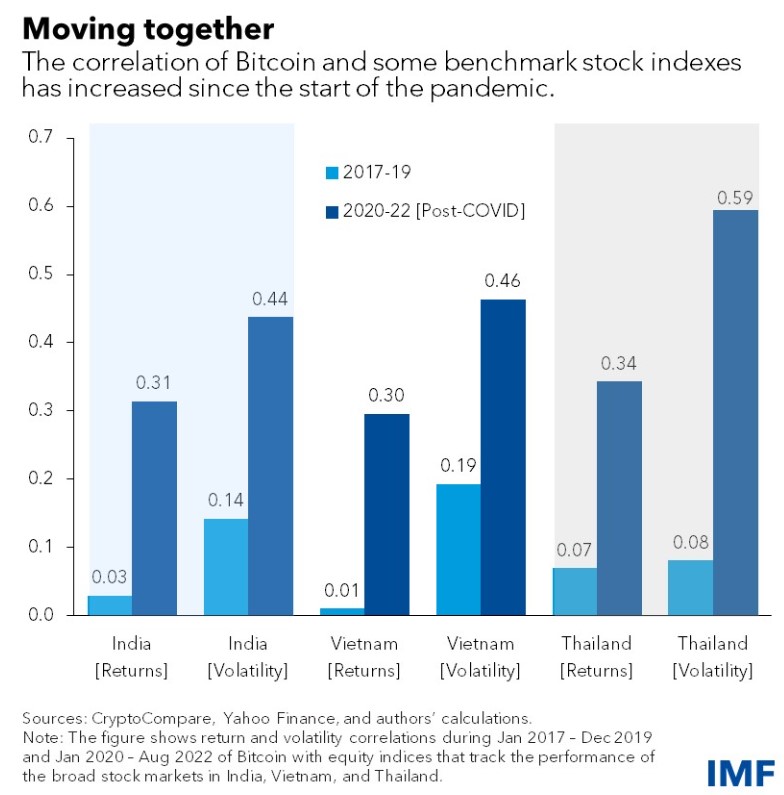 This correlation is trending up, with Vietnam and Thailand showing the greatest positive correlations between 2020-2022. These countries have seen similar price movements for Bitcoin and traditional equity.
India has seen a 10-fold increase in the correlation of Bitcoin's price to local equities, with a three-fold rise in volatility correlations. The financial institution believes that if the price of Bitcoin decreases or increases, there could be "spillovers of risk sentiment".
Are the Asian Markets at Risk from Bitcoin?
The financial institution suggests that these "spillovers" are already happening in Asia. Authorities in Asia have worked to create a regulatory framework that would supposedly mitigate the risk.
Although the financial institution did not mention the positive correlation between Bitcoin and major indexes of equity around the world, this phenomenon is not only limited to Asia. The Nasdaq 100 has moved in sync with Bitcoin's price since 2022, as shown below.
Current macroeconomic conditions are responsible for the positive correlation. This is because these indexes are often in tandem with macroeconomic conditions, like the one that the market experienced from 2020.
This could explain why there is such a positive correlation between Bitcoin prices and Asia stocks. It may also reflect the popularity of cryptocurrency, not a warning sign about financial risks.