An application or website that allows users to get small crypto rewards by completing simple tasks like watching ads and captchas or taking surveys or quizzes. The term "faucet" refers to the small amount of rewards, similar to the tiny drops of water dripping from a leaky faucet that could fill a cup over time.
The Bitcoin faucet was developed by Gavin Andresen, a Bitcoin developer.. The captcha allowed users to receive up to 5 BTC per transaction. In total, 19,715 BTC was distributed. This helped spread early BTC ownership. The Bitcoin faucet was instrumental in educating the initial network of Bitcoin users, resulting in the cryptocurrency's healthy expansion later.
Today, cryptocurrency faucets offer less generosity because the price of Bitcoin and other crypto currencies has skyrocketed. But crypto faucets are still a vital part of educating users about crypto projects and the technology that powers them, and helping newbies on their crypto journey.
Learn everything about crypto faucets and the way they work. Also, learn how you can earn free cryptocurrency by doing simple tasks. Additionally, we've compiled a list of the best crypto faucets for earning free crypto assets in 2022 to help you avoid scammers or other malicious actors looking to infect your computer or compromise your privacy.
So without further ado, let's get right to it!
What is Crypto Faucets?
Crypto faucets are reward systems that give users coins for basic tasks.. For free cryptocurrency, you will need to do simple tasks such as watching videos and playing games. You can also complete surveys or complete quizzes.
Crypto faucets aren't a get-rich-quick scheme; they're simply fun, educational, and let you earn some free stuff in return for simple work. You will get a lower reward for work that is simpler. You may need to put in some effort to get the minimal amount of cryptocurrencies you can withdraw to your wallet. Many websites place a withdrawal limit for tasks. Rewards are sent to an internal wallet once the threshold is reached. This can be as quick as one day with the most trusted crypto faucets but can sometimes take up to a whole week.
Users can get free cryptocurrency through crypto faucets to help increase their awareness about new projects and educate them on cryptocurrency and blockchain technology.
What is the working principle of crypto faucets?
Crypto faucets help companies earn profits and maximize their revenue through "traffic arbitrage," i.e., by sending traffic to advertising networks. Users of Crypto Facet earn crypto rewards in exchange for viewing ads.
Same revenue-share model applies to captchas, gaming networks and survey companies as well affiliate networks.
Crypto faucets are easy to use – you must sign up for a digital asset service or visit a cryptocurrency faucet website or app that offers free cryptocurrency in exchange for playing games, conducting surveys, watching advertisements, etc.
Networks use micro wallets and micropayments platforms to pay faucet rewards. The earned cryptocurrency is sent to your online mini-wallet by the crypto faucet's website or app. When you sign up for crypto faucets, micro wallets can often be made.
When the reward threshold for this micro-allocated account is reached (e.g. $5-10 in Bitcoin), you can cash out. Once this occurs, the entire cryptocurrency will be instantly transferred to your crypto wallets.
There are many types of crypto faucets
The token that was paid as a reward can help you categorize cryptocurrency faucets. Crypto faucets paid rewards only in one cryptocurrency back in the past. Bitcoin faucet was first cryptocurrency-specific faucet. This faucet paid out rewards in BTC-satoshis.
Later, faucets such as Bitcoin faucets were added to the list, including Litecoin faucets for free LTC, Ethereum faucets and Monero faucets.
As an example, Ethereum faucets can pay users a set amount of ETH to complete tasks like solving captchas. Fire Faucet can be used to mine websites or solve captchas. Dutchy CORP allows you to play and complete tasks in order to win rewards.
Altcoin Multicurrency Faucets support rewards payouts in multiple currencies at the moment. Your rewards can be withdrawn in any of the supported coins by the faucet.
Crypto faucets vary from airdrops, referring to crypto assets being dropped into traders' crypto wallets. To earn rewards, an airdrop requires that participants register on multiple platforms and be active in social media forums. To promote and increase awareness for their token, airdrops allow projects to give away tokens free of charge.
Bounties are a listing of rewards-earning tasks that are published by blockchain projects. Crypto faucets differ also from them. A blockchain project can offer bounties to encourage community participation. They give one-time crypto rewards for those who complete certain tasks.
The Top Ten Crypto Faucets
To make money by investing your time, crypto faucets are becoming more popular. By completing simple tasks, you can get free cryptocurrency.
Below is the list of the 10 most popular crypto faucets to help you get started:
1. Tamadoge
Tamadoge (TAMA) is an interesting new crypto project that's giving away $100,000 in tokens to investors who hold TAMA on the day of the drawing.
TAMA, the meme coin, has a twist. It offers holders NFT ownership and a game-to-earn system. There are also giveaways, as well as potential big returns.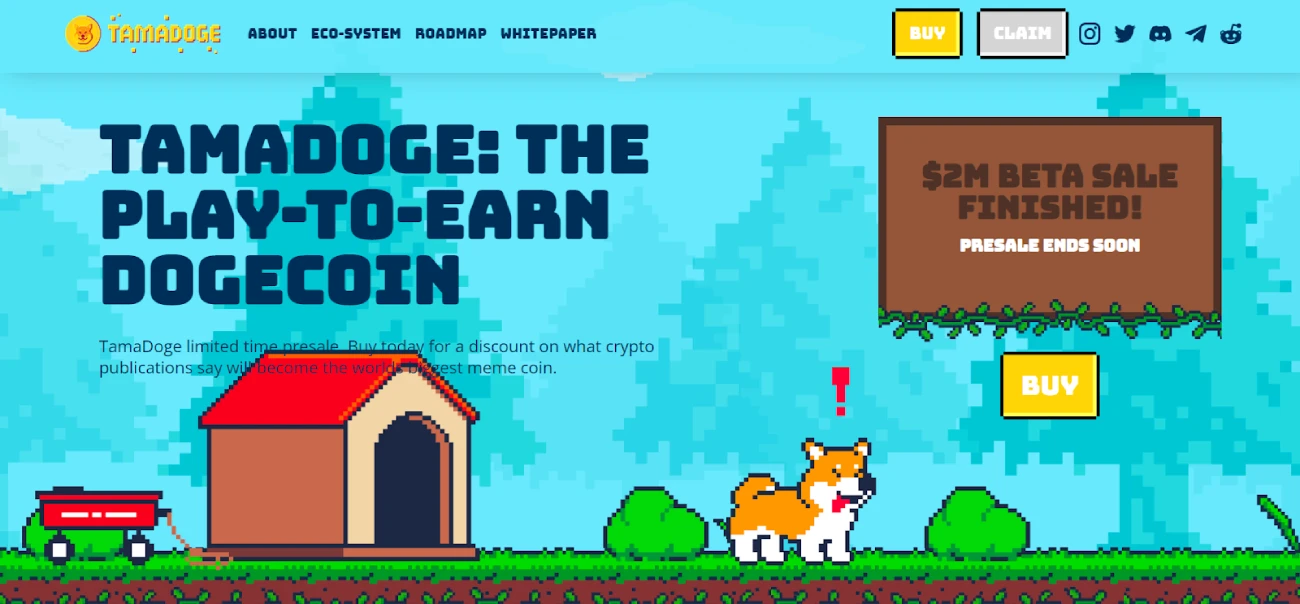 TAMA already has $2 million of presale funding and uses deflationary tokenomics to burnt 5% of all transactions.
Tamaverse provides NFT ownership, as well as fun, play-to-earn games that involve gathering, fighting and training 3D animated Tamadoge pet Tamadoges. Toys and food help pets grow. Once they are a certain size they can compete with other pets and earn points that allow them to move up a leaderboard worldwide. Rewarding owners on a monthly basis.
Augmented Reality will allow pets to be seen in the real world by the third quarter 2023. Owners can walk with their pet and earn TAMA tokens, as well as other rewards.
2. Get FreeBitcoin
Get FreeBitcoinThe best Bitcoin faucets available today are Founded in 2013,. It allows you to play games and earn Bitcoin free of cost. You can get up to $200 per hour. Bitcoin faucets can be used with your Bitcoin wallet to allow you to get free satoshis by completing required tasks.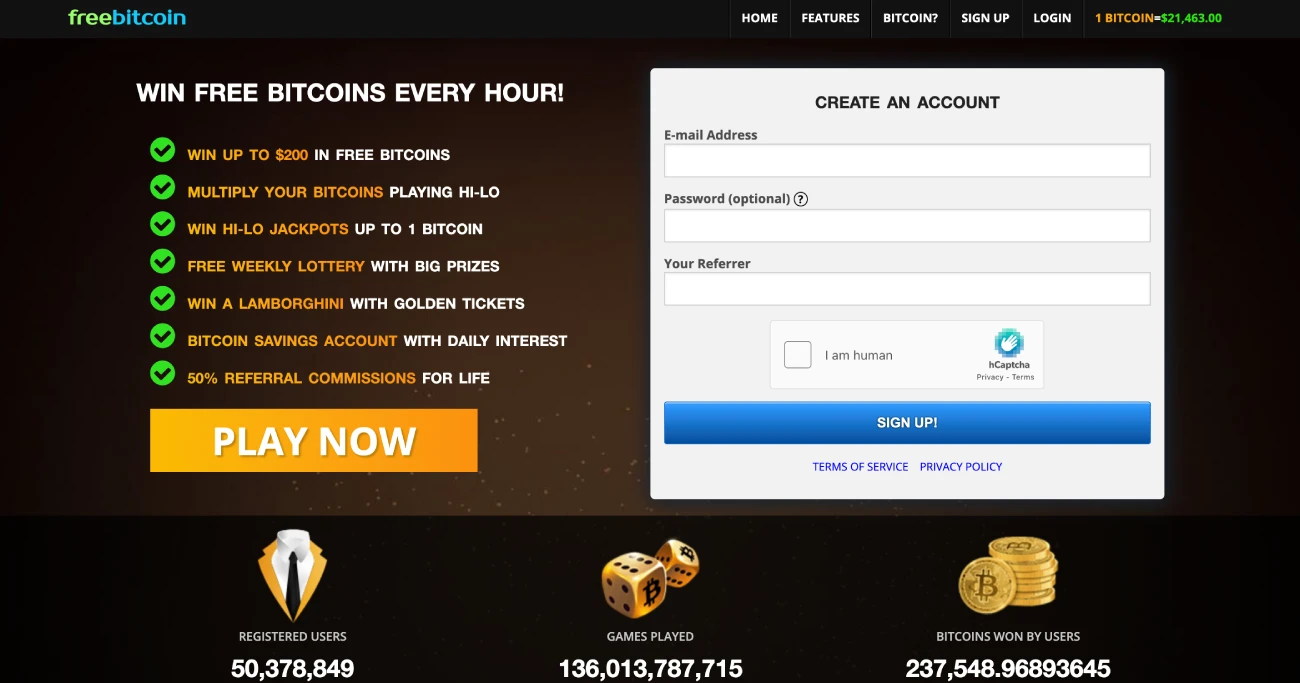 FreeBitcoin offers you the opportunity to get free cryptocurrency by participating in contests. You can also earn passive income through depositing Bitcoins into your Bitcoin wallet. FreeBitcoin offers crypto interest accounts that pay up to 4.08% on your balance.
FreeBitcoin offers another opportunity to win free bitcoins by holding a weekly draw. With the referral program, you could earn up to 50% on any winnings your associates make. Refer a friend and you can win contest tickets.
3. FireFaucet
Fire Faucet can be used by people who want to diversify their digital portfolio through crypto faucet websites. Fire Faucet pays Bitcoin, and all other cryptocurrency as long as it has Auto Claim Points. Register to receive your ACP free of charge. You can turn the faucet on and off until you run out of ACP. Firefaucet gift cards can be used to earn extra ACP.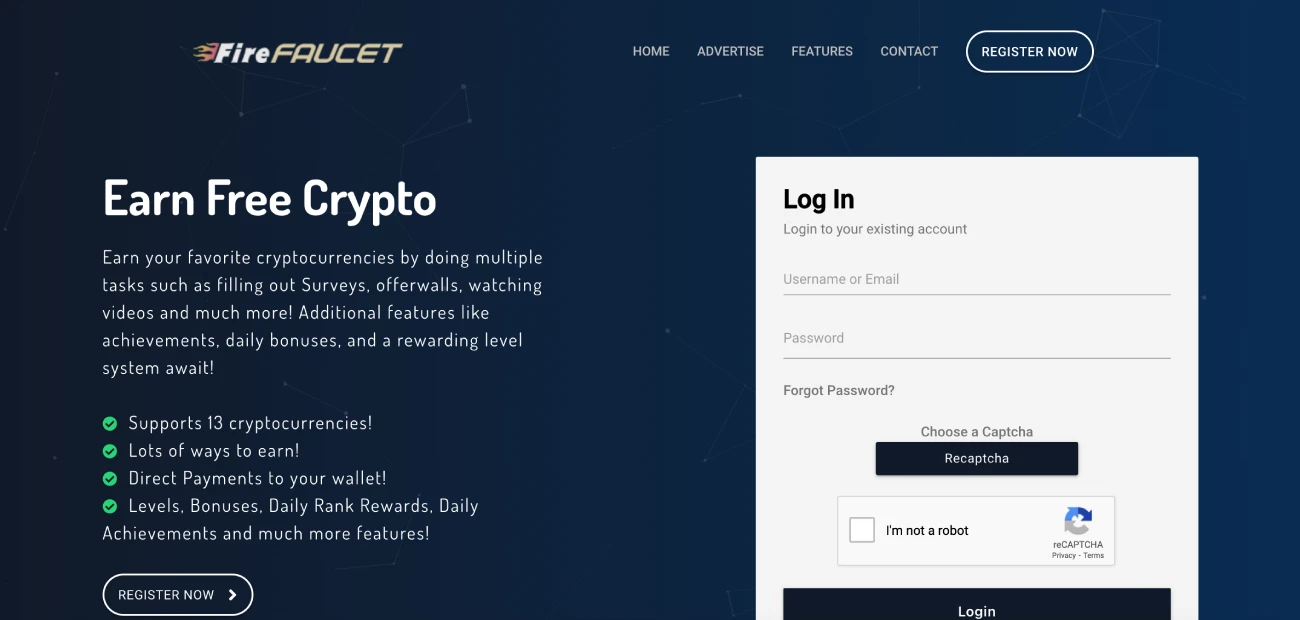 Your user rating is a key factor in the rewards you receive from FireFaucet. This means that the higher your daily FireFaucet rating, the greater the benefit you will get. It may prove to be very advantageous as the Bitcoin faucet provides additional incentives for its top 20 users every day. This site also offers daily tasks that can help you earn extra benefits.
FireFaucet offers a high-quality referral program. Register for Free and Get Rewards for Your FaucetPay Or Other Digital Wallets. It's also possible to earn cryptocurrency by completing surveys or watching videos on this website.
4. Battle Infinity
Battle Infinity, a blockchain-based platform for gaming and one of the most popular metaverse projects on the BNB Chain is also an attractive option. You can integrate NFTs, fantasy leagues, play-to earn games, and NFTs. There are also some great giveaways.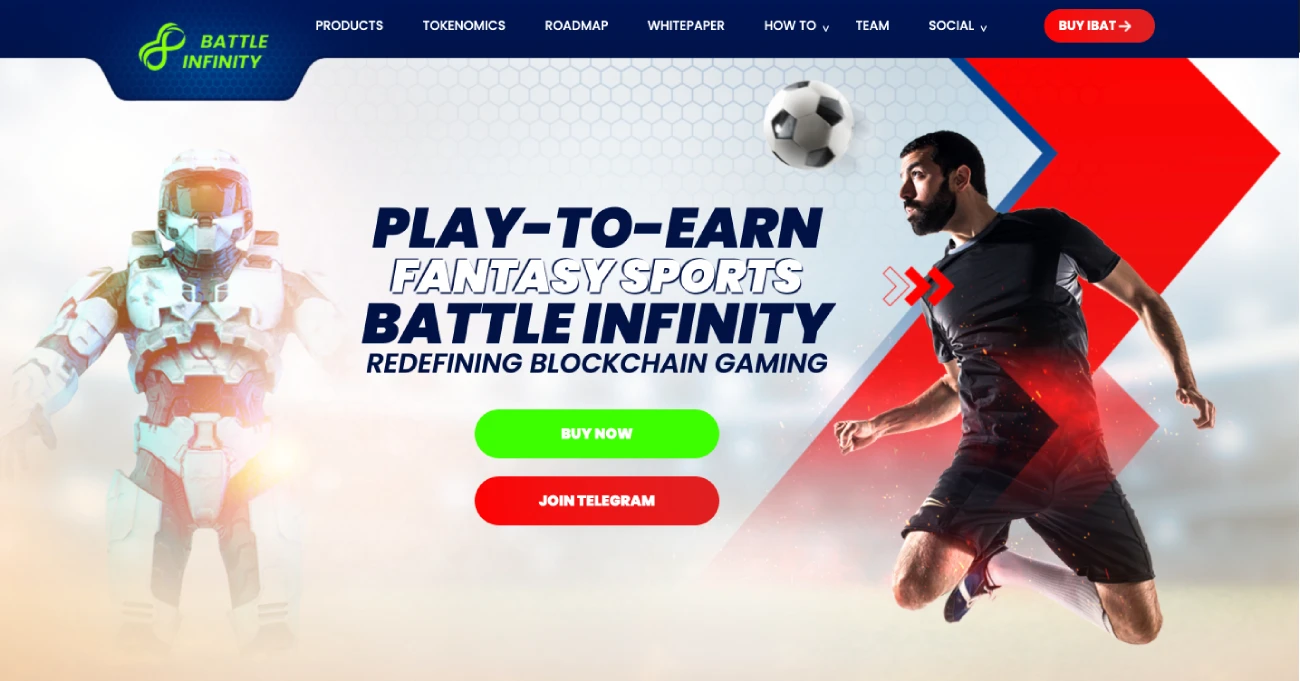 Battle InfinityIt offers $3,000 in airdrops of IBAT native token, which will provide power for the ecosystem.
TIt provides the IBAT Premier League fantasy sports league. It also offers an NFT marketplace and a P2E gaming platform.
Battle Infinity was sold out in 24 hours. The presale raised 16,500 BNB ($5 million). It is one of the most anticipated projects in the sector.
You can join the Battle Infinity Telegram to receive the latest information about IBAT, the ecosystem and other news.
5. Cointiply
Cointiply is another cryptocurrency faucet that offers Bitcoin and digital tokens such Litecoin, Dash and Dogecoin. This site offers free points for completing surveys and watching ads. It is possible to make hundreds of Dollars per month, depending on where you are located and how often you use this crypto faucet site. Cointiply also offers browser mining.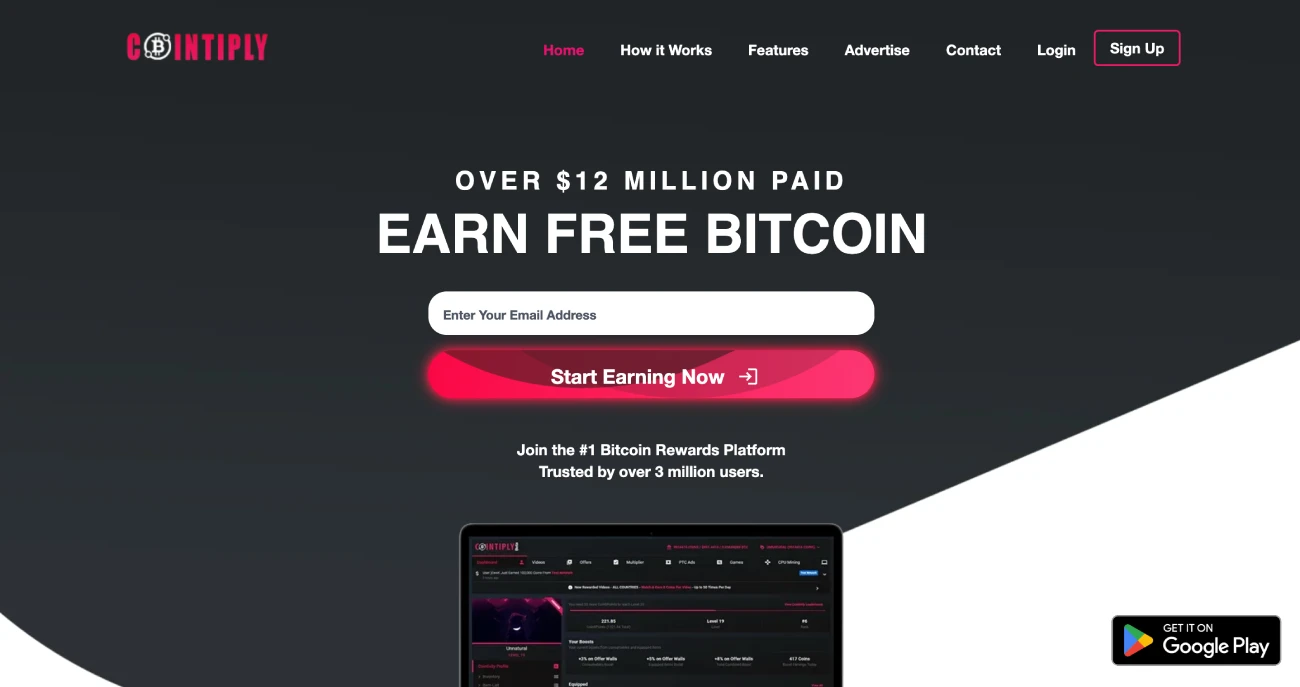 Cointiply allows you to accumulate unlimited amounts of cryptocurrency. Participating in contests can help you increase your profit by as much as 61x. Referring to the right programs will earn you a 25 percent bonus. Up to 5% interest can be earned on crypto balances if 35,000 coins are deposited into Cointiply accounts.
6. Lucky Block
Lucky Block, one of the most popular 2022 cryptocurrency projects, offers regular prizes and jackpot draws for all players based on blockchain technology.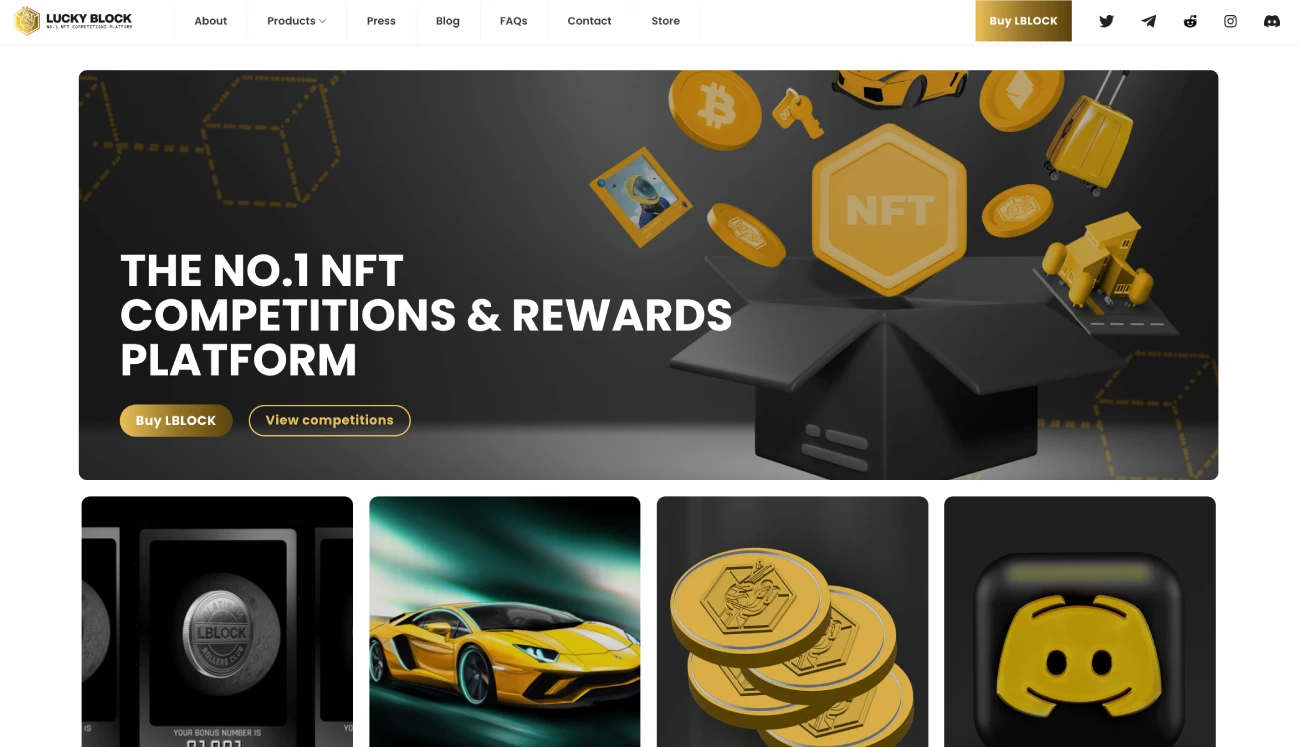 It's one of the most rapidly developing games in the online crypto lottery sector. As it's powered by smart contracts, you can be 100 % confident that the outcomes of every draw are completely random and trustworthy.
This platform is transparent and fair, has better security, comprehensive tracking and recording, faster rewards payouts and quicker payments. 10% of the daily Jackpot is donated directly to charities, 10% to its native token holders, who take part in the daily charity vote, 8% to marketing, and 22% are donated to NFT's prize draw.
Lucky Block also created the Platinum Rollers Club NFT project, which allows members to take part in daily prize draw prizes.
In May 2022, the first jackpot saw more than $2 million in prizes. The next giveaway was made after 10,000 NFTs were sold. A Lamborghini valued at more than $300,000. Additional games of chance are planned for the Lucky Block Gallery.
7. CoinpayU
CoinPayu, one of the most popular crypto faucets to claim over 15 digital currencies. CoinPayu can be used to view advertisements in order to receive crypto rewards.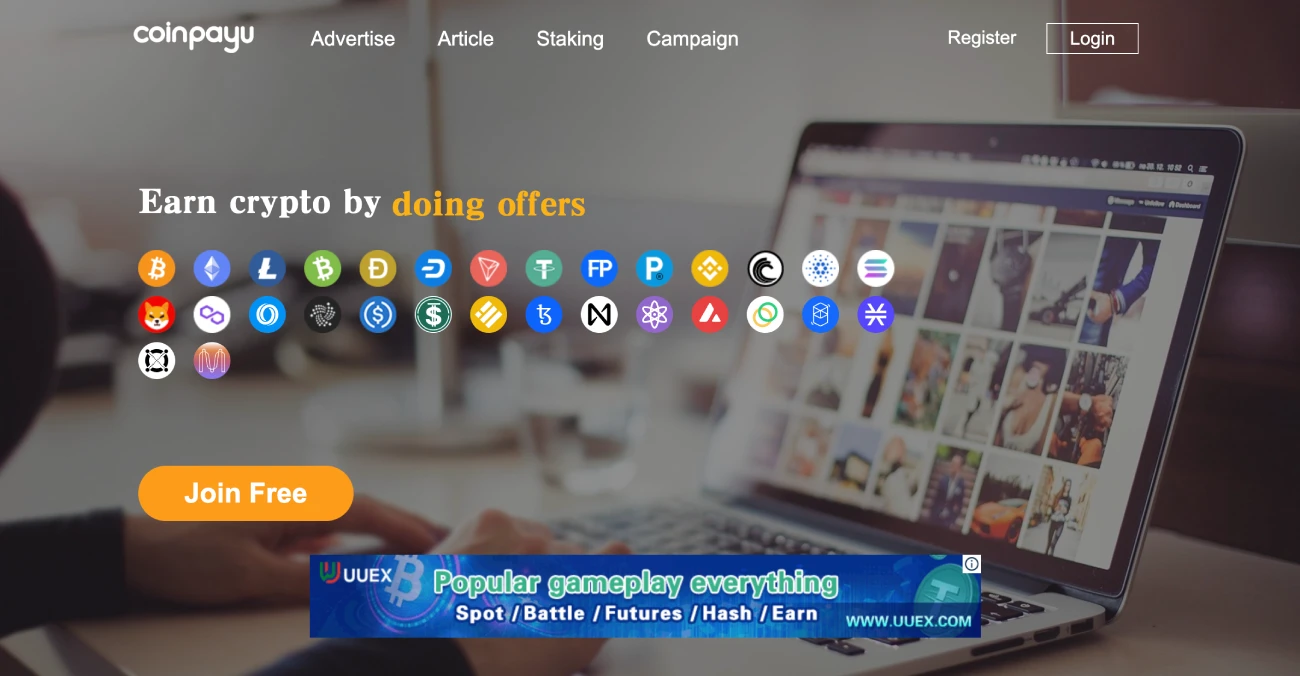 You can use your earned satoshis for any cryptocurrency you choose when withdrawing. You must withdraw the required amount, and pay the fees. The costs vary depending on which cryptocurrency you choose. CoinPayu lets you participate in contests for 15 days, apart from viewing adverts.
CoinpayU also allows you to stake five different digital currencies such as Tron and Cardano. The staked coin determines the lock-in period and interest rate.
8. FaucetCrypto
Faucet Crypto stands out by offering access to 18 different crypto currencies. Earn coins in 25 minutes just by watching videos and responding to surveys. Faucet Crypto's interface is easy to use and allows you to keep track of all your earnings.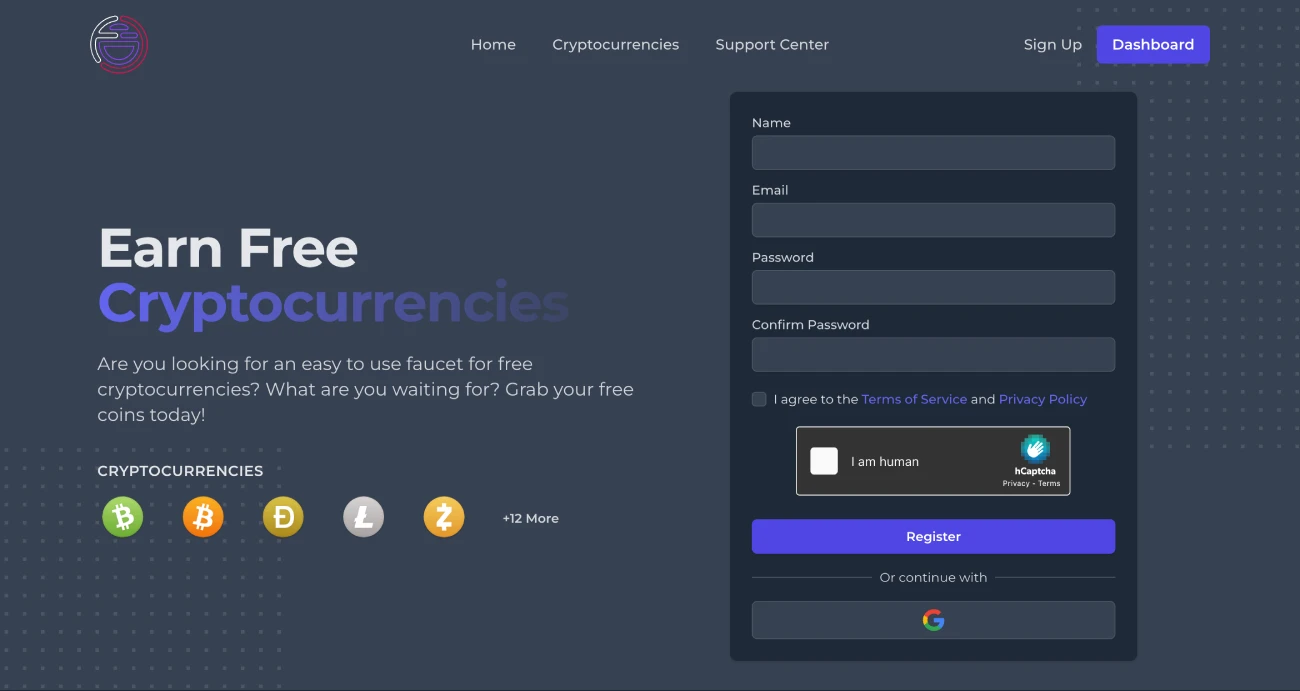 The crypto faucet service uses a level-up system. You can move to the next level by completing each activity on the platform. There are also more valuable rewards at every level.
9. Allcoins.pw
Allcoins.pw can be used as both a cryptocurrency faucet and web miner. While it might not seem user-friendly, you may find many benefits that appeal to your needs.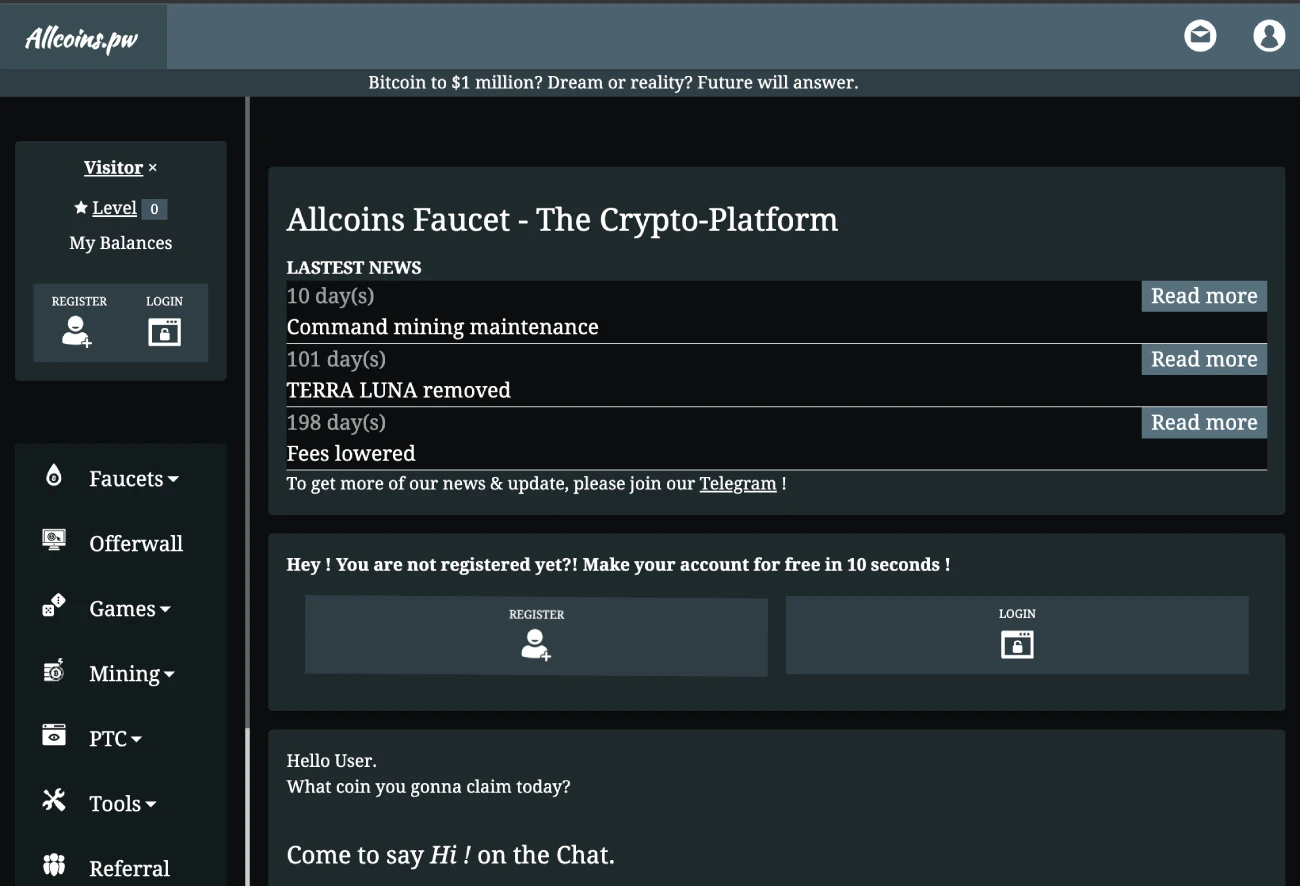 To earn crypto, you can view ads, play games, such as VegaDice and Harvest.Participating in the referral program or viewing advertisements.
On this platform, you can also operate auto faucets and use the "Multi-feature" to earn up to three different cryptocurrencies at the same time. At the end of every day, you will be eligible for incentives.
10. BonusBitcoin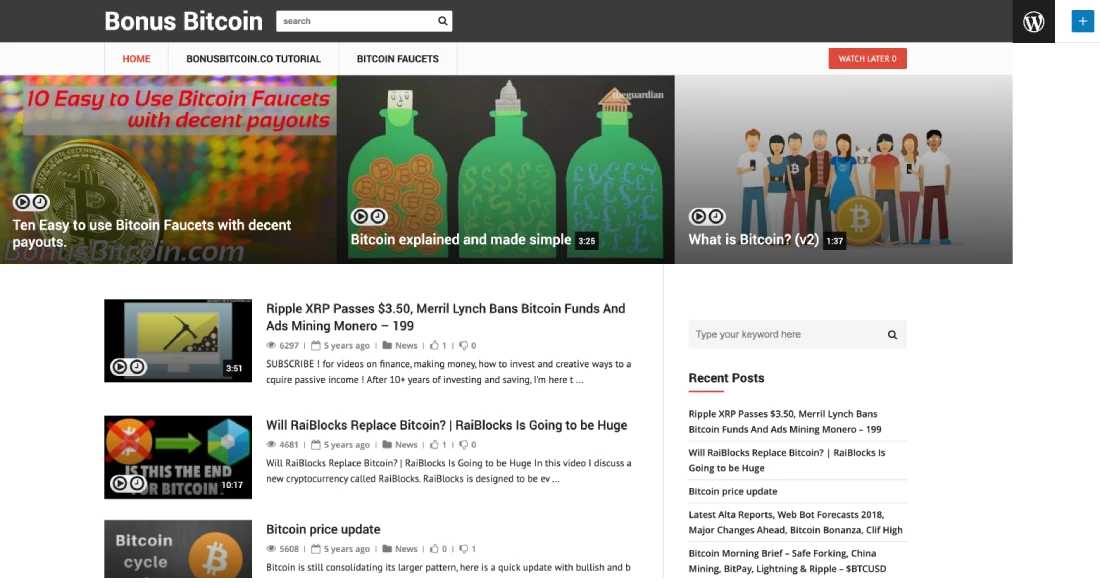 BonusBitcoin has been a popular Bitcoin faucet. You can make a lot of money by watching videos, clicking ads, and filling out surveys. The platform also offers a referral program that rewards users who recommend this Bitcoin faucet to others. This site gives them 40% of the earnings that people who use their referral link make.
Moon Bitcoin is no longer available. It was the top-paying Bitcoin faucet that was linked to the online wallet Coinpot.
Closing Thoughts
Since their inception, crypto faucets gave away free bitcoins by completing simple captchas. They have become more complex and diverse.
You should do extensive research to get started using cryptocurrency faucets. To begin completing required tasks, register with your information.
Do not trust websites promising high-quality products.
You can earn free crypto if you use crypto faucets correctly and frequently, particularly if your tokens are valued higher.
Our website is also available. CoinStats blogLearn more wallets & exchanges, portfolio trackersLearn more about tokens, cryptocurrencies and our buying guides. Bonfida: How do you buy it?, What is the best way to buy avalanche?,  Polygon: How do you buy it?, What exactly is deFi?, How to Purchase Cryptocurrency, etc.
Disclaimer about investment advice  The information contained on this website is provided to you solely for informational purposes and does not constitute a recommendation by CoinStats to buy, sell, or hold any securities, financial product, or instrument mentioned in the content, nor does it constitute investment advice, financial advice, trading advice, or any other type of advice.
The market for cryptocurrency can be volatile and subject to secondary activity. Do your research thoroughly, get your own advice and invest only what you are able to afford to lose. CFD trading, stock trading, and cryptocurrency trading can have serious risks. CFDs can result in losses between 74-89% for retail investors accounts. Before making an investment, you should carefully consider your situation and seek out your own counsel. You should also verify the nature of any product or service (including its legal status and relevant regulatory requirements) and consult the relevant regulators' websites before making any decision.