New UAE regulations have tightened the penalties for cybercriminals who support cryptocurrency frauds. They could spend up to 5 years prison or $272 million in fines.
Five Years in Prison for Crypto-scammers
Promoters of online cryptocurrency frauds now risk a possible five-year prison sentence and a maximum fine of almost $270,000 under the UAE's new internet security regulations, which take effect on January 2, 2022.
The crackdown was announced last month as part of President Sheikh Khalifa's series of broad legal reforms.
The new law expands the country's existing cyber-crime rules to include the promotion of rogue cryptocurrency schemes that are not recognized by UAE authorities.
The UAE government is taking this matter to the next level by inflicting severe punishments on anyone who breaks the law, despite the fact that warnings have been issued by numerous countries. Cybercriminals who promote cryptocurrency frauds on the internet risk up to 5 years in prison and a fine of up to 1 million DH ($272,259), as the country's government has strengthened its regulations to protect residents from cyber fraud.
"As per article 48, posting misleading ads or inaccurate data online about a certain product will be punishable with jail and/or a fine between Dh20,000 and Dh500,000," said Dr Hassan Elhais, of Al Rowaad Advocates, who outlined new legislation tackling cyptocurrency scams.
"The same penalty applies to members of the public who promote cryptocurrencies unrecognised by authorities in the country."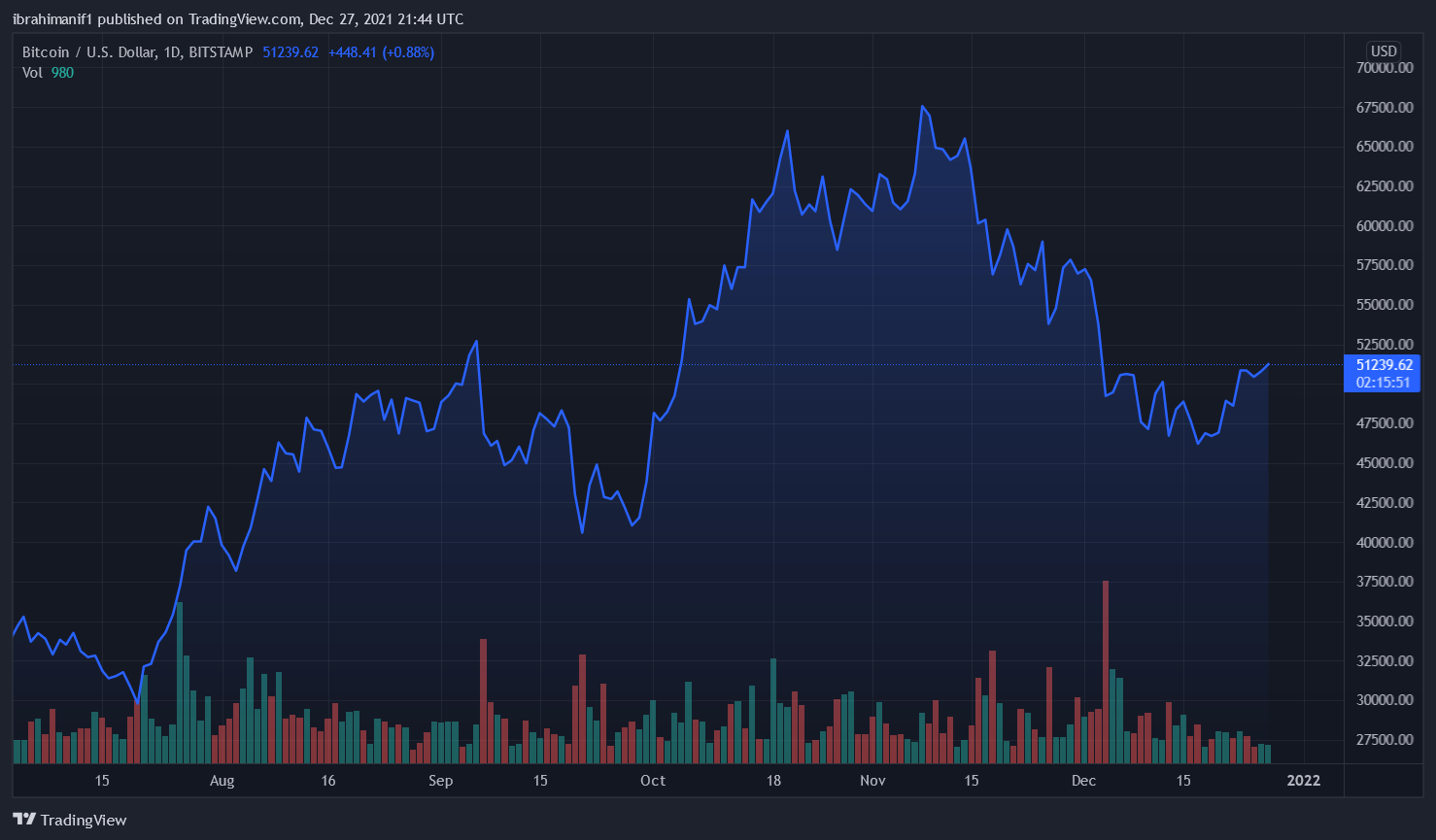 BTC/USD to float at $50k Post-Xmas TradingView
Similar article| Bittrex Global CEO declares Dubai will benefit from the expansion of cryptocurrency markets
UAE Citizens Fall for Crypto-Scams in 2018
UAE residents are still victims of financial crime despite strong regulation and a crypto friendly climate. In reality, the UAE lost more than 80 million DH just in 2021 to hundreds of fraudulent transactions. Police in UAE issued warnings about fraudulent cryptocurrency trading and profit-making schemes.
Regardles, DubaiCoin was a complex phishing scam that the city had to face. Investors jumped on the opportunity to purchase this digital asset, which was advertised as being supported by government. This caused its price to soar in just a few months.
Other people haven't been as fortunate. Nine individuals were sentenced earlier this month to ten year imprisonment for defrauding the public out of over 18 million DH by trading in bitcoin.
The UAE leads the way in creating an inclusive and comprehensive crypto framework. The Dubai World Trade Center was declared both a comprehensive crypto zone and a regulator earlier this month, allowing it to create an enormous hub for the sector's expansion.
Similar articles|Ohio Police Are Going to Inmate a Man For Frauding $30 Million in A Cryptocurrency Scam