The next generation digital world uses virtual and augmented reality (VR), enabling users to easily interact with their avatars. Mattew Ball has famously described the metaverse as a "massively scaledand interoperable network of real-time rendered 3D virtual worlds which can be experienced synchronously and persistently by an effectively unlimited number of users."
The metaverse has skyrocketed recently, with many large companies and global conglomerates planning for their own metaverse projects following Facebook's CEO Mark Zuckerberg's announcement of rebranding Facebook as Meta in October 2021. For example, in the first quarter of 2022, Sony and Epic Games — two industry giants best known for their PlayStation and Fortnite series, respectively invested $1 billion in the metaverse.
The metaverse blurs the lines between digital and physical with AR/VR technology. It has the potential for people to have an impact on their leisure and work and can change how we do business and create shared experiences.
Every business seems to be working on a Metaverse Project. This could include investing in metaverse property or billion-dollar valuations of gaming franchises, to offer their customers a truly unique experience.
In this article, we'll explore the concept of the metaverse and introduce you to the top 10 metaverse projects to help you get in early on investing in metaverse crypto and discover novel ways of playing games, socializing, learning, and staying in touch with friends to ride the wave to metaverse success!
Let's get right to it!
What's the Metaverse?
The term "metaverse" refers to an all-encompassing digital universe in which users, in the form of avatars, can work, play, shop, create, learn, and interact with others like in the real world.
It's simpler to think of the metaverse as a hybrid of digital and physical worlds or a combination of the best of both worlds. This could be considered the next level in online social interaction, as it allows us to interact and communicate with each other in multiple dimensions.
In the metaverse, you can own virtual properties, much as you'd own actual real estate, rent or sell your property to other metaverse users or exchange the property for your favorite metaverse token or non-fungible tokens (NFTs), a type of in-game currency and collectible used in play-to-earn games. Additionally, you can invest in metaverse cryptocurrencies to exchange metaverse crypto with others or make interest.
In the metaverse, cryptocurrencies serve as money representing anything within a virtual environment, from an avatar's clothing to concert tickets and original art pieces, all of which can be created, bought, sold, and traded with digital assets. Each metaverse project uses its own metaverse coin or token to make transactions in that specific environment.
Meta, Google and Microsoft are leading the metaverse project push. Each of these projects aims to be a major shaping force in the new digital world. The global metaverse market will increase by almost 40% over the next eight year and reach $670 million by 2030, according to projections. These are some of the findings. Report, "main drivers predicted to drive revenue growth include a rising emphasis on linking digital and physical worlds through the Internet, as well as the increasing momentum and popularity of Virtual Reality (VR),  Mixed Reality (MR), and Augmented Reality (AR)."
Sensorium Galaxy is an example of a metaverse, with a blockchain-powered virtual economy that will fairly and openly compensate users for their contributions to the virtual world—worlds or meta locations.
Top Metaverse projects for 2022
Now, let's look into the top 10 blockchain-based metaverse projects, including the theme, gaming mechanics, reward structure, crypto-economics, market relevance, etc., to keep an eye on if you're planning to invest in 2022.
1. Decentralization (MANA).
Decentraland, a metaverse-based project, allows you to manage, buy and sell virtual properties (called LAND), worth thousands of dollars.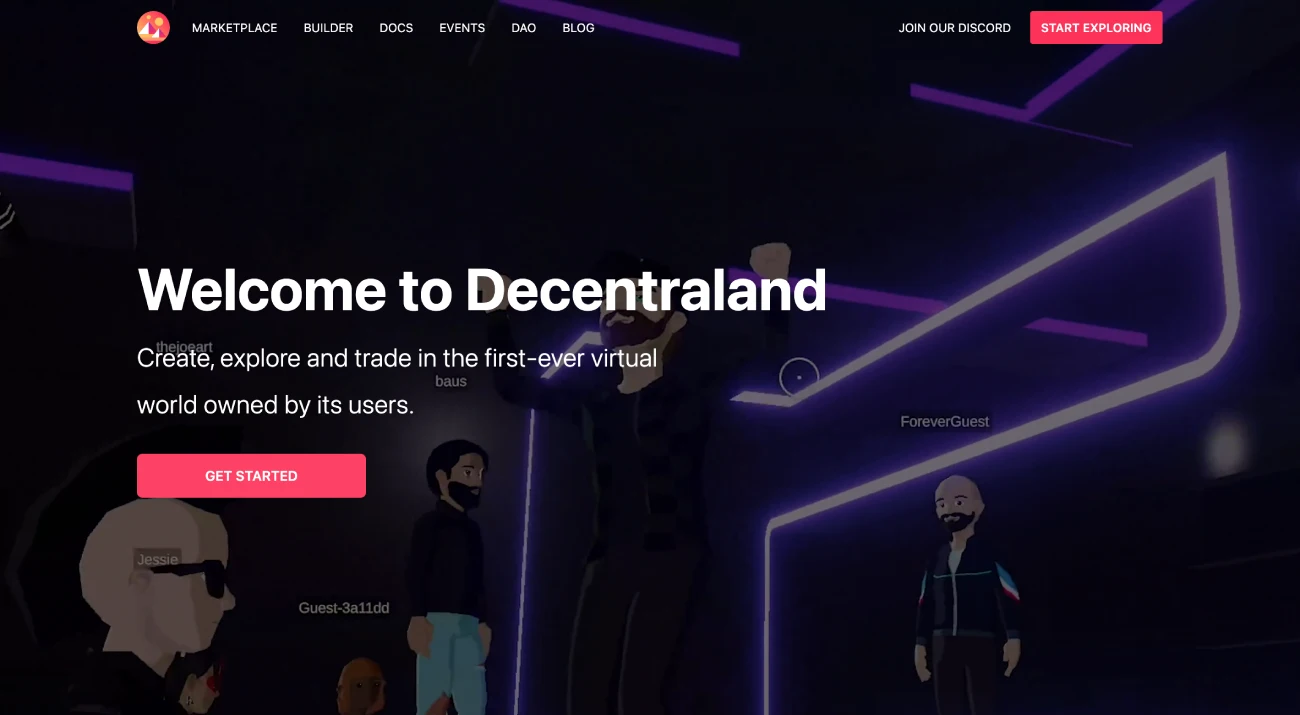 Decentraland's metaverse offers many exciting opportunities and options for its users. Shop for the best brands, go to concerts or festivals, join games, make new friends, get involved in business ventures, and place bets in this metaverse.
Decentraland is an amazing metaverse crypto project that uses the Ethereum blockchain. It's totally user-owned, giving individuals a lot of flexibility to create their own settings, avatars, marketplaces, digital infrastructures, and apps.
MANAIt is the currency that power this virtual universe. You can easily purchase it through many of the top crypto exchanges. The platform recently integrated eCommerce solutions making it a popular destination for both advertising and marketing. As a result, it's reasonable to predict that Decentraland will continue to flourish and rank among the best metaverse projects in 2022.
2. The Sandbox
The SandboxThis virtual world is focused on content creation and an Ethereum-based metaverse that allows players to play for their own money. The Sandbox was inspired by Roblox and Minecraft. It uses a 3D Voxel technique that allows players to express their imagination to build a world they like. Anybody can control and create their own game experiences. SAND, the platform's native currency.

SAND, an ERC-20 utility token, facilitates transactions and interaction across all Sandbox ecosystems. Over 70 million worlds have been created by users, creating a vibrant marketplace for non-fungible tokens.
Sandbox allows members to build games, assets, or applications on top their land parcels. This is in addition to creating amazing content-creation experiences. Each LAND can only be purchased as a non-fungible token (ERC-721). They can then sell their creations on The Sandbox Marketplace or any other marketplace that accepts The Sandbox's NFTs.
The Sandbox partners with companies such as CryptoKitties (The Walking Dead), The Smurfs and Shaun the Sheep. The partnership makes the Sandbox one of the top metaverse projects by 2022. 
3. Axie Infinity, (AXS).
There's no way you haven't heard about Axie Infinity, the blockchain-based game that has captivated the world with Axies, its charming animal-like avatars. Axie Infinity offers players amazing chances to make large amounts of money doing what they love: gaming. Many people consider Axie to be their favorite game. Full-time job.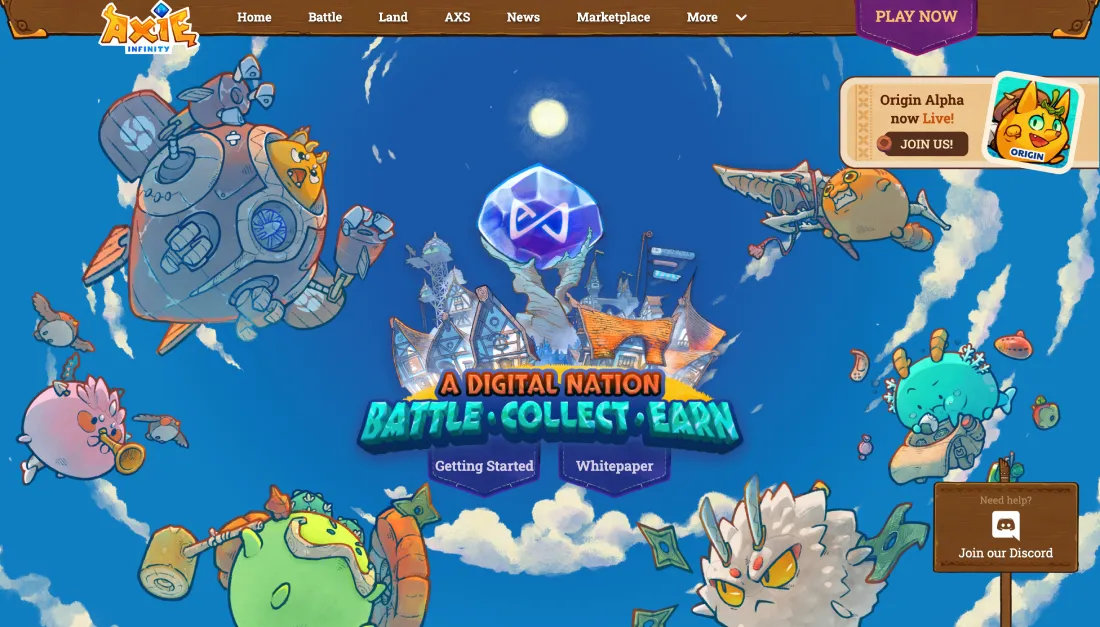 Axie Infinity uses the Ethereum blockchain to power its platform. AXS SLP tokens. Axie Infinity Shards (AXS) is a governance token, allowing AXS holders to vote on the game's future development plans, such as updates and treasury balance usage. AXS is consistently ranked among the top metaverse tokens, and saw a 200% increase in 2021.
SLP tokens (also known as Smooth Love Potion) can be obtained as rewards in battle and adventure mode. They can then be used to breed Axies. As the game's popularity grew, these animals became increasingly expensive – a tendency still evident in 2022.
Axie Infinity, one of the most important metaverse projects this year, is Axie Infinity.
4. Metahero (HERO)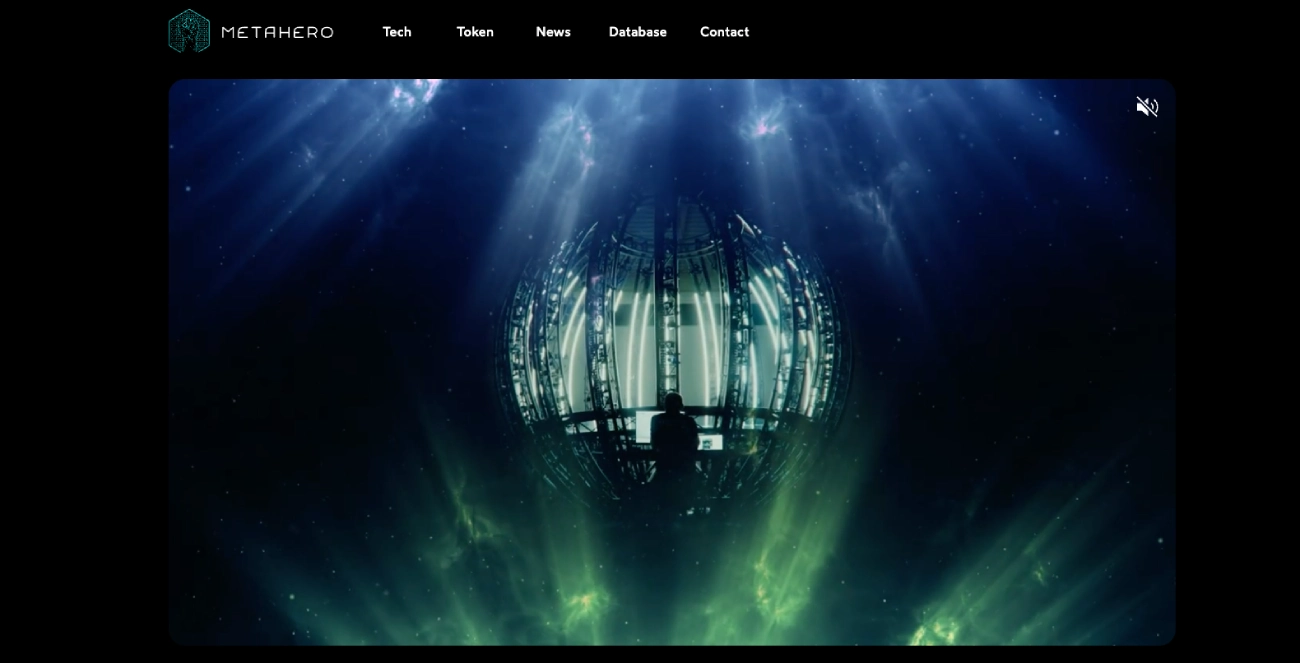 Metahero is a metaverse cryptoproject that was established in July 2021. This project allows you to scan yourself and other objects to the metaverse. It is a hyper-realistic digitalized reproduction of real-world objects that's the main draw here. Native utility token HEROAn ERC-20 token that can be used, among others, to pay for scanning and interact with the metaverse.
Metahero uses Wolf Digital World's scanning technology to create 3D representations of humans in the digital domain. Wolf Digital World, a leader in 3D 16k photogrammetric scanning technology for gaming, is also used by Triple A companies such as CD Project (the company behind Cyberpunk 2077, The Witcher series).
Metahero is home to its Everdome metaverse as well its DOME coin. It has received $9 million in its presale, proving the project's significant community support for the concept.
5. Somnium Space (Cube)
Somnium Space, a 3D Blockchain platform that offers countless mind-blowing experiences and opportunities to interact with the entire metaverse, is called Somnium Space.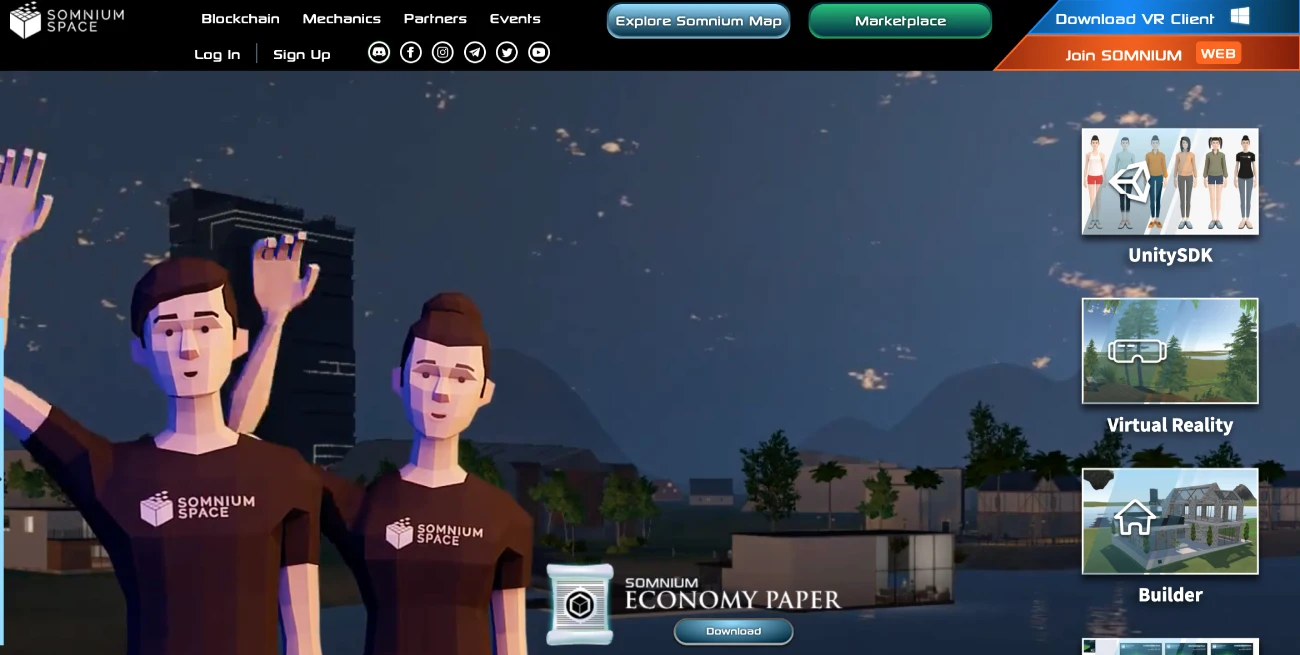 Somnium calls itself "an open, social, and persistent virtual reality platform," where users can not only "live" but also engage in entertainment, communication, e-commerce, and much more.
Somnium, unlike most other metaverse projects that are built on Ethereum chains, has chosen a multichain strategy that includes the Solana chain. The metaverse now has new opportunities, with users able to create an NFT Gallery and use a VR avatar for VR concerts and dancing using a full body tracking kit.
CUBEThe native token of Somnium Space is a token ERC-20. The currency can be used to purchase virtual items, pay for metaverse goods, services, games, events, rent land, and reward players for good 'karma.' 
Somnium was supported by major crypto-heads, such as Microsoft and Gemini.
6. Gala (GALA).
GalaBlockchain gaming platform which allows players to have more control of their gaming experience and allow them to freely swap in-game items. Gala provides a variety of blockchain-based social games, which are designed to build relationships and connect players. These games are currently available: Town Star (or Mirandus), Fortified, Spider Tank or Echoes of Empire.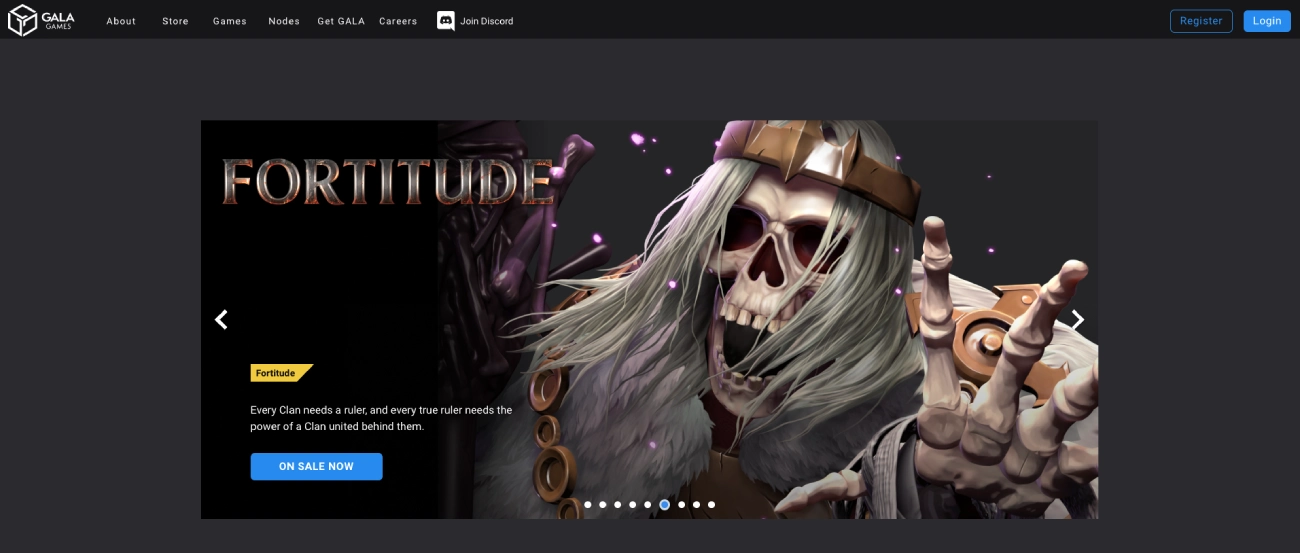 GALA is the metaverse's native token, used throughout the platform for network governance, prizes, and node operator incentives. GALA is also used to purchase digital items, such as NFTs, via the game's shop and player marketplace. Gala players can create and alter their avatars in the same way as in blockchain-based crypto markets.
7. ApeCoin, APE
Inaugurated in 2022 ApeCoinThe industry has been taken by surprise with the newest metaverse coin to hit the crypto world, the ApeCoin. It was quickly created and distributed to BAYC NFT holders. Yuga Labs is the manufacturer of Bored Ape Match Club NFT collections. They announced the launch of a metaverse cryptocurrency project that uses the ApeCoin token. The popularity of this news was increased. APE token's value immensely, making it briefly the largest metaverse coin by market cap.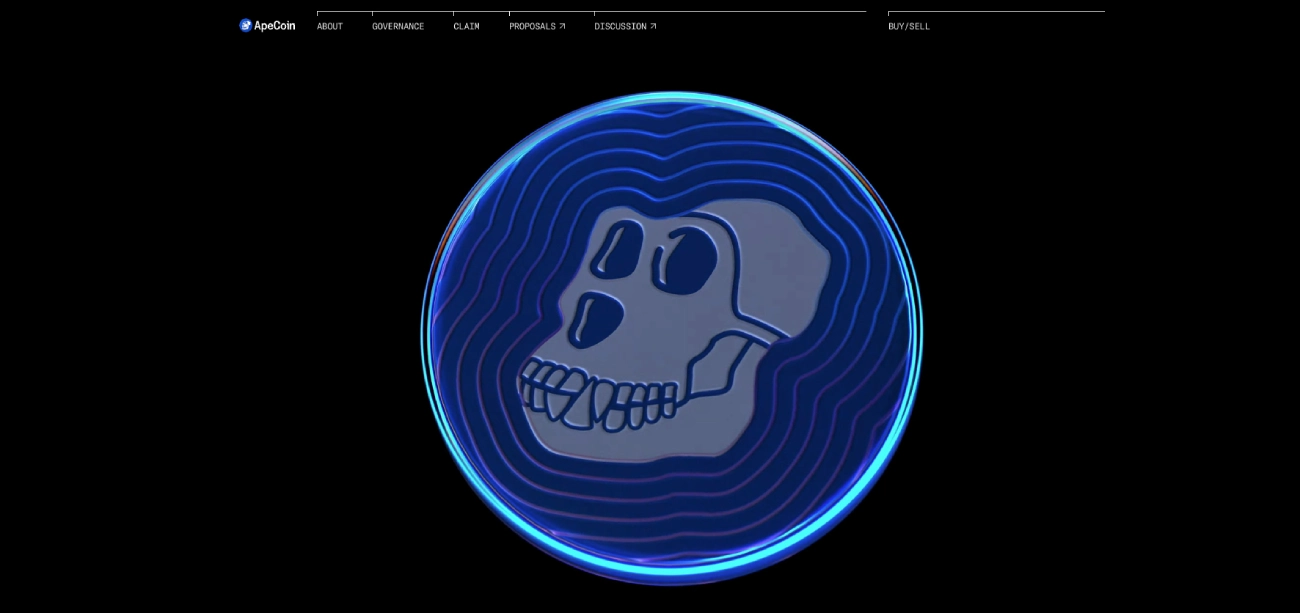 However, the market cap of this metaverse coin has declined by 83% over that time and it is now third. CoinStats. A decentralised autonomous organization (DAO) manages this metaverse coin. Anyone who holds the coin may vote on relevant governance decisions.
ApeCoin is a versatile cryptocurrency that performs many functions within the Yuga Labs ecosystem. In addition to DAO participation, it grants holders access to special games, events, goods & services. You can use it to make Ethereum payments, as an ERC-20 coin. It is being used already as an NFT incentive, while BAYC holders get free APE which they can cash right away.
8. Souls of Nature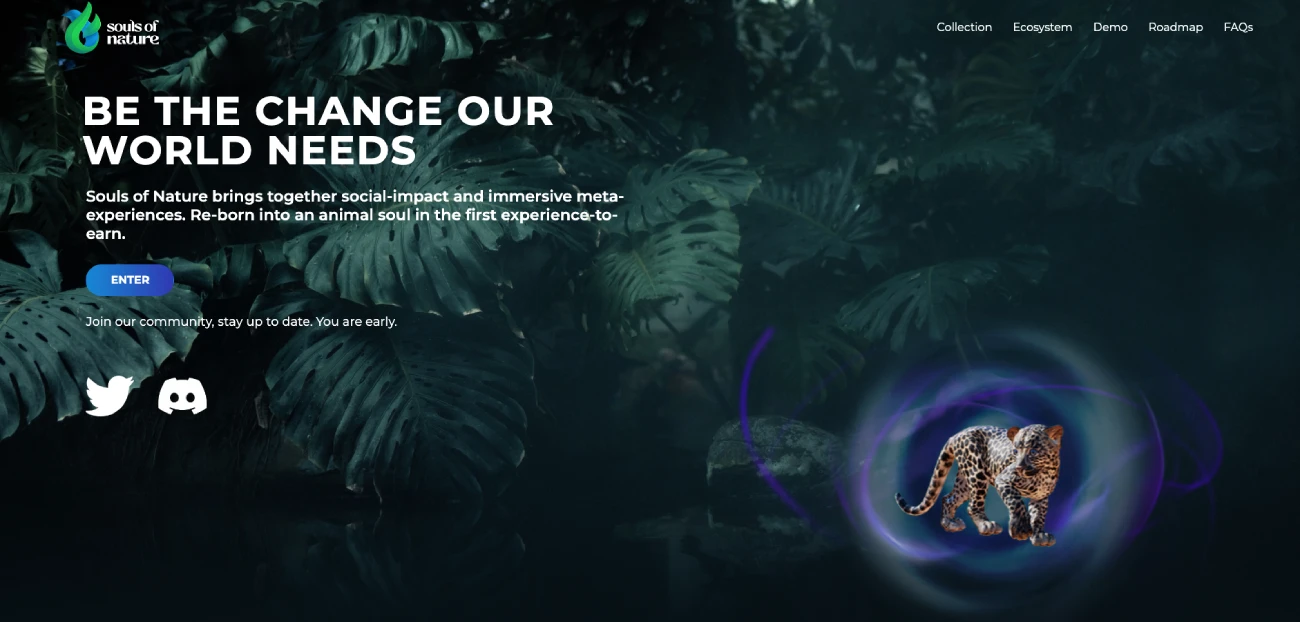 Souls of Nature, an NFT project that is new and first of its type in HD Metaverses, will launch in the third quarter of 2022. This will serve as both a metaverse and complete metaverse project. It has its own NFTs that can be traded and the goal of saving endangered species and their habitats.
Souls of Nature, a gaming metaverse dedicated to environmental and animal issues, has in-game avatars that are animals. You'll be reborn as an animal soul and put on a journey to help rescue the ecosystem, all while being driven by the Unreal engine in immersive HD.
Souls of Nature believes in helping the world, conserving Mother Nature and has pledged to donate a percentage of its debut collection to conservation efforts. 
9. Another side
One day, the Otherside project could lead to a BAYC-connected MMORPG. The creators claim that the game will combine mechanics of MMORPGs with Web3-enabled virtual realms.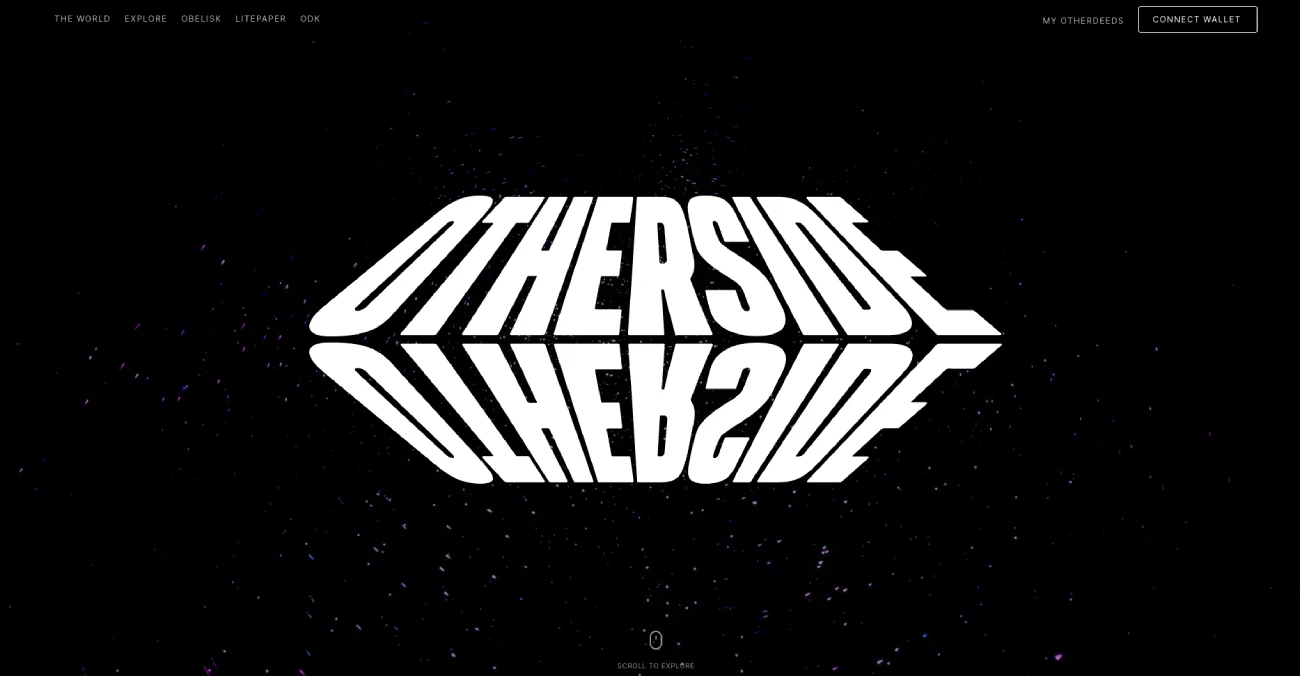 It will be possible to transform NFTs into playable characters. You can own land anywhere on the planet and play with more than 10,000 players simultaneously.
Otherside will own its metaverse, and NFT collections, such as Cool Cats or World of Women, CrypToadz or CrypToadz. It will look similar to an open world game. Collectors will have the ability to interact with different ecosystems as well as their unique species.
Yuga Labs received $450million to expand its metaverse. Yuga, on the other hand plans to adopt ApeCoin for its primary currency. The Otherside will also be created with Animoca, which is the same company that made The Sandbox. CryptoPunk owners, Mutant Ape board ape and Kennel Club NFT owners, will be able use their NFTs at launch as playable characters. Meebits will soon be available.
Otherside has around 200 000 virtual land plots available for purchase, much like other metaverses. The first Otherdeeds were sold in April's last week. They are NFTs that represent Otherside land plots.
10. Star Atlas
Star Atlas is one of the world's first AAA crypto games. It's a next-generation metaverse built on Unreal Engine 5 graphics and features triple-A game design and enhanced emphasis on security to ensure user protection and digital safety in the metaverse.
Star Atlas, a metaverse cryptocurrency project, is inspired by a well-known grand strategy game that includes elements such as space exploration, territorial conquest and political dominance. This game depicts the future of 2620. Players can gain territory and resources in a futuristic setting.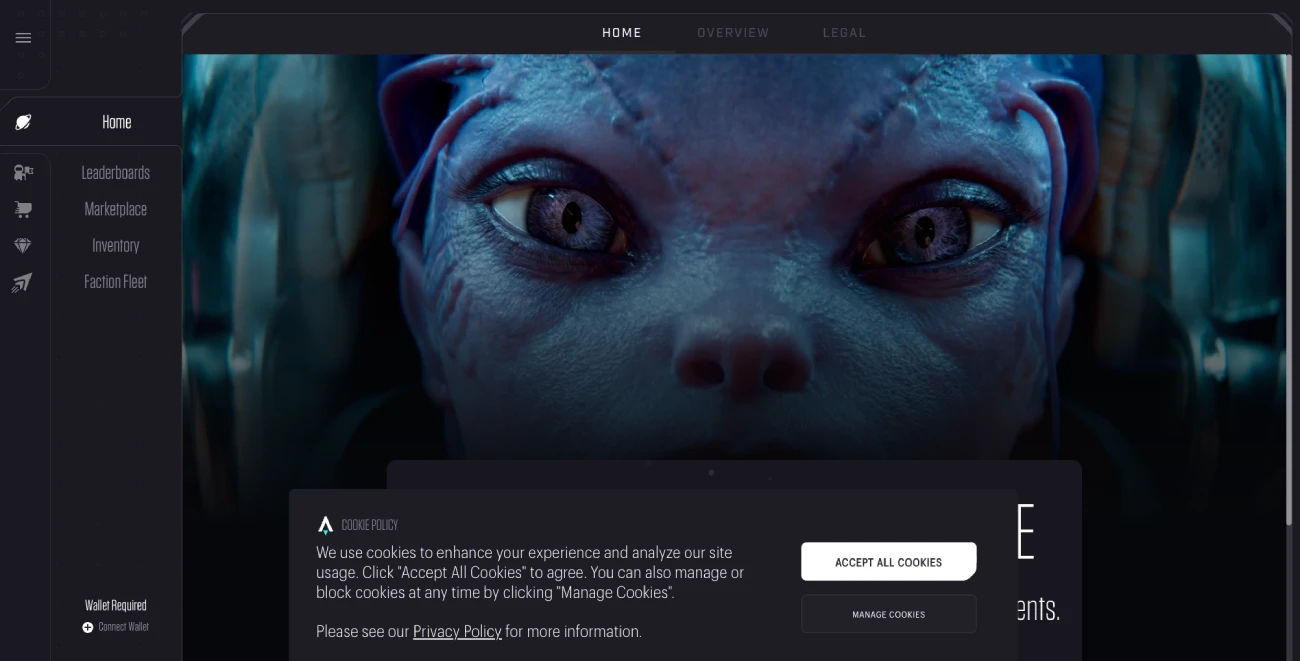 POLIS (or ATLAS) are two of the game tokens used to drive Star Atlas' game activity. ATLAS can be used to explore new worlds, enter combat, or win an ATLAS token. This is similar in concept to other gaming rewards systems that use blockchain technology.
A joint study has revealed that the following: press releaseStar Atlas has joined forces with MoonPay, a cryptocurrency payments startup that allows gamers to quickly buy tokens and ATLAS game currencies using a credit card. MoonPay will handle currency-tocrypto payments in the Star Atlas ecosystem.
Bottom line
It is difficult to predict the future of virtual worlds or the metaverse cryptos that will continue to be among the most popular metaverse projects. 
Although there are many unknowns, this list will hopefully provide a great starting point for your journey to crypto.
You're welcome to visit our CoinStats blogTo gain a wider perspective on decentralized financing and its goals to empower individuals, click here
Also, you can read some of our articles like What is DeFi?Explore our detailed buying guides for various cryptocurrency, including Mooncoin: How do you buy it?, Gnosis buying guide,  How to buy cryptocurrencyLearn more Exchanges and wallets, portfolio trackers, etc.
Investment advice DisclaimerCoinStats' content does not constitute financial, legal, investment, or other advice that can be relied upon for specific purposes. All reliance or use of our content is at your sole risk. Before you rely on our content, it is important to do your research.