The Ethereum Merge is only 12554 days away, according to Watcher Guru. This event will take place at 1:19 on September 15, (CST). Ethereum will then be PoS and that will spell doom for PoW miner PoWs. PoW miners who own the $19 million mining company will have to look for alternatives after the Merge.

Source: https://watcher.guru/ethmerge
According to recent data, Ethereum miners have fled the network. The average computing power for the entire Ethereum network is currently 854 TH/s. The figure is trending down from its May peak of around 19%. Ethereum's massive PoW hashrate is of great significance to the entire crypto mining industry, and the ETH hashrate will shift to other PoW coins once Ethereum shifts to PoS, which may reshape the whole mining sector.
To protect their interests, Ethereum miners may opt to exclude themselves from any shift to PoS made by the Ethereum community in light of the imminent transformation occurring to the mining industry. PoW miners might support a hard fork in order to keep the PoW network intact and create a new cryptocurrency. This fork can pose security and risk issues. If Ethereum is forked, projects within today's largest crypto ecosystem will have to make a choice. Numerous mainstream projects including the stablecoin issues Tether and Circle, the oracle ChainLink and Aave have already expressed support for the PoS Chain. Without popular support, the PoW Chain will not be viable.
Some miners may choose to accept this reality and move to ETC. DAO Hack split Ethereum into two camps: the ETH and ETC. Both camps have different algorithms, so ETH mining devices might need firmware updates in order to be compatible with ETCHASH. ETH is compatible with ETC and there are no technical barriers between the two. It is also easy and inexpensive to switch to one from the other. It is therefore likely that ETC's hashrate will rise after the Merge.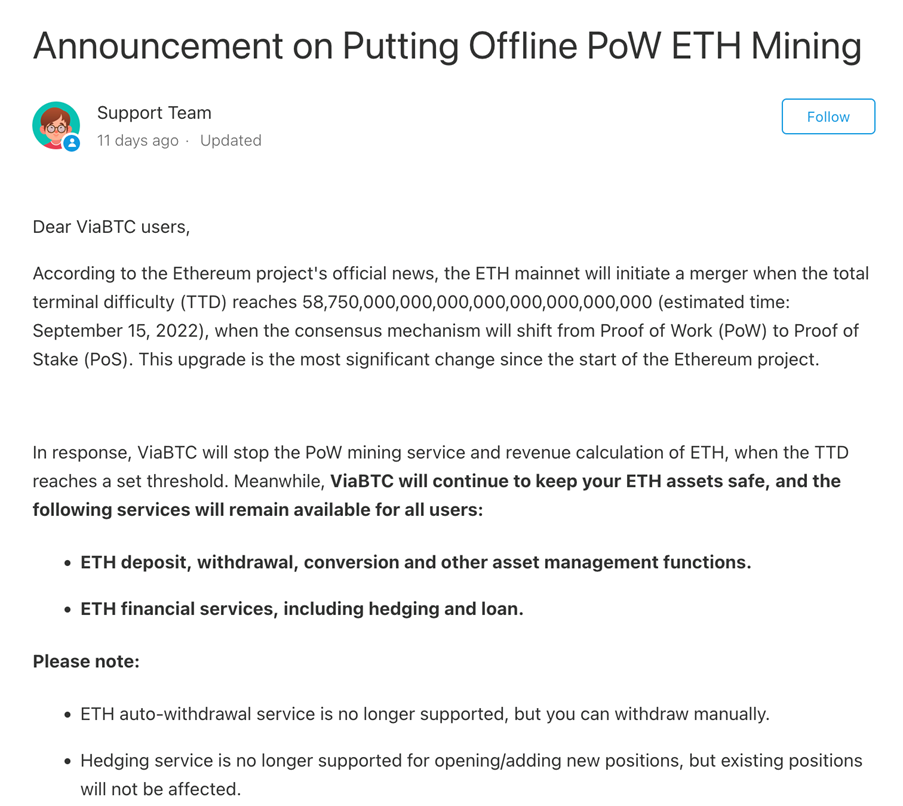 Numerous pools including ViaBTC have started offering mining incentives in reaction to ETC mining boom. Back in early September, ViaBTC Pool announced that it will terminate the pool's PoW mining service and the revenue calculation of ETH when the TTD reaches a set threshold. The pool said that asset management functions such as ETH deposits & withdrawals and conversion, as well as ETH financial services that include hedging and loan, will remain available. The pool also suggested the ETC pool for miners that plan to carry on with PoW mining.
ViaBTC partnered with Bitdeer, the top mining service provider. This partnership offers a significant benefit to miners: A free trial of MiningOS firmware. MiningOS offers a six-month, free trial to all ViaBTC users. It will reduce costs for miners and help them maximize their return.
MiningOS, a Bitdeer Group-developed firmware for GPU mining, is simple, secure, and yields high. MiningOS is simple because it lets miners deploy their mining operations with just one flash drive. This allows them to download the image file without the need to burn any code. MiningOS is supported by top mining brands and supports SSL connections. It also emphasizes privacy and security. MiningOS came in second place for average revenue after being tested on many GPU mining machines. This figure is over 2% more than the number of second-place winners. The seemingly minor difference in revenue will eventually translate into substantial increases over time.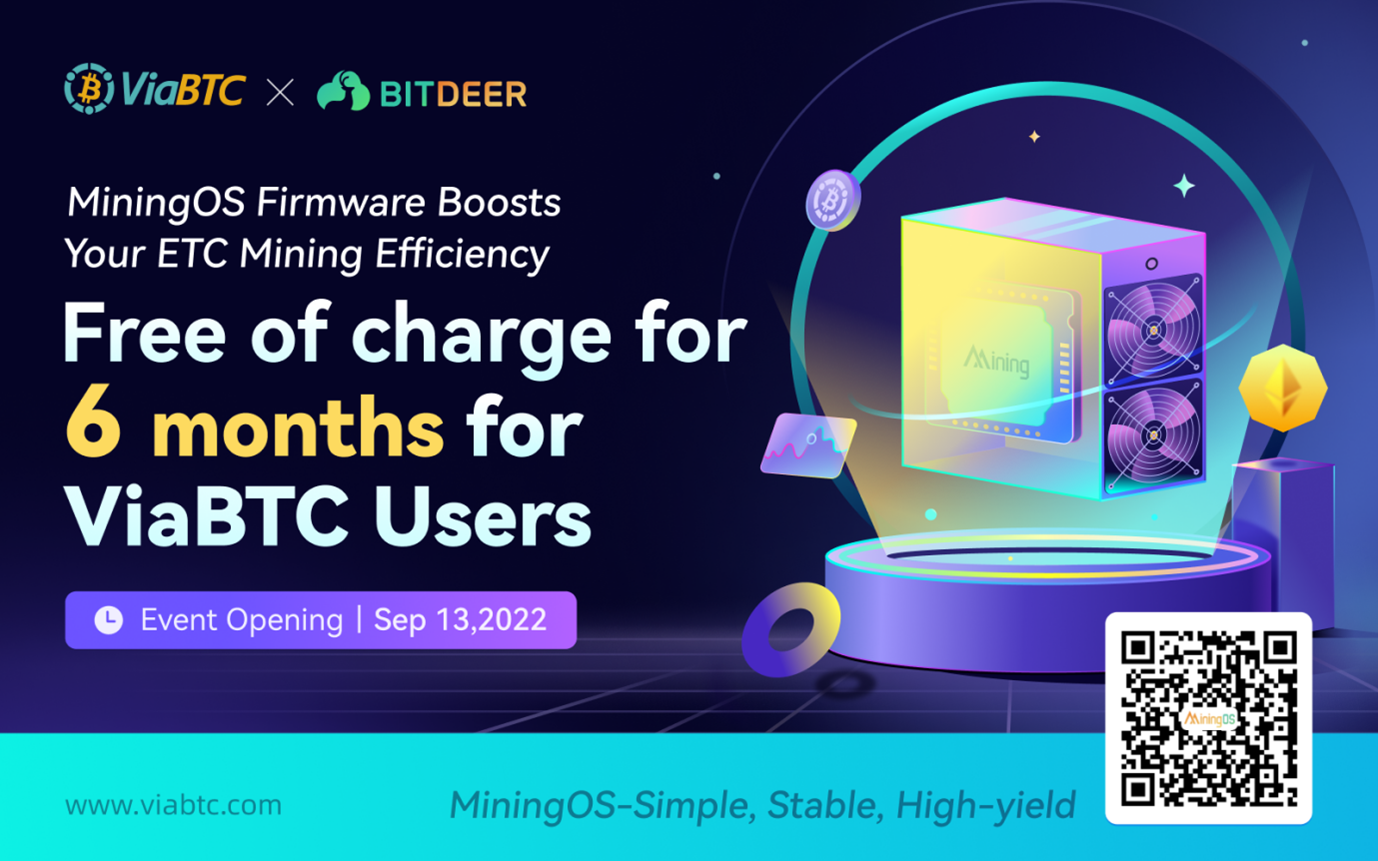 Join the event at https://minerplus.bitdeer.com/miningos
Get MiningOs free of charge
Open the event page by clicking on the image or scanning the QR code.
Log in and register for your Bitdeer Account
The MiningOS firmware can be installed and deployed
Get ViaBTC exclusive benefits by contacting customer service
In the mining configuration, select ViaBTC Pool
MiningOS-enabled smart and efficient mining provides a superior experience.
Coverage for CPUs
GTX 3070 and GTX 3080. GTX 1660s
Target crypto
ETC
How do I install MiningOS?
For installation details and help, click the following link:
https://bdminerplus.zendesk.com/hc/en-us/articles/9876983152921-MiningOS-Installation-Tutorial
About Bitdeer
Bitdeer Group is the world's leading provider of digital asset mining services. Jihan Wu is the founder of Bitdeer Group, an internationally recognized pioneer in crypto investment. The group consists of two service platforms, "BITDEER" and "MinerPlus", which provide a full range of mining services that include hashrate sharing and smart mining solutions.
About ViaBTC
ViaBTC is an efficient, stable, professional and secure cryptocurrency mining service provider that was established in May 2016. It has served over one million customers in more than 130 countries or regions around the globe. The cumulative mining output of ViaBTC amounts to tens billions of millions of dollars. It is a leading, global, and all-inclusive pool that provides mining services for over ten major cryptocurrencies, including BTC, LTC (ETC), etc. ViaBTC provides all-inclusive support services that include the exchange and wallet. ViaBTC is dedicated to providing global users with more tools and services.
 Image by Nana Dua from Pixabay