Jesse Powell is the chief executive of Kraken crypto exchange. He said Bitcoin below $40K was a great buy and predicted that the dollar would go to zero.
Bitcoin's Fall Is A Buying Opportunity
Jesse Powell, Kraken's CEO, says that if Bitcoin prices fall below $40,000 then investors would have another buying opportunity.
In an interview with Bloomberg TV the Kraken CEO spoke about the cryptocurrency market. He reaffirmed his prediction that Bitcoin would reach $100,000 before the end of this year.
"But I think a lot of people see anything under the $40,000 as a buying opportunity. We dropped back to $30,000 several months ago, and I personally bought. A lot of people have some dry powder on the sidelines just waiting to come back in at rock-bottom prices."
Jesse Powell predicted that Bitcoin will surpass $100,000 before the year ends 2021. Although he said that only a few more days are left at the press price of $49/396, and considering the trend in Bitcoin, such a significant milestone is not likely to happen.
| Kraken Director Dan Held Tags Traditional Financial Institutions A "Cartel"
Long Term Investment If Dollar Falls
Powell acknowledged that his past predictions for Bitcoin may have been off the mark, but added that it's difficult to foresee what will happen next in the market. However, he believes that anyone considering investing in Bitcoin should consider it as a "five-year plus investment."
He also discussed Bitcoin's more volatile nature, stating that this is more obvious on shorter time frames, with its price swinging dramatically in a day or over a week. He feels that the best method is to treat cryptocurrency as a "buy and hold" investment.
"Bitcoin is something I think about as a long-term investment because it's difficult to predict short-term price moves," said Powell. "It's a speculative asset in many ways, but you can't help but be impressed by how far it has come and the amount of innovation that's happening around it."
Powell is still bullish about cryptocurrency and Bitcoin in particular, but he sees the US dollar as bleak. With interest rates expected to go negative and the dollar approaching "zero," he believes the best option for investors is to avoid holding their currencies in the greenback.
Powell spoke out about the decade-long uncertainty and lack of regulation in this sector. Many companies moved their headquarters overseas in search of better pastures. Others remained unaffected, afraid of the consequences.
Powell also discussed Kraken's ambitions as the crypto industry grows in popularity, stating that the exchange wants to help combat disinformation that could harm new investors. Kraken plans to also launch an NFT platform (non-fungible token) to capitalise on growing interest in this field.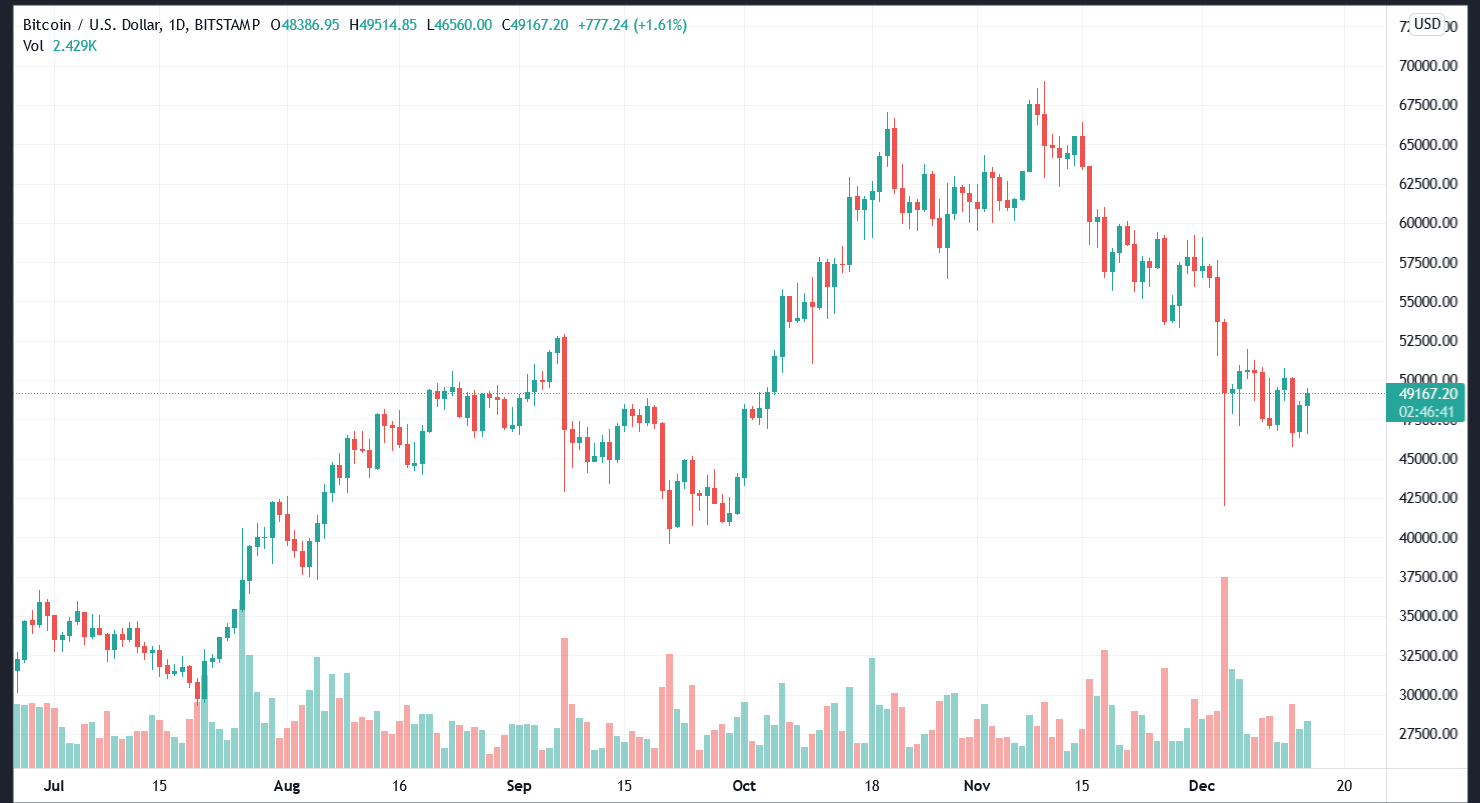 Source, BTC/USD tradingview.com| Source: BTC/USD on TradingView.com
Similar Article|Do US Regulators Have Become Offensive against Crypto Platforms? CFTC Fines Kraken
Pixabay Charts by TradingView Featured Image