NFTs were not present before 2021. However, digital art was a hot topic in blockchain last year, with digital artists shining in the NFT spotlight. While the crypto world became an exciting place to be, a new generation of NFT artists entered the world's largest artistic movement to date.
The volatility of Bitcoin and other crypto currencies continues to make it difficult for investors. Some have blamed the drop on the Federal Reserve's recent announcement of additional rate hikes, as well as political unrest in Kazakhstan, which drastically reduced Bitcoin's hash rate. As traders expected bullish signals, Bitcoin prices fell below $42,000 on January 14.
It appears that while the crypto market continues to struggle, the NFT space  is witnessing incredible surge in trading volumes and interest.
NFT & GameFi In Sweet Month
New data has revealed that NFT- and GameFi transaction volumes have continued to grow despite declining crypto prices. The report by Dappradar noted that "the number of UAW connected to Ethereum NFT DApps has grown by 43% since Q3 2021," according to the research. According to Dappradar, NFT trading has generated more than $10.7 billion between Q3 2021 (Q3 2021) and $11.9 billion over the first ten day of 2022. Recent developments in NFT, like the creation of LooksRare, could explain this rise.
"Blockchain games continue to be widely used," according to the report, noting that they "represent 52% of the industry's usage." The case for blockchain games to continue developing during 2022 has been enhanced by expanding metaverse technologies and the growing success of the play-to-earn model.
Dune Analytics data revealed that OpenSea was the largest NFT marketplace and generated $2.7 billion volume during the first half January. This is on pace to surpass the August record of $3.4 billion.
OpenSea's January 9th volume was $261 million. OpenSea's daily trade volume has now surpassed $150M since January 9.
OpenSea daily volumes on Ethereum Source: Dune Analytics
Similar article|The OpenSea Transaction volume shows that NFTs are not slowing down
Mason Nystrom is a Messari senior analyst and believes that the NFT market has a stronger position than what recent price movements suggest.
Nystrom pointed out that
"The cryptomarkets are fairly correlated – the market tends to rise and fall with Bitcoin. It has been surprisingly interesting in the current downturn, as NFT volume has increased. OpenSea has recorded $2.3 billion in NFT volume in January so far, on pace to break its monthly volume record if volumes continue."
The Market Reflects Growing Interest
Chinese customers have been showing a greater interest in NFTs, blockchain gaming and NFTs during this downturn. This aligns with Chinese recent announcements that their government would start building its non-crypto NFT. "China is now the country with the most extensive user base…increasing 166 percent from the numbers registered in November," according to DappRadar's research.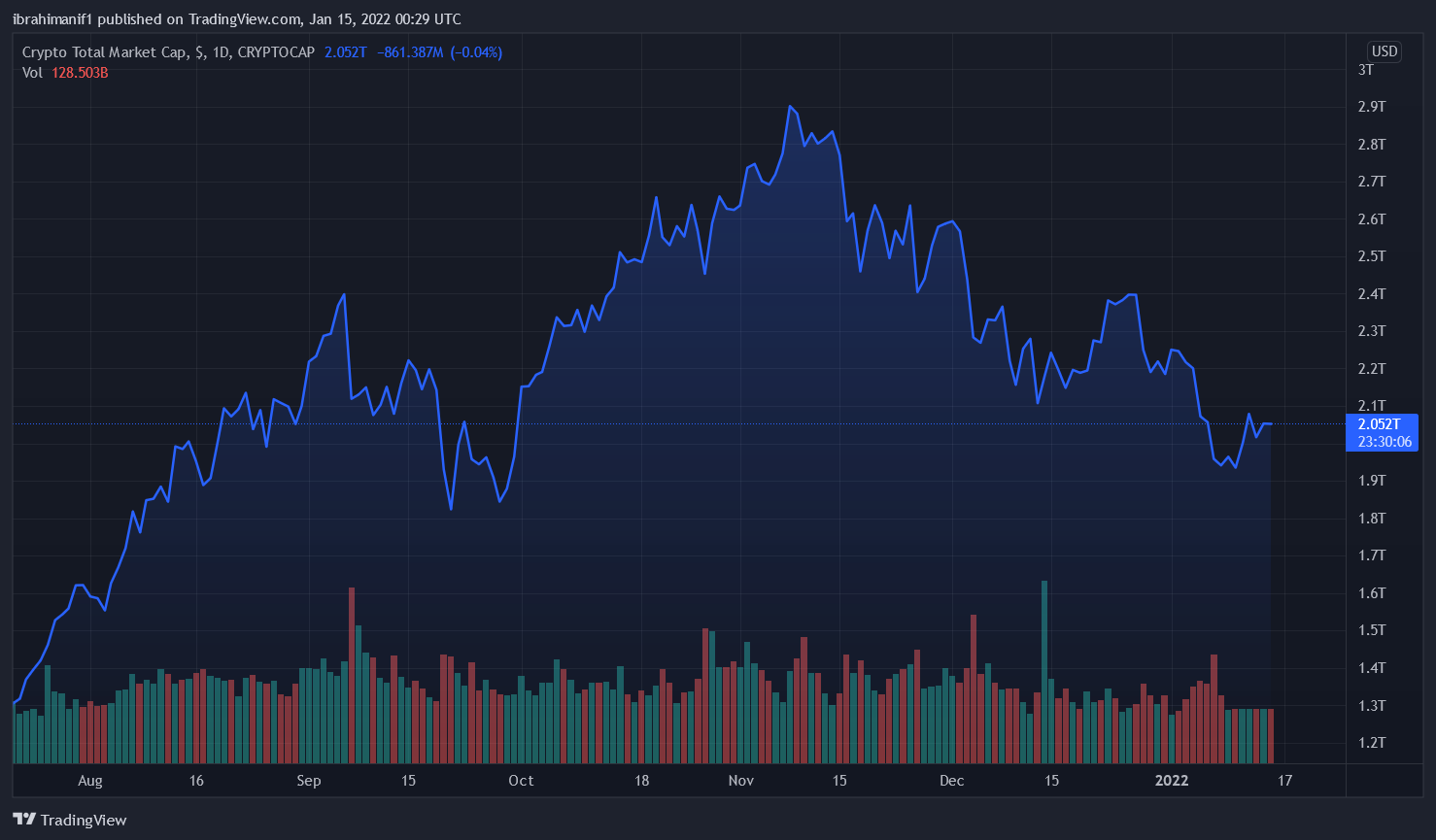 Crypto market cap stands at $2 trillion Source: TradingView
NFTs might experience volatility in the short-term due to current market conditions. However, because these digital assets are unique it may cause a separation of crypto markets prices.
Although the United States ranks 2nd in overall traffic, it added 175,000 members to its NFT ecosystem. This is a 38 percent rise. The reason for this is partly due to a rising interest in younger audiences. Millennials and Generation Z now account for a higher share of traffic.
Similar article|Mark Cuban, a16z and Mark Cuban spend $23M in NFT platform OpenSea
 Charts by Dune Analytics, and TradingView| Charts by Dune Analytics, and TradingView