Charles Hoskinson an American computer programmer, who founded Cardano in 2015, was the co-founder and chief architect of Ethereum. He wanted to develop a Blockchain based on sophisticated intellectual concepts.
Cardano's blockchain was designed to allow decentralized apps (DApps) to be deployed. Its internal design and Proof-of-Stake mechanism allow for faster processing speeds than Ethereum. Cardano also marks the beginning of a blockchain that has been thoroughly peer-reviewed and approved by scientific Cardano.
ADA is Cardano's native token, named after Augusta Ada King, Countess of Lovelace (1815-1852), the first computer programmer. ADA performs many functions on Cardano's blockchain. It primarily serves to verify and protect the Blockchain network using Proof-of-Stake.
For cryptocurrency staking you will lock up your money in your own cryptocurrency wallet and wait for rewards. Every investor must be alert to the potential risks involved in staking crypto assets.
In this article, we'll explain what Cardano staking is, how to stake Cardano and the risk associated with staking.
So let's get right to it!
What's Cardano? (ADA) Staking
Staking involves the practice of locking cryptocurrency into a Proof-of-Stake(PoS) Blockchain and receiving rewards for the help of others in validating and securing the network.
Cardano utilizes the delegated Proof of-Stake consensus protocol Ouroboros for making staking simple through delegation. It consists of two major parties, Stake Pool Operators or SPOs and Delegators.
SPOs are network nodes that validate transactions and assist the system's operation. The amount of ADA staked within a pool determines which SPOs will be selected. Staking ADA tokens to be an SPO will require long-term investments, technical expertise and familiarity in the Cardano network. However, ADA tokens can be staked with the simpler delegation method.
Delegators are able to place ADA tokens into a specific SPO staking Pool, rather than running a Node. Delegating ADA tokens can increase the chances of the selected SPO validating transactions. If a node gets selected, the SPO and support delegators both share in the rewards.  You can either use a cryptocurrency wallet directly or indirectly to stake on a node. Cardano stakeholders get rewards every 5 days; a time frame referred to as an "epoch" in the Cardano staking jargon.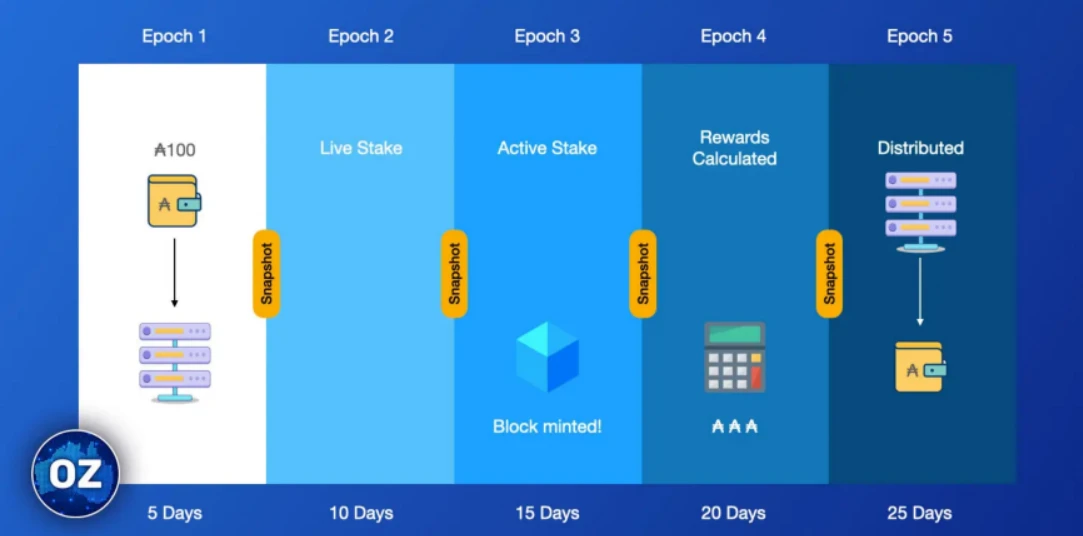 ADA can also been staked through the Cardano blockchain. ADA may be lent by decentralized finance service providers (DeFi), and centralized finance service providers (CeFi). Lending ADA to other traders through a lending and borrowing service can yield more significant yearly percentage returns; however, the trade-off is that it's riskier and more complicated than staking through a wallet or exchange.
How to stake Cardano (ADA).
Cardano can also be staked in these three ways 
You can stake through your wallet or an exchange
You can lend through the DeFi platform
You can lend through CeFi.
The easiest way to start with cryptocurrency is to use a wallet that supports Cardano.
First, users must have ADAYou can start staking ADA tokens by transferring tokens into their crypto wallet. You can purchase ADA tokens directly from a cryptocurrency exchange, or you can transfer existing tokens into your exchange wallet. For extra protection, you can also use multi-currency digital wallets like Exodus and a physical wallet such Ledger.
Cardano On-Chain through a Wallet
Cardano recommends two online wallets (software) for staking ADA coins. The first is the Daedalus wallet, a desktop wallet for Windows, macOS, and Linux developed by Cardano's development arm, IOHK. Yoroi is a browser extension wallet for Firefox, Google Chrome and Microsoft Edge. It is compatible with Android smartphones and iOS phones.
Daedalus, a complete node wallet for those who wish to create a node on the network and operate staking pools, is available. You can download a complete Cardano Blockchain copy from the wallet. It is later validated and then updated. Daedalus wallets are more practical for technically-minded users.
Yoroi, a wallet for staking ADA tokens that is beginner friendly, was created to be used as a delegator.
Note: There are many fraudulent cryptocurrency wallets, so it's best to download the wallets straight from the DaedalusOr Yoroi websites to ensure you're using the official ones.
Yoroi: How to Take Cardano (ADA).
1. To stake ADA, download the Yoroi browser extension.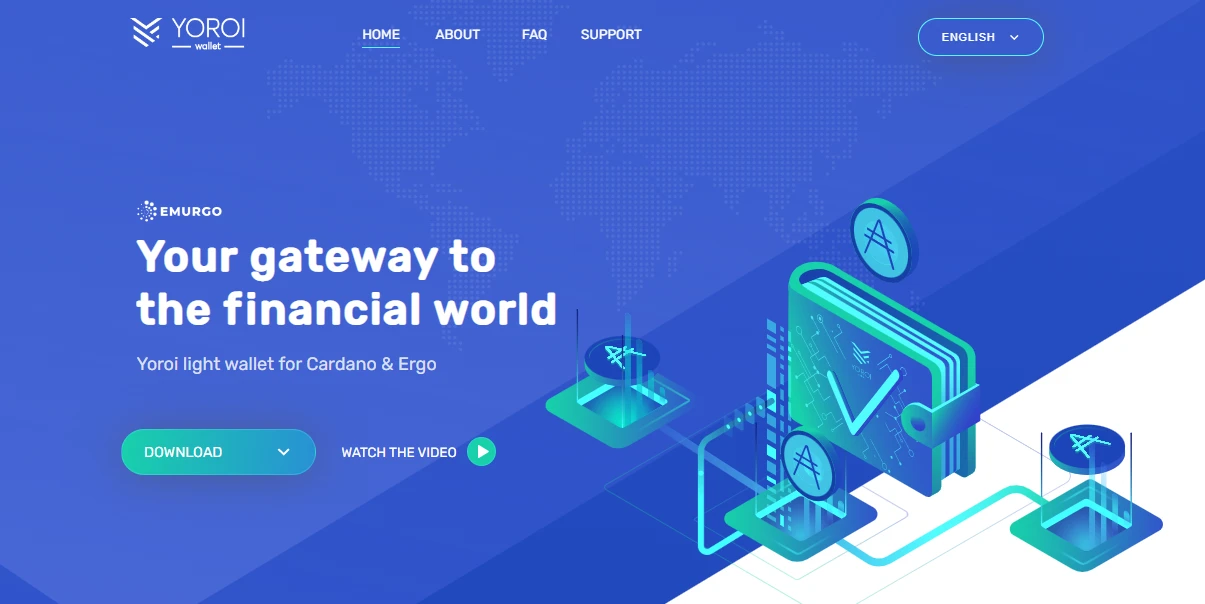 2. You'll get two configuration options: Simple or Advanced. If you're a beginner, select the Simple option. It is possible to create Payment URLs that make it easy to pay people.
3. You're now ready to start staking. You can now connect a hardware wallet containing ADA coins or purchase them. ADAYou can use a cryptocurrency exchange like Coinbase, Kraken or Binance. Transfer the ADA coins to your Yoroi account.
4. Your ADA will be assigned to a staking group. Delegator fees are charged by each staking pool for the operation of nodes. The fees vary between staking pool, so it's worth looking into other options. It is possible for pool fees to change without notice. Be aware before you start. To diversify risk, investors may divide their ADA holdings and invest in multiple pools.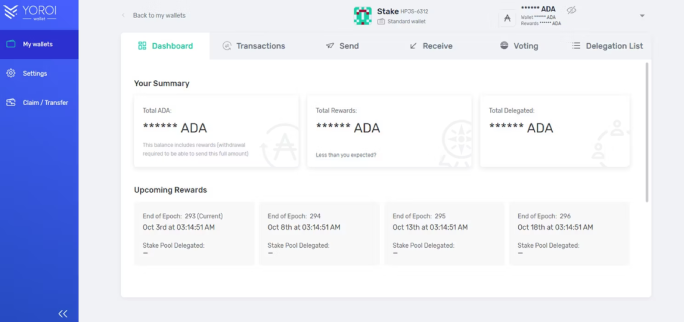 Once you've assigned ADA to a staking pool, you'll start earning rewards. To deposit coins the first time, you must wait at least 20 days for Cardano to approve your request. The reward you receive for each 5-day period will depend on how much ADA money was available 25 days before the current cycle. This delay prevents spammers using the network to overwhelm it.
Stakers will begin receiving their rewards after a wait of 20 days. After you stake your first ADA staking payment, the second will come on the 25th. The next payout will arrive every 5 days.
NOTE: When claiming reward rewards, Stakers will need to pay a network charge. It's between 0.1 and 0.2 ADA but can change quite frequently. Stakers often wait until they are able to receive their benefits. This is so that fees don't eat away at their profits.
Stakers must pay network fees to claim reward rewards. They fluctuate frequently and range from 0.1 to 0.2 ADA at the moment. To avoid fees, many investors delay receiving their rewards.
Cardano (ADA), Staking Cardano through an Exchange
With cryptocurrency exchanges growing in popularity, their services have expanded beyond the mere purchase and sale of cryptocurrencies. Users can now directly stake crypto tokens through these exchanges.
Cardano's exchange acts as the staking pool administrator, and handles all technical aspects of ADA staking throughout the network. The trade is then credited with ADA rewards.
Cardano can be used to buy and sell on all major exchanges. However, not every exchange supports Cardano Staking. The four major exchanges that support ADA staking are Binance, Kraken and Bittrex.
How to Take ADA Through Binance
Follow these steps to stake ADA in Binance
For ADA, check your Binance Spot wallet.
Navigate to Binance's You are locked in stake page.

For your ADA, choose a lock period of 30/60/90/120 Days.
Click "Stake Now," and you've successfully staked ADA.
Spot will deposit the reward funds on a periodic basis.
Note: If you withdraw your ADA during the locked time, you'll lose your rewards.
Earn Interest Lending ADA
CeFi Lending
Nexo allows its customers to earn interest from ADA holdings.
DeFi Lending
A DeFi loan is the lending of cryptocurrency via decentralized finance (DeFi). For DeFi applications such as lending protocols or decentralized exchanges (DEXs), it is common for users to supply liquidity in order to operate properly. Transaction fees are charged to users in return for liquidity.
DeFi lending's interest rate is proportional to cryptocurrency demand. In many cases, payouts can be better than staking ADA via the Cardano network. While interest rates are likely to rise if there is more demand for ADA, supply remains low and will fall if it falls.
Cardano Staking: How much can I earn?
| | | | | | | | |
| --- | --- | --- | --- | --- | --- | --- | --- |
| | Platform | Type | Returns | CeFi | DeFi | You have to put in the effort | There are pros |
| Placement | Yoroi | Web3 Wallet | 4-6% | ❌ | ✅ | Medium | Self-custody |
| Placement | Binance | Exchange | 4-8% | ✅ | ❌ | Simple | Convenient |
| Placement | eToro | Brokerage | 4-5% | ✅ | ❌ | It's very simple | Newbie-friendly |
| Lending | Nexo | Intech | 4-8% | ✅ | ❌ | Simple | An alternative to stakestaking |
Cardano (ADA) Passive Income
The method and platform that was used to stake the reward will vary greatly and the final market value of ADA. As ADA increases in market value, so do staking reward. If ADA's market value falls, staking rewards will be less. However, ADA deposited plus interest may not be as valuable at the start of the staking process.
Is Staking Cardano Safe
Cardano holders will find a major advantage in not having to lock up tokens for ADA. This is a big difference from other blockchains. Also, your tokens won't leave the wallet when staking ADA directly through a cryptocurrency wallet. The user can stake as much ADA tokens they wish and have them withdrawn at any time from the staking pools. Cardano has received a lot community support for this versatile feature.
It is simple to stake ADA funds directly from a wallet. However, it's up to the users to take full responsibility. A user might forget to enter their recovery code, and they may lose their private keys or their ADA funds. But this is true for all cryptocurrency ownership, and not just stake.
There is another danger when staking ADA direct: unscrupulous validaters. While they can't take ADA tokens from a user's wallet, they can collect all staking rewards accessible to a staking pool. By making sudden modifications to the margin requirements, they accomplish this. This is not common, however, Cardano network participants can identify untrustworthy operators who behave in such a manner.
Closing Thoughts
Cardano, one of the most well-known cryptocurrency projects has a large community. As a delegator on the network, you can stake ADA. It's a simple operation even for new investors. Cardano wallets for beginners are readily available. All major hardware wallets like Trezor or Ledger support the network.
Over 70% of the ADA circulating stock is held in staking pool that generate passive income for its holders. With an average return of 4–6% and a capital growth rate exceeding fiat currencies, many investors consider Cardano a viable solution for retirement income.
As with all cryptocurrency investments, there are risks that investors need to be aware. To attract investors, developers tried to streamline the process as much possible.
Staking can be a great way to make income from your crypto holdings. However, staking may not work if the ADA value falls during coins' stakes. You could receive less than what you invested. For those who want to invest in the project long-term, staking ADA is a good idea.
Our website is also open to you. CoinStats blogLearn more wallets & exchanges, portfolio trackersLearn more about tokens, cryptocurrencies and our buying guides. What to do with Binance, How to stake on Coinbase,  What is DeFi?, How to Purchase Cryptocurrency, etc.
Information about Investments  The information contained on this website is provided to you solely for informational purposes and does not constitute a recommendation by CoinStats to buy, sell, or hold any securities, financial product, or instrument mentioned in the content, nor does it constitute investment advice, financial advice, trading advice, or any other type of advice.
Because cryptocurrency can fluctuate so much, you should do independent research and seek your own advice. Only invest in what you are able to afford to lose. CFD trading, stock trading, and cryptocurrency trading can have serious risks. CFD trading can cause losses of between 74-89% in retail investor accounts. Before making an investment, you should carefully consider your situation and seek out your own counsel. You should also verify the nature of any product or service (including its legal status and relevant regulatory requirements) and consult the relevant regulators' websites before making any decision.
There are pros
Passive income: These users can make passive income from their ADA assets.

Instant Access: Tokens can be staked instantly without any lockup. At any time, tokens may be removed from the network.

The non-custodial nature of the blockchain means that coins are never left a wallet while they're being staked. This reduces security risk.

Dedicated Cardano Wallet : Cardano makes it easy to take ADA tokens with specialized wallets called Yoroi and Daedalus.
Cons
Accountability: All components of the stake process must be managed by users. This includes securely keeping seed phrases and passwords. The ADA can lose its holdings if this information is not provided.

Hacking Risk: Although it may offer greater payouts or be more secure than depositing through a wallet, staking via an exchange/DApp will not guarantee your funds are safe. Cardano holders could lose their access to crypto assets in the event that a platform gets hacked, or there's a security hole that hackers exploit.

Inaccessibility: You cannot access the delegated ADA when it's locked away, but it can still be moved.