Dogecoin's success with meme coins featuring dogs like the Shiba-Inu coin and Dogecoin eventually led to an explosion of pet coins. Saitama Inu (SAITAMA) is a recently launched meme coin inspired by a myth about "ghost dogs," guardians against misfortune in the Saitama mountains, Japan.
Saitama Inu, also known as SAITAMA, is an open-source platform for Generation Z to learn about cryptocurrency investment options and encourage crypto adoption.
You can read on for all information regarding Saitama Inu. Continue reading to find our step-by–step guide for Saitama Inu tokens (SAITAMA).
Let's get right to it! 
What is Saitama Inu?
Saitama Inu, which was established in May 2021. However, the founder of the project had to give up ownership due to personal reasons. A group of people found this goal to be valuable and took the project over. They continued its development. Now, the project is headed by [email protected]A crypto YouTuber, with more than 56,000 subscribers.
According to its whitepaper, "Saitama is a Web3.0 technology company primarily focused on developing a decentralized finance ecosystem for everyday life" and helping newcomers understand the basic concepts and skills needed for blockchain and cryptocurrencies.
Saitama advertises itself as a "community-driven platform."The team also targets Gen Z crypto traders, and promises to help young investors achieve financial security. According to the whitepaper, 93% new crypto investors are frustrated or confused. The Network is focusing on Gen Z investors. It can also be difficult to buy crypto, particularly with the endless stream of digital assets being added every month.
As the traditional finance rules don't always apply to the crypto sphere, many Gen Z traders are left to make decisions on their own and have very little guidance. Saitama claims it can provide "wealth education" and teach traders to work smart instead of waiting for the "freedom of retirement."
SAITAMA (the native token of Saitama Network) is used to transact and stake within the ecosystem. SAITAMA can be described as an ERC-20 token that was built on Ethereum. It's a dog-themed meme coin aiming to educate as much as entertain.
Saitama has several objectives for the coming months. It plans to establish a trusted ecosystem and a smart wallet.
Saitama is Unique
Meme coins haven't exactly established themselves as a reliable investment. However, Saitama Inu claims to change traders' minds by providing several attractive features (some of them coming soon) to investors, including:
Saitama Edutainment is a platform for education
SaitaMask wallet
The SaitaMaker NFT-based "launchpad platform"
SaitaMarket Marketplace
Saitama Studios.
SAITAMA Inu has been listed on several crypto exchanges; however, unlike other leading cryptocurrencies, it can't be directly purchased with fiat money. The SAITAMA Coin can be purchased by purchasing Ethereum, or any other major cryptocurrency from any fiat to-crypto exchanges. After that you will need to transfer the funds to the SAITAMA Inu exchange. OKX, gate.io and Uniswap(V2) are the most used cryptocurrency exchanges for trading SAITAMA.
Saitama Inu – How can you get it?
You can buy Saitama in a variety of ways, depending on your crypto wallet's holdings or whether you plan to pay with fiat currency.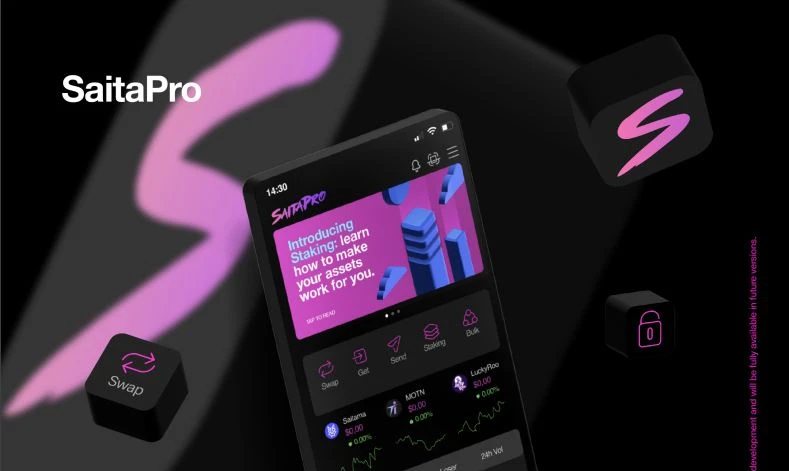 Saitama Inu Buying Guide with SaitaSwap
This platform promotes SaitaSwap, a decentralized cryptocurrency exchange, as the best place for Saitama Inu.
Follow the below steps to purchase Saitama direct with SaitaSwap
Step 1: Download SaitaPro Wallet App
The free SaitaPro App, which is available on iOS and Android, must be installed first. If you have an existing wallet such as a Metamask, then you can connect it to SaitaSwap so you can start trading.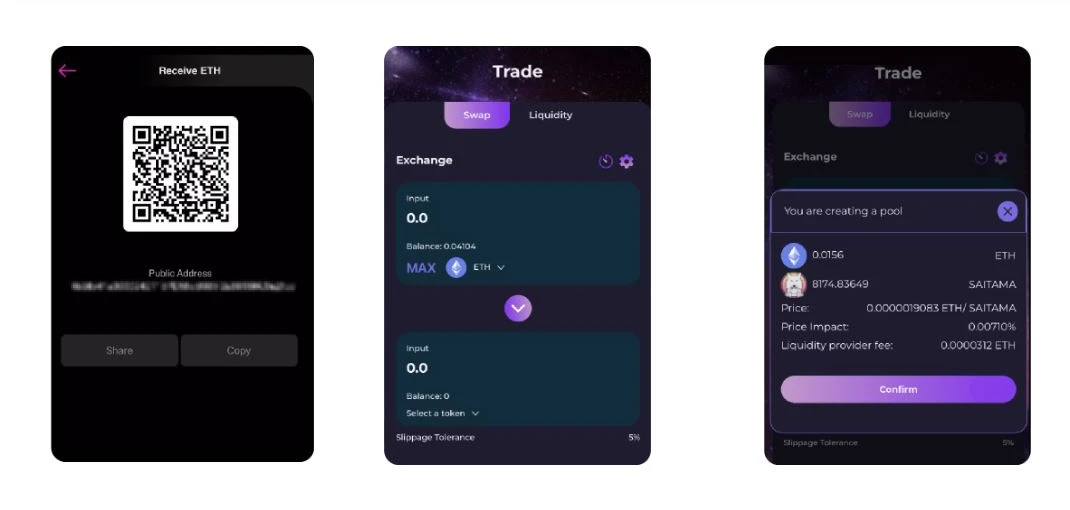 Step 2: Order Ethereum (ETH).
Because there are only a few trading pairs that SAITAMA can use, it's easiest to first buy ETH then convert it to SAITAMA. Trades in ETH come with high fees and lengthy transaction times. Make sure you have enough Ethereum to pay the gas costs.
Note that fiat currency deposits aren't supported on the platform.
Step 3: You can swap ETH to SAITAMA
Once you've purchased ETH tokens, you can swap them for SAITAMA by selecting the digital asset in the "swap" section and setting the slippage tolerance to 5%.
Voilà! Now you're a proud owner of Saitama Inu coins.
Now, let's learn how to buy Saitama Inu on cryptocurrency exchanges that support the coin. While leading crypto exchanges like Binance and Coinbase don't offer any SAITAMA pairs, the platform lists all crypto exchanges where you can buy Saitama Inu.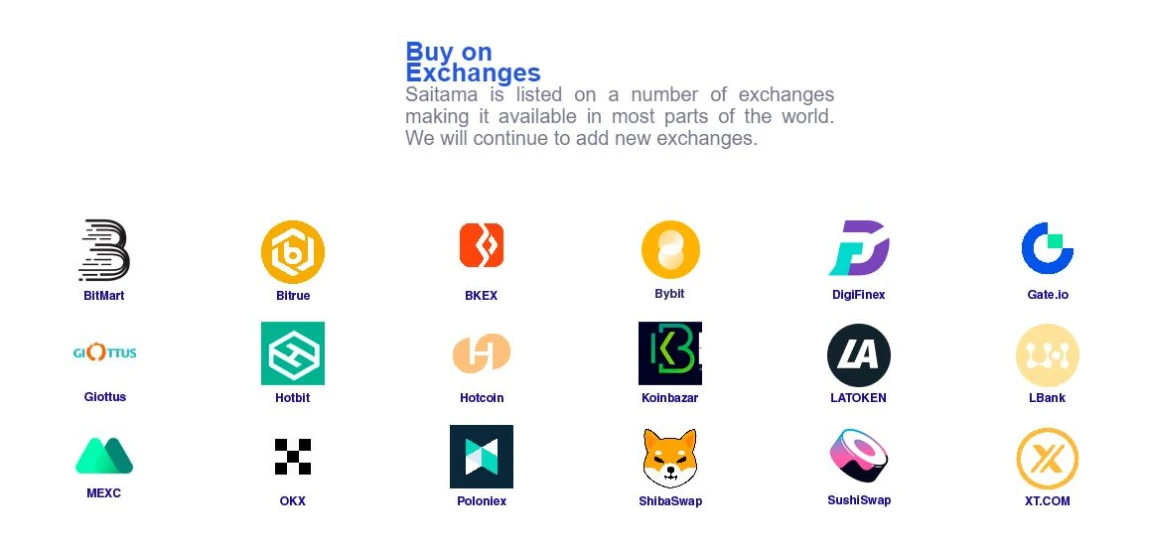 How to purchase Saitama Inu from a Cryptocurrency Exchange
Step 1: Select an Exchange
You'll have to compare cryptocurrency exchanges to choose the one with the features you want, such as low transaction fees, an easy-to-use platform, and 24-hour customer support. When you buy through your funded crypto brokerage account, you'll pay nothing in commissions, which is a significant benefit compared to others. You might also consider whether your crypto exchange permits you to buy crypto assets with any of your preferred payment options, such a credit/debit card or a bank transfer.
Step 2: Sign up on a cryptocurrency exchange
After choosing the best exchange for you, it's time to register an account. We'll take the Binance exchange as an example. Binance, like most cryptocurrency exchanges requires that you have a valid email address in order to open an account. To verify your email address, a link will be sent. You will be able to access your account once it is activated. You can trade immediately even though you don't want to go through KYC (know your Customer) authentication. There are many additional advantages to trading on the platform if you do so.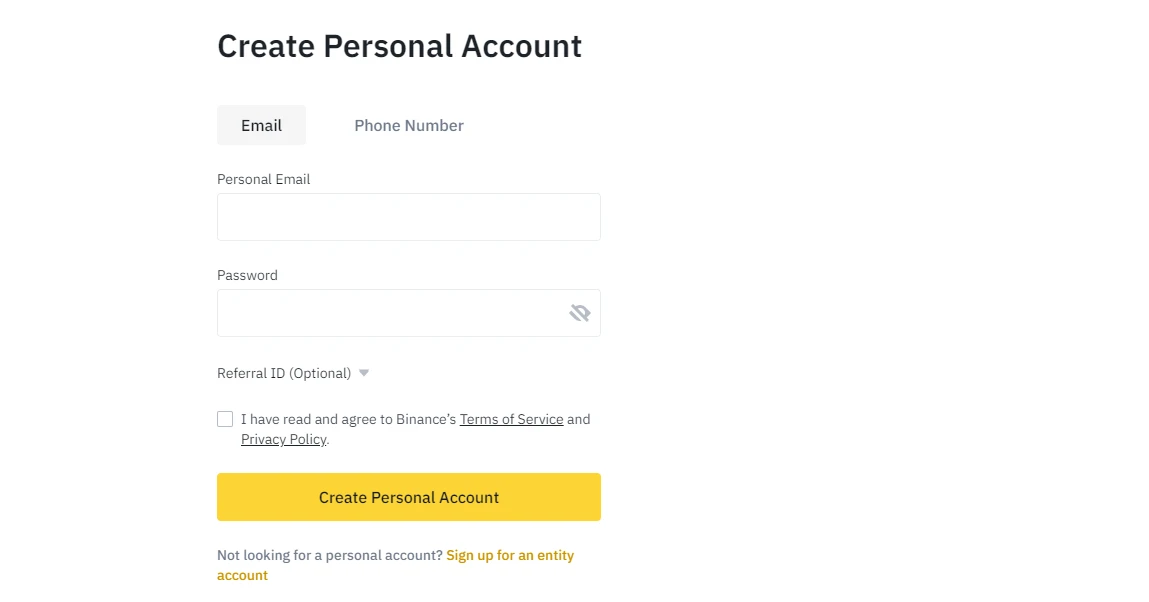 Notice: If you already own a crypto wallet that contains digital assets, you can link it to the platform from the above list and then purchase SAITAMA by entering your wallet address.
Step 3: Buy USDT or Ethereum
You must select a deposit method after registering on Binance, or any other platform. This will allow you to purchase major coins. Binance supports many payment options for purchasing USDT or ETH. Binance has videos that will help you buy crypto using a debit or credit card.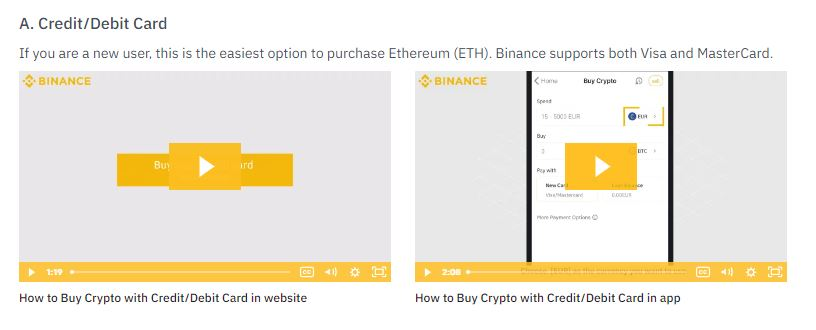 You can also purchase ETH by direct wire transfer to your bank account.
NOTE: Double check the fiat amount you'd like to deposit onto the platform, as the transfer might not be reversible.
Step 4: Transfer your USDT or Ethereum to an Altcoin Exchange
As Binance doesn't offer Inu Saitama pairs, you must connect your newly established cryptocurrency wallet to Gate.io or any other SAITAMA backing exchange to buy SAITAMA tokens.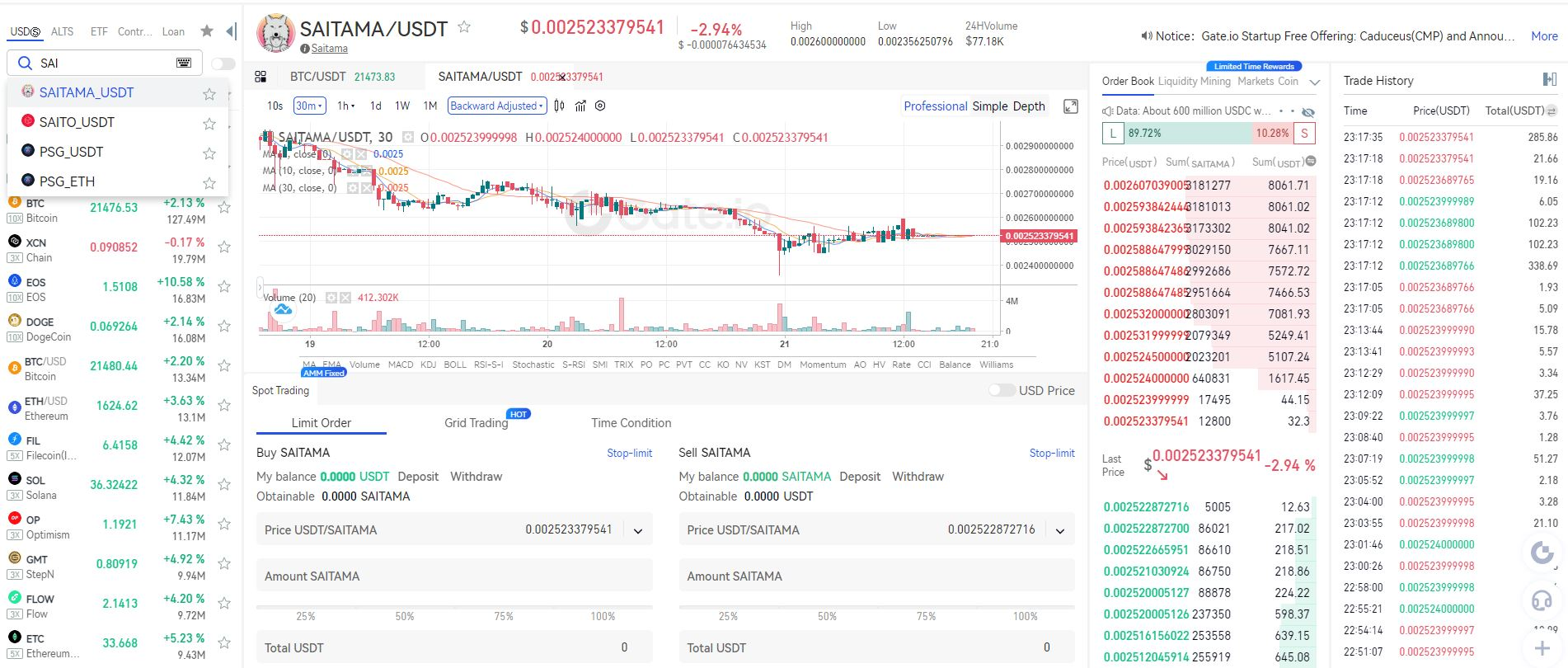 Step 5: Trade Saitama
Select "ETH" in the search bar in the right column, click on it, and enter "SAITAMA." Select the SAITAMA/ETH pair and check the price chart of SAITAMA/ETH in the middle of the page. Go to the "Buy SAITAMA" button below, choose the "Market," enter your amount or choose what portion of your deposit you'd like to spend by clicking on the percentage buttons. Confirm and click "Buy SAITAMA."
Now that you've learned how to buy Saitama Inu let's look into what you can do with your newly acquired coins.
How to use your SAITAMA coins
You have successfully added SAITAMA tokens in your crypto portfolio. These are some ways you can use Saitama Inu Coins:
Keep your Saitama Inu safe in a cryptocurrency wallet.Your SAITAMA tokens may be kept in your brokerage account wallet. Experts recommend keeping your coins out of exchange wallets as they could be vulnerable to hackers and interfere with your transactions. It is highly recommended that you create a private wallet using your personal keys. You can choose from software or hardware wallets depending on how you invest. The latter is more secure. Software wallets are flexible and easy to use. This is the strength of these software wallets. A software wallet allows you to easily connect with multiple decentralized financial (DeFi), applications. It is also the easiest-to-setup cryptocurrency wallet. However, these wallets are vulnerable to security leaks because they're hosted online. If you wish to store your private keys in software wallets, do some research to ensure security. As an additional layer of security, we recommend that you use a platform with 2-factor authentication. Because it allows offline storage of your cryptocurrency, the hardware wallet is considered to be the most secure way to keep them safe. This greatly reduces the risk of hacking. The hardware wallet can be secured using a pin. It will also erase any information that is lost or stolen after several failed attempts. You can also sign and verify transactions using a hardware wallet, which gives you extra protection from cyberattacks. Securely managing your digital assets can be done with Ledger hardware wallets. The Nano X is designed for advanced users and offers more storage space and advanced features than Ledger Nano S,  designed for crypto beginners. Tip: The paper wallet can be a free cold wallet, or an offline-generated pair public and private addresses. It is something you need to write down and store safe. However, paper wallets aren't durable.
Take your SAITAMA tokens. The Saitama Network offers a staking option to token holders who don't want to trade it right away. To stake, you lock a portion of your crypto holdings and receive a reward. Saitama Inu token holders who stake their tokens can receive returns for transactions made with the SAITAMA token. The Saitama Inu community receives incentives by deducting 2% from each transaction. Saitama ensures that as long as users remain in the pool, they'll receive passive income with every transaction.Note that staking rewards differ depending on the platform and asset, so research well before making a final decision.
Trade SAITAMA.To speculate on the price movement of cryptocurrency, you can trade your Saitama Inu tokens via an exchange or CFD trading account.
NOTE: Saitama Inu is currently a speculative coin in the crypto markets, as it hasn't revealed most of its new features. Although cryptocurrency investing can seem exciting, there is a risk. Don't forget that this guide doesn't offer financial advice. We don't promote Saitama as a good investment or a profitable way to create wealth opportunities.
This CoinStats Guide explains how you can buy Saitama Inu for less money and greater gains. It is important that traders do their research prior to making an investment.
Our other articles about meme coins include How to Buy Floki Inu and How to Buy Shiba Inu.
Most Frequently Asked Questions
Is Saitama Inu a safe investment?
The volatile cryptocurrency market is highly volatile. Trading CFDs and stocks can pose significant risk. Considering the project's low rank, modest market cap, and low integration, Saitama Inu carries a high risk for both advanced users and beginners.
Do I purchase SAITAMA from a DEX or CEX?
The decision doesn't entirely depend on the asset itself but on the differences between the two types of exchanges in conducting transactions. The CEX serves as the intermediary between the sender/recipient, while the DEX operates independently over blockchain. Smart contracts allow users to trade in cryptocurrency assets with no regulatory oversight. To remove intermediaries, they use an automated market maker and allow users full control of the funds. While DEXs are less susceptible to hacks, they're more prone to listing questionable coins. It is a good idea to do some research on the exchange before you make a decision.
Is Saitama Inu a scam?
Saitama seems to be legitimate cryptocurrency. It has been audited by CertiK security firm and detailed whitepaper. The project's team is also open to public scrutiny. While SAITAMA doesn't look like a scam, trading it could still result in loss, as the digital asset is somewhat volatile. To keep track of all assets and your investments, you can use crypto portfolio trackers.
What's SaitaMask?
SaitaMask is the official wallet for SAITAMA; however, it's not available yet. The Network currently is in stage 3 of its 5-stage developmental plan. Stage 4 lists completion of SaitaMask's wallet.
Is there a Saitama currency price?
Saitama's coin prices are volatile. The SAITAMA market price, market capital, 24-hour trading volume and total supply can all be viewed on the SAITAMA website. CoinStats.
Does Coinbase support Saitama?
Coinbase and Binance are not currently supporting the cryptocurrency. The project's size is not large enough to be listed on any major exchanges as of August 2022. A future listing of the token is possible if it proves to be a reliable cryptocurrency. Saitama Inu supporters need to be patient.
The pros
The best time to expose yourself is early

Saitama Network Growth: High Rewards

A developing ecosystem, including an exchange and the SaitamaPro pocket wallet

An inflationary token which will increase with every transaction.
Cons
Low longevity means high risk

Very high volatility

Only limited availability

Only a few pairs.