OKX (formerly OKEx), has been consistently ranked among the top cryptocurrency exchanges in terms of trading volume, liquidity and other factors since its 2017 launch. OKX lets users trade, purchase, and sell cryptocurrency. They also offer a variety of trading pairs. OKX has its own cloud mining services, spot trading, derivative trading, and more.
OKB is the OKX exchange's native utility token used to pay trading fees, grant users access to voting and governance on the platform, and reward users for holding OKB.
Continue reading to find out everything about OKB tokens and our guide to where to purchase OKB coins.
Let's get right into it!
OKB Tokens: Where Can I Buy?
OKX Exchange is the easiest and most convenient way to buy OKB Tokens. You can trade or purchase the token via many cryptocurrency exchanges including FTX and OKX.
In this article, we'll provide a step-by-step guide on how to buy OKB on OKX and FTX cryptocurrency exchanges.
OKX: How do I buy OKB?
OKB tokens, also known as native tokens on the OKX cryptocurrency exchange. This is one of the most popular platforms for OKB purchases. OKX has low trading fees, offers high-interest stake opportunities and lower fees to users who hold OKB tokens or stake OKB tokens. It is easy to purchase currencies with just a click using a debit or credit card, bank transfer, Apple Pay, Google Pay and Apple Pay. OKX is currently not accessible to US customers.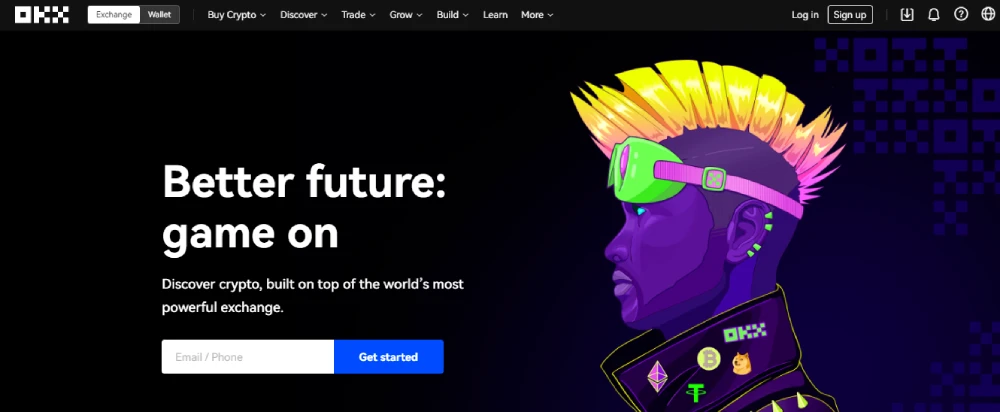 Please follow our steps-by step guide for buying OKB tokens at the OKX exchange.
Make an account
You will need to create an OKX account by providing a valid email address, a phone number, and a strong password. However, to fully access the exchange's features, you must complete a KYC verification by providing your government-issued ID and undergoing facial recognition. Each account level has different withdrawal limits indicated on the exchange's official website.
Pick a method of buying
Once you've completed your verification, you must select one of three options to buy or sell cryptocurrencies, namely:
Express: It's the easiest way to buy cryptocurrencies using credit or debit cards. Enter the amount of USD you wish to buy OKB for, click "Buy," and enter your details to complete the transaction.
P2P Trade: OKX also allows you to buy crypto peer-to-peer.
Third-Party Payments: OKX supports third party payments like Simplex and Banxa.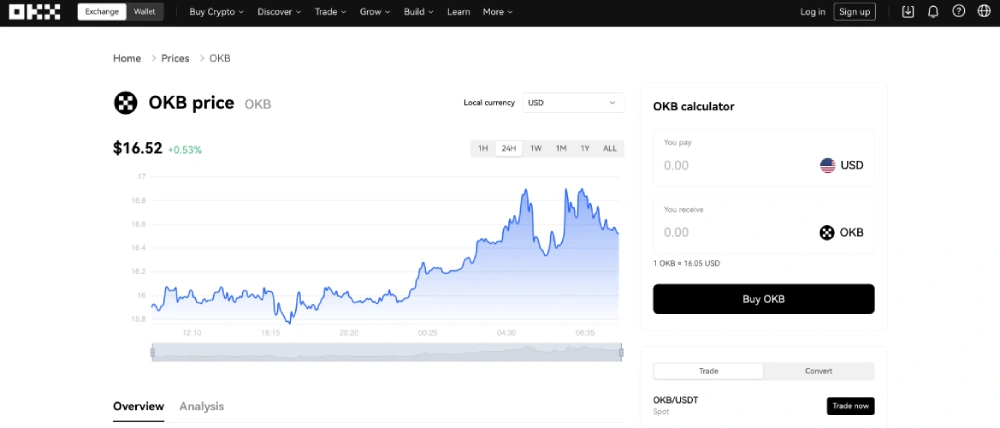 You can deposit cryptocurrency into an OKX wallet, and then swap it for OKB tokens. OKB tokens can also be purchased in multiple trading pairs via OKX: OKB/USDT or OKB/BTC. OKB/USDC is OKB/ETH. OKB/ETC and OKB/ETC are OKB/XRP.
How to Purchase OKB On FTX
The FTX Exchange ranks among the world's most prominent centralized crypto exchanges and the top five crypto derivatives exchanges in terms of daily trading volume. FTX has innovative features such as derivatives, options trading and leveraged tokens.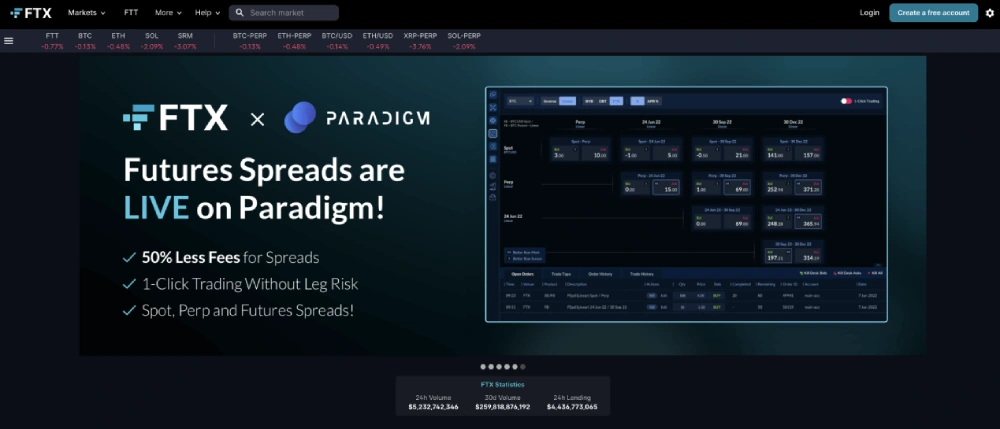 FTX.US, the company's exchange for US customers, has a smaller crypto variety but still provides many features, such as access to low trading fees, NFTs, over-the-counter, derivatives, and margin trading.
Trade OKB and other cryptocurrencies with the FTX cryptocurrency platform. To buy OKB using FTX, follow the below steps:
Make an account
You must first create an FTX Account by entering a valid email address, a mobile number, and creating a strong password to buy OKB. Your FTX account is activated once you have verified it using the link that was sent to your mobile or email. However, to fully access the exchange's features, you must complete KYC verification. The FTX exchange accepts KYC verification at two levels. The features that you are able to access depend on which level. To gain full access to the feature, your government-issued identification must be presented and you will need facial verification. On the FTX site, you can see all of the KYC tiers.
Deposit funds
You will need to deposit funds in your FTX wallet. You can deposit using cryptocurrencies or stablecoins such as USDC, TUSD and USDP. Also, you can use wire transfers and debit cards. FTX doesn't charge deposit fees, but there is a small withdrawal fee. The exchange's trading fees vary based on your 30-day trading volume.
Buy OKB
Enter OKB/USD in the search bar and then click the OKB/USD drop-down menu. On the OKB/USD trading page, enter the amount of USD you wish to buy OKB tokens for and click "Buy." The order will be fulfilled in seconds, and the OKB tokens will be reflected in your FTX wallet immediately.
Congratulations, you've managed to buy OKB coins on the FTX exchange in a few simple steps.
OKB Tokens can be purchased
Experts recommend that your new tokens be placed in the crypto wallet offered by your exchange. However, it is best to keep them away from exchange wallets as they could be vulnerable to hackers and interfere with your transactions. 
It is highly recommended that you create a personal wallet using your unique set of keys. Based on your investment preferences, software wallets or hardware wallets might be an option. 
Software Wallet If you're looking to trade OKB regularly, software or hot wallets provided by your selected crypto exchange will suit you. Software wallets are flexible and easy to use. This is their strength. A software wallet allows you to easily connect with multiple decentralized financial (DeFi), applications. It is also the easiest-to-setup cryptocurrency wallet. However, these wallets are vulnerable to security leaks because they're hosted online. If you wish to store your private keys in software wallets, do some research to ensure security. A platform offering 2-factor authentication is recommended as an added layer of security.
Among other software wallets, CoinStats Wallet is MetaMask and Coinbase Wallet. Trust Wallet is another example. Edge Wallet is also a type of software wallet.
Hardware wallet: Cold wallets, or hardware wallets, are generally considered to be the most secure way of keeping your cryptos safe. They offer offline storage which significantly lowers the chance of hackers stealing them. You can lock them with a pin, and they will wipe out all data after multiple failed attempts to prevent physical theft. The hardware wallets allow you to sign and confirm transactions via the blockchain. This gives you additional protection against cyber attacks. They are best for those who have a lot of tokens and are experienced.
One of the best hardware wallets is Ledger's hardware wallets. They allow you to manage digital assets securely. The Nano X is designed for advanced users and offers more storage space and advanced features than Ledger Nano S,  designed for crypto beginners.Examples of cold wallets are Trezor Model T, Ledger Nano X, CoolWallet Pro, KeepKey, Ellipal Titan, and SafePal S1, amongst others. 
Track OKB Tokens
If you have multiple assets, managing your portfolio can become difficult because the market is unpredictable. A portfolio tracker can help you track your OKB coins, as well as all of your crypto investments. It is easy to use one platform for all things. CoinStatsIt is one of the most popular crypto portfolio trackers on the market. You can read more about it here Here. 
CoinStats allows you to monitor OKB's profitability, liquidity, and loss across multiple exchanges.
CoinStats has over 250 crypto exchanges. It also supports more than 7000 cryptocurrencies. The site offers advanced search capabilities, charting and analytical tools as well as up-to-date information. This allows you to link unlimited numbers of portfolios, including exchanges and wallets.
Binance
MetaMask
Trust your wallet
Coinbase
Kraken
Kucoin
Bitstamp, 500 other. 
Connect to CoinStats Portfolio tracker by:
Click on Add Portfolio to Connect Your Wallet.
To connect to an Ethereum Wallet wallet, click the button.
Enter the wallet address, and then press submit.
What is OKB Token?
OKEx (or OKX) is a cryptocurrency exchange that was established by the OK Group in 2017. It has its headquarters in Seychelles, and other offices around the world. OKX offers advanced trading tools such as spot trading and margin trading. It also supports futures, perpetual swap, options, and futures trading. It also provides access to the OKX Cloud mining pool and its EARN initiative. This allows users to save money and stake their shares on the platform.
OKB token, also known as the OK Blockchain Foundation's global utility token and OKX exchange token. It's an ERC-20 token that relies on a Proof-of-Stake (PoS) consensus. OKB operated on the Ethereum blockchain, but later the company moved to its own blockchain — the OKExChain.
OKB token allows users to access governance and vote rights and is used for payment and calculation of fees. OKB holders can also get up to 40 per cent off transaction fees, and they will be eligible for passive income through OKX earn on the platform.
OKB Tokenomics
OKB has a total supply of 300,000,000 tokens and a current supply of 251,627.612 tokens. Each token is burned three times a year. All the information about each burn can be found on the website. OKB's price reached an all time high of USD 41.64 on May 20, 2021. Since then the OKB price is down substantially. Nonetheless, the data suggests that while many coins have lost around 90 percent of their value, the OKB price has stood firm in the bear market we're facing. With more crypto-market users and increased adoption, the OKB price could rise to the moon.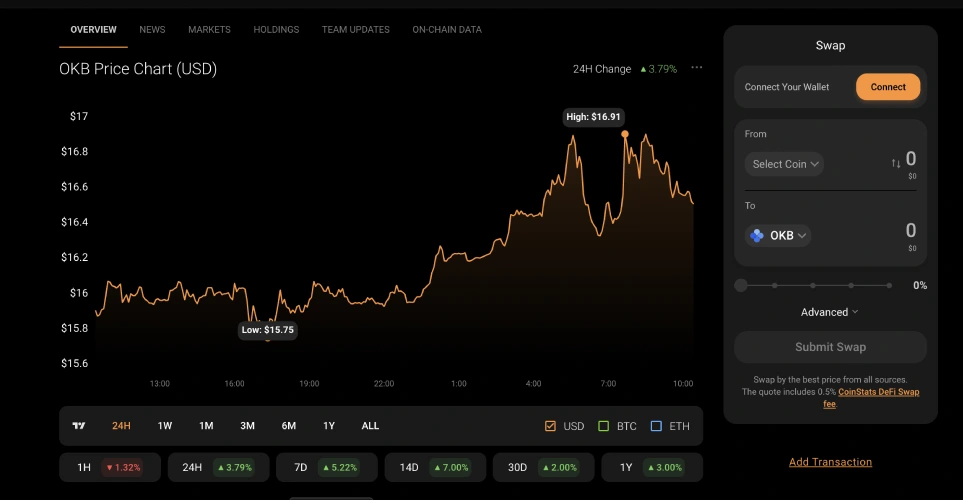 Check the OKB Price Live to Get Started
Final Thoughts
Bear markets are the ideal time to invest in crypto, stocks and bonds. OKB, and other cryptocurrency assets can change your life and bring you financial freedom in a matter of minutes.
Disclaimer: This article does not contain any financial advice. You should take your own decisions before you invest in unregulated assets like cryptocurrencies.