Want to find out how to buy Fantom. You're in the right place!
Many blockchain networks have outperformed Ethereum (ETH) over the past years. Fantom (one such network) aims for a superior version of Ethereum, ETH by providing a variety of benefits. According to its official literature, its mission is to "grant compatibility between all transaction bodies around the world."
Fantom is an open-source blockchain platform, which supports smart contract functionality. It's a set of technologies and tools that enable the integration of smart contracts into decentralized apps (DApps) powering DeFi platforms. Fantom's platform allows DApps the ability to quickly run smart contracts at low costs, which gives them their maximum potential.
FTM (Fantom Utility Token) is used to pay network charges, receive rewards, make financial transactions and protect governance rights.
Continue reading to find out more about Fantom, FTM token and how you can buy Fantom.
Let's jump right in!
Step 1: Choose a Crypto Exchange
Fantom (FTM tokens) can be bought on several cryptocurrency platforms. To view all the cryptocurrency exchanges that support Fantom, visit the CoinStats market page. Compare the exchanges' security, user experience, fee structure, supported coins, etc., to choose the one with the characteristics you need, such as affordable transaction fees, an intuitive platform, round-the-clock customer service, etc. Consider whether the cryptocurrency exchange has been regulated by the Financial Industry Regulatory Authority, (FINRA), and allows Fantom purchases using your preferred payment methods.
Step 2: Open an account
After you've chosen a cryptocurrency exchange that fulfills all your criteria, the following step is to register with the exchange using a valid email or mobile number. To verify your email, a link will be sent via email. Once the account is activated, you must create an elaborate password, and you're good to go. 
Certain exchanges may have AML and KYC requirements. To be verified you will need to provide your personal information, such as:
Full Name
Residence address
Date of birth
An ID document. 
Sometimes, the verification process may require you to submit a picture or video.
Once your identity verification is complete, it's recommended to activate two-factor authentication (2FA) for an extra layer of security.
Step 3: Deposit funds
You will need to deposit funds in your account. Most crypto exchanges accept fiat currencies such as USD and EUR. Select the deposit method you prefer, including wire transfer, bank transfer or credit/debit cards. Then choose the currency to deposit. Tap on "Deposit Funds," enter the amount you want to deposit and click "Deposit."
Some deposit methods can be done very quickly, others may require confirmation from authorities. This depends on how much you are paying. You should compare fees between deposit methods as different ones may have higher fees.
It is advantageous to link your card with your crypto account. However, you will be charged an additional fee.
It's usually free to make a bank transfer from your local bank accounts, but you should still double-check with your exchange.
Fantom is able to be traded in exchange for Ethereum (ETH) or another stablecoin such as Binance USD(BUSD). Trading pairs can vary among exchanges. You will have to search on the spot marketplace for Fantom, then choose a trading pair from the available list.
Step 4: Purchase Fantom
To instantly place an order for Fantom at current market prices, follow the steps: 
Click the search bar, enter FTM, and select "Buy FTM" or the equivalent. 
You can choose the payment option and currency, then enter Fantom (or the fiat) amount. Most exchanges automatically convert the amount to show you how many FTM tokens you'll get.
Double-check the transaction details and click "Confirm."
Once the transaction has been processed, you will see your Fantom tokens in your account. 
Limit orders can be used to specify that Fantom is available at or below a given price. Your broker will ask you the number of coins you wish to acquire and the maximum price you're ready to pay for each once you've placed an order. If your broker fulfils your order within the price range you have requested, your coins will be in your wallet. Your broker might cancel or open your order if you request a lower price.
If you're planning to keep your newly purchased coins for an extended period, we highly recommend securely storing them in a hardware wallet.
Go to the Trade Page and type FTM/USDT into the search box. Check the price charts and select the trading pair. Click "Buy FTM," select the "Market," enter your amount or choose what portion of your deposit you'd like to spend by clicking on the percentage buttons. Confirm and click "Buy FTM."
Congrats on adding Fantom to your crypto portfolio. 
Step #5: Optional
Experts recommend that you store your Fantom tokens in your brokerage wallet. But, this is not recommended as exchange wallets could become compromised by hackers or interfere. 
A private wallet should be created with your unique keys. You can choose from software or hardware wallets depending on how you invest. 
Software wallets
If you're looking to trade FTM regularly, software or hot wallets provided by your selected crypto exchange will suit you. Software wallets' strength lies in their versatility and ease-of-use. Software wallets allow for the most simple setup of crypto wallets and allows you to easily connect with various Decentralized Finance (DeFi), applications. However, these wallets are vulnerable to security leaks because they're hosted online. To avoid security problems, ensure you do your research before choosing a software wallet. A platform offering 2-factor authentication is recommended as an added layer of security.
Among other software wallets, CoinStats Wallet is MetaMask and Coinbase Wallet. Trust Wallet is another example. Edge Wallet is also a type of software wallet.
Hardware wallets
Because they provide offline storage and significantly reduce the risk of hacking, cold wallets or hardware are often the best way to keep your cryptocurrency safe. The pin secures them and erases all personal information after several failed attempts. This prevents physical theft. The hardware wallet allows you to sign and confirm transactions via the blockchain. This gives you additional protection against cyber attacks. For users with a large number of tokens, these wallets are better suited for them.
Securely managing your digital assets is possible with Ledger hardware wallets. The Nano X is designed for advanced users and offers more storage space and advanced features than Ledger Nano S,  designed for crypto beginners.
A hardware wallet is more expensive than a hot wallet, with prices ranging between  $50 – $200.
Trezor T, Ledger Nano X and CoolWallet Pro are some examples of cold wallets. 
Step #6: Track Fantom Coins
If you have multiple assets, managing your portfolio can become difficult because the market is unpredictable. A portfolio tracker can help you track your Fantom tokens as well as all of your investments. It is easy to use one platform for all things crypto. CoinStats is a leading provider of crypto portfolio trackers. You can read more about it here. 
On CoinStats, you can monitor Fantom's profit, loss and liquidity across multiple exchanges.
CoinStats has over 250 crypto exchanges. It also supports more than 7,000 cryptocurrencies. You can use it to chart, analyze data, search advanced features and keep up with the latest news. You can connect unlimited portfolios (wallets or exchanges) here.
Binance
MetaMask
Trust your wallet
Coinbase
Kraken
Kucoin
Bitstamp among 500 others 
Go to the CoinStats portfolio tracker page.
Click on Add Portfolio to Connect Your Wallet.
Select the wallet that you wish to link to, e.g. Ethereum Wallet.
Enter the wallet address, and then press submit.
What is Fantom?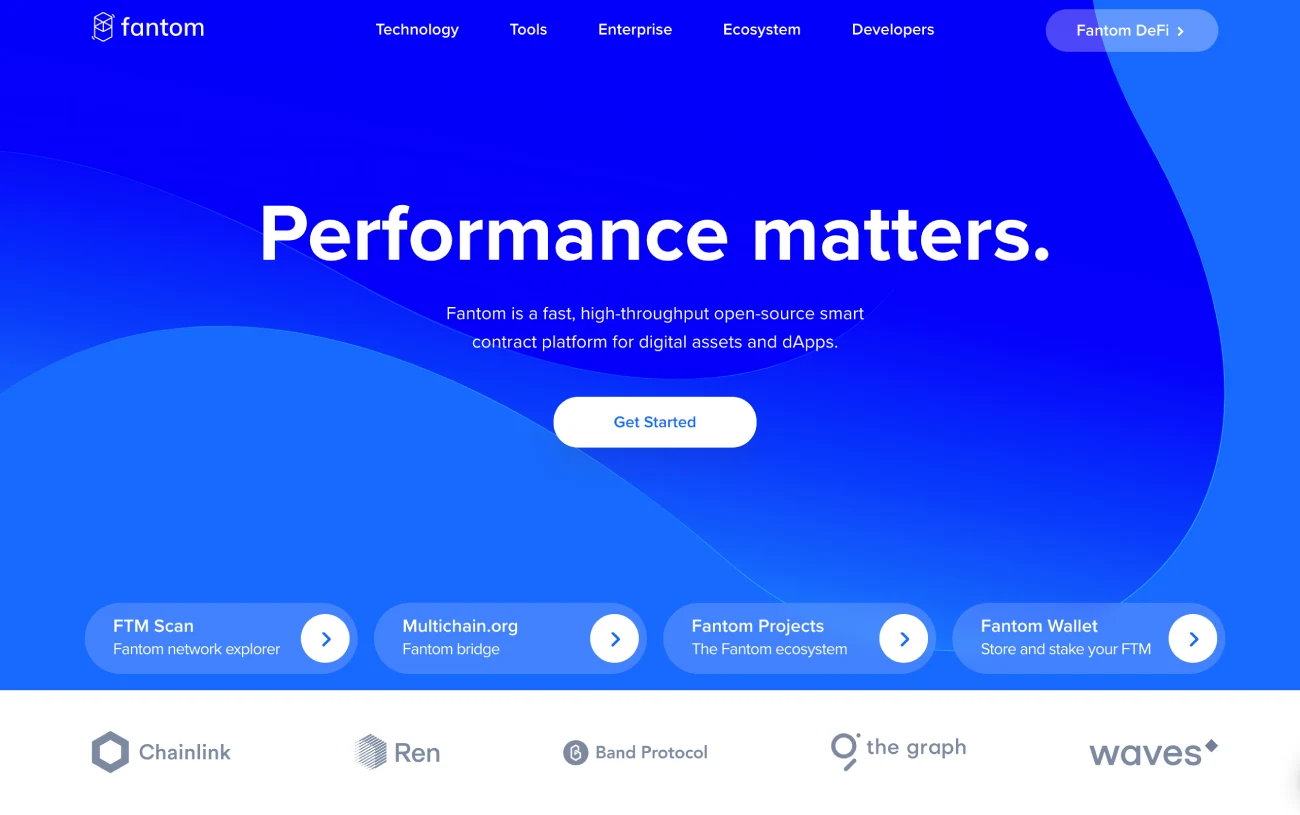 Fantom is an open-source, secure and high-performance smart-contract platform. It can run high speed smart contracts with low cost and at low cost. Fantom seeks to resolve problems with smart-contract platforms. Particularly, transaction speeds. Fantom's creators claim that Fantom has reduced the time it takes to complete transactions to two seconds.
The Fantom Foundation, which oversees the Fantom product offering, was initially created in 2018, with the launch of OPERA, Fantom's mainnet, coming in December 2019. It consists of many components.
Fantom Opera is an open source directed acyclic network (DAGs), that runs on the platform. The Fantom Opera blockchain is compatible to the Ethereum Virtual machine and provides decentralized finance (DeFi). Developers use the platform's bespoke consensus mechanism. It allows the creation of new smart contracts, as well running existing ones.
Lachesis, a Leaderless Proof of Stake (PoS model) that utilizes a customized asynchronous Byzantine fault tolerant consensus mechanism (ABFT), validates Fantom transaction. ABFT validations work faster and are less expensive than Proof of Work, or other Proof of Stake system. Transactions can be completed quickly and efficiently with ABFT systems, rather than taking several minutes.
Every Fantom DApp operates on its own Blockchain network. These blockchains may have their own currencies, economies, or governance rules. They're all powered by the Lachesis consensus mechanism and can interact with DApps operating on various Fantom blockchain networks. Fantom calls its platform a network of networks because this is what it does.
Opera can run Ethereum smart contract and connect with Ethereum-based DApps using an EVM compatible virtual machine.
Fantom is used for network fees and to validate reward validators.
Three parts make up the Fantom centralized finance system:
You can mint the fUSD stablecoin with fMint. It is tied to 1:1 to US dollars. Interchangeable FTM or fUSD coins are possible
fSwap allows you to exchange over 175 synthetic tokens such as fBTC, fETH and more.
You can earn interest with fLend by lending FTM or fUSD to Fantom's liquidity pool. You can use FUSD as collateral for the purchase or sale of synthetic tokens.
Fantom also offers a wallet which can store FTM and fUSD as well as synthetic tokens. Fantom DeFi transactions can be done directly from the wallet.
What does Fantom do?
Fantom's components are modules that can be connected together by DApp developers. All of the platform's components have stand-alone functionality and integration links that allow them to be combined into applications on the Fantom smart contract platform at a low cost.
Fantom is, in other words, a complete-service platform for DApps. Each DApp is equipped with a user interface and a database. Custom code can also be used to execute calculations. Each DApp has a trusted, distributed, decentralized blockchain for verifying and recording transactions. Fantom provides the ledger – not only with a blockchain and an API but a whole suite of utilities and tools that offer an easy-to-use interface for developers to implement DApps.
Blockchain developers are faced with the blockchain trilemma. This is where they must balance security, transaction speed and decentralization. Although blockchains that are based on Ethereum or Bitcoin may optimize one of the variables, not all three.
Fantom asserts that the ABFT consensus protocol of Fantom provides total security and decentralization, while allowing efficient transaction processing and low gas costs. FTM transactions take less than one second to complete and only cost $0.0000001
How many Fantom(FTM) Coins are in circulation?
In June 2018, the FTM token was launched through an initial coin offer (ICO). FTM tokens are limited to just 3.175 million. At the moment, there are 2.54 billion FTM coins in circulation.
Fantom provided 40% of total token supply for purchase at the ICO. The rest is for market development (30%). Advisors and contributors (15%). Fantom founders and members of Fantom's project team (15%).
What is the Fantom Network Security?
The Fantom ledger is secured by Lachesis, the project's ABFT consensus algorithm. Fantom cites four main advantages to Lachesis.
The first is that it's asynchronous. Nodes don't have to wait for other nodes to act before executing commands. It results in higher transaction throughput as well as better execution and completion of transactions.
Lachesis, second, is totally decentralized and leadershipless. Participation in the validation or protection of the network can be done by anyone, but not everyone.
Lachesis third is safe. The ABFT consensus algorithm was specifically created to give accurate information, even when certain nodes behave maliciously.
Lachesis provides an immediate confirmation of the final order, eliminating the necessity to wait for confirmations in blocks.
What is the best way to buy fantom in Binance?
The Binance Exchange has the best fees and liquidity in the market. This allows you to quickly sell or buy digital assets to take advantage of the current market opportunity.
You must register for a Binance Account and provide proof of identification to verify your identity before you can buy Fantom FTM. After your account is verified and created, Binance allows you to buy Fantom FTM and other cryptos using Bitcoin and fiat deposits via debit or credit card or wire transfer.
Binance offers Fantom (FTM), which can be purchased in 10 trading pairs. To purchase FTM, you must first acquire Bitcoin, USDT or ETH via peer-to–peer trading or bank transfers. To choose the asset against which Fantom to trade, you can also use CoinStats' app comparison service.
Once you've decided the asset you want to trade FTM against, for example, Bitcoin (BTC), the next step is to buy the necessary quantity of Bitcoin to buy FTM. Once you have added BTC to your wallet go to FTM/BTC trading pair to trade Bitcoin for Fantom.
What is the best way to buy fantom in America?
Binance.US, a well-known exchange for Fantom, allows you to trade, buy and sell Fantom.
Crypto.com – Can I Purchase Fantom
The Crypto.com app allows users to purchase Fantom FTM for face value in USD or EUR and use it at more than 60 million locations worldwide using the Crypto.com Visa Card.
To buy FTM from Crypto.com, follow the below steps
Your Crypto.com app account can be connected to your Defi Wallet Account.
Choose a wallet to hold the coins that you wish to purchase.
You can connect your wallet with your Crypto.com Account. Each wallet can only be connected to one Crypto.com app account.
Please enter the information for your credit/debit cards that you will use in the Crypto.com App.
Search for FANTOM under the 'Buy' tab in the bottom navigation bar.
After picking FANTOM from the coins section, click the 'Buy Now' button.
If two or more networks support the coin, you must select the network you want (you won't see the option to choose a network if the coin is only supported on one network).
Please enter the necessary information regarding the amount of the order and the card credit/debit that will be used. Remember that Crypto.com accounts are tied to the purchase limit.
You'll have 15 seconds to double-check your information and complete your transaction.
Enter your Crypto.com App account's passcode. 3DS verification might be necessary depending on which credit/debit card issuer you have.
You just need to sit back and wait for your coins!
The processing time for your transaction may differ depending on whether it is already on-chain. The order status will change to "Completed" after you get the coins. Verify your balance.
Conclusion 
Fantom's new DeFi approach makes it an attractive alternative to the traditional blockchain-based approach. This allows developers to minimize network usage and avoid the Blockchain trilemma. Furthermore, Fantom's scalable smart contracts may be used in payments, smart city initiatives, and supply chain payments. Many are actually in worldwide use.
There is much competition in the Ethereum market as more Ethereum alternatives are developed. However, Fantom's acyclic graph dag (DAG) technology, along with scalable and efficient smart contracts, distinguishes it as a noteworthy platform expected to acquire significant popularity.
Our blog has more information regarding wallets, cryptocurrency exchanges, tokens and tokens. For example, How to Buy Chiliz or other crypto currencies.
Investment advice
This website contains information that is intended to be informative only. It does not recommend you to purchase, sell or hold any security or financial product or instrument. This does not endorse any provider.
Because cryptocurrencies can be volatile and subject to secondary activities, it is important to do independent research, get advice and invest only what you are able to afford to lose. You should also verify the nature of any product or service (including its legal status and relevant regulatory requirements) and consult the relevant regulators' websites before making any decision. Fantom's past performance is not indicative of future results.
CFDs and stocks trading can pose significant risk. CFDs can result in losses between 74-89% for retail investors accounts. Before making an investment, you should carefully consider your situation and explore your options.