Blockchain technology has revolutionized the cryptocurrency market. According to data from the The Cryptocurrency Report, crypto adoption has risen by 2300% in 2019 alone. Chainanalysis 2021 Geography of Cryptocurrency.
Many other cryptocurrencies, such as Bitcoin (BTC), Ethereum(ETH) and meme cryptocurrencies like Dogecoin [DOGE], Shiba Inu [SHIB], etc. have proven to be a big attraction for blockchain developers and investors. Enjin coin is one of these altcoins.
Enjin, a platform which allows users to make their own NFTs and FTs since 2017, is called Enjin. Enjin offers services to develop the blockchain industry, gaming industry, and operates a marketplace for virtual goods on Ethereum. 
You can read on for all the details about Enjin Network (ENJ) and Enjin Coin. Enjin (ENJ), how do you buy it?. 
Let's dive in!
Enjin Coin: What is it?
Enjin coin's parent company Enjin was launched as a Gaming Community platform in 2009 in Singapore. Maxim Blagov (founder) and Witek Racdomski (founder) are responsible for the creation of Enjin coin.
The company's objective was to grow the gaming industry, and its first product was the Enjin Network designed for gamers. In the last ten years, Enjin Network reached more than 20 million people. 
Because of Witek Radomski's passion for Bitcoin, the company began to explore cryptocurrency and Bitcoin as soon as 2012. Enjin, as a result became the first company to accept Bitcoin for payment.
2017 saw the first ICO by Enjin (ENJ) which raised $18.9M. Through the ICO, the cryptocurrency Enjin (ENJ), was born. It is based on Ethereum's blockchain. But it was created in 2009 when the gaming community platform was first launched.
Witek Radomski, one of the first to code the NFT (Non-Fungible Tokens) codes. This makes Enjin one of the tokens that has the strongest fundamentals and real-world applications.
Since the Enjin coin's parent company is focused on gaming, Enjin coin is solely meant for the gaming industry. Enjin's blockchain is designed to make it easy for anyone to create, trade, distribute and integrate Blockchain assets.
In 2020, Enjin launched its blockchain asset development platform, the Enjin Platform, designed to enable tokenized digital assets' creation, distribution, storage, trade, and even integration.
Enjin users have a focus on enterprise and gaming use cases. They create ENJ-backed digital assets on the Enjin platform and use them creatively –  from art NFTs (non-fungible tokens) to digital vouchers to items used across different video games.
Enjin's platform for tokenization is the best all-in-one platform. It follows the user-first model. Each token created on the Enjin platform has the Enjin token backing it, which gives it real-life liquidity.
This platform is capable of minting both Fungible tokens, (ENJ coins), and Non-Fungible Tokens (NFTs).
All these features make Enjin one of the world's leaders in the NFT space. 
Enjin coin price analysis
On the Ethereum Mainnet, Enjin Coin launched June 2018.
Over the years, the price of Enjin Coins has been steadily rising to an all-time record $4.73 on November 25, 2021. Even though the token's price has come down below $2.5 as of 14th December 2021, it remains one of the hottest cryptocurrencies in the market.
Learn more about the Enjin Coin,  the price history, etc., on CoinStats.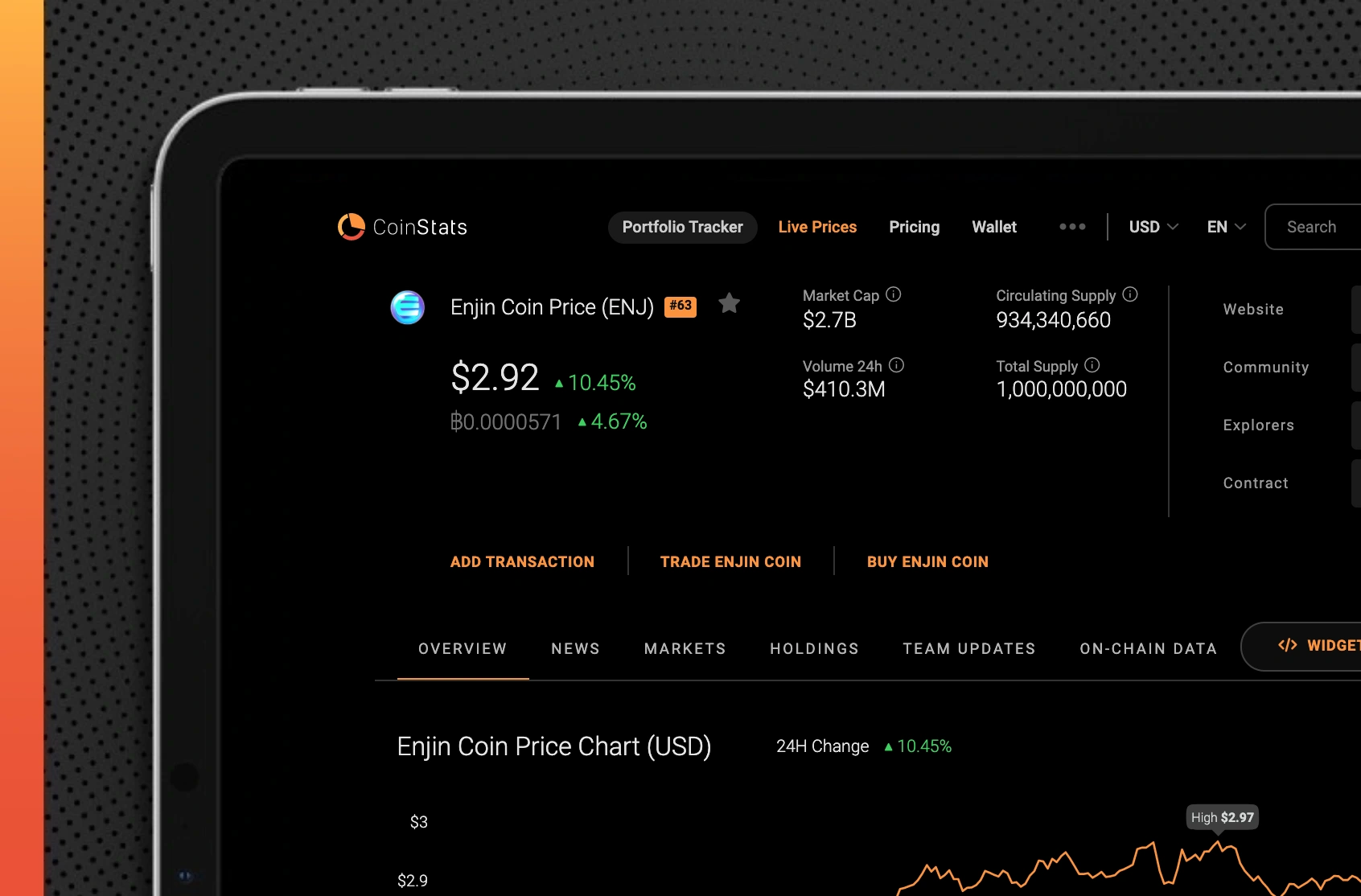 CoinStats reports that the ENJ token supply cap is set at 1,000,000,000. 934.340.660 tokens are in circulation, with an estimated market value of USD 2.2 billion. There is a huge potential market cap growth and price increase in the future. 
What to do when you want to buy
The ENJ token is one of the most sought-after cryptocurrencies in the market, and it's listed on almost all major centralized and decentralized exchanges.
Below is a list of major Enjin Coin markets that you can purchase ENJ Coin: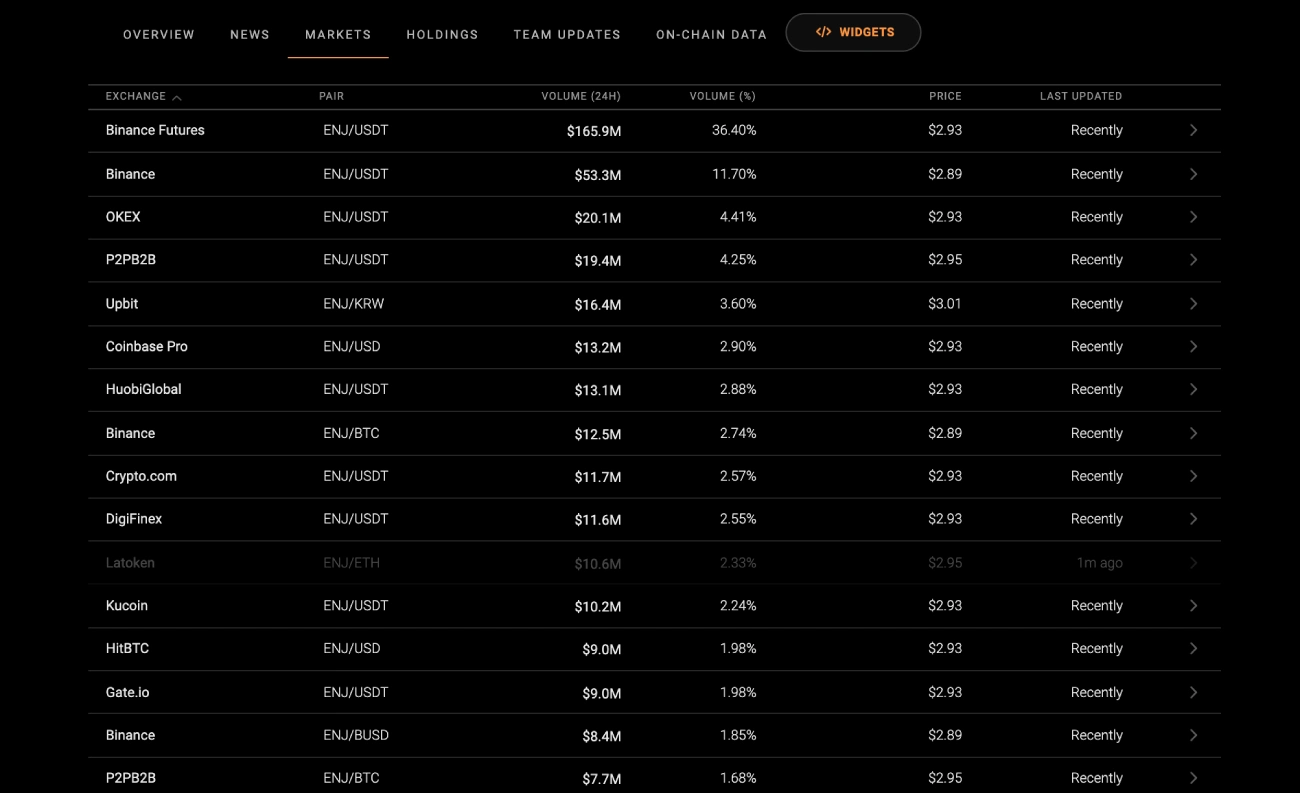 The process of buying ENJ is simple and very similar to other cryptos.
Our step-by-step guide will show you how to purchase Enjin from Binance or Coinbase, two of the most popular exchanges.
You can buy Enjin coin on Binance
Binance is one of the world's largest centralized cryptocurrency exchanges with a 24-hour trading volume of more than 30 billion USD. Binance allows users to trade cryptocurrencies with a wide range of trading pairs and cryptocurrencies. It also offers credit and debit cards as well as bank transfers and P2P trades. 
Buy ENJ at Binance
Register for a BinanceAccount
If you don't have an account on Binance, you need to sign up using your phone number and email address. To trade, however, you will need to go through a KYC process.
Signing up and uploading the required documents is quick to get started trading on Binance.
You can add money to your Binance account
Once you've successfully created your account, Binance gives you the option to make trades in many fiat currencies such as USD, EURO, INR, GBP, AUD, etc. Your preferred fiat currency can be added to your wallet via bank cards, bank transfers and credit/debit cards. 
ENJ 
You can then buy ENJ by going to Binance's Spot market and searching for it. You'll see all the assets against which you can buy ENJ. To buy an asset, select it and then use your fiat currency wallet.
If you are looking to purchase ENJ coins against USDT (TETHER), you can first buy USDT the exact amount that you need to buy ENJ. 
To swap USDT for ENJ, buy USDT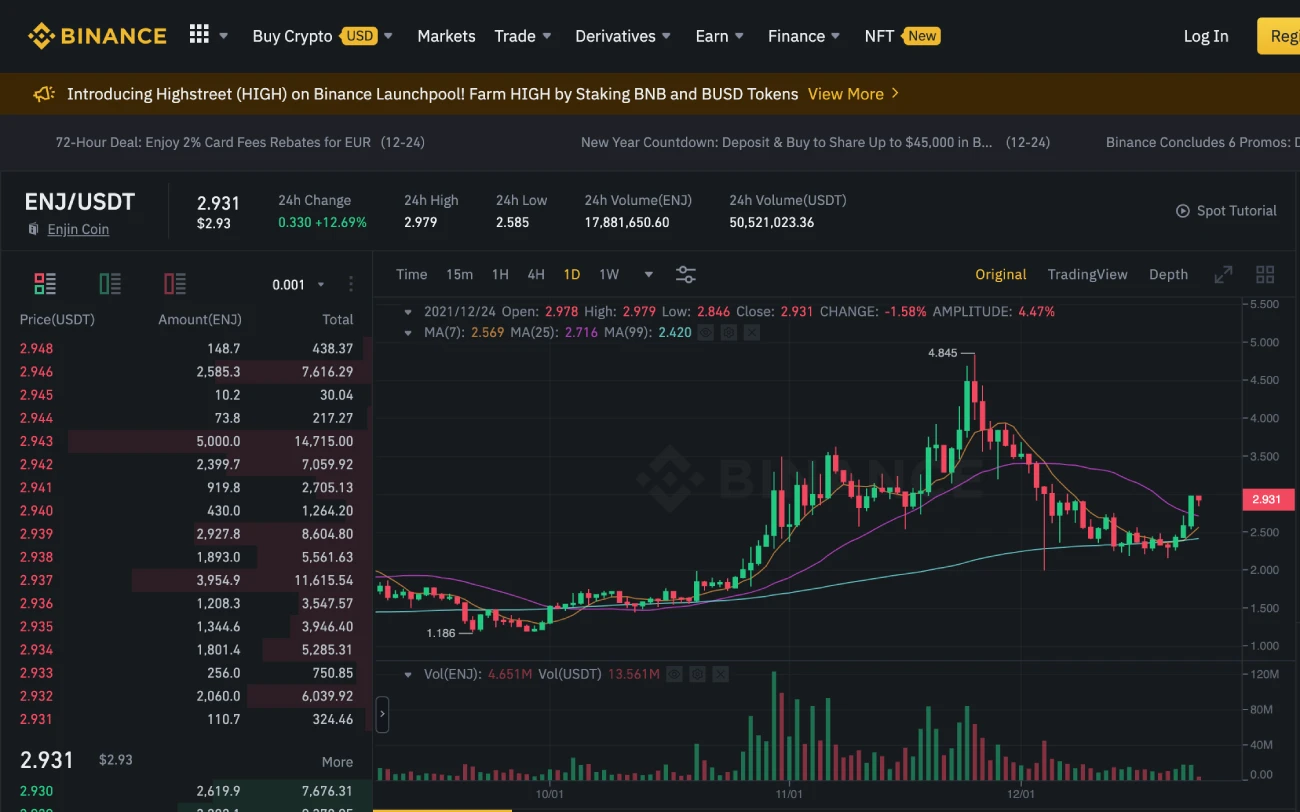 Once you've purchased USDT, navigate to the USDT/ENJ pair. Enter the amount of USDT you'd like to swap and execute the trade for ENJ.
Binance offers easy ENJ trading, so it is the best place to trade and invest in ENJ.
Coinbase: ENJ Coin
Coinbase is also one of the world's largest cryptocurrency exchanges regarding the trading volume and the number of cryptocurrencies offered.
Coinbase, like Binance allows you to purchase ENJ for a variety of cryptocurrency tokens.
You can buy ENJ from Coinbase
Coinbase Account
If you don't have a Coinbase account, you need to register on the platform by providing personal information such as your full name, phone number, proof of ID, social security number, and email address. You'll also be required to undergo a standard KYC procedure.
After your account has been verified, you can buy ENJ now and begin trading on Coinbase.
Connect a payment method
You now have the option to choose your preferred fiat currency.
You have a variety of payment options available depending on where you live. These include wire transfer, bank transfers, credit cards, and debit cards. There are no transaction fees on bank transfers for buying ENJ or any other cryptocurrencies on Coinbase; however, you won't be able to withdraw them for 5 days.
While wire transfers incur transaction fees, there are no waiting periods.
ENJ
Once you've added funds to your account, click on "Withdraw" and input the amount you want to buy ENJ for. After that, go to "Trade" and choose the market.
Suppose you are buying from the USA, select "ENJ-USD," then input the amount of ENJ you want to buy and click on purchase.
The ENJ Coins are then displayed in your Coinbase account. 
Buy ENJ On Other Cryptocurrency Exchanges
Binance and Coinbase are the only platforms where ENJ can be purchased. Binance and many other exchanges allow traders with experience to trade ENJ or any other cryptocurrency.
However, keep in mind that cryptocurrencies aren't regulated and are highly volatile.  The majority of cryptocurrency exchanges have faced multiple cyber-attacks and hacks in the past, so it's essential to do your own research and consider the risks before buying ENJ or any other tokens. 
Whenever investing in cryptocurrency tokens, including ENJ, it's important always to invest what one can afford to lose. 
Keep Your ENJ Coin Safely
After you have purchased your initial share of ENJ tokens successfully, now it's time to make sure your tokens are safe.
Although most digital asset exchanges offer a high level of security for storing them on their platforms, many of these are vulnerable to hackers and other malicious attacks.
After you have purchased Enjin, or any cryptocurrency, it is smart to keep your crypto assets safe in a wallet.
While software wallets, such as Metamask or Coinbase Wallet are great options for investors, you should consider a hardware wallet to ensure your safety. As a professional-grade secure wallet, a Ledger wallet like Ledger nano S or X is highly recommended. 
Let's look into the features of Software and  Hardware Wallets:
Software wallet: These Hot Wallets are connected to the Internet and store crypto assets online. CoinStats Wallet has been voted the safest software wallet. This wallet can safely hold all of your assets and allow you to track the growth in real-time. Trust Wallet also transfers cryptocurrency assets from Binance, and other cryptocurrency exchanges. 
Hardware Wallet These Cold Wallets, which aren't connected to the Internet but store cryptocurrency assets offline, can be called Cold Wallets. This can also be referred to as a USB-Drive that stores crypto assets and not data. If you choose a hardware wallet, after purchasing Enjin and other crypto assets, simply send the funds to an offline wallet.
You now know everything you need to know about Enjin Network, and how to buy Enj.
Learn more about cryptocurrency and blockchain at How to Buy Pirate Chain (ARRR).You can also follow our blog by clicking this link CoinStats guide.