Bitcoin SV is Satoshi Vision. It is derived from Bitcoin Cash. Bitcoin Sv claims to be the "original Bitcoin," representing the purest form of Satoshi Nakamoto's original vision of the Bitcoin protocol.
After the November 2018 network upgrade, Bitcoin SV is a hard fork of BCH. It's backed by CoinGeek Mining with development work by nChain.
Bitcoin SV was primarily created because of the ongoing debate about scaling Bitcoin. By increasing the speed and scaleability of network transactions, it was intended to be a more technologically advanced variant of Bitcoin's original protocol. 
Read on to learn everything you need to know about the project and on buying  Bitcoin SV.
History of Bitcoin SV: Hard Fork, Satoshi Vision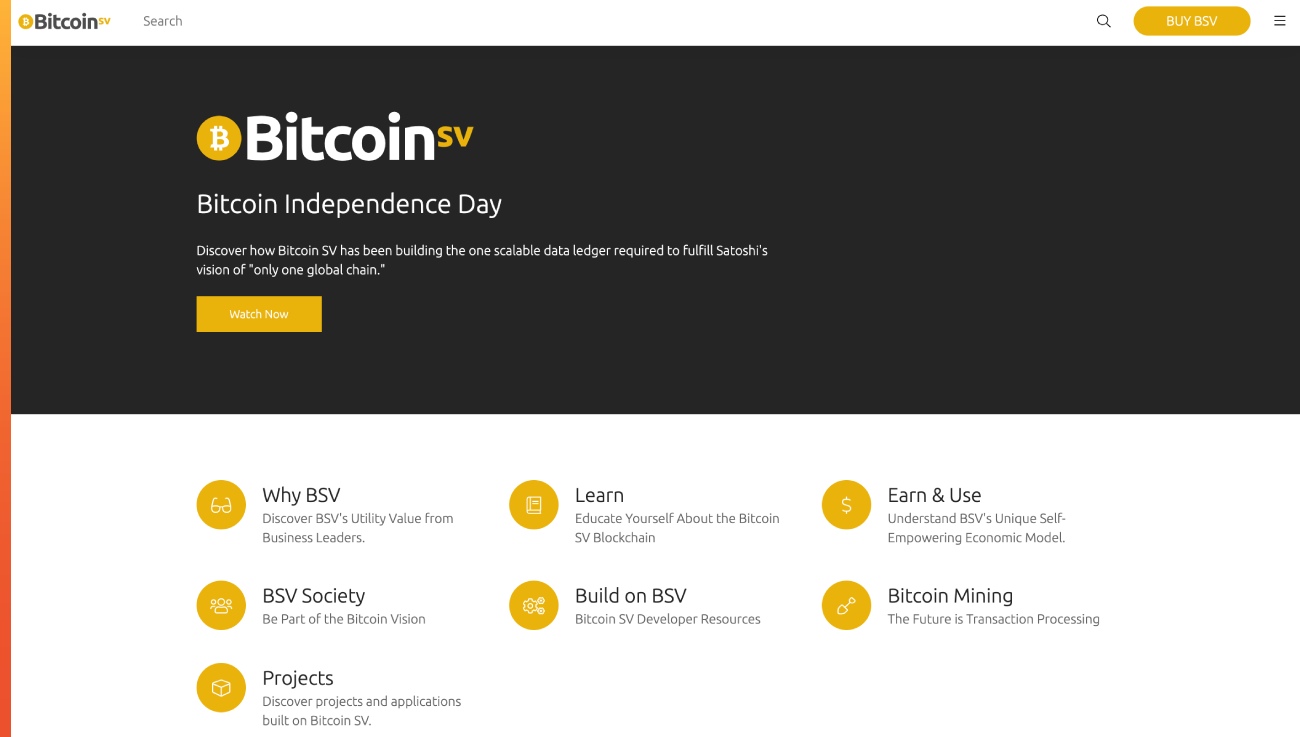 Bitcoin Satoshi's Vision (BSV) is the result of a debate about Satoshi Nakamoto's vision for Bitcoin and if Bitcoin corresponds or should adhere to this vision. BSV is designed to bring back the original Bitcoin protocol.
Bitcoin SV had planned to raise the block limit from 128MB to 512MB, which was later increased to 512MB by a hard fork. This would increase transaction throughput on-chain. It could, however, limit the operation of full nodes as part of the vision for a peer-to-peer, decentralized cash system.
On November 15, 2018, Bitcoin Cash split into two when Roger Ver and Craig Wright, both known as strong supporters of Bitcoin Cash, couldn't agree on how to proceed. Ver supported Bitcoin Cash, rather than the proposal for a hard fork. Wright, who claimed to be Satoshi Nakamoto, believes that BCH should increase the block sizes from 32MB up to 128MB. He believed this upgrade would keep with Satoshi's original idea for Bitcoin.
Bitcoin Cash was named after the Bitcoin ABC faction. This client is the leader in Bitcoin Cash and won the largest share of the network hashrate.
Bitcoin SV's leader is nChain. nChain is a technology research firm that builds protocols, tools and applications for blockchain growth. This network views peer-to-peer transactions at a low cost as its core value proposition and works to increase block sizes and transaction throughput.
Analysts predicted that Bitcoin ABC, which retained the name Bitcoin Cash, would prevail and receive up to 60% total hash power on the day of the splitting. Bitcoin Cash was trading at $289 and Bitcoin SV at $96.50 on that day.
BSV creators claim that the coin has the potential to "replace every payment system in the world with a better user experience, a cheaper merchant cost, and a safer level of security." 
Bitcoin SV: Why you should choose it
Bitcoin SV remains among the top 20 cryptocurrencies in terms of market capitalization, since its creation. Bitcoin SV is the first Bitcoin to bring back the peer to peer electronic cash system.
Bitcoin SV is focused upon stability, scalability and security. It also allows for instant transactions. It has restored the functionality of the op_nodes Satoshi created, allowing for advanced methods such as tokenization or smart contracts.
Although most of Bitcoin's (BTC) financial crypto value has been deprecated in the new Bitcoin SV (BSV), additional features, such as scalability, make up for this. Bitcoin SV allows for a maximum of 50,0000 transactions per minute. Instant payments, reliable contract settlements, and flexible implementation all make it possible to receive payment immediately. BSV makes it easy to make payments quickly, securely, and reliably. 
The efficiency of Bitcoin SV exceeds that of other altcoins like Ethereum by more than 21,000 times. Because Bitcoin SV implements parallelization, which is a feature that's already present in the original Bitcoin network. Altcoins can now use multiple proof-of-work protocol types as a result of the Genesis upgrade. 
It is also much simpler to deploy applications, non-fungible tokens, (NFTs), or smart contracts now that they are available in programming languages like sCrypt and JavaScript. 
Bitcoin SV's Metanet internet protocol has a Directed Acyclic Structure, where transactions are directly linked, one to another. Bitcoin SV's protocol is excellently designed and is more efficient and reliable than other structures like HashGraph and IOTA. 
Bitcoin SV aims at being a complete blockchain solution for individuals and businesses, especially in the areas of scalability. This is a sign of how much it can support transactions, which are far greater than any other altcoins.  
Where can I buy Bitcoin SV
BSV can only be purchased on a cryptocurrency exchange which supports it. The top crypto exchanges for trading in Bitcoin SV are currently OKEx, FTX, Huobi Global, ZBG,  Bitfinex, Bittrex, Bithumb, KuCoin, and other additional platforms.
How to buy Bitcoin SV
BSV, like other top cryptocurrencies cannot be bought directly with fiat currencies. This coin can be purchased by purchasing Bitcoin on any fiat-tocrypto exchange and then moving to the appropriate exchange.
Our step-by-step guide to buying Bitcoin SV is here:
Step 1. Register for Fiat-tocrypto Exchange
First, open an account at a broker that allows BSV trading. You can then purchase most popular cryptos using fiat currency directly after opening an account.
Step 2: Purchase Bitcoin (BTC), using fiat money
After you have completed the KYC procedure. After completing the KYC process, you will need to choose a payment method. You can choose either to use your bank transfer or credit/debit cards. Although you may be subject to additional fees for card use, instant purchases will not be possible. Bank transfers will, on the other hand, be faster but more expensive. You may be able to deposit cash instantly in some countries, with minimal fees depending on your country.
Step 3: Transfer your BTC to Altcoin
You will next need to send your purchased Bitcoins to an online exchange, where you can trade BSV. Before you can use these platforms, you'll need to make an account. Once you have done this, your wallet will be available to you. 
Step 4: Trade Bitcoin SV
Now you can swap your BTC to BSV. The next step is to buy another altcoin such as Ethereum. It is possible to swap any coin equivalent, including transaction fees.
CoinStats – How to buy Bitcoin SV
All you need to do to purchase BSV at CoinStats is register for an account. CoinStats has been voted one of the top crypto exchanges. This platform allows investors in cryptocurrency to view current market prices and detailed information about many of the fastest-growing cryptocurrencies. CoinStats allows you to view the current prices of Bitcoin SV, other coins and market volume. It also provides price timelines and information about trading volumes.  
CoinStats can also be used as a cryptocurrency portfolio tracker and research app. It provides useful information and advice that will help investors make smarter investment decisions. It's highly recommended for investors seeking to diversify their crypto portfolios. 
Our detailed guide covers how to buy Bitcoin (BTC), as well as the BSV price at Coinstats.
How to Keep Bitcoin SV Safely 
 Now that you have successfully bought Bitcoin SV, the next step is to store it safely. The best way to keep Bitcoin SV safe is with a digital wallet. The digital wallet contains both public and private cryptographic key pairs. Your wallet address can be linked with the exchange.
Bitcoins must be saved in Bitcoin wallets. When choosing a wallet to store your bitcoins, there are many factors you should consider. These include the type of cryptocurrency that is supported, privacy and security, ease of use, cost, support from customer service, fees and features. It is also important to determine which type of wallet you prefer. Hardware wallets may be more expensive than other options but they will provide the best security possible for your investments in cryptocurrency. The interfaces for using them are simple to use and they can be set up quickly.
Trading Bitcoin SV: Other tools
The blockchain network works decentrally, so users have full responsibility for protecting their coins.  Although a hardware wallet can be used to keep your cryptos safe, it is more secure to use an encrypted VPN connection to trade your coins.
VPN services will protect your account from hackers who seek to access your crypto assets. 
The Future of Bitcoin SV
The Bitcoin SV team is focused on the future and it seems possible to accomplish that goal. Specifically, with as many as 5 billion users per day due to its scalability, Bitcoin SV hopes to provide a "stable protocol with on-chain scalability" for worldwide transactions.
Yet, the cryptocurrency market is constantly changing — and the value of BSV can be influenced by how other coins and tokens are moving in value.
Conclusion
Bitcoin SV shares many characteristics with Bitcoin Cash and Bitcoin. It also has distinct differences and features, such as:
Increase the block size to increase stability and scalability.
PayPal, Visa and Mastercard offer greater protection and more competition.
Transactions are faster and have lower commission fees
BSV's ability to adapt to miners as well as users is key to its success. Price fluctuation can hinder companies from adopting BSV.
BSV can be used to facilitate transactions in financial markets at minimal fees. BSV trading on recognised exchanges can be beneficial for both advanced traders and beginners.