Era7's 'Game Of Truth' GameFi joins the ranks and provides mildly competitive entertainment for players that allows them to make a living.
Blockchain technology is quickly redefining the gaming industry by introducing an  economic incentive model. The metaverse, an industry that is currently valued at USD 300 billion by 2025, has a market capitalization of approximately US$ 300 billion. Play-to-earn gaming like Era7 has become a major player in the sector, and they have brought new, interesting innovation to the gaming industry.
Era7, a platform for gaming on Binance Smart Chain (BSC), combines TCG (trading cards gaming) and fast-paced competitive gameplay with NFT-themed play to earn features.
With GameFi and the NFT-powered economy at the heart of Era7's product offering, the project intends to push innovation even further, allowing players to experience the euphoria of gameplay and benefit from the economic value that GameFi offers.
Meet the team and high-profile industry backers
Members of the Era7 core team come from well-known international Korean game companies such as Com2uS, NCsoft, Nexon, and Netmarble, all of which have more than 15 years' history in the traditional mobile and online video gaming industry.
Era7 has so far received funding and strategic investments from renowned VCs as well as industry giants such Ashkey Ventures, Okcoin Ventures, Binary Capitals, DAG and Waterdrip. The Era7 partner and backers are strategically aligned with Era7's vision and mission. They bring valuable industry connections and have the necessary industry experience to make Era7 a leading NFT-powered trading platform.
Game of Truth: The backstory
Era7's artistic inspiration comes from TCGs like Hearthstone and Magic: The Gathering.
The Game of Truth plot revolves around seven races on the Continent of Truth who compete for the title of "King of Truth." Amongst the races are groups of specially gifted individuals who are sent to attend Summoner Academy to undergo rigorous training where they graduate to become Summoners. After graduating, they go on a journey around the world in search of Summoning Pacts. They also seek out strong allies to strengthen their power.
Summoner battles have always been held on the Continent's heart since antiquity. These Summoning Battles attract Summoners from all over the world who battle for the "King of Truth" title. The King of the Continent is crowned, and the winner and his race get the most prestigious honors in this land.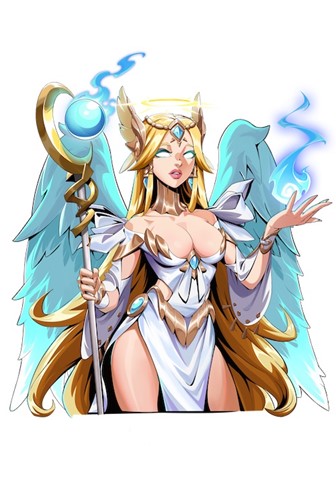 Elaine Mother of Light, Game of Truth NFT Master Card
Trading Cards: Game of Truth
There are 1,000 exquisitely crafted cards in total – Master Cards for summoning and other functionalities and Battle Cards for combat gameplay. Each card has its own unique value and attribute, which allows players to combine a variety of strategies.
There are so many cards that have different attributes, which allows you to play the game in an infinite number of ways. Innovative gameplay is supported by the well-developed mathematical system.
There is a rating system which categorizes the cards into 4 ranks – Common, Rare, Epic, and Legendary. Trade is possible for the unique Battle Cards and Master Cards. The Battle Cards serve as the foundation for combat gameplay – before they can begin fighting, players must have at least 30 Battle Cards.
Game of Truth: Gameplay
The Game of Truth is an exciting three-minute game that encourages strategic thinking. It allows players to increase their competitive advantage and evolve while playing.
The NFT-based trading card gaming platform aims to become the gamer's choice by offering mildly competitive and fast-paced gaming. Using their Master Cards, players can summon Battle Cards to fight within various categories of competitions, such as PVP (player-versus-player), PVE (player-versus-environment), Daily or Weekly Quests, Real-Time Tournaments and fast-paced Championships. Other gaming activities, such as placing bets and ranking games, are also being considered. In the course of game battles, players will have access to valuable tokens and NFT incentives.
NFT-powered play-to-earn economy called Game of Truth
Era7 says their NFT debut sale will take place on December 20th 2021. The Master Card and Blind Box contain different card highlights. Both investors and players can follow Era7 for the latest information and updates on this eagerly awaited NFT sale. Twitter Telegram.
Game of Truth, which uses GameFi's model of economic development, empowers average game players to enjoy extraordinary financial rewards. Era7 is built upon NFT concepts, such as the play-to-earn model and rewards players who win battles.
The Era7 gaming ecosystem is powered by both the Era token as well the GOT token. Participation in PVP or PVE can earn GOT tokens. They can also be bought with Era tokens. You can use Era tokens to buy Master Cards, Battle Cards, and NFT mystery box, plus other functionalities in the game like buying land or to gain more community rights by participating in governance voting. This token can also be traded on exchanges to other cryptocurrency.
When a player is victorious in a PVP Battle game, they will get GOT tokens along with a PVP rank. Higher ratings will allow you to win more battle GOT tokens. You will receive your rewards on a monthly/daily basis.
The incentivized gaming economics model is blockchain changing the game. This allows players to both earn passively and get entertained.
Players will also be able to own their digital collectibles and items in-game, which are usually linked with a real world monetary value, rather than traditional gaming platforms.
The in-game reward program will use more than half of all the 1,000,000 Era tokens that were issued. There are many ways players can earn Era tokens.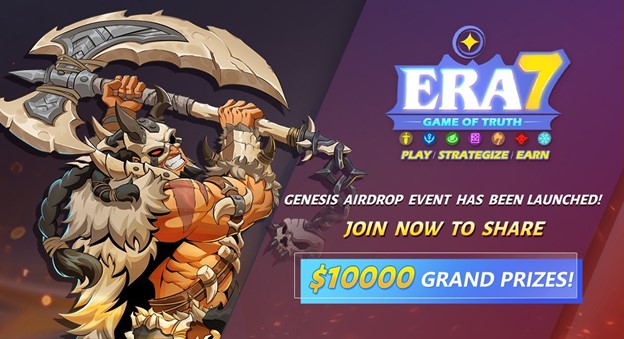 What does Era7 fit into the Contemporary Global Gaming System?
Global Collectible Card Game Market is growing at breakneck speed and will reach US$ 27.2 Billion by 2026. Even though this incredible growth has been achieved, it is just a fraction the current global gaming market which stands at US$175.8billion. TCG-based TCGs like Era7, which use the blockchain to bring Play-to Earn gaming features to the market at an innovative pace, are seeing a rise in popularity.
Era7 was a prominent player in the gaming industry before NFTs were added to its gaming system. It attracted a large number of Southeast Asian gamers and had a tradition gaming user base exceeding 10 million. Era7's NFT-powered, play2earn economic now features in its gaming system gives it the ability to surpass trading card games.
Visit the official site to find out more information about Era7. Follow this project for updates TwitterJoin the Telegram or Discord conversation.