Over the past 24 hours, Ethereum prices have moved higher. In the same period, altcoin saw a 4.4% increase. This has brought the price of altcoin closer towards the resistance.
The bulls will likely take over the Ethereum market if the price of Ethereum moves higher than the nearest resistance level. The altcoin's technical indicators point towards bullish signs.
But it's too early to know if the bulls can stay on the chart in the next trading session. Minor gains in Bitcoin prices have also been recorded, which has made certain altcoins more green during the last 24 hour.
Ethereum's price has increased by 4% in the past week. This indicates that almost all of the gains achieved by the altcoin occurred in the last 24 hours.
1.400 remains the critical price for altcoin. The altcoin may break the $1,400 mark if the bulls continue their momentum in future trading sessions.
ETH's move north during the last 24hrs has led to a substantial increase in purchasing strength.
One-day Chart: Ethereum Price Analysis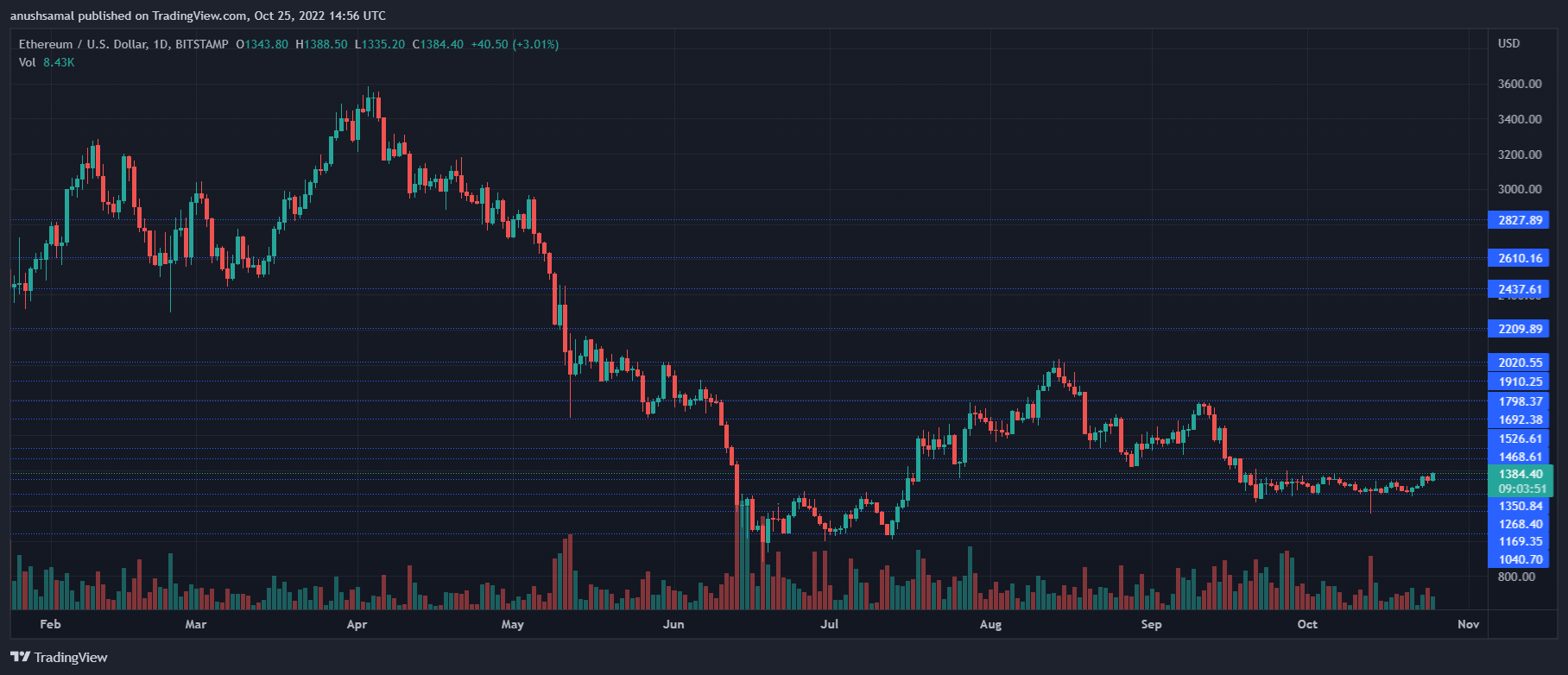 At the time this article was written, ETH traded at $1380. After a period of consolidation, the coin is now moving upwards. If they maintain their momentum, the bulls may push the coin above the $1,400 mark in the next trading session.
This level will be crossed and the bulls can regain control. One more resistance point for the coin is at $1,500. Ethereum's price could soar to $1680 if the level is breached above $1500.
A small price drop will take Ethereum to $1.340, and then $1.268. In the past session, Ethereum was traded at a higher level which is a sign of bullish price action.
Technical Analysis

The altcoin's northbound movement brought buyers back into the market. Technical indicators indicated that bulls were returning with buyers.
Relative Strength Index rose above half-line, which indicates that buyers outnumber sellers on the market.
The Ethereum price was higher than the 20-SMA which indicated that there had been an increase in demand and buyers driving price momentum.

All other technical indicators were in line with buyers. On the one-day charts, Ethereum showed a buy signal.
The price momentum and overall direction of an asset's price are indicated by Moving Average Convergence Divergence.
MACD displayed green signal bars at the top of the line, meaning that the buy signals were present for crypto.
Bollinger Bands are used to measure price volatility as well as the likelihood of price fluctuations. This reading can often be associated with high price movements because the bands were extremely tight.