Ethereum, undisputed leader of altcoin markets, has been stuck in bear market since the token is unable to breach the $1300 resistance. The current market price of $1,302.87 is 0.22 percent lower than the psychologically important buy point.
Despite how good this sounds, the way the market is moving right now, the bear market is likely to continue this month, which is not good news for ETH.
According to The Guardian, the chances of ETH experiencing a bear market recovery are very slim because of the dire state of the macroeconomy.
In this year's much-hyped "Uptober," the token is probably going to experience even more misery than usual. What do these graphs reveal?
The Tightest Band for Trading
At the time of writing, the altcoin was expected to trade in a narrow band. Before that, however, the price of ETH has fluctuated over the past 25 days between $1,188 and $1,411. Because it coincides when the Federal Reserve raised interest rates, this demonstrates the market's turbulent conditions.
Ether, as previously mentioned, is currently following a pennant pattern. This formation is a bearish sign, and matches previous price movements. We expect a substantial price move on or near this level.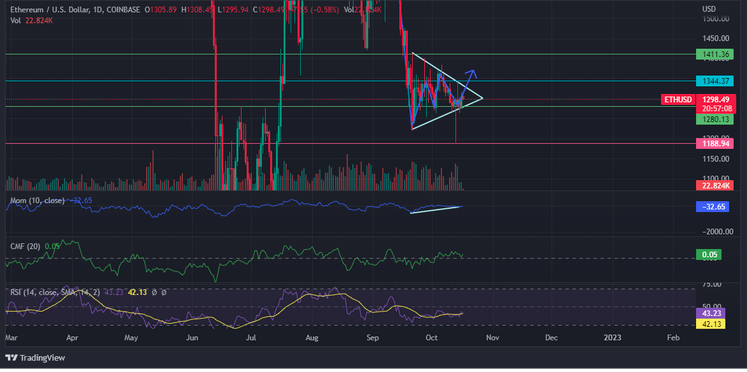 Chart by TradingView
Technical analysis can be quite neutral due to the sideways market activity. The momentum indicator indicates a steep decline in market activity after September 13's meltdown. This was followed by an upward trend and stabilization from September 21 through the present.
Chaikin's money flow index, which currently stands at 0.05, is positive, indicating that bulls rule the market. This confirms the bullish trend's strengthening.
Investors have a strong buying opportunity because the RSI is near the oversold zone.
It is possible for the price to reverse.
ETH could be repeating its July-August rally, in which it formed three bottoms and then rose again, despite the price being down to a certain point. Altcoin appears to be moving up, having established the three bottoms at the time of writing.
However, bulls must remain vigilant due to difficult market conditions. If today's market closes in the green above $1,300, we may witness a rally that tests or breaches the $1,345 level of resistance.
ETHUSD Pair trading at $1320 per weekend chart. Featured image by TradeMap. Chart: TradingView.com| Featured image from TradeMap, Chart: TradingView.com

Disclaimer: This analysis should not be taken as investment advice.