There has been speculation in the crypto world about whether or not the $69k Bitcoin peak was the top of the bull run. Here's a comparison between some indicators to see how this top compares with the $65k April peak.
Comparison of the Metrics between The Nov 10th and April 14th Peaks
The latest Arcane Research Weekly Report reveals that sentiment metrics are highlighting the differences between tops.
The futures open interest indicator (the first relevant metric) shows the amount of Bitcoin in futures at the close of each trading day.
This chart shows how it compares to the November and April peaks.
Seems that April 14th had a fair amount of open interest
The April peak saw almost 50k BTC less open interest, as you can see. This indicates that the market had much higher levels of leverage.
Related Reading: Brace for more downtrend: 15% of Bitcoin supply is now in loss| Brace For More Downtrend: 15% Of Bitcoin Supply Is Now In Loss
Another chart compares unregulated futures base between tops. "Basis" is basically the difference between Bitcoin's price and the futures price.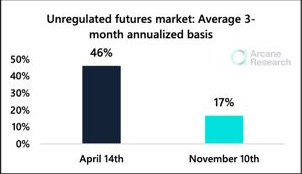 In the unregulated futures marketplace, average annualized 3-month basis
Unregulated futures markets reached nearly 50% by April 14th, while they were only 17% as of November 10th.
CME had a higher basis gap than the unregulated markets, while the Korean premium was lower. The period also saw significantly higher funding rates.
Nov 10th saw comparatively lower overheated indicators
These metrics reveal that the market was overextended and futures froth were clearly stronger during the April top.
However, two other indicators had higher Nov 10th values. The fear and glute index is a measure of how greedy or fearful the market is.
Similar Reading| TA: Ethereum Show Positive Signs, Why ETH Could Outperform Bitcoin
One was Binance and Bybit's open interest share worldwide. Below are the indicators for each period.
These metrics show that Nov 10th is leading to April 14th
In summary, the $69k Nov Top is quite different than the $65k peak in April. So it's possible this might not be the bull run peak just yet. The idea is supported by other indicators on the chain.
Bitcoin Prices
At the time of writing, Bitcoin's price floats around $56.5k, down 6% in the last seven days. In the past month, Bitcoin's price has fallen 10%.
This chart shows how the currency's price has changed over the past five working days.
 Source: BTCUSD on TradingView| Source: BTCUSD on TradingView
Unsplash.com's featured image. Charts by TradingView.com. Arcane Research: