Cardano (ADA), The 8ThThe crypto asset ranked highest in market capitalization is still in red, losing 6.3% in seven days.
Cardano's value has fallen more than 6% in the last week

UniSwap surpassed ADA on daily average transactions

Cardano crypto-lovers still believe in positivity
Coingecko says the asset currently trades at $0.43. However, it remains among the Top 10 Digital Assets thanks to its Market Capitalization of almost $14.7 Billion.
The market cap of Ethereum is large, but it's not enough to withstand some critics and projections against the crypto.
In fact, Evan Van Ness, a well-known die-hard fan and Ethereum maximalist, claims the token is already at death's door and will soon turn into a "zombiechain."
Let's check in on the $ADA zombiechain 🧟⛓️

Not only does Cardano do less than one transaction per second…

Uniswap handles significantly more transactions than Cardano pic.twitter.com/wg0fNoFPck

— Evan Van Ness 🦇🔊 (@evan_van_ness) September 29, 2022
ADA Losing Steam
Ness believes that Ethereum is the most secure crypto available. However, he has disturbing information about Cardano. This could be the end of Cardano's immediate future.
ADA's network is currently living at an incredibly low transaction count of less than one per second. That's lesser than other assets with lower market capitalization.
UniSwap is a good example of this. It has only $4.9 Billion market cap but it beat Cardano for daily average transactions seven days a day.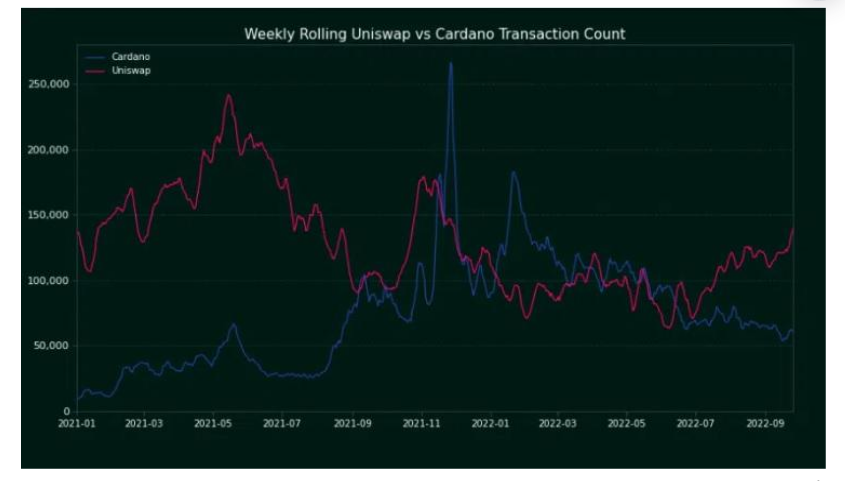 Source: Evan Van Ness
This is surprising, considering that UniSwap also has significantly higher daily fees count, currently at $1 million, compared to ADA's $10,000.
Cardano: What lies ahead
Ness has expressed a lot negative sentiment towards crypto assets that were once making great breakthroughs. However, there are still some optimistic people who believe in its potential future.
Coin Quora stated that the Cardano asset would experience a bullish run, and closes the year at $12, according to the Cardano price monitoring results. It predicted its future value of $18 in 2023.
However, crypto will be trading at much lower prices by 2025 after it has experienced price corrections.
Analytics Insights places the Cardano's value at $3.81. It can go as low as $3.68 or as high as $4.38. These prices are much higher than the current $0.43 value.
It remains to be seen if the Ethereum's maximalist's claims pack some truth into them, but ADA's recent performance so far is not helping its case.
ADA Total Market Cap at $14.7 Billon on Daily Chart | Source: TradingView.com

Featured image taken from Cute Wallpaper.org. Chart by TradingView.com