Due to growing interest in blockchain, smart contracts, cryptocurrency and other technology fueled with it, the spending of the Blockchain Industry is predicted to surpass $11 million next year. There's no doubt that in the previous years, the entire cryptocurrency domain had to sustain worldwide regulatory resistance until the Covid-19 pandemic broke out in 2020.
The pandemic forced us to embrace a new way of life that could lead to a Blockchain-based society. Perhaps you're wondering about the impact of the latest trends on Blockchain on your life in 2019. We've compiled a quick report that will highlight the Blockchain industry trends that you will see in 2022 and why you should be ready for it:
Blockchain adoption in Finance and Banking
Developers discovered a way for the centuries-old financial and banking system to be used in Ethereum's launch in 2015. Smart contracts have made it possible to imagine a world where contract making is simpler than ever. Many major financial and banking institutions will adopt the blockchain ecosystem in 2022. Recent reports show that top banking institutions like JPMorgan, Citi and Wells Fargo already accept blockchain. VISA and Paypal are also popular payment options that might invest in Blockchain technology in the future.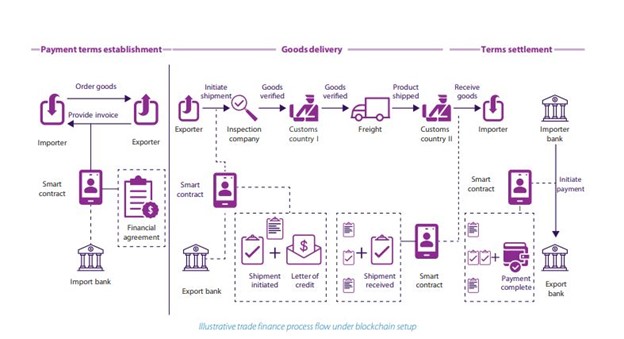 Source: Infosys
Co-founder of Aurora, Alex Shevchenko has been highly optimistic about blockchain and announced the implementation of the Ethereum 2.0 vision—a sharded EVM environment—in Aurora in production. Alex spoke out about the main trends in blockchain, aside from banking and finance.
1) Scalability, L2s, Rollups
2) GameFi
DeGov
4) Generative Art on Blockchain (NFTs V2.0)
An Shift In Demand: NFT Vs. Web3
"The market is becoming more and more mature as Web 3 progresses parallelly with GameFi and DeFi. In this year, I expect a significant growth in social finance and med-fi. I don't see a big development of the NFT market as it was in the last year. Although the NFT will see a decrease in collectible items, it will not stop technology from improving. Also, a key trend will be financing public goods – there will be more initiative to finance and support the research of Web3 development, says N.H, a core member of the founding team for Mate and Orakuru.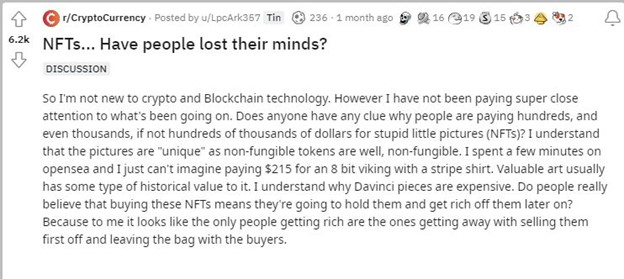 Reddit
It's hard to deny that the 328% growth of the NFT marketplace in the first quarter of 2021 will be a difficult thing to see in the coming years. Illia Polosukhin is a co-founder and CEO of NEAR Protocol. He sees potential in Web3. He said, "NEAR's goal is to get to 1B users in web3 in the next 5 years. We see next year as a fundamental shift to mass adoption – where social apps that are integrated with web3 and crypto are going to start becoming mainstream. Comparing with the existing social landscape – because web3 is highly composable, this will mean not just a single app but the whole clusters of apps that work on common protocols will drive future usage."
Evgeny Jurtaev (CEO of Zerion) believes that NFT is evolving and has its own character. It is here to stay. In a recent interview he elaborated on the future plans for the project, "Next year, we are going to release the best social wallet to take the UX of DeFi & NFTs on mobile to the next level. Partnering with more chains allows us to onboard new users and give them a much cheaper trading experience."
DAOs will also grow rapidly thanks to Web 3 evolution 2022. Ivan Fartunov who is an acting Head Of Ecosystem for Aragon, in particular, sees the growth of composability of DAO tooling:  "We believe the biggest trend is towards composability of DAO tooling and making sure that teams that want to build something can seamlessly utilize multiple products and services regardless of the framework they are using. Web 3 natives will make up the majority of DAO makers. Their collaboration will allow them to build useful and scaleable products/services that can be used by new web3 players. "
Blockchain and Metadata
Since Facebook announced the new name Meta, the word 'Metaverse' got the attention of millions. The metaverse will be powered by blockchain. NFT, Defi and other components could be used to fuel the metaverse.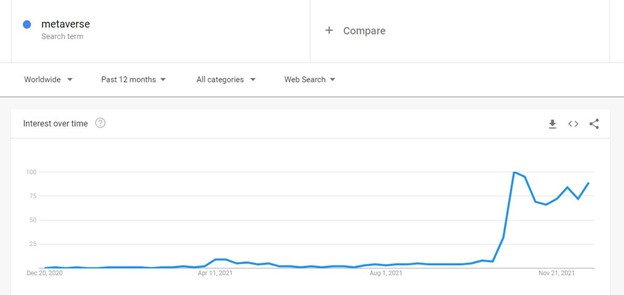 Source: Google Trends
Sergey Kravchenko, CEO at Tank Metaverse announced, "In accordance with global demand and tendency, we are building the next generation NFT metaverse that harmoniously embodies modern social interaction on the blockchain with opportunities for creativity, p2e income, and pleasure."
The Central Bank Digital Currencies Research
All central banks across the globe are reporting that there may be a shift to cryptocurrencies-like currencies. China has already announced that they plan to implement a digital version their currency within the next few years. While countries such as the UK may delay the introduction of the Central Bank Digital Currency (CBDC), it is important to remember that central banks are already researching the blockchain technology. Due to some regulatory bodies and government agencies around the world, there will be an abrupt shift in crypto regulations over the coming year.
Grab Your Clothes
In 2022, many developers, investors, bankers, and founders will be looking for innovative ways to move beyond conventional means. The technology they have the ability to transform the world is blockchain. From the healthcare industry to the automotive industry, innovators saw the potential of blockchain technology in bringing balance and order to the global economy. In 2022, both government and private companies will likely invest in Blockchain technology to enable massive changes in the blockchain industry.
Image: Pixabay