The pros
High liquidity and low fees 

Mobile app that is user-friendly

More than 300 trading pairs supported. Wide range of crypto assets available.

Maximum leverage of 100x

Features that provide high security
Cons
Customer support slow

Transparency is lacking

There are many features that do not have the ability to be upgraded
BitForex is a global cryptocurrency exchange with low fees, high liquidity, and security that provides a rich suite of trading tools, such as spot trading (over 300 trading pairs), margin trading, perpetual trading, Turbo Stater (IEO, INO, Vote for listing), BitForex Earn, NFT marketplace, and Crypto Loans. BitForex launched in 2017. It has 6 million active users from over 200 countries.
Our BitForex exchange review will discuss the BitForex platform's services and products, pros and cons, trading fees, security, etc., and demonstrate how to register on the exchange to start trading and maximize profits.
What exactly is BitForex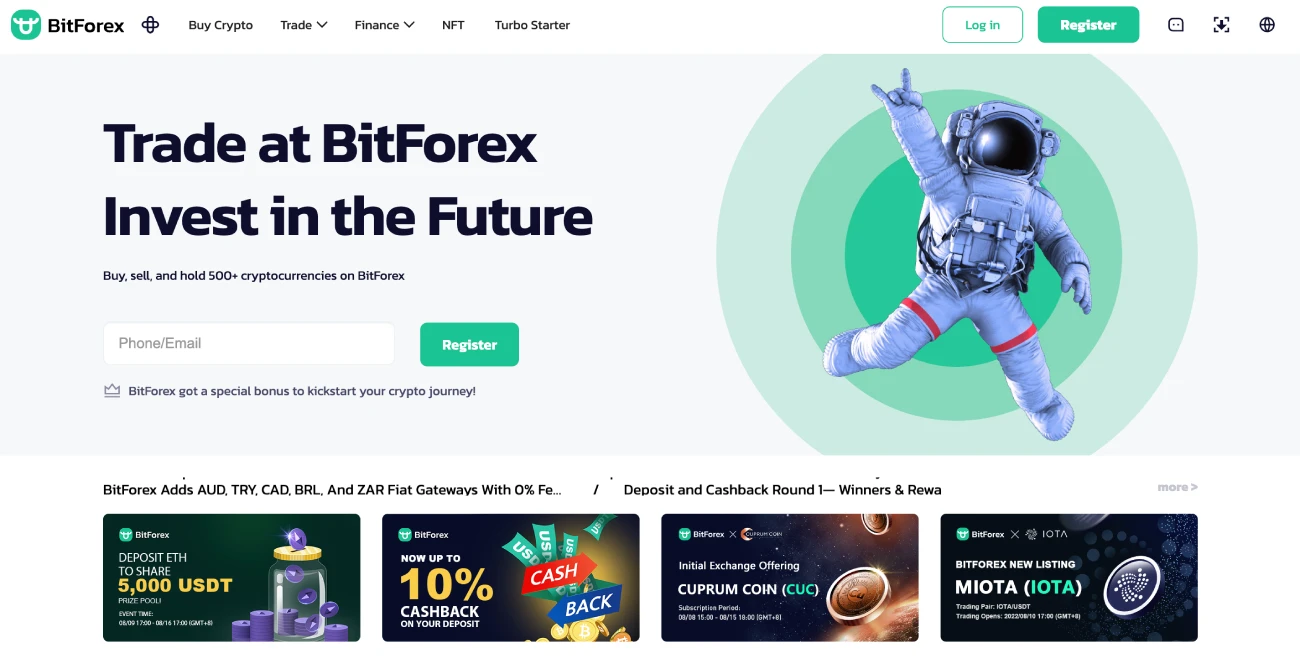 BitForex, one of the most popular cryptocurrency trading platforms worldwide with over 200 locations. BitForex has 6,000,000 users, despite being relatively new to the crypto exchange market. You can trade with tokens, margin trading and BitForex Earn. There are also NFT marketplace and perpetual futures contracts that have leverage of up to 100x.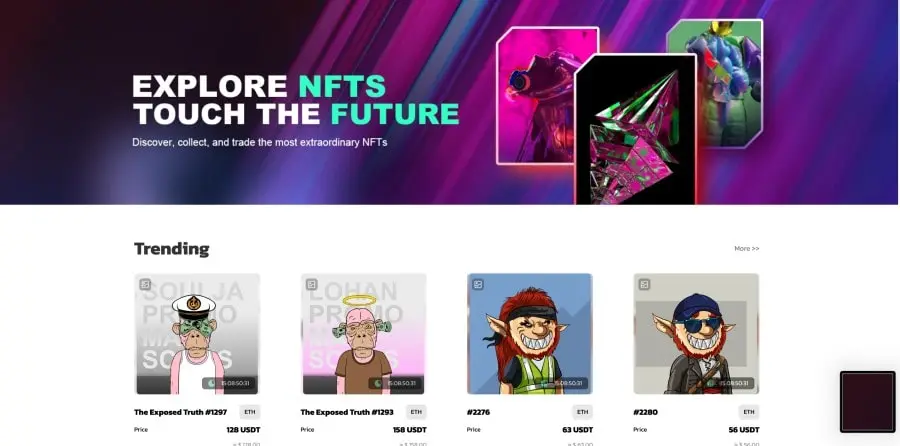 The company is headquartered in Hong Kong,  registered in the Republic of Seychelles, and has international teams in Germany, Singapore, Malaysia, Estonia, the Philippines, etc. BitForex, a start-up, received more than $20 million from crypto investors including Block VC and Crypto Capital.
BitForex supports over 300 trading pairs, 163 cryptocurrencies and Bitcoin Cash (BCH/USD), Ether/USD), Ether/USD), Litecoin/USD (LTC/USD), Ripple/XRP/USD) etc. BitForex offers its BitForex Token, (BF), and a referral program that allows BitForex members earn commissions on transactions handling fees. BitForex can also process over 1.6 million orders per minute, which is considerably more than other trading engines for crypto exchanges.
As an "entry-level exchange," BitForex supports such deposit methods as Wire transfers, cryptos from other exchanges, credit and debit cards, cash, and bank account transfer.
BitForex also offers an iOS and Android mobile application that you can download from Google Play or AppStore. It is ideal for cryptocurrency traders who are on the go and has a responsive and intuitive design. The platform's web version is mobile-friendly and can be used on smartphones.
What does BitForex do?
BitForex provides several services and products, such as CApp Town in BF sector, EazySwap and BitForex MT5. To avoid liquidation of large positions that could have a significant impact on liquidity, BitForex has implemented a Tiered Margin Ratio System. The system works in the following way: Larger positions are subject to lower leverage, while larger ones have to be held with an increased Initial Margin Ratio. BitForex takes a small portion of the total transaction asset, then deposits the remaining amount. The user can take advantage of this by taking leading positions and not risking any cash.
BitForex Security
The BitForex review revealed no hacks or security breaches since the launch of the exchange. BitForex service uses a hardware wallet to safeguard the users' accounts and funds.
Bitforex claims that the user's money is kept as follows:
A hot wallet is also used by the company because users need to make withdrawals from the queue.
The 98% user funds are kept in an offline multi-signature cold vault. It is located at various locations around the globe, providing extra security. To withdraw funds from this wallet, account users will require the permission of multiple members of BitForex's internationally distributed management backend team.
The hot wallet keeps 0.5% funds for withdrawals and other purposes.
Additional security measures include SMS verification, multi-factor authentication and insurance coverage.
For better performance and protection against distributed denial of service (DDoS), intelligent load balancing, routing between servers. Real-time malicious traffic detection blocks malicious server requests.
BitForex is a global leader in digital asset security monitoring.
BitForex moved to a new server and security personnel performed an extensive audit that included a thorough analysis of source code and dependencies.
BitForex fees
There are no withdrawal or deposit fees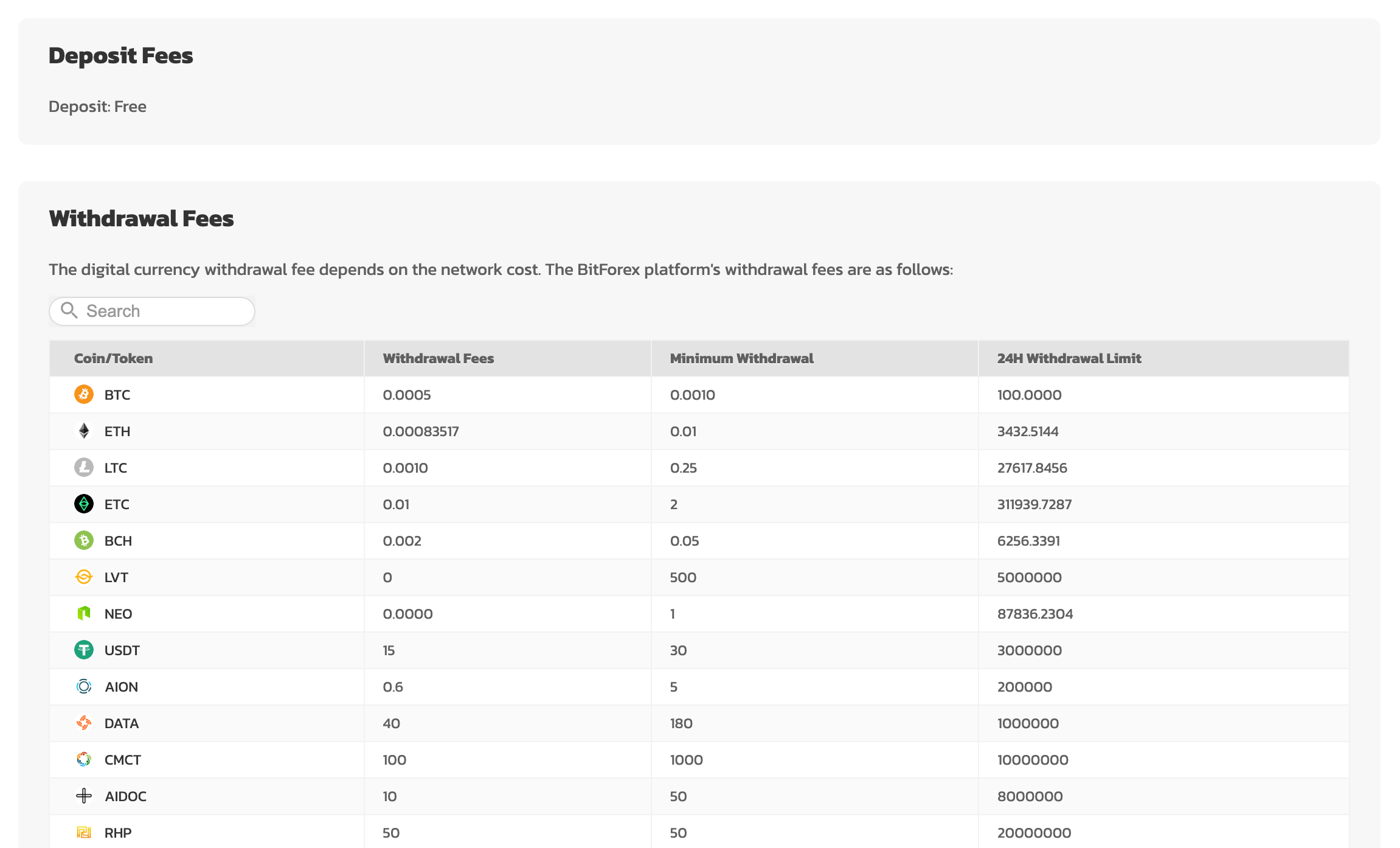 BitForex doesn't charge a deposit fee for depositing money, and digital currency withdrawal fees are based on network costs. A withdrawal fee of 0.0005 BTC is charged by BitForex, which is lower than the industry average. There are restrictions on withdrawals depending on which crypto you use. Bitcoin's daily maximum withdrawal limit is 100 BTC. You must also set SMS or two-factor authentication to activate withdrawal requests. BitForex can be funded using either a bank account and a credit card.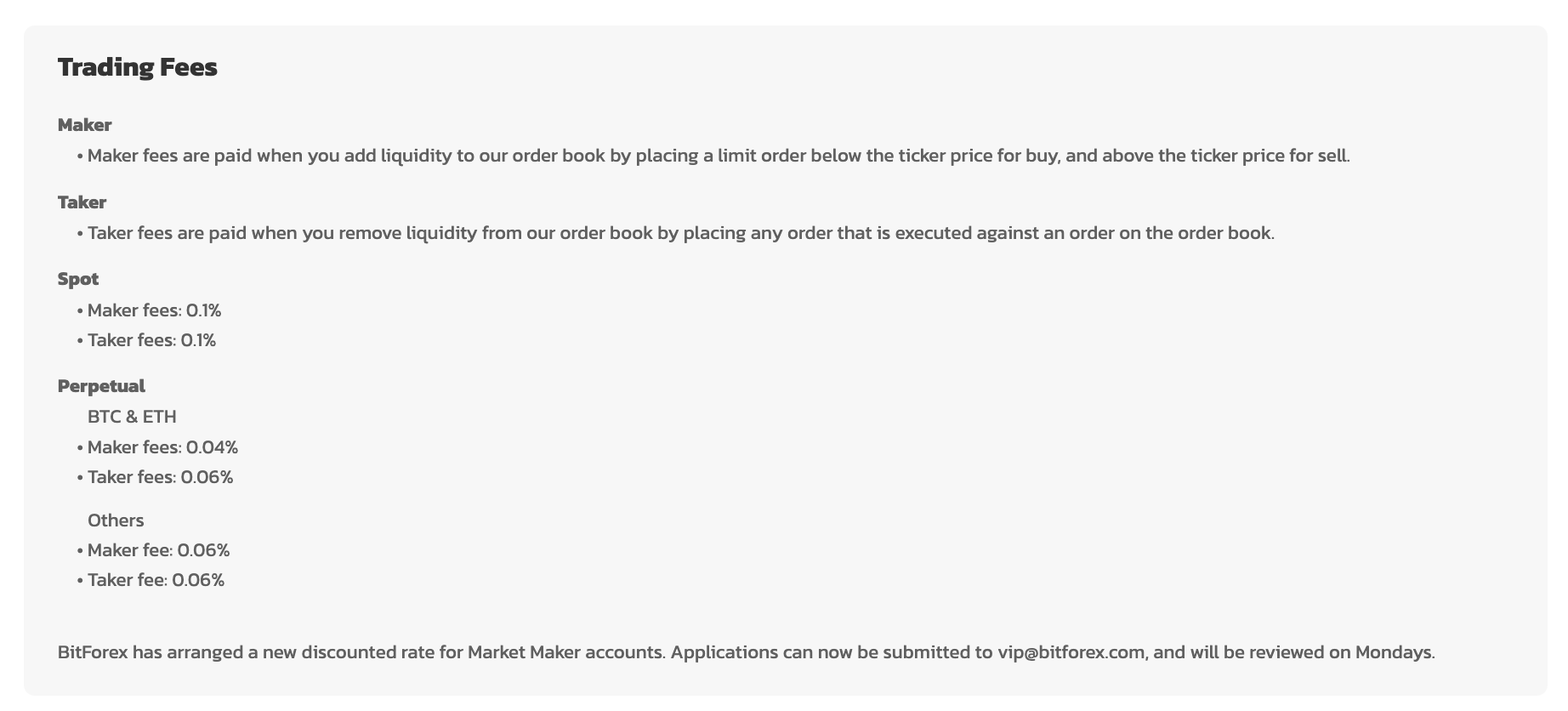 Each executed order is subject to trading fees based upon different fee structures. Fees are calculated in the Realized P/L (profit/loss) and work on a maker & taker structure. The spot market fee is 0.1% and is flat. This is less than the fees charged by many cryptocurrency exchanges.
Taker fees and maker fees can be charged when liquidity is added to your order book. BitForex charges a flat 0.1% fee for spot trading. BitForex Exchange charges flat fees of 0.6% to each maker and taker for perpetual contracts that involve other currencies.
BitForex Features
The BitForex Review has examined the different features of the BitForex Exchange, including:
Spot trading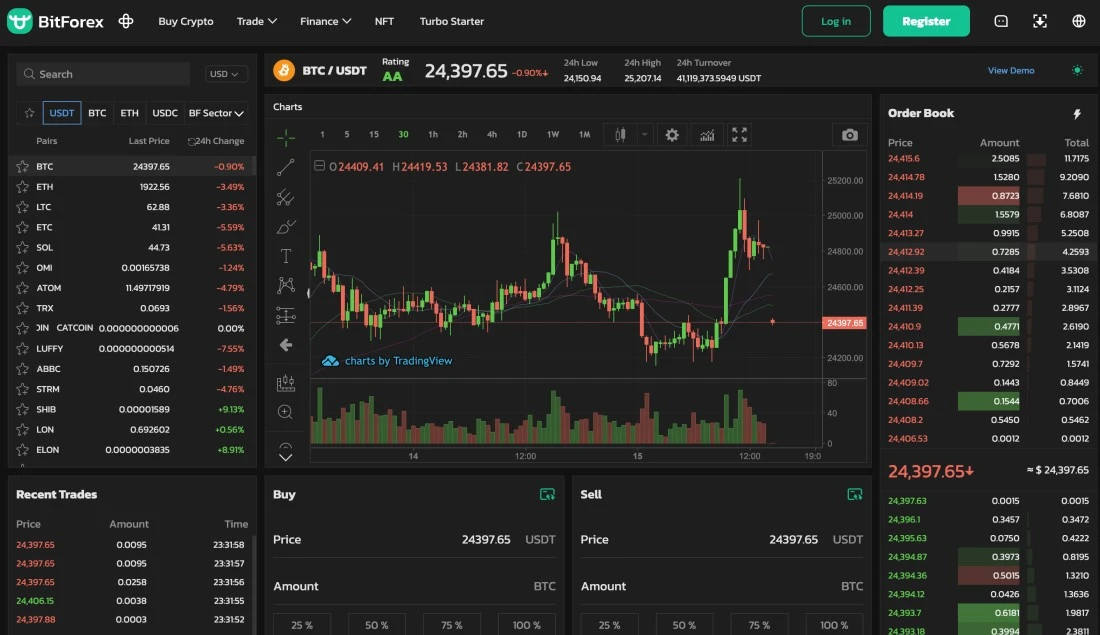 BitForex spot trades are one of the most convenient ways to buy cryptocurrencies. Spot trading has a simple user interface. The trading pairs can be found on the left. In the middle is the price chart. On the right is the order book. Assets buy-sell access options can be found at the bottom.
At the website's main menu, go to the 'Spot' trade page. You will need to enter the price and order amount for each trading pair that you wish to trade. Your money will be transferred to your Exchange wallet after the order is complete. The order history tab will also be updated.
TradingView
TradingViewIt is a great charting tool for traders who use technical analysis to enhance their trading and give them a competitive edge in the market. Charts can be accessed from the chart's live price, trading tools and indicators. This allows traders to create trend lines, add arrows, and chart patterns. This chart also allows for limit or stop orders.
CApp Town
CApp Town is an open platform based on the BitForex Exchange that connects digital currency traders to multiple blockchain apps, including CoinGecko, Twitch,  Paxful, and Matrixport. CApp Town is essential for BitForex and aims to eradicate inconsistencies across different blockchain protocols.
EazySwap
EazySwap allows you to swap ERC-20 tokens using a distributed token system. The significant benefits of EazySwap are – no gas fees,  slow slippage, and quick matching. It offers more than 980 ERC20 tokens for trading and rewards liquidity pool providers with up to 80% of the pool's trading costs.
Staking Ethereum 2.0
This feature allows users to stake Ethereum tokens via BitForex. You can stake as little as 0.1 ETH and exchange your ETH tokens at any time. Based on how many tokens you stake, the platform offers rewards to BitForex.
BF Sector
For trading purposes, the BF Sector is a distinct zone. DeFiNFT, Polkadot and DeFi tokens. This section lists the DeFi tokens available and also includes a spot-exchange sector that allows users to stake any of these tokens.
MetaTrader 5
MetaTrader 5 is another interesting feature that should be mentioned. It allows users to trade traditional financial and physical goods without having to leave the platform. MT5 aims expand the crypto sector's economic landscape and supports BTC (ETH), USDT (USDT) and XRP currencies. You can transfer funds directly from your wallet to fund your MT5 account.
Permanent Contracts
Perpetual futures contracts, a unique type of futures contract that has no expiration date, allow users to hold assets for as long as it suits them. Trader can hold leveraged positions indefinitely until the margin allows them to do so. BitForex's perpetual contracts allow you to increase your leverage up to 100 times.
BitForex Token
Trade mining, community building, and ecosystem mutual construction are the main sources of BitForex Token. BitForex uses 80% of trading fees to purchase back tokens and lets them vote for platform growth and management.
BitForex Turbo
BitForex Turbo allows you to list premium IEOs worldwide on a single platform. It helps blockchain startups raise money and expand their footprint in the crypto community. It's a great place for users to become part of high-quality industry projects, develop their products, and increase adoption. It also allows users to view information such as trade pairings, total allocation, start/end time, and more.
How to register for BitForex
Easy and hassle-free registration is one of the best parts of the platform, as it doesn't require any personal information for KYC verification. Register with your email and verify it to start trading.
BitForex: Depositing Funds
BitForex allows you to easily deposit funds into an account. You just need to log in, go to the 'Assets' section, select 'Deposit' and choose the crypto coin you want to deposit from your crypto wallet using the given wallet address. It accepts payments in 163 different cryptocurrencies, and it supports credit cards. BitForex doesn't have any minimum deposit requirement.
BitForex Exchange: How to buy crypto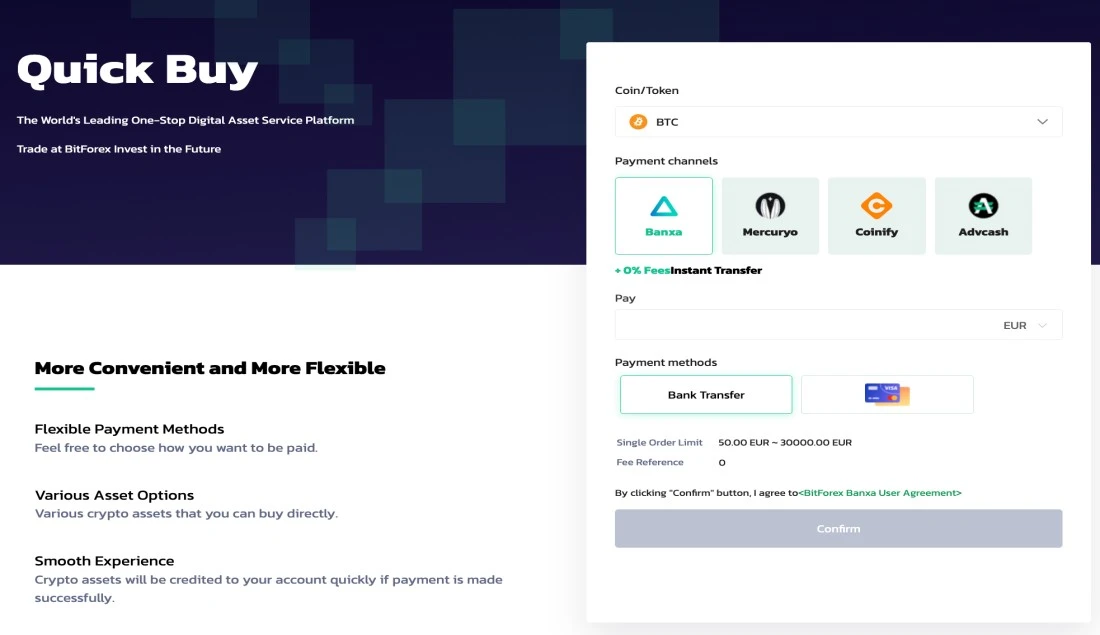 BitForex allows users to instantly purchase Bitcoins and other cryptocurrency using a credit card. To purchase crypto on BitForex, users must log in, navigate to 'Assets,' then 'Purchase Now,' select the crypto coin, and finalize the payment. BitForex users have the option to trade digital coins via Spot Market.
BitForex Leverage
BitForex offers leverage of up to 100x for perpetual contracts. The Tiered Margin Ratio System prevents the liquidation large positions. For traders, cryptocurrency leverage trading is a useful tool to take advantage of price movements to help grow their balances faster. 
BitForex Customer Support
BitForex offers support services, including a FAQ section that answers all common questions about fees, deposit, withdrawals, tokens and features. You can also contact the support team via live chat or a ticket system that provides a 24 hour response. Users can report issues and queries by email, which will allow them to receive a prompt response.
12 hours.
FAQ
BitForex KYC: Does it Really Matter?
BitForex does not require KYC to begin trading. BitForex allows unverified users to use its services with email registration. However, additional ID verification may be required in the event of unusual IP behavior or if you trade more than $10,000 per day.
Can BitForex be trusted?
BitForex has high-security security features and is safe to use.
We recommend that US customers consult their state or federal laws before trading with BitForex.
BitForex allows you to trade Forex (FX).
BitForex does not allow any Forex products, only Bitcoins and other listed coins.
Last words
BitForex offers a secure platform to trade spot, spot, and altcoins. Although BitForex is a new platform, the company offers a wide range of services and products. 98% of clients funds are kept in cold storage wallets. This, along with the competitive BitForex fees and intuitive interface make it an attractive destination for full-on crypto experiences. 
Many BitForex customers are happy with the intuitive, user-friendly interface and TradingView charting platform. They also appreciate its low trading fees and wide range of trading pairs that offer high liquidity.
BitForex allows users to use CNY bank accounts, which makes it possible for them to buy crypto from fiat stores. It also offers generous referral programs that allow you earn commissions. For a smooth trading experience, BitForex uses the most up-to-date technology and incorporates all of the latest functionalities.
The exchange also offers security. BitForex is a trusted exchange thanks to the impressive security measures it has implemented to protect against hacks and scams.
Finally, the sign-up process on the BitForex platform is easy and doesn't require personal information or KYC processes; just email or phone number verification is enough to start trading.
BitForex is still a new exchange with many risks. The exchange's lack of transparency regarding the company's establishment, background, and team members, the uncertainty in its terms and conditions, and questionable trading practices are troubling, although not crucial for using the exchange.
BitForex has a lot of work ahead. The exchange has many positives and advantages that make it an attractive trading platform.