According to data, the Bitcoin market's net losses are decreasing but remain high.
Bitcoin Net Realized Loss/Profit Still Have A Pretty Negative Valuation
The latest Glassnode weekly report shows that the net loss realized has decreased slightly in recent weeks, but that the market is still not at a neutral level.
The "net realized profit/loss" is an indicator that measures the net magnitude of profits or losses being realized by all investors in the Bitcoin market.
To calculate the metric, we look at each individual coin's on-chain history to determine its previous selling price. The coin that was sold for a profit is one whose previous selling price was below the BTC current price.
If the previous price was lower than the current one, the coin will have experienced some losses.
If the net realized loss/profit has values higher than zero it indicates that the market is currently selling at a profit. Negative values indicate that holders in general are suffering some losses.
Here's a chart showing the percentage change in the Bitcoin indicator.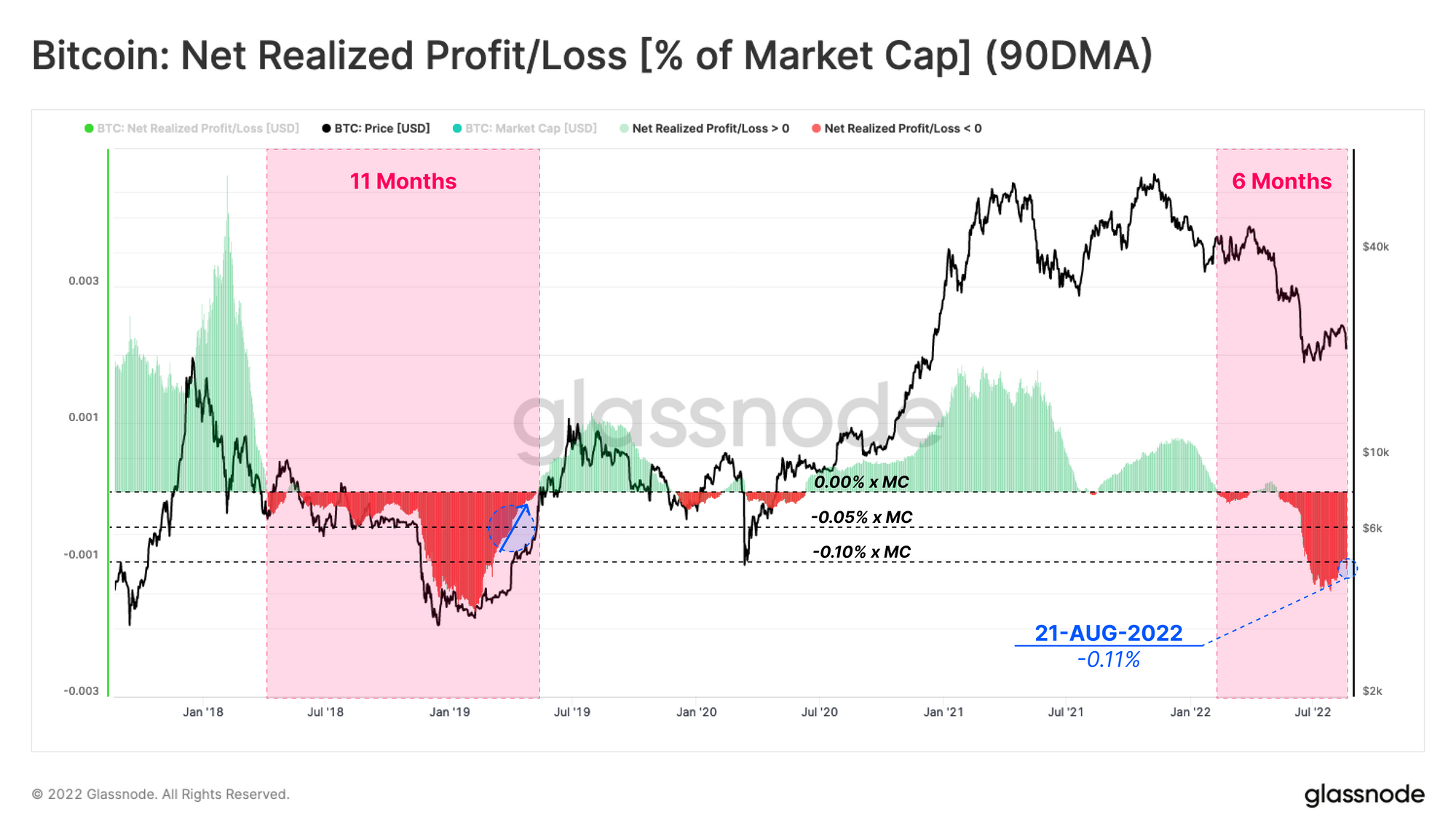 Source: Glassnode's The Week Onchain - Week 34, 2022| Source: Glassnode's The Week Onchain - Week 34, 2022
You can clearly see that Bitcoin's net realized profit/loss over the past few weeks has shown a starkly negative trend.
The last bottom of bear markets has historically been marked by steady losses falling, and the market finally turning into profit as a bull market takes root.
Most recently, the degree of net losses being realized in the market has gone down slightly, but as of now the metric's value is still fairly large. This may indicate that crypto is still in the bear market.
BTC price
At the time of writing, Bitcoin's price floats around $21.3k, down 11% in the past week. In the past month, crypto lost 5%.
Below you will see the five-day trend of the cryptocurrency's price.
 Source: BTCUSD on TradingView| Source: BTCUSD on TradingView
Featured image from 愚木混株 cdd20 on Unsplash.com, charts from TradingView.com, Glassnode.com